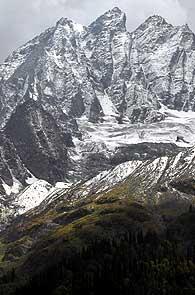 India must be cautious and not repeat its Himayalan blunders during new Chinese Prime Minister Li Keqiang's forthcoming visit, warns Colonel Anil Athale
My last article Countries that wish to invade do not do so by pitching tents elicited furious and even derogatory comments from readers. As predicted, the 'invasion' seems to have ended, but the 'tents' episode has left several questions un-answered.
It is clear that there are different Indian and Chinese interpretations about the Line of Actual Control in Aksai Chin area. It also seems that both sides sent out patrols in the area perceived as 'theirs'.
Due to the remoteness of the area, the rest of the country becomes aware about the incident only if the government chooses to let it know. It is intriguing as to why the Government of India chose to publicise this incident at this point in time. It has inflamed public opinion on the eve of the first visit of the new Chinese premier.
Was some group trying to sabotage Indo-Chinese (likely) accord on border?
It is also possible that China initiated the confrontation, created an 'intrusion' and then withdrew to depict it as a concession! Another Chinese aim could also be to draw public attention to the Aksai Chin dispute. If one goes by the positive vibes the new Chinese Prime Minister Li Keqiang is sending out, he may well offer a border settlement to India.
The stakes are indeed high for China, which is embroiled in a dispute with Japan over island territory, and it would like to mend fences with India. In light of the declared forthcoming shift of American sea power to the Asia Pacific (the so called Asia pivot), China may well wish to keep India out of any United States-Japan alliance.
The May 2013 incident, if initiated by China, was a diplomatic 'signal' to India and NOT a military threat. The real military threat to Ladakh is the China-Pakistan nexus. If China and Pakistan together pose a threat to Ladakh from the eastern and the northern borders, India would be hard put to resist it.
If reports of north Pakistan's Skardu airfield being used by the Chinese are true, this would also mean that the edge in tactical airpower that India enjoys will be largely neutralised.
As far as Ladakh is concerned, two major changes have taken place since the India-China War in 1962. With large military forces pre-positioned there, India has acquired a degree of tactical mobility (ability to move within the theatre of operations) that it lacked earlier.
China's weakness in strategic mobility (ability to move between theatres) has not improved much. This is with the caveat that if China was to have unfettered access to Pakistani territory, then it will be at par with India strategically as well. However, the basic Chinese weakness of very long lines of communications with 'heartland' (on Pacific coast) will remain.
Lack of local support in Muslim majority Xingang (Sinkiang) and Tibet can pose military problems for the Chinese. India enjoys great support from the local Ladakhis but our lines of communication are vulnerable to Kashmiri separatists' actions.
The real long-term answer to strengthening Indian defences in Ladakh lies in accelerated completion of the Rohtang tunnel and the link to Manali that bypasses Srinagar valley and Kargil.
It was a column of 2/8 Gorkhas that used this very link to reach Leh (led by legendary Major Hari Chand) on July 5, 1948, and saved it from Pakistani raiders.
India has deliberately neglected the development of this route since 1962. We kept our dependence on the Sri Valley route and used it as an argument to thwart American pressure on Kashmir issue. After the Shanghai Declaration of 1972, a virtual Sino-US alliance came into existence and our 'rationale' to keep the Manali-Leh route development on the backburner vanished.
Yet, it took a good 20-odd years for our foreign and defence establishments to reverse this policy and get serious about the Rohtang tunnel and the all-weather alternative (to Zozila-Kargil) route to Leh.
The reason to recount this history now is that China may well propose a 'border pact' during the visit of the Chinese premier on May 19. India needs to guard against the trap of getting short-changed.
Frankly, on the border issue, the shoe is on the other foot. All these years, the Chinese kept the issue alive so as to serve as an excuse to intervene in South Asia on behalf of its proxy. Now China itself wants a stable border on the west to tackle its far more serious troubles in the east. The sector by sector solution is very much possible, with both sides agreeing to accept the MacMohan line in the east and delineate the Uttarakhand/Himachal border, where there is no dispute.
It is time India drives a hard bargain with China and links this to larger Chinese designs in South Asia, specially its military links with Pakistan. If China wants India to distance itself from the US-Japan alliance, then it must also be reasonable on the Pakistan front.
The Chinese authorities, if serious, must take a long-term view and accept that there are obvious limits to using Pakistani proxy to balance India. The election of Nawaz Sharif on a 'peace with India' platform is a powerful incentive.
It is, of course, unrealistic to expect China to abandon Pakistan. All that India must ask for is 'rein' in Chinese military aid to Pakistan. In China's forthcoming confrontation with the powerful alliance of US and Japan, Pakistan is hardly an ally worth it.
As opposed to that, in the long term at least, keeping India away from joining the US-Japan alliance ought to be a far more lucrative goal for the Chinese.
India must be cautious and not repeat the Nehruvian blunder of accepting Tibet as part of China and getting nothing in return except some vague promises of Afro-Asian solidarity.
Nehru's daughter Indira Gandhi, otherwise a great pragmatic, fell for Zulfiqar Bhutto's assurance of 'Ham par bharosa kijiye!' (trust us) and accepted Kashmir as a disputed territory at Simla in 1972.
Indian diplomacy is littered with such Himalayan blunders. The minimum Indian expectations from China ought to be a defensible border in Aksai Chin, acceptance of MacMohan line in the east and reining in military/nuclear aid to Pakistan.
Image: A picture taken from the mountainous Srinagar-Leh highway shows snow-covered mountain peaks at Zojila | Photograph: Fayaz Kabli/Reuters