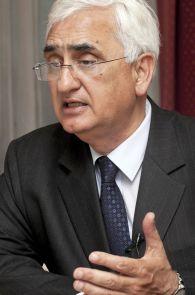 The India-China face-off in the Depsang plains of Ladakh remains unresolved as talks during the flag meetings of both the armies have failed to yield any concrete results.
The tension over the incident is even threatening to cast a shadow over Union External Affairs Minister Salman Khurshid's May 9 visit to China. On Thursday, the cabinet was briefed by Army Chief Bikram Singh over the issue.
In an exclusive interview to Anita Katyal, Khurshid refuted reports that the flag-level talks were not moving forward. He also dismissed suggestions that he should call off his visit to Beijing if there's no progress in the talks.
Playing down the recent developments between India and China, the minister said one such incident should not be allowed to impinge on the relationship between the two countries. He reiterated that the incursions by the Chinese army beyond the Indian side of the Line of Actual Control were a localised affair and that efforts were on to resolve these differences.
Are the developments in the Depsang plains of Ladakh a localised affair or something more than that? What's the government's assessment?
Our real assessment is that this is a localised matter, it is an incident. Of course, your next question will then be if it is indeed a localised incident, why has it lasted three weeks?
All I can say is that the media and everybody else sees everything unidimensionally but the ground situation is never unidimensional, it is multidimensional.
When you have differences in perception about the boundary, these do get translated into human action. When there is an intrusion into airspace, you cannot do anything but protest later as the plane has come and gone. But on ground, an incident like this has a lasting impact. The manner in which it is being highlighted makes it difficult to disengage.
In that case, how exactly would you describe this incident?
There were 20 soldiers from both the sides…you consider that a confrontation? No. In fact, I would not even go as far as describing it a face-off.
There are reports that this incident is set to escalate into a confrontation and that the talks between the two armies are going nowhere.
Both sides are talking to each other. It is an ongoing conversation -- the conversation is going on as per the prescribed procedures.
As you know, a flag meeting takes place if a matter is not resolved; it is then taken up by the border commanders after which the joint secretaries step in. If these issues still remain unresolved, foreign secretaries of the two countries come into the picture. And only after all these fail, the political leadership steps in. Please remember, these talks are still being conducted at the flag-level.


How do you see the progress at these talks?
It is not our assessment that these talks have been pointless, nor do we consider that they have concluded successfully -- which is why we will continue to talk and engage with each other. There is movement forward. And we will continue to talk till the issue is resolved.
There is also a view that the new dispensation in China is testing the waters with India.
A lot is being said that there is a larger design to this development, but our assessment is totally different from that of the media. These things happen all the time since there is a difference in perception on both sides about the boundary.
And there is no demarcation of the boundary. They have pitched tents, we have done the same. But there is no hostility or anger…if there was, we would not be talking.
There is a suggestion that you should call off your forthcoming visit to China in view of the ongoing stand-off.
No responsible person is saying that I should call off my May 9 visit. In fact, there is total unanimity in the government that I should travel to China as scheduled.
As I said earlier, we are in the process of resolving this matter. There is a week before my visit. I hope it will be resolved by then.
Please remember, my visit is not connected to these developments. This was scheduled well before this incident. It is to prepare the groundwork for Chinese Premier Li Keqiang's visit to India on May 20 and also to touch base with the new dispensation.
A host of issues will be taken up during my meetings in China. If the border incident is not resolved till then, then it will figure in the talks.
Photograph: Alejandro Olivares/Reuters