Trump can afford to say that COVID-19 is a 'China virus', but we can't expect Modi to say that aloud while his actions may speak louder, says Rup Narayan Das.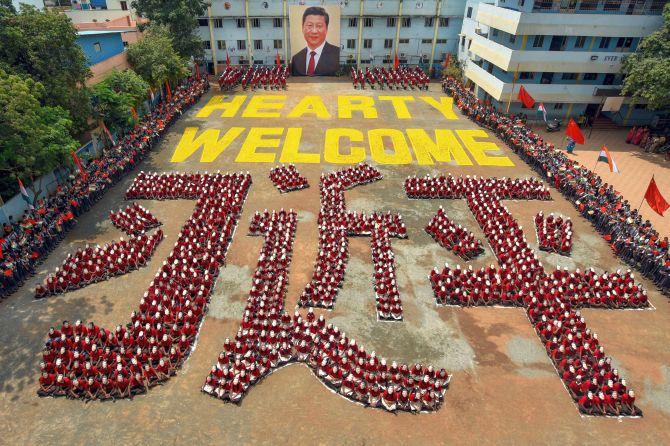 It is unfortunate that immediately after the second informal summit between Prime Minister Narendra Damodardas Modi and the Chinese President Xi Jinping at Mamallapuram in October last year, when the two countries were preparing for a slew of events to commemorate the 70th anniversary of the establishment of diplomatic relations between the two countries, COVID-19 came like an interrupter to the time line of calendar of events.
The relationship between any two countries cannot and should not be attributed to events rather than the dynamics of the determinants.
There are many fundamentals in the dynamics of complex India-China relations; taken together they determine the relationship between the two countries.
If they can be put in order of their relative significance these are -- first, the two are neighbours and you can choose your friend, but you cannot chose your neighbour; second economic synergy or complementarities.
Inversely, its antinomy is the trade deficit or the trade imbalance.
Third, there is the strategic partnership as contrasted with strategic rivalry.
The fourth determinant is strategic trust versus strategic distrust and security dilemma.
The fifth element is the cultural connect, the civilisational linkage and the the Asian identity.
The fifth factor is the chemistry between the two top leaders, Prime Minister Modi and President Xi.
Finally, there is external geo-politics.
The inter play of these dynamics shapes the narrative of India-China relations.
The point is that incidents and episode may occur from time to time, but they cannot alter the fundamental dynamics.
Dealing with China requires deep knowledge and understanding of their political system, intricate relationship between the Chinese Communist Party and the People's Liberation Army, factionalism in the party, domestic political dynamics, the structure of the economy, intelligence input.
Indian diplomats starting from Sardar Panikkar, K P S Menon, Shivshanker Menon, Ashok Kantha, Gautam Bambawale to Dr Subrahmanyam Jaishankar, the ace diplomat and India's current external affairs minister, possess them in great abundance.
India has certainly produced some of the world's best diplomats and China hands to understand and deal with China.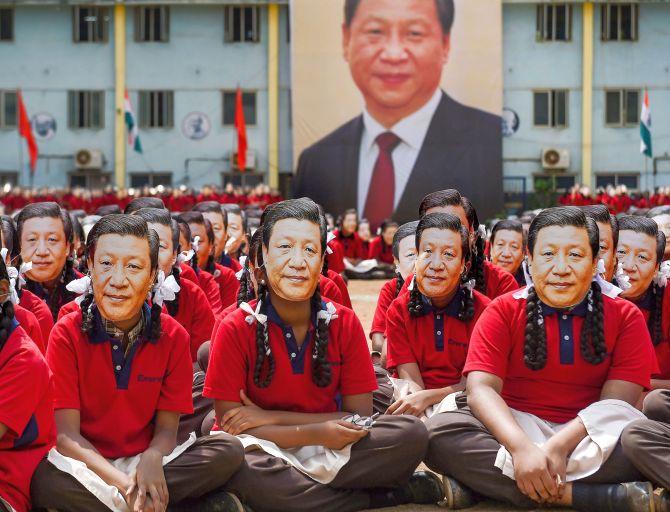 Dealing with China is not like writing an op-ed in the media or debating on television or a Webinar which has gained currency in the times of lockdown.
They are necessary to educate people and create some awareness provided they are informed, and objective.
Otherwise they have a tendency to harden people's attitudes which is detrimental for the country.
Writing an article as a journalist or as a scholar is one thing and dealing with China as a diplomat is altogether a different ball game.
What is required is knowledge, understanding, dexterity of diplomacy, firmness and yet flexibility and a high degree of IQ and EQ.
While there has always been some degree of public resentment against China, the same has been accentuated in recent times due to the outbreak and spread of COVID-19, which originated in Wuhan in China.
The international backlash against China has further exacerbated the public discourse in India.
There is pressure from other countries like the USA, Australia and Japan etc to hedge China.
India is caught in a bind in the sense to what extent it should align with the US in its hedging strategy.
India has been striking a fine balance while dealing with both the USA and China and will continue to do so.
No matter how India strikes a fine balance, the fact is that the relationship between India and China is a 'contrived one' amidst the strategic rivalry and security dilemma; and the complementarity of the economies is the adhesive glue.
While dealing with China, India has to content with that China is India's neighbour.
Secondly, the asymmetry of the economy and the military should also be kept in mind.
President Trump can afford to say that COVID-19 is a 'China virus', but perhaps we cannot expect Prime Minister Modi to say that aloud while his actions may be more louder.
He can be credited to have dealt with China more deftly than any other prime minister of the country at a critical juncture of geo-politics.
True, all prime ministers in their inimitable way have contributed in engaging China, be it Jawaharlal Nehru's idealism or naivete, Rajiv Gandhi's pathbreaking visit to China in 1988, P V Narasimha Rao's signing of the confidence building measures with China in 1993 or Atal Bihari Vajpayee's diplomatic victory in securing China's tacit recognition of India's sovereignty over Sikkim.
It is Modi who refused to accede to China's Belt and Road Initiative, spurning repeated pestering and nudging.
It is he who did not agree to the China driven RCEP (Regional Comprehensive Economic Partnership) and also the Chinese bullet train even though China offered a very competitive price.
It is his government that tweaked FDI norms to debar neighbouring countries including China to invest in India.
When the Doklam crisis was at its peak, Prime Minister Modi staged a pull aside meeting with Xi at the G-20 summit in Hamburg in 2017.
It was only after this meeting that in a top down approach instructions trickled down and the Doklam impasse was defused.
If the two leaders could defuse the Doklam crisis, they can reset the present stalemate in what is called the Astana spirit which emphasised that 'differences between India and China should be addressed in a manner that they should not become disputes'.
---
Rup Narayan Das, a Delhi-based China scholar, is currently a senior fellow of the Indian Council of Social Science Research at the Indian Institute of Public Administration, New Delhi. The views are personal.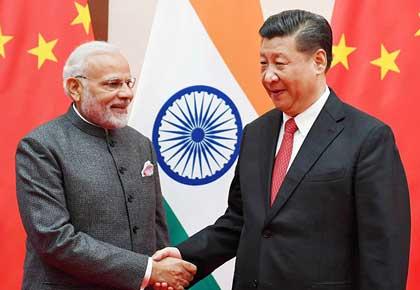 Production: Ashish Narsale/Rediff.com