Confined to their rooms and small houses, they are reminded of the time when they were subjected to physical and sexual torture, note Roop Sen and Uma Chatterjee.
Illustration: Dominic Xavier/Rediff.com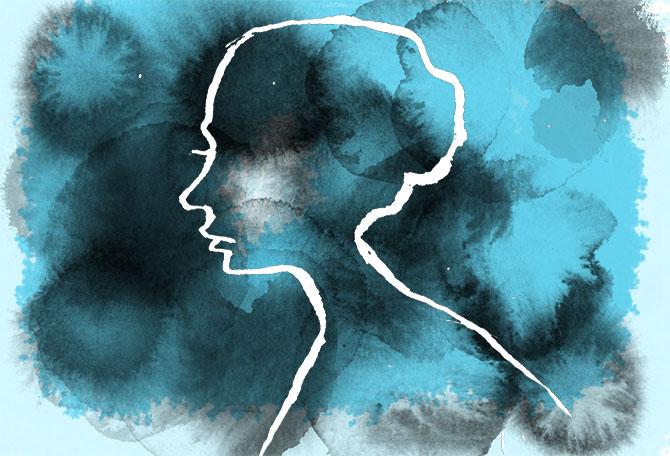 For most of us, being in quarantine is a new experience.
Staying at home, not being allowed to step out of the house, may be challenging and difficult -- not only for regular needs such as getting supplies from the market or attending to one's work or business, but the lack of freedom is psychologically frightening as well.
We feel exasperated when we find people breaking rules, venturing out and congregating putting themselves and others at risk of contamination and it makes us angry.
Stay home, stay safe is the greeting that has become universal in a matter of days.
Stress, emanating from being confined to a flat, house or an apartment complex seems a very small price to pay to fight the current pandemic that could, potentially, wipe out millions of people if not dealt with severely.
However, this confinement has triggered severe psychological trauma for a community of young women in Bengal.
They have been suffering from symptoms of trauma, nightmares and flashbacks, severe body pains, sweat breakouts in various body parts, migraines and severe bouts of depression and anxiety.
Being confined to their rooms and small houses, they have all started getting reminded of the time when they were confined to rooms, locked up, and subject to physical and sexual torture, in forced prostitution.
The experience of confinement now, which is under very different circumstances from the time they had been trafficked, has triggered body memories of trauma, and because that confinement was associated with torture and rape, their somatic symptoms have been triggered in fear and anxiety of that violence.
It has been over 5 years since Rabia, a young woman of 24, has returned home.
Her memories of torture and exploitation in the brothel has faded over time and in these 5 years, marriage, children, friends, work and social activism as an anti-trafficking leader has long left the victim in her behind and the person she is today is confident, self-assured with ambitions, dreams and a zest for life.
However, over the last 7 days, she has been experiencing sensations in her body, anxieties and a strange sense of fear that she cannot explain.
She is having difficulty sleeping, trouble focusing, has bouts of crying, and lack of feeling okay with anything around her.
On the one hand, she has been going about her housekeeping chores, cooking, cleaning, feeding the children and trying to organize for food, trying to get support from the Panchayat and Block Development Offices for not only herself, but also other women and families in distress.
However, with each passing day, she is feeling more and more unwell, with physical symptoms as well as emotional distress.
Other survivors of sex trafficking have been reporting similar experiences and, according to psychologists consulted, there seems to have been Post Traumatic Stress Disorder re-triggered.
Rabia and her peers fear the unpredictability and uncontrollability of this situation now since "The nature of the disease means that there can be no certainty about when the worst will pass."
"Hundreds of thousands have been infected, thousands have died, the virus continues to spread. And there's no cure yet. So how does one hope and plan for the future?" they ask.
"It seems that their body memories of violent confinement and the associated threat of sexual torture and violence seems to have been triggered by the social isolation and house confinement. There is sudden increase of intrusive memories, nightmares or flashbacks," says Uma Chatterjee, a clinical psychologist who is a member of Sanjog, a nonprofit that specialises in the field of mental health and sexual violence..
"Most of them live in small houses or huts, and in very small spaces, and their physical symptoms are somatic triggers of psychological distress," explains Chatterjee.
"It is a perfect example that shows us that the impacts of trafficking and sexual exploitation are deep and have long lasting impacts, and a person with a history of violent confinement and torture is vulnerable to triggers and a resurge in PTSD even after years of care and services," she adds.
Yet, help is not easily available to these young women in such situations.
For most of them, psychiatric or psychological services are not available at hand.
India suffers from an acute shortage of psychiatrists, psychologists and mental health professionals in the heath sector, especially so in rural areas.
Most NGOs do not have people with required skills to deal with such conditions of their clients-- for example -- an anti-trafficking network of grassroots NGOs and social workers in Bengal have been actively engaged in helping survivors in distress with rations and other essentials for survival.
And they have also developed some expertise in identifying psychological distress in their clients and recognising when they would need clinical intervention.
But at a time like this, they feel helpless.
It is no one's fault.
The state government has been working very hard to control the spread of the infection and decide to serve infected people.
The lack of mental health service providers across the country, and in Bengal is so acute that it cannot be resolved immediate.
However, this experience is only a reminder how India needs to invest much more in the mental health sector to provide psychological support to victims of torture.
The experiences of Rabia is not unique to her or her peers in Bengal.
They would be common to children and adolescents, women and men, who have experienced physical and sexual violence, oppressive confinement, incarceration, forced institutionalisation in shelter homes, to generate profits for traffickers and other vested interests.
Body memories of trauma and exploitation are involuntary and can take a long time to heal, most likely because they are the last memories to be addressed.
To be respected.
To be listened to.
"Given the global scale of the current pandemic," says Chatterjee, "it is likely that millions will need mental health care."
Right now, she says, the focus was not on mental trauma.
"But that must change. And soon."
---
Roop Sen is a researcher, facilitator and activist who works on issues of gender-based violence and personal growth.
Uma Chatterjee, a clinical psychologist, is the co-founder and executive director of Sanjog, which works with governments, civil society organisations and businesses to combat violence against children and women.