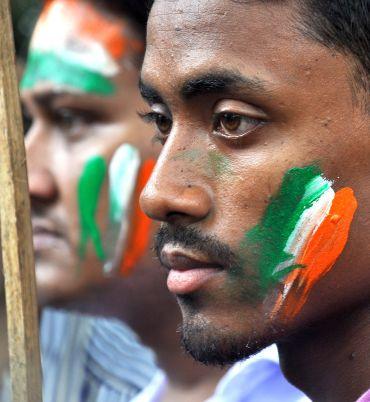 Partyless democracy is an idea whose time has come, says Sandeep Pandey
That the people are looking for a political alternative was amply clear from the response generated during the anti-corruption movement led by Anna Hazare. However, the hope generated during the movement for a change doesn't seem to be materialising.
The political system has been taken over by the corrupt, criminal and professionals who treat it as a business. The mainstream political parties are financed by institutional corruption by bleeding the government system. It is a shame that corruption money finances the political machinery of the biggest democracy in the world and there is an agreement among political parties to let this go on.
A system has been evolved where commissions have been fixed in terms of certain percentages which individuals occupying positions of authority are supposed to pay to their political bosses. There is talk about bringing back black money from bank accounts abroad but nobody talks about the black money in our economy which sends the corrupt and criminals to assemblies and Parliament. The political parties don't want to talk about it.
If there is an inquiry it would be very difficult to prove the existence of this network because everybody involved would simply deny it. If somebody doesn't want to be a part of this system then it is considered an anomaly. Hence, corruption rules the roost. Anybody opposing it would be marginalised.
There is no inner-party democracy in most mainstream parties in India. Most parties have been taken over by dynasties and are run in a feudal manner. How may we expect parties that don't themselves function in a democratic manner to work to strengthen democracy? This is another big contradiction of our democracy.
Most parties support the neo-liberal agenda and now don't care about the poor. In a sense they have become representatives of the capitalists rather than people. The political decision-making has become centralised. Sometimes decisions are taken outside Parliament by experts, corporations, international agencies and foreign governments. Most political parties support a model of development which is based on plundering of natural resources and don't care at all about damage to the environment, and subsequent destruction of people's lives and livelihoods.
In effect, we're moving away from the constitutional values and principles increasingly. And it is quite clear that the present political parties are not going to reverse this trend. Their survival now depends on the corrupt system. Anything which disturbs this is not acceptable to them. They have all come together to oppose bringing them within the ambit of the RTI Act.
In such a situation question arises, what can the people do to bring about a change?
Right candidates should be identified who are honest and committed to a people-centric development paradigm, and they should be put up during elections as an alternative to the mainstream parties. There should be a citizen's council in every constituency which should take its own decision regarding the selection of candidates. Local people, especially senior citizens, should take the initiative in creating citizen's councils. These councils should represent every segment of population. Women must constitute 50 per cent of such bodies. The idea is to send good and competent representatives to legislatures. Candidate should preferably be from a disadvantaged segment of society.
Corrupt and criminal candidates and their illegitimate ways should be rejected by the people. The parties are not going to stop giving tickets to these undesirable elements until the people start voting them out of the electoral battlefield. Similarly, nepotism should be rejected and family members of politicians standing in elections should not be given votes. Again the people can vote out such family members of politicians from the battlefield.
Of course, if a family member is genuinely interested in serving the people in her own right, then the people would for vote her. But proxy candidates should be discouraged. The vote should not be cast based on caste, religion and regional considerations, nor because of blind loyalty to a party or its leader. Candidates should commit to subject themselves to evaluation after two years and should step down if their performance is not up to the mark.
As a general rule candidates above the age of 65years should also be rejected to enforce a retirement age in politics like any other service. No people's representative should be elected for more than two terms for a post. This will open up opportunities for new people to get elected. Youth should participate actively in the electoral process by campaigning for good candidates. They will get an opportunity to develop their understanding about various issues facing our society.
Corrupt bureaucrats and politicians should not be honoured in any way. They should be, instead, boycotted. All politicians should be treated on par with the normal public and they should not be given any VIP/VVIP status. These categories and associated facilities should be done away with. Such categories are contradictory to the idea of democracy where the people are sovereign.
When people are sovereign how can their servants and representatives be VIPs?
If the people decided to take the initiative along the abovementioned lines then things could start changing. The political parties which are arrogant enough to think that the people don't have an option except to vote for them should be taught a lesson. It is time people free themselves of the clutches of political parties and vote for clean candidates even if they are independents.
Partyless democracy is an idea whose time has come.