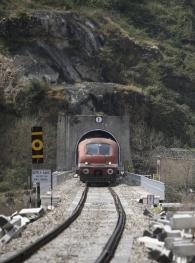 Prime Minister Manmohan Singh along with United Progressive A Chairperson Sonia Gandhi on Wednesday flagged off the first train connecting Banihal in Jammu region with Qazigund in the Kashmir Valley.
The newly constructed station in Banihal, 125 km from summer capital Srinagar, was decked up with flowers and garlands to receive the VVIPs for flagging off the first train, which will pass through 11 km tunnel through Pir Panchal range.
The eight-coach train carrying school children and officials of IRCON and the Railways reached Qazigund in 25 minutes. The Banihal-Qazigund section, which includes an 11-km long tunnel, the country's longest, reduces the 35 km distance to 18 km. It has been constructed at a cost of Rs 1,691 crore.
The PM and Gandhi boarded the train before its departure and interacted with the school children. They returned to Banihal from the new tunnel.
The Udhampur-Banihal section is expected to be completed by 2017 connecting the Valley to the rest of the country round-the-year without any hindrance.
The train will make regular operation from Banihal to Baramulla in north Kashmir from June 27. The Banihal-Baramulla-Banihal train will make five trips daily beginning at 7.10 am from Banihal and 7.35 am from Baramulla.
Besides Dr Singh and Gandhi, others present on the occasion were Governor N N vohra, Chief Minister Omar Abdullah, Railway Minister Mallikarjun Kharge and Health Minister Ghulam Nabi Azad.
Train service is already operational within the Valley on the 118-km-long route between Qazigund and Baramulla in north Kashmir. This was inaugurated by the PM on October 11, 2008.
The tunnel has been constructed using New Austrian Tunnelling Method, which has been used for the first time on such a large scale in India. This method optimises the tunnel design by mobilising the inherent ground strength in adopting a curved section, providing primary support system immediately after excavation and monitoring the ground behaviour while permitting it to develop its inherent strength.
A three-metre wide road has been provided inside the tunnel for maintenance and emergency rescue and relief operations. The tunnel has been made waterproof by providing continuous PVC membrane between primary and secondary lining.