'Was there an element of orchestration between Mukherjee and Mohan Bhagwat about their speeches to the effect that the former would leave out any reference to Muslims while the RSS chief will not talk about a Hindu rashtra?' asks Amulya Ganguli.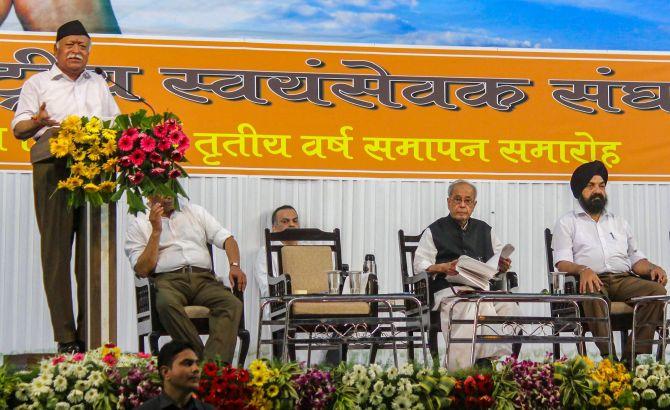 Former President Pranab Mukherjee's interaction with the RSS was not as innocent an exercise as is supposed by those who think that he only took the opportunity to express his well-known secular views in an unlikely setting.
That is only partly true.
Even if he did say that pluralism and tolerance constitute the 'soul' of India, he carefully avoided offending the saffron 'soul' by not giving his history lesson in its entirety.
Instead, he presented an abridged version of India's historical journey of 5.000 years by omitting portions with which the Hindutva brigade does not agree.
For instance, he made no mention of the Indus Valley civilisation, which marked the dawn of Indian civilisation, because that would have raised the question about whether it was Aryan or non-Aryan.
Similarly, Mukherjee skipped over the entire Muslim period except for referring to the Muslim 'invaders', a word which gladdened the heart of at least one saffron television commentator, who pointed out the difference between what Citizen Mukherjee -- as he styles himself these days -- has said and the more benign opinion of the Left-Liberals who associate Muslims with biryani.
While the former President made much of Kautilya's statecraft and referred to Jawaharlal Nehru's Discovery of India, he made no mention of Akbar, whose multicultural tenets were seen by Nehru as representing the 'idea' of India in a continuation of the Asokan tradition.
Mukherjee knew where he was and any mention, therefore, of a Muslim emperor, especially in an approving manner, would have made his hosts rethink their invitation to him.
But he might have mentioned Dara Shukoh's Confluence of the Two Seas which noted the similarities between Sufi and Vedantic traditions.
Nothing demonstrates the 'idea' of India better than the tragic shahzada's book.
But that might have been too secular for the students of the RSS shakhas who have been reared on a diet of perpetual Hindu-Muslim animosity and exclusivity.
Mukherjee did quote a line from Rabindranath Tagore, but only about the nation's assimilative tradition, leaving out the poet's praise for the Taj Mahal, a symbol of Indo-Islamic art and architecture.
Was there an element of orchestration between Mukherjee and Mohan Bhagwat about their speeches to the effect that the former would leave out any reference to Muslims while the RSS chief will not talk about a Hindu rashtra?
The result, whether prearranged or not, was that both spoke about the hoary theme of 'unity in diversity', which has been taught in Indian schools since Independence, but which is unlikely to be reflected in the ground realities of saffron politics.
However, where Mukherjee overdid his role as a guest of honour was to describe K B Hegdewar, the founder of the RSS, as a 'great son of Mother India'.
This was the man who said that India is a land of Hindus where the others can 'live... but they should be aware that they are living in Hindusthan of Hindus. Others cannot infringe on the rights of Hindus'.
This is the essence of Hindutva, which decrees, first, that the Muslims and Christians are not true sons of the soil as their 'punyabhu' (homeland) is in Saudi Arabia or Europe, as V D Savarkar said, and, secondly, that they are 'internal enemies', as M S Golwalkar said.
It is this interpretation of Hindutva which guides the saffron trolls -- and the average BJP/RSS worker -- and not 'sabka saath, sabka vikas'.
Undeniably, Mukherjee does have curious views.
An admirer of Sanjay Gandhi, he described the 'animosity' against the enfant terrible of the 1970s as the result of the 'euphoria' generated by the Janata Party's victory in 1977 without examining the factors -- Sanjay's sterilisation and demolition drives -- which led to the jubilation over the Congress's defeat.
It was an assessment which fell short of an unbiased analysis of a major event. The same lapse is evident in Mukherjee's appraisal of Hegdewar.
While Sanjay Gandhi has virtually been disowned by the Congress, Hegdewar remains a potent and ever present threat to those 'internal enemies' who must forever remember that they are living in the nation of Hindus, whose 'rights' have primacy over those of all others.
It was a grievous faux pas on Mukherjee's part to heap such fulsome praise on such a person.
Amulya Ganguli is a writer on current affairs.