'It is palpably prejudiced and totally at variance with public and historical opinion.'
'As a result, he cannot be taken seriously in other matters as well because of his penchant for playing safe,' says Amulya Ganguli.
More than three decades after his death, Sanjay Gandhi has found a supporter. And it is none other than the President of India.
Why Pranab Mukherjee should praise one of the most excoriated politicians in India is a mystery whose roots probably lie in the period of the Emergency (1975 to 1977) when he was one of the few Congressmen who sided with Indira Gandhi.
The bonds of that time must have influenced Mukherjee's judgment. But the fact that it is flawed is without question.
Perhaps the best characterisation of the enfant terrible came from B K Nehru, one of the elders in the Nehru family, who called Sanjay a 'wayward, uneducated, inexperienced boy.' Coming from within the family, the description has to be given more credence than Mukherjee's rosy view about Sanjay's 'positive virtues.'
To the overwhelming majority of Indians, it is the waywardness of the uneducated Congress 'leader' which remains the defining feature of that disgraceful period of the country's, and the Congress party's, history.
Mukherjee is not unaware of this popular perception which is also likely to be the verdict of history. He says, therefore, that 'in much of post-Emergency literature, Sanjay Gandhi has been characterised as a villain.'
But Mukherjee exposes his bias when he says that the 'animosity and venom against him was to a large extent the result of the euphoria surrounding the Janata Party's creation, a wave of anti-Indira Gandhi sentiment and the division in the Congress.'
This is the opinion of a devoted loyalist who is turns a blind eye to the larger picture. As someone who had the privilege of observing (and participating in) one of the most turbulent periods in recent times -- his book is called The Turbulent Years: 1980-96 -- one might have expected an insightful analysis of the events.
Why did the Janata Party's 'creation', out of nowhere, generate euphoria? Why was there a division in the Congress?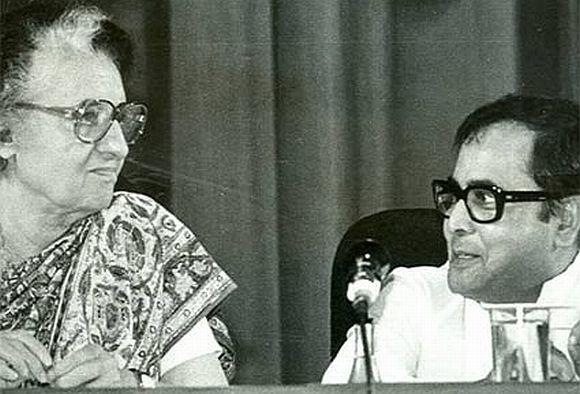 A close look at these popular reactions, which regarded the Janata Party's formation in 1977 as the 'second independence' and the fateful impact on the Congress -- it split in 1978 -- would have told Mukherjee the reason for the widespread dislike of Sanjay. But he is obviously too much of a loyalist -- not so much to the dynasty as to Indira personally -- to be honest with his appraisal.
The result is a presentation which brings him no credit because it skims over the surface of the turbulence with no intention of diving deep lest it should lead to the focus being turned to his own role considering that he was, as he has acknowledged, someone who knew Sanjay 'well and worked with him for six years of his political life.'
Such proximity should have told him many things. Did Sanjay want to turn India into a banana republic? Was he upset with his mother for calling the elections in 1977? These are the million-dollar questions relating to both mother and son.
One doesn't know whether Mukherjee has noted these possibilities in his diary, which may be buried with him, as he has directed. But, in all probability, these may not be the secrets which he wants to be kept hidden for, had it been otherwise, there would have been a hint of them in his assessment of Sanjay.
Instead, Mukherjee is evidently an acolyte who sees almost nothing wrong in his hero.
From this standpoint, Mukherjee has done himself a disservice. His praise of Sanjay will be a blot on his record because it is palpably prejudiced and totally at variance with public and historical opinion.
As a result, he cannot be taken seriously in other matters as well because of his penchant for playing safe.
In contrast to his skewed view of Sanjay, Mukherjee is more clear-sighted about Rajiv. It is possible that his ouster from Rajiv's Cabinet and from the Congress Working Committee, which hurt him more, lent greater clarity to his vision. Hence, his criticism of Rajiv's misjudgments on the Shah Bano and Ram temple issues.
But he plays safe on the Bofors scandal by first saying that he was not in the Congress at the time and, therefore, did not have 'insider knowledge' and, secondly, by passing the buck to V P Singh who, Mukherjee argues, should have ensured as the finance minister that all the rules and regulations were followed.
Perhaps the only candid parts of the book are in his admissions that his formation of a new party after his expulsion from the Congress turned out to be a fiasco since he was not a mass leader like Ajoy Mukherji of the former Bangla Congress (Mukherjee's original party) and Mamata Banerjee. Otherwise, the book will be of little help to future historians or even present-day political observers.
Amulya Ganguli is a Delhi-based political commentator.