'I have only this to say to those who talk about Mewar rulers and Akbar's brutality -- do you expect a king to not expand his kingdom?'
'You have entire cities named after Muslim rulers. It's time our heroes got their due.'
Manavi Kapur discovers how Akbar is remembered in Fatehpur Sikri and Chittorgarh.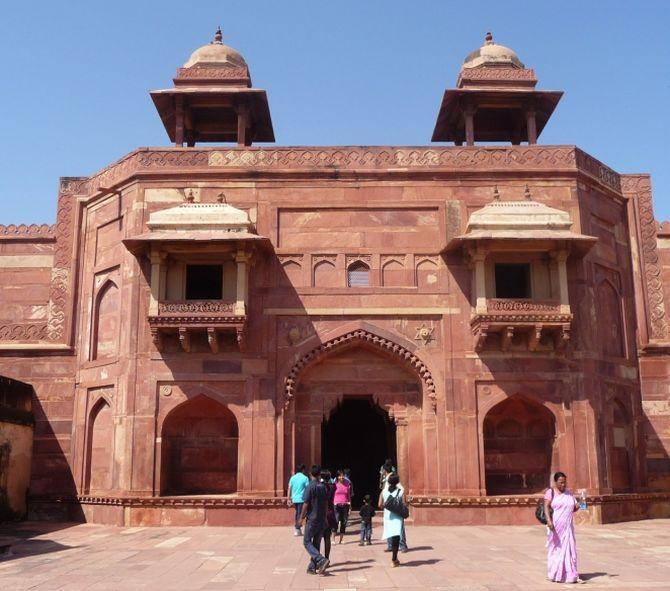 IMAGE: Tourists flock to view the splendour of Jodha Bai's palace at Fatehpur Sikri.
"Welcome to the city of Akbar, the Great," announces an Archaeological Survey of India-certified guide, in a slight twang meant for the benefit of his Caucasian audience. Small groups of tourists led by similar guides abound the complex built in red sandstone, listening intently to the rich history of the ruler and his kingdom.
Most of these people are unaware of the controversy that was brewing a mere 230 kilometres away in the national capital. V K Singh, minister of state for external affairs, called for Akbar Road in New Delhi to be renamed Maharana Pratap Road, in a bid to give credit to a ruler 'who has not been given his due.' In Fatehpur Sikri, this piece of information is received with drawn brows and amused smirks.
As one enters Sikri -- the palace complex -- this perplexity over the renaming controversy becomes evident. In the middle of a sprawling complex is the palace of Akbar's first wife, Jodha Bai, who was a princess from Amer in Rajasthan and Hindu. It is rumoured that the ruler had three wives -- a Hindu, a Muslim and a Christian -- and each has a palace devoted to her.
Since Jodha Bai, as the guide declares in a definitive voice, was Akbar's "favourite," her palace was the largest and the most intricate.
Even to the untrained eye, the amalgamation of Rajasthani styles of architecture and Mughal motifs is as stark as the blinding summer sun. In the central courtyard is a green tulsi plant, a staple of any Hindu household.
"He really was the greatest king of all of India. He treated all religions equally and even had a Hindu wife," says Rajendra Kumar Masih, a clerk with the Indian Army. "He would only kill Hindus when someone in the lower ranks goaded him into it."
History, for some, is as simple as that.
Even so, Akbar's syncretic and secular worldview dominates most of the conversations one has with tourists and locals alike.
Inside Diwan-i-Khas, the chamber where Akbar would consult with his 'navratnas' (nine jewels) -- another Hindi term -- the central pillar appears to be a sum of the ruler's reign, or at least what is remembered of it.
The pillar, on which Akbar would be seated, brings together Jain, Persian, Christian, Buddhist and Mughal motifs. The largest and the most prominent of these is the Jain temple motif, occupying the top spot in the structure.
These syncretic symbols extended into the religion that Akbar founded, Din-I Ilahi, which had a total of 13 followers during Akbar's reign in the 16th century. Today, Din-I Ilahi is one of the longest talking points for tour guides in Agra, even though the religion itself was short-lived.
Of the 13 who followed the religion was Akbar's favourite 'navratna', Birbal, a Hindu. For his stature as Akbar's most prized advisor, Birbal was rewarded with a palace of his own inside the complex.
A little further, a platform surrounded by a small pond is where Tansen, the ruler's court musician, would sing classical ragas. Further away is a small gazebo, constructed again in the intricate style of Jain temple art. "This is where Akbar would consult his jyotish (astrologer)," the guide explains.
Inside Fatehpur, where Sufi saint Salim Chishti's dargah shines in white marble, hawkers selling various little knick-knacks incessantly follow visitors. The dargah and the Jama Masjid are perhaps the only structures with overtly Islamic influences.
Aware of the cultural history of his subjects and perhaps to dissipate tension, Akbar, it is believed, decided to change the name of Fatehabad to Fatehpur. Like a taped conversation, one hears the words "the man was truly great" again.
Just 45 kilometres away, the tomb of Akbar in Sikandra stands in unassuming, quiet glory.
Though Sikander Lodi's tomb was originally located here, Akbar commissioned this precinct to be his tomb during his lifetime. As the day draws to a close, locals stroll in for an evening walk in the company of deer and peacocks.
For 70-year-old Geetam Singh, the deer are a larger issue than Akbar's legacy. "His legacy will survive the test of time. He was the youngest Mughal king and illiterate, and yet managed to conquer all of India. But the deer will not survive poachers," rues the former ASI clerk. "I have only this to say to those who talk about Mewar rulers and Akbar's brutality -- do you expect a king to not expand his kingdom? He did what had to be done."
Men and women speak of Akbar as though they were alive when he was.
But not all are as accepting of his legacy, or perhaps even the Mughal dynasty's contribution to Indian architecture.
Bhagwan Das, a tour guide, says that tourists over the last year or so have begun to question this narrative. "They ask me what proof do I have that these monuments were built by the Mughals. Their contention is that if there are such heavy Hindu influences on architecture, it must have been built by Hindu rulers," he says.
Another tour guide, who requested he not be named, pipes in, "A gentleman from South India was convinced that Sikandra was originally a Shiv temple. He said the spatial design was identical to a temple's."
This gentleman is certainly not alone: Many, including lawyers who filed a civil suit to the effect, claim that the Taj Mahal was originally a Shiva temple and was actually called 'Tejo Mahalay.'
This divide, Das says, also permeated into the classroom during his training as an ASI guide. "The question of 'who came first' always seemed to divide Hindus and Muslims in the class. The debate would veer away from the hard, architectural evidence and into conspiracy theories," he laughs.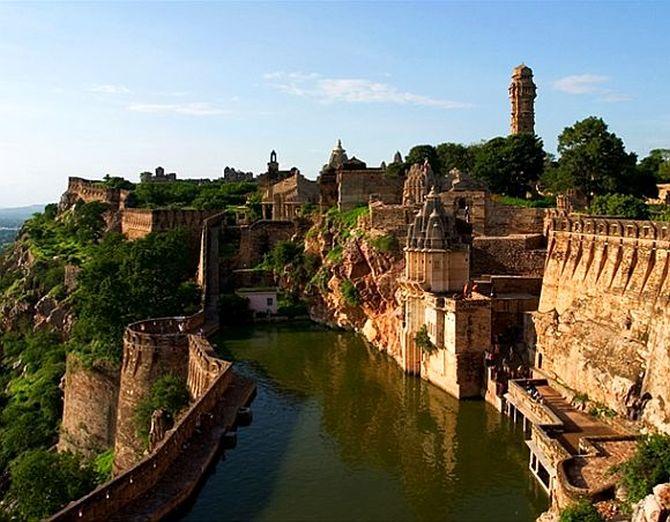 IMAGE: Chittorgarh Fort saw three attacks from Islamic rulers or as they are known to locals, the 'outsiders.'
Over 500 kilometres away, this is no laughing matter at the Chittorgarh Fort.
Once a citadel of the Mewar rulers, it saw three attacks from Islamic rulers or as they are known to locals, the 'outsiders.'
When asked about Akbar, Om Prakash launches into a tirade against the Mughals. "They destroyed temples and our architecture. It was because of Alauddin Khilji that Padmini had to jump into the fire," he says. When he is told that Khilji was not a Mughal ruler, Prakash simply says, "But he was Muslim."
Just as the syncretic elements during Akbar's reign are the highlight of a tour of Fatehpur Sikri, the harsh superimposition of Islamic structures over Hindu motifs is central to a tour of Chittorgarh. Dark, fading domes replaced the shikhars of structures in the fort, which have been left unpainted to make the contrast more obvious.
Just as Jodha Bai was central to Fatehpur Sikri, Padmini, the wife of Ratan Singh, and Mirabai, the Bhakti saint and wife of Sangram Singh, seem to dictate the prism with which their husbands' lives and their kingdom's history is viewed.
The brutality of Islamic attacks on the Mewar kingdom is prominently displayed with the several beheaded idols and broken temple structures that occupy stretches of land like graves would. Wakar Ansari, a businessman from Maharashtra, is visiting the fort with eight members of his family. Their guide seems to relish regaling these tales of 'Mughal' brutality and Rajput valour.
But sensing the possibility of discomfort, the guide dials down his enthusiasm a bit. Ansari and his family, who stand outside the Jain temple, look on with amused smiles.
Ram Chandra Vaishnav, the 76-year-old priest inside the Jain temple, points to history books in front of him when asked about Akbar. "I know this -- these rulers destroyed Hindu idols. The rest is history," he says. He asks me to read one of these books for a better knowledge of Chittorgarh.
Unlike Fatehpur Sikri, where the pamphlets focussed on the architecture and cultural influences, the books available here were entirely about valorous Hindu heroes: Maharana Pratap, Shivaji, Sangram Singh.
In fact, the books seem to be the only place where Pratap finds a mention. "The only person who is considered great here is Pratap. Akbar may have been 'great' elsewhere, but certainly not in Mewar," says Madhu Lal, a 73-year-old bookseller.
"Pratap was too busy fighting wars, which is why he didn't have time to build forts and monuments," says Prakash, the guide. In fact, there are more hotels and contemporary buildings in Chittorgarh named after Pratap's horse, Chetak, and Mirabai.
A lone Pratap statue is installed at a crossing, without any signage describing it.
For 84-year-old Shankar Lal, none of this matters. "Akbar ruined our forts, our heritage, our religion. His secularism was in theory only," he says over a game of cards that he plays seated inside a Ram temple.
When he is told that Akbar never really attacked the fort, he waves his hand dismissively. "You have entire cities named after Muslim rulers. It's time our heroes got their due."
History has another battle on its hands.