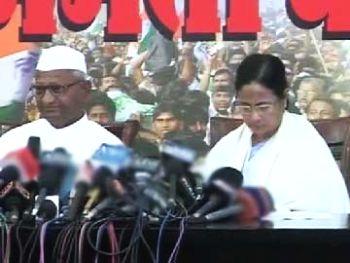 Kisan Baburao Hazare is supporting Mamata Banerjee's Trinamool Congress and attempts are afoot to form an alternative Third Front. Will these alliances really work, asks Bharat Bhushan.
Kisan Baburao Hazare, who claims to shun electoral politics, has decided to endorse Mamata Banerjee for prime minister. Hazare has promised the backing of his Jantantrik Morcha and its 1.25 million dedicated supporters to the Trinamool Congress leader. His supporters have even decided to open a "war-room" -- although why democratic elections should be projected as "war" is beyond comprehension -- in Delhi to campaign for the TMC outside its bastion of West Bengal. Banerjee herself is talking of forming a "Federal Front" after the general election.
With this, there are now attempts at forming two alternative fronts -- an 11-party Third Front being facilitated by the Left parties; and a front of the leftover parties, which because of state-level contradictions cannot be on the same platform as their immediate political rivals. The role these two fronts could play after the general election could be as different as their motivations for coming together.

The motivation of Hazare and Mamata for such an "alliance" is not the same. Hazare, who had disassociated himself from Arvind Kejriwal over his participation in electoral politics, has clearly not been able to stomach the rise of his protege. Today, Kejriwal's image looms larger than Hazare's. He has also shown that one can be in politics and still remain an iconic figure of political transformation. Kejriwal has gone a step further than Hazare -- he has opened electoral politics and its practice to people with no political pedigree. Hazare wants to cut Kejriwal to size while at the same time demonstrating his own commitment to clean politics, which he sees represented by Banerjee.

Hazare has little influence in West Bengal and the TMC has virtually no support outside the state. Yet, Hazare offers Mamata two advantages. First, he enjoys support among the urban middle classes disappointed with what they see as Kejriwal's disruptive and destabilising antics while in power in Delhi. Banerjee, on the other hand, is more comfortable in the rural areas of West Bengal. Hazare's support could help her consolidate the urban middle-class vote in West Bengal in her favour. This is the pre-election advantage she gets from Hazare's endorsement.

The second advantage could be a post-electoral one. She would get a buffer and a via-media to negotiate coalition formation after the elections. Hazare could potentially be a bridge between the TMC and the Bharatiya Janata Party. The pre-election compulsions of the TMC, because of a sizeable chunk of minority votes in West Bengal, are such that it has to keep a safe distance from the BJP. The post-election scenario could, however, present different possibilities altogether if the BJP and its partners in the National Democratic Alliance do not reach the halfway mark. They would then need additional allies.

Hazare has time and again demonstrated a right-wing Hindutva streak -- sharing a platform with Narendra Modi acolyte Baba Ramdev and accepting the support of the BJP and its parent organisation, the Rashtriya Swayamsevak Sangh at the peak of his hunger strike at the Ramlila Grounds in Delhi in 2011.

However, should Banerjee decide to support a BJP-led government from outside, she is clever enough to set her own conditions for doing so. Hazare would only provide her a fig-leaf, should she need one.

The Third Front, facilitated by the Left, is motivated by the possibility of forming a government by offering a non-Congress, non-BJP alternative. But the mindset of the Left parties brings its special disadvantages -- the absence of a spirit of compromise necessary in electoral politics. The prospects of a Third Front government depend on three factors: the number of Lok Sabha seats its constituents win, the projection of its campaign as a serious national campaign; and a tacit understanding with the Congress, to whom it is ideologically opposed. Without the outside support of the Congress, a Third Front government seems impossible.

Only when the leaders of the Third Front constituents are seen campaigning from a common platform -- not only for their own party candidates but also for those of their partners -- would a message go across the country that they are together and capable of providing an alternative government. To be effective, therefore, they will have to accommodate each other with offers of seats in their areas of influence.
For example, if the Samajwadi Party were given a seat in West Bengal, then it might give one reciprocally to the Left in Uttar Pradesh. This would allow Mulayam Singh Yadav to campaign in West Bengal together with the Left leaders and the same could happen in UP. Then people might think that the Third Front was serious about ruling from Delhi.
So far, such an accommodation is indicated only in a couple of seats in Tamil Nadu, which the All India Anna Dravida Munnetra Kazhagam might concede to the Left. If they do not concede seats to other partners in their respective states, the Third Front constituents, while retaining their regional character might not be able to project themselves as a serious national alternative.

The Left parties should perhaps even consider nominally accommodating the Nationalist Congress Party in Kerala since it is a partner of the Left Democratic Front and not the Congress-led United Democratic Front there. If Sharad Pawar were to then campaign for his party as well as the Left in Kerala, a different kind of political signal would go across the country. The Third Front, therefore, needs to create an atmosphere where its constituents are seen extending their collective reach. Only then can it garner the anti-incumbency vote.

The Third Front will also have to avoid electoral decisions that harm the Congress. Therefore, they would also need back channel communication with the Congress.

If the Third Front constituents do not fly in formation, they might fritter away the chance of keeping the BJP at bay. Only the real prospect of power will hold the flock together. Otherwise, in the post-election scenario, some of its constituents might swiftly desert it and negotiate with the BJP for crumbs of power. Then it would not matter who helps the BJP assume power -- some ambitious constituents of the Third Front or the Federal Front.
Image: A TV grab of Anna Hazare and Mamata Banerjee.
The writer is a journalist based in Delhi.