The farmers will go home but the country will not get the agricultural reform it badly needs -- if nothing else, then to prevent a bigger water crisis than already exists, argues T N Ninan.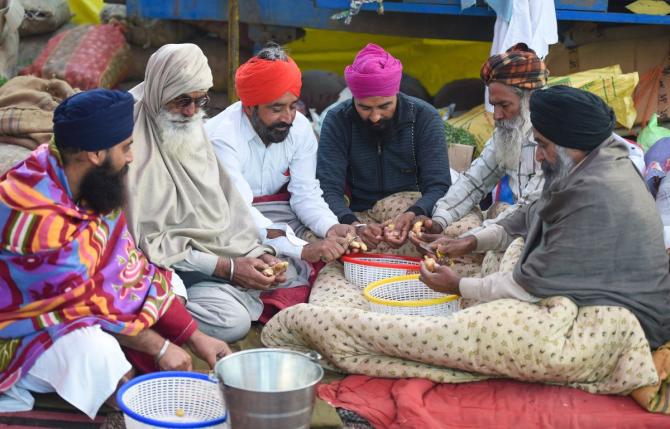 The problems that farmers face have more to do with incomes than prices.
Wheat is procured by the government at just under Rs 2,000 per quintal; you can get it in international markets at the same price.
Rice, of which India is one of the leading exporters, presents a different picture: India offers the lowest prices for its rice in the international market.
Yet that price is attractive enough for farmers to grow excessive quantities of paddy, even in states where water tables have dropped precipitously.
They should be switching to other crops, especially if the paddy procurement price is unattractive.
That they don't do so tells us a story.
Unlike rice, Indian sugar is uncompetitive in global markets and was exported last year with the help of a massive government subsidy equal to 30 per cent of the cost! This year, when no subsidy was announced, there were no exports.
The subsidy really goes to the farmer, who is being paid too much for sugarcane.
So, as with rice, he grows more of it than the country needs.
Rice and cane are water-intensive crops, and India is short of water.
Prices should be engineered to reduce the acreage devoted to these two crops, but farmers are too powerful a political force to be ignored -- as is evident right now all around Delhi.
Since both crops get a guaranteed purchase price, why wouldn't farmers agitate to keep the deal they have?
If the government caves in, the farmers will go home but the country will not get the agricultural reform it badly needs -- if nothing else, then to prevent a bigger water crisis than already exists.
If the government offered to match global prices, would the agitating farmers go home?
Paddy growers might, sugar growers won't, while those growing crops like rubber will want to retain heavy import tariffs as protection.
So different rules for different crops will continue, as they should.
But however the government deals with the agitating farmers, crop rationalisation is essential, as is the need to improve productivity virtually across the board.
Finally, too many people work on the land, so that income per head is low and farmers feel poor and nurse a sense of grievance.
Indeed, most of them are poor because half the workforce is in agriculture, producing only one-seventh of national income.
The solution lies not on farms, but in factories.
Labour-intensive manufacturing, would absorb surplus labour, which would be more productive on the shop floor and get paid more.
India is an outlier in its failure to engineer this fundamental transition in a developing country's job market, away from dependence on land.
If fewer hands were employed on the farms, incomes per head would rise for those who stay engaged in agriculture, and farmers would be less worried about assured product prices.
In the absence of proper manufacturing jobs, people have been turning to sub-optimal occupations.
The economic census records the existence of 58 million 'establishments', of which more than 70 per cent had no paid staff, only the owner.
More than half operated from within homes, or outside the home but without a fixed structure.
Most of these are not enterprises in any meaningful sense of the term, they just reflect under-paid artisanal work or desperate survival strategies.
Without proper jobs, the crisis will spread beyond the farms.
Someone should start a campaign to get the Bharat Ratna awarded to F C Kohli, who died a few days ago at 96.
Only M S Swaminathan (in agriculture) and Verghese Kurien (dairying) have changed people's lives and India's economic trajectory more than Kohli did.
At Tata Consultancy Services, he laid the foundations of the software services industry that has become India's largest exporter, employing millions.
His interests and work went beyond that, to promoting electrical engineering education, designing courses and developing software that he said could eradicate illiteracy through 40 hours of training on a basic computer.
He was low-key and would pass unnoticed in an airport.
But his record matches those of M Visvesvaraya and A P J Abdul Kalam, the only engineers so far to be awarded the Bharat Ratna.
Feature Presentation: Aslam Hunani/Rediff.com