'India does not wish to remain silent in improving its strategic space so that its leverage to counter China's expansionist designs is maintained, besides enabling it to play a responsible role from a position of strength for peace and stability in Asia,' points out Dr Rajaram Panda.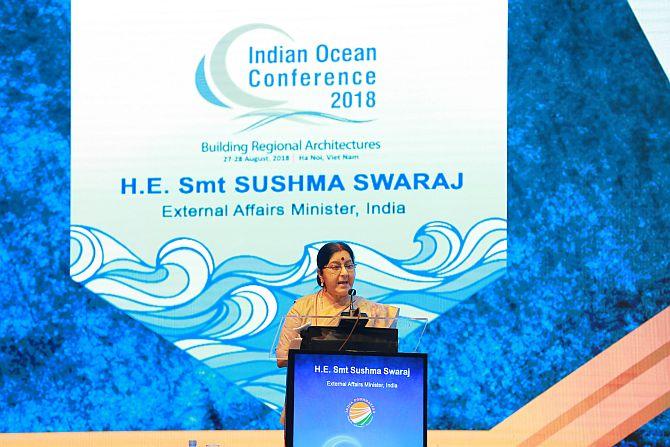 External Affairs Minister Sushma Swaraj paid an official visit to two key countries of the 10-member ASEAN bloc from August 27 to 30.
While in Vietnam (August 27-28), she co-chaired the 16th meeting of the joint committee on economic, commercial, scientific and technological cooperation along with her counterpart, Deputy Prime Minister and Foreign Minister Pham Binh Ming.
Besides calling on Vietnamese Prime Minister Nguyen Xuan Phuc, Swaraj inaugurated the third edition of the Indian Ocean Conference.
Of the two Indo-China States, Vietnam has emerged as an important country in India's Act East policy and larger Indo-Pacific strategy.
The historical and civilisational links between India and Vietnam complement the synergy in the present times in the economic, security and strategic domains.
In 2014, the Centre for Indian Studies was set up at the Ho Chi Minh Academy of National Affairs, Hanoi, with support of India's ministry of external affairs. It was inaugurated by then President Pranab Mukherjee in September that year.
Since then, the CIS has remained active in organising seminars and conferences brainstorming all dimensions of bilateral ties.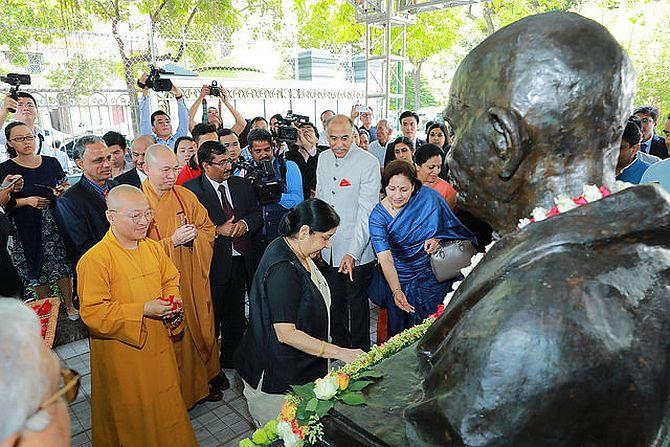 I have been privileged to be part of such academic discourse on four occasions, the latest being on August 24, 2018.
In fact, I returned to India the day the foreign minister landed up in Hanoi and am therefore privy to matters that transpired in subsequent discussions.
After spending two days in Hanoi, Swaraj traveled to Phnom Penh (August 29-30) in her first official visit to Cambodia and had bilateral meeting with Minister of Foreign Affairs and International Cooperation Prak Sokhonn.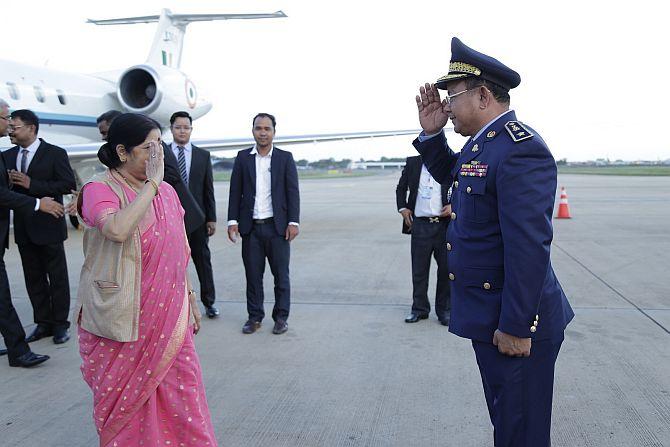 She also met Cambodian Prime Minister Hun Sen and Senate President Say Chhum and had in-depth discussions on a wide range of global, regional and bilateral issues with a view to advance strategic engagement with the ASEAN.
The series of high level political leaders from either country and constant sharing of common viewpoints on regional and bilateral issues demonstrate that India's ties with both nations are on an upswing.
India has been particularly scaling up its cooperation with Vietnam in areas of maritime security and energy.
During Vietnamese President Tran Dai Quang's visit to India in March 2018, both sides vowed to join hands for an open and thriving Indo-Pacific, besides ensuring an efficient and rules-based regional security architecture.
Vietnam and several other ASEAN member countries have territorial disputes with China over the resource-rich South China Sea.
China has been opposing India's Oil and Natural Gas Corporation exploring oil in areas claimed by Vietnam in the SCS.
India has been asserting that ONGC's exploration is a commercial operation and not connected with the dispute.
Oil exploration in the South China Sea is a sensitive issue in Vietnam-China relations.
The South China Sea is of critical importance for global commerce and therefore maritime security for safe maritime commerce is too important to be overlooked.
The Indian Ocean Region and the South China Sea through which trillion dollars of cargo transit ought to be free from any single power domination as these are global commons.
In particular, the South China Sea is the location of some of the world's busiest commercial shipping routes.
Thirty per cent of global maritime trade passes through the South China Sea.
In 2016, over 64% of China's maritime trade transited the South China Sea, while nearly 42% of Japan's maritime trade and over 14% of US maritime trade also passed through the same year.
The value of that trade was approximately $3.4 trillion which constitutes 21% of global trade.
In 2016, the value of China's trade transiting the South China Sea was $1.47 trillion, South Korea $423 billion, Japan $240 billion, Indonesia $239 billion and US $208 billion.
Global efforts must be made to ensure uninterrupted and safe transport of goods in accordance with global laws as per the United Nations Convention on the Law of the Sea, UNCLOS.
India is critical of many of China's activities such as its Belt and Road Initiative, which has created the fear of debt trap for many smaller nations joining the project.
China's assertiveness in the South China Sea unnerves smaller nations having some claims on certain portions of the sea contiguous to their national boundaries.
In complete disrespect to these, China claims the South China Sea almost in its entirety.
In an apparent criticism of China's BRI, while addressing the Indian Ocean Conference in Hanoi, Swaraj reaffirmed India's approach as 'based on inter-dependence rather than dominance or narrow reciprocal considerations.'
She reaffirmed India's commitment to responsible and transparent debt financing matched by responsible lending practices in all its engagements with its global partners.
Swaraj stressed that India understood that following universally recognized norms, transparency, openness, financial responsibility, and promoting a sense of local ownership were essential for better and a more sustainable development outcome.
It transpired that the EAM's comments were an indirect reference to China's BRI project which New Delhi argues would raise the risk of debt distress for 68 countries identified as potential borrowers if the initiative follows Chinese practices for infrastructure financing.
India is committed to uphold lawful uses of the seas and unimpeded lawful maritime commerce and peaceful resolutions of disputes in accordance with universally recognised principles of international laws.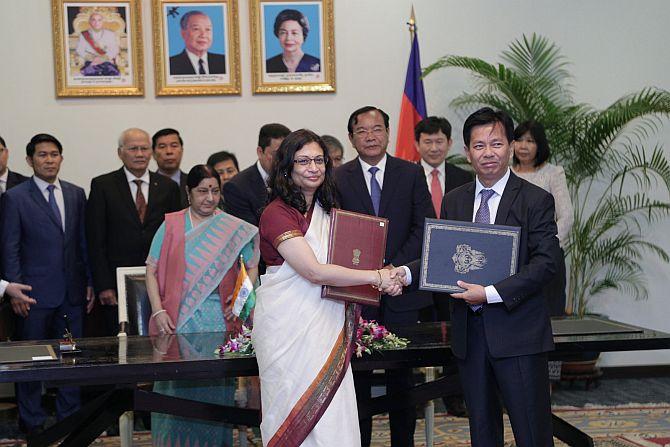 Analysts would find it difficult to miss the import of Swaraj's comments as it came against the backdrop of China's aggressiveness posturing against its neighbours on matters pertaining to the South China Sea.
India has articulated many times through statements at forums its vision for the region as one of cooperation and collective action.
Indeed, the bounty of the Indian Ocean cannot be tapped without ensuring maritime peace and stability.
Swaraj underlined that 'economic prosperity and maritime security go hand-in-hand', and that 'security is an all-encompassing concept and includes traditional, non-traditional and newly emerging threats'.
These include maritime terrorism, smuggling, transnational crimes, drug trafficking, illegal immigration, illegal, unreported and unregulated fishing, piracy, unregulated private maritime security companies and proliferation of sensitive items.
The problem is further compounded by natural disasters, oil spills and effects on climate change, to which the region is prone, which is why those who, live in this region bear the primary responsibility for peace, stability and prosperity in the Indian Ocean.
And in coping with this challenge, no unilateral but collective action is preferred and acceptable.
To address to these issues, India has prioritised building connectivity, contacts and cooperation in its immediate neighbourhood.
As a responsible stakeholder, India has taken a slew of initiatives in the Indo-Pacific region, including the Indian Ocean Region and ASEAN by taking countries on board from maritime security, sustainable development, disaster management and the development of a Blue Economy.
Guided by the development and security priorities of its neighbours, India is helping these countries in setting up their coastal surveillance networks for developing shared maritime domain awareness.
Besides signing white shipping agreements with a number of countries, Indian ships have undertaken coordinated patrolling and Exclusive Economic Zone surveillance on requests.
India has also extended hydrographic support to the partner countries in order to ensure safety of navigation.
Broadly, Indian strategy has been to build an overarching vision for the Indian Ocean region in an inclusive fashion.
Earlier, Prime Minister Narendra Damodardas Modi had spoken about his vision of a free and inclusive Indo-Pacific.
Modi had remarked that the Indian Ocean is a central component of the free and inclusive Indo-Pacific.
It is 'a region where some of the largest and smallest nations of the world have coexisted in harmony. The harmony is not only because of economic or cultural commonalities, but also of ideological and civilizational commonalities,' the prime minister had said.
Going further, Swaraj observed the 'region cannot be only a growth engine; it has to be a community of ideas and commitments', which is why India commits 'to the ideas of a rule-based order, equality under international law, peaceful resolution of disputes, and equitable distribution of the benefits of globalisation'.
The significance of the UNCLOS for peaceful resolution of disputes in seas cannot thus be ignored.
Swaraj's remarks at the conference demonstrate India's strategic thinking, in which ASEAN enjoys primacy of place in the evolving concept of regional maritime architecture.
As a strategic partner, Vietnam is a key partner in defence cooperation and strengthening Vietnam's maritime capability is a key element in the bilateral ties.
The talks of the sale of Brahmos missiles and now Akash to Vietnam raise the profile of bilateral ties.
Though talks of a quadrilateral dialogue between India, the US, Japan and Australia has created a flutter in Beijing, India is not keen in containing China or joining any alliance with the US or any other country.
However, India does not wish to remain silent in improving its strategic space so that its leverage to counter China's expansionist designs is maintained, besides enabling it to play a responsible role from a position of strength for peace and stability in Asia.
Complimenting Swaraj's remarks, Vietnam's Prime Minister Ngyuyen Xuan Phuc observed that there is plenty of room in expanding India-Vietnam ties and that both sides need to establish appropriate mechanisms to facilitate them.
Vietnam hopes India will support ASEAN's centrality in the regional architecture and speak up for the maintenance of security, safety, freedom of navigation and aviation and respect law, including the settlement of disputes via peaceful means on the basis of international law.
It transpired that there is mutual commitment from both sides to further intensify the multi-faceted partnership between the countries, with a special focus on economics, trade, investment, science-technology, security-defence, and people-to-people exchange, thereby contributing to peace, stability, and prosperity in the region and across the globe.
Dr Rajaram Panda, former Senior Fellow at the IDSA, and until recently ICCR Chair Professor at Reitaku University, Japan, is at present a Lok Sabha Research Fellow.