Chief Minister MK Stalin has shown that he is cut from a different cloth when it comes to embracing what is current, modern and absolutely necessary. Thus, even while retaining the spirit and content of the pan-Tamil, Dravidian socio-political and socio-economic ideology to the 't', his government has also acknowledged the need to accepting scientifically-proven facts in operational matters, says N Sathiya Moorthy.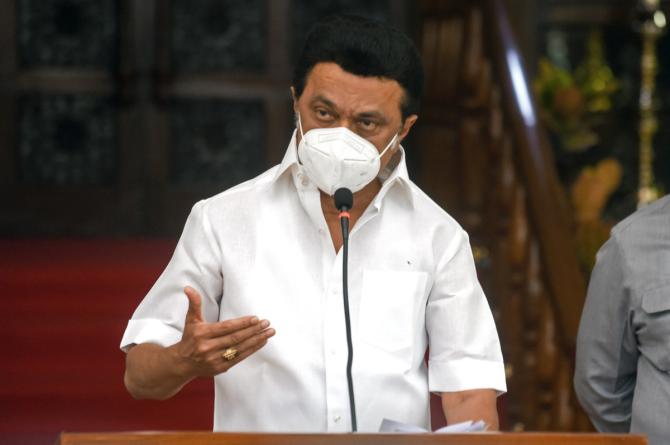 Building up on the expectations geared by his choice of a technocrat as finance minister, Tamil Nadu Chief Minister M K Stalin has taken yet another equally unthinkable step for the 'Dravidian parochialist' that he is perceived to be.
In a move unprecedented for any state in the country, his government, through Governor Banwarilal Purohit's customary address to the maiden session of the state assembly on Monday, announced the setting up of a five-member, high-powered economic advisory council for the chief minister.
To underline the seriousness with which the chief minister and his government are approaching the inherited economic crisis, Stalin also had the council's appointment gazetted within hours, outlining clear-cut terms of reference and process and procedures, with finance secretary S Krishnan heading the council secretariat as coordinator.
Stalin's determination to clear up the economic mess became visible when he chose Palanivel Thiagarajan, an engineering graduate with a PhD from Buffalo University and MBA in financial management from MIT Sloan Institute of Management, both in the US. Before entering politics in 2014, as the third-generation representative of his illustrious family, Thiagarajan had put in 20 years in international banking and capital markets, quitting Standard Chartered as managing director of its global financial markets and sales division, based in Singapore.
Stalin's idea of getting an apex economic advisory council is anything but Dravidian in form and content. Traditionally, Dravidian political leaders, from Annadurai to Jayalalithaa, with Karunanidhi and MGR in between, were vary of anything from outside the system. That even included investors from north India.
Stalin, after spending close to five decades under his illustrious and ideologue father, has shown that he is cut from a different cloth when it comes to embracing what is current, modern and absolutely necessary. Thus, even while retaining the spirit and content of the pan-Tamil, 'Dravidian' socio-political and socio-economic ideology to the 't', his government has also acknowledged the need to accepting scientifically-proven facts in operational matters.
Thus, Governor Purohit, in his address, underscored the need for a 'data-based' approach, moving away from the sentiments-centric Dravidian approach to policy-making, deriving mostly from perceptions and anecdotes. Translated, it could well mean that the state government may also review some of the inherited social welfare measures, at times dubbed as populist freebies, to make them purposeful -- or, dropped, where found justified.
By adopting a 'data-based' approach, Purohit explained that the government could make its operations more 'transparent'. As is known, 'transparency' is what political and bureaucratic masters often shy away from, where they do not disklike it in full. And Stalin has now taken bold to promise both, which by itself should be a good beginning.
Alongside data-based approach and transparency, Purohit also promised a 'right to services' law, aimed at ensuring that the citizenry could demand and get their due in terms of multiple services from their elected government. Sounding simple on paper, it could become increasingly complicated unless government employees and their unions fall in line -- and do not find new ways to procrastinate and postpone decisions lest their own importance and benefits get cut midway.
Thus, the taste of the pudding will be in the eating -- and there is a need to give his government its full five years before returning to a complete assessment of his promise of a 'full disclosure'. To this end -- and partly to fix responsibility -- the governor has reiterated Thiagarajan's earlier promise to come up with a 'white paper' on the state of the economy, outlining the debt burden and underlining the causes and suggesting a way out.
It is also in this context that the idea of an economic advisory council assumes relevance. Read with the terms of reference, it immediately becomes clear that the chief minister and the government want new ideas on economic management -- and are ready to accept them with open arms, at least for adequate consideration.
Entrenched sections of the state bureaucracy and also a section of the old-world DMK political class may express reservations and come up with some valid arguments against some of the recommendations, when made. It is here that Stalin's leadership qualities will come under test, if not strain.
How capably he is able to negotiate a way out, without hurting any section, starting with his electoral constituency and cadre base, will determine his success to a substantial, if not great extent.
It is not as if negotiating with the advisory council is going to be easy for Stalin, who was always seen as a political leader allegedly unexposed to and uninterested in the ways of the economic world. So much so, when he was deputy chief minister under father Karunanidhi during the latter's fifth and last term as chief minister (2006-11), a motivated myth was floated that Stalin was not interested in knowing or doing anything that was alien to him. Translated, it meant that he was not a 'man of the times' and there were others in the party, including the party's 'first family' who (alone) were up to it.
Today, the choice of the five-member panel should silence those rumour-mongers -- at least until Stalin's handling of the council and its recommendations become known. The choice of the council members, in a way, also shows Stalin's courage to take the bull by its horns. It comprises the appalling economic situation, the painful cure and even the persona of the council members, with their own strong portfolios of global and regional successes behind them.
As is known, the panel comprises Nobel Prize-winning economist Esther Duflo, ex-RBI governor Raghuram Rajan, former chief economic advisor Arvind Subramaniam, Prof Jean Dreze of the Delhi School of Economics and former Union finance secretary Dr S. Narayan. Of the five, two, namely Duflo and Dreze, are academics. Rajan and Subramaniam are also globally-renown academics who made a lateral entry into the government, to serve their nation, on invitation -- but could not cope with the vagaries of political vicissitudes.
Economic advisor to Prime Minister AB Vajpayee for a time, Dr Narayan holds a PhD from IIT-Delhi, an MPhil in development economics from Cambridge and an MBA in finance from the University of Adelaide, Australia. A 1965 batch IAS officer from Tamil Nadu cadre, he is the only panel member with bottom-up administrative experience, subsequently embellished with post-retirement academic research in Singapore.
From his grassroots-level experience and more, Dr Narayan authored the 2018 book, The Dravidian Years, outlining 'politics and welfare in Tamil Nadu'. The chapter on MGR's famous noon meal scheme is a case study on how governmental programmes need to be planned to make them successful and long-lasting. Narayan's more recent publication, Bangladesh at 50 (2020) outlines the 'politics and challenges' in a small and younger South Asian nation, from where there are many lessons for contemporary Tamil Nadu to possibly learn from.
Like the choice of Thiagarajan for finance minister earlier, Stalin's bold decision to acknowledge problems in the state's economy and the need for the government to have an apex council of international experts with multiple exposure to advise it, has been welcomed all across as an idea whose time has come -- though not many will acknowledge it.
The appointment of the council, accompanied in the same breath by the announcement of data-based decisions to ensure effectiveness and transparency, with the promise of a right to service law come at a time when Thiagarajan had begun laying bare the problems facing the state's economy. In the same vein, he declared at a news conference on the eve of the governor's speech that there was no way the state government could cut tax on petroleum products.
Yet, Thiagarajan has been indicating that he would not cite revenue loss as the cause for imposing total prohibition, though he was not as sure about implementation problems. Citing CAG reports and his own understanding, the minister has told TV interviewers that if he could trace and bring back the Rs 70,000 crore revenues lost almost every year under the rival AIADMK regime, there should not be any fiscal objection to prohibition or a licensed sale of liquor to individuals or whatever.
Thiagarajan's views on prohibition come at a time when critics have pointed to the 'pandemic lockdown relaxation' including the reopening of TASMAC liquor shops in the state, when Stalin had opposed it during the first wave while in the Opposition. Incidentally, Tamil Nadu is also the only state where the government holds the monopoly for liquor and river sand sale, as introduced by the Jayalalithaa government in its second term (2001-06).
Whatever it be, Thiagarajan ruling out a reduction in petrol and diesel prices after the party's poll manifesto had promised a Rs 5 per litre cut in petrol prices and Rs 4 on diesel, has not gone down well with a section of the population. A tall order, it was known then itself, but Thiagarajan continually harping on Centre's high-handed approach to states' finances, which was antithetical to the nation's federal structure, has also not gone down well with sections within Prime Minister Narendra Modi's team.
By extension, it should not end showing up as a contradiction in Stalin's own approach to the Centre, or that the politically experienced chief minister was playing 'bad-cop good-cop' with the ideologically different Centre.
Thus far, Stalin has conveyed the message that while not giving an inch on ideological issues and policies, he was not for a 'confrontationist' politicised approach to the Centre, for the sake for confrontation. As he has been reiterating since coming to power, he wants to be seen as a 'chief minister for everyone', including those that had voted against him.
Yet, the ideological contradiction of all times on the appointment of the apex panel came from the all-India Mahila BJP president, Vanathi Srinivasan. A first-time MLA who defeated actor-politician Kamalahaasan in Coimbatore South, Srinivsan tweeked asking where was the (famed Dravidian) 'social justice' in the choice of the panel members.
By implication, she was referring to two of the five members being foreigners, and the other three, all Tamils, being Brahmins. Incidentally, Vanathi Srinivasan herself is a Brahmin. If she thought she was scoring at least one brownie point on day one of the assembly session, even staunch supporters of PM Modi and the BJP in the state and elsewhere, were not taken in by her comparison. If anything, it left only a bad taste even in their mouths.
Otherwise, going by the way the DMK is enforcing public discipline and decorum, critics may have fewer issues than during Karunanidhi's past. Apart from a few instances of disciplinary action against cadres pre-government, Stalin sacked a lower-level party official from primary membership after he reportedly threatened a hospital management in Chennai's Mylapore area for 'protection money' of sorts.
Even more noticeable, for the first time in the nation's legislature history in recent years and decades, DMK members refrained from thumping their desks in appreciation of various announcements through Governor Purohit's 52-minute address. Obviously, they had been advised to maintain House decorum, and that is a good precedent, too!
N Sathiya Moorthy, veteran journalist, political analyst and author, is Distinguished Fellow and Head-Chennai Initiative, Observer Research Foundation.