The Palaniswami government is expected to utilise the Rangarajan Committee's recommendations before the 2021 assembly election.
R Rajagopalan reports.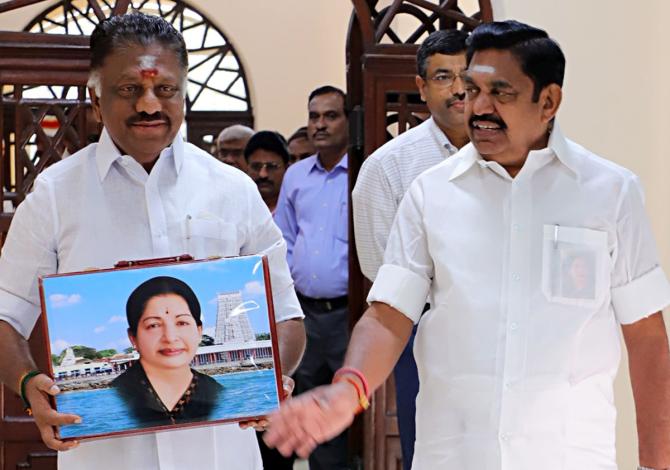 A mega six-point action plan to tackle the post-coronavirus pandemic-triggered economic crisis in Tamil Nadu is the highlight of the high-powered Dr C Rangarajan committee's report, which will be submitted to Chief Minister Edappadi K Palaniswami on Friday, September 11.
The Tamil Nadu government had set up a 24-member committee under the chairmanship of Dr Rangarajan, former governor of the Reserve Bank of India, to recommend short- and medium-term measures needed to boost economic activity in the state in the wake of the pandemic.
The Palaniswami government is expected to utilise these recommendations before the 2021 assembly election in the state.
This report will also serve as a ready reckoner for Chief Minister Palaniswami to get fiscal support from the Union government and also approach financial institutions like the World Bank, ADB and IMF for assistance.
The action plan proposed by the Dr Rangarajan committee includes allowing foreign and private investments in those sectors which have had a negative impact on the economy of Tamil Nadu.
The committee also is believed to have suggested opening up the public private partnership module in sectors like agriculture, industries, services including tourism, construction and real estate, and retail trade.
The committee held eight virtual interaction among its members who included N Narayanan, former chief secretary; Dr P Duraisamy, vice chancellor, University of Madras; Dr N Kumar, vice chancellor, Tamil Nadu Agriculture University; Dr K R Shanmugam, director, Madras School of Economics; Professor P G Babu, director, Madras Institute of Development Studies; A Vellayan, former chairman, Murugappa group; N Srinivasan, MD, India Cements; Venu Srinivasan, chairman, TVS Motors; Pinaki Chakraborty, co-ordinator, Unicef, Chennai; and senior officials from various state government departments.
Saranyan Krishnan, Tamil Nadu's finance secretary, is the member secretary of this high-powered committee.