'... are the deep ruts and fissures in the rotting fabric of our cities and the incompetence of elected leaders and administrators,' notes Sunil Sethi.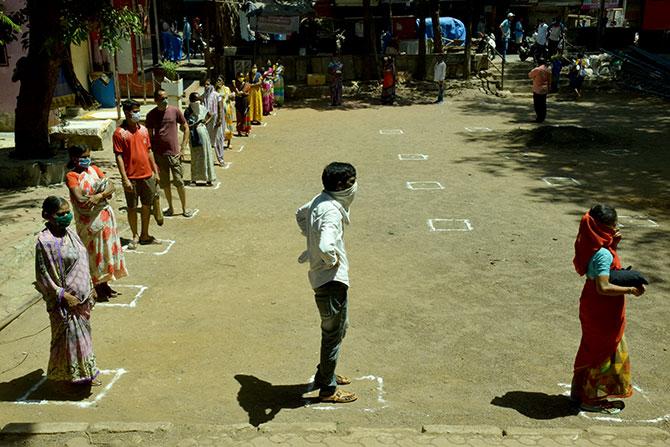 Here's a small anecdote that sums up the rising panic at two ends of the social spectrum.
A friend's daughter, a banking professional, began to worry a few days into the lockdown that her car's battery may be run down and decided to take it for a short drive in her neighbourhood.
Like most parts of metropolitan India, even well-heeled, gated areas (termed 'posh localities' by real estate agents) are serviced by slums in the vicinity, teeming with skilled and unskilled labour comprising domestic workers, tradespeople, street vendors, rag pickers, and criminal elements.
No sooner had the young woman hit the main road that runs along a basti on elevated ground than she found a group of people come rushing down to surround her car.
Slowing down to a stop, she asked what they wanted.
"Food," they said. "Roti chahiye."
They hammered on her windows and bonnet, some demanding money while others importuning for intervention with the authorities.
"Didi, kuch madad karo".
As she reached in her wallet to give some money, a young man thrust his hand through the window and tried to snatch her cell phone.
At this the woman panicked, hastily reversed her vehicle and raced back home.
Later she wondered whether her panic was justified; or whether the sudden ambush (in broad daylight on an empty road) by a group of slum dwellers was driven by the distress of genuine hunger or by thieving vagrants.
What the extended lockdown has brought into harsh view are the precarious levels of urban existence.
Most welfare schemes over the years (from cash transfers in banks to mandatory employment) have focused on the rural poor, tragically ignoring huge pockets of urban poverty.
Suddenly evicted from jobs and homes, they now constitute an unmitigated 'migrants crisis' -- the thousands breaking cordons of quarantine shelters in Delhi, Agra, or Bareilly, spilling out in mass protest on the streets of Surat, waiting for phantom trains at Bandra, and risking life and limb on highway treks to remote villages.
The further tragedy is that policymakers, statisticians, and social scientists are at sixes and sevens as to the numbers, geographical distribution, place of origin, and profile of this vast workforce.
According to one estimate, there may be a shifting mass of 4 million unskilled casual labour in Delhi alone.
We know, for instance, that many powerloom workers in Gujarat's textile industry are migrants from Odisha, but so are most plumbers in my neck of the woods in south Delhi.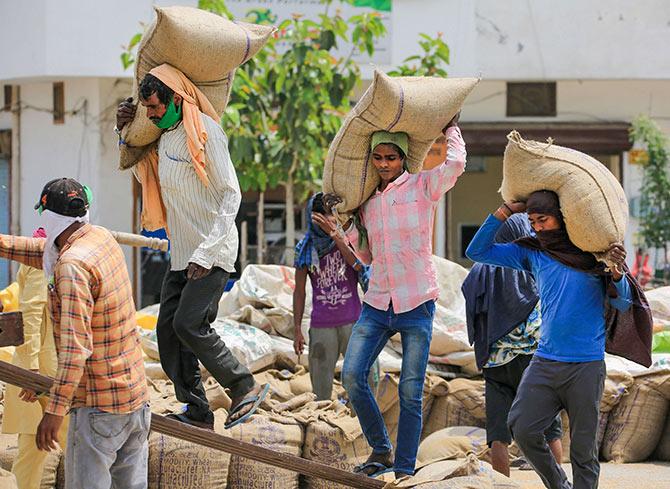 Where varied social and economic groups from diverse regions generally lived in acceptable levels of adjustment in cities, a major fallout of the lockdown is that they are now increasingly at each other's throats.
The daily instances of confrontation with police, violence against health workers, and fights over food and water suggest a deeper malaise, an alienation of Brechtian proportions.
Among others, Rajendran Narayanan of the Stranded Workers Action Network says distress calls from half a dozen states indicate "huge levels of deprivation" and endemic food shortages four weeks into the lockdown.
However, there are also reports of migrants rejecting food in detention because it was not home-cooked or not to their taste.
With the Food Corporation's depots brimming with surplus grain, and chief ministers such as Arvind Kejriwal denying any food shortage, the roadblocks, quite literally, are due to dismal coordination between the Centre and states to speedily transport food to those in dire need.
If these distribution failures are unresolved, food riots will become a reality.
The enforced incarceration has intensified levels of anxiety, frustration, and aggression all round.
Infected patients attacking hospital staff in many places are as much a panic response as the police showing the stick to rule-breakers.
Doctors and nurses of Delhi's Lok Nayak Jayaprakash Narayan Hospital, a dedicated COVID-19 facility, protested en masse at a patient's persistent abusive behaviour.
The media too has succumbed to the pressure of job losses, wage cuts, hampered mobility, and dependence on rumour and hearsay to churn out unverified stories.
The most grievous instance was the 2,000 migrants who gathered at Mumbai's Bandra station on hearing the baseless news that trains would ferry them back to their states.
And a piquant instance of personal injury was a false TV report announcing the death of an army officer from COVID-19.
'Idiotic people I am very much alive. I am Major Ranjit Singh (Veteran), President Defence Colony Welfare Association. Apologise or be prepared to be sued', tweeted the officer, aghast.
Later, he graciously forgave the reporter 'working under stress during these trying days'.
As large swathes of the country are discovering, coronavirus is no great leveller, impervious to privilege or deprivation.
What the scourge of COVID-19 has exposed are the deep ruts and fissures in the rotting fabric of our cities and the incompetence of elected leaders and administrators.