Never have I been so thankful for my decision to quit my life in Mumbai and shift to Santiniketan as I have been in these times of the coronavirus, says Keya Sarkar.
Illustration: Uttam Ghosh/Rediff.com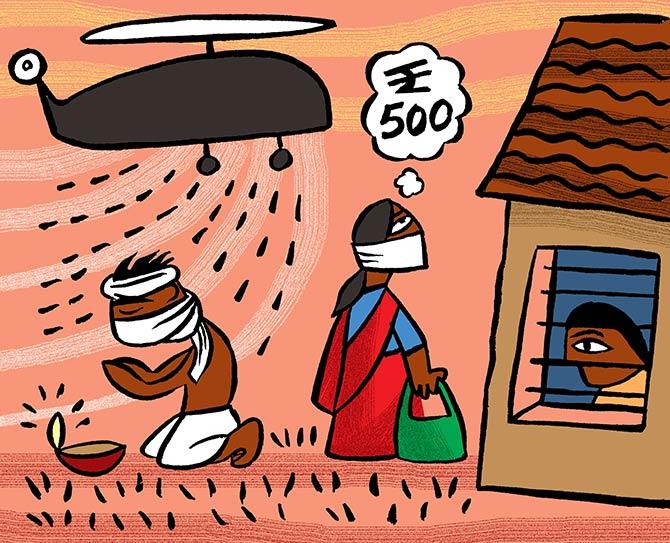 A few days ago a friend rang me up to enquire how we were doing in the lockdown.
But even before I could answer,she said, "But, of course, we had chosen a lockdown lifestyle many years ago".
Shabnam had relocated to a small village in the Murshidabad district of West Bengal two decades ago from Delhi.
She too works in craft and it was natural for us to meet.
Every time we met, we never failed to discuss how blessed we were to be living in a small place.
But never have I been so thankful for my decision to quit my life in Mumbai and shift to Santiniketan as I have been in these times of the coronavirus.
First of all because lockdown days for us are not very different from normal summer days.
Hardly anyone visits Santiniketan at this time and the only entertainment possible is a drive in the evening which typically ends with a stop for muri and chop at a roadside shack.
Since there has been -- till the time I write this -- no shortage of groceries or vegetables, our experience of the lockdown has been more cerebral.
Unless, of course, we watch TV.
In a country where more than 250,000 people still die of TB annually the fuss over a few hundred deaths seems a trifle misplaced.
Especially since most of the channels have little idea of what's happening on the ground.
Like all my friends and family in gated communities across the country.
Being in a small place gives me a totally different perspective on the virus and the way the government's communication on the subject is being received.
The one-day curfew, I was told by my fish vendor, was "because the government was going to spray medicine from a helicopter".
There were many others who corroborated this theory.
The lighting of the lamp was in honour of all those who had died in this pandemic, explained my gardener, who had, of course, listened to Modi's instructions.
"Do you light one for your dead parents ever?" I asked.
He said he didn't, a trifle sheepishly.
My vegetable vendor, Ram, who comes home regularly, lives opposite a gas dealer's office.
He informed us about the thousands queuing up for the free gas that the government had promised those below the poverty line to cope with the lockdown.
They had all been given a cylinder and a gas stove under the Pradhan Mantri Ujjwala Yojana but had never lifted another cylinder post that being too poor to afford even the subsidised price.
So the lines were first to register their mobile phone numbers which would entitle them the free cylinders now.
But they didn't want the cylinders, said Ram.
They had thought they would get money if they didn't take the cylinder but were disheartened to know that that was not an option.
My neighbour's gardener's wife described how she had spent five hours standing in front of the bank waiting to withdraw the Rs 500 that had come into her Jan Dhan account.
"Why didn't you go a few days later?" I asked, "when the crowds would have been thinner?"
"If we don't withdraw the money fast it may go back to the government," she said by way of explanation.
In the midst of my conversation with her, my phone rang.
It was my friend from Mumbai telling me that a lady in their gated community was baking and supplying bread.
"Even multi-grained," she said.
I truly had a ringside view of the corona panic, I thought.