'I need a haircut, but who can I trust with a pair of scissors?', asks Kishore Singh.
Illustration: Uttam Ghosh/Rediff.com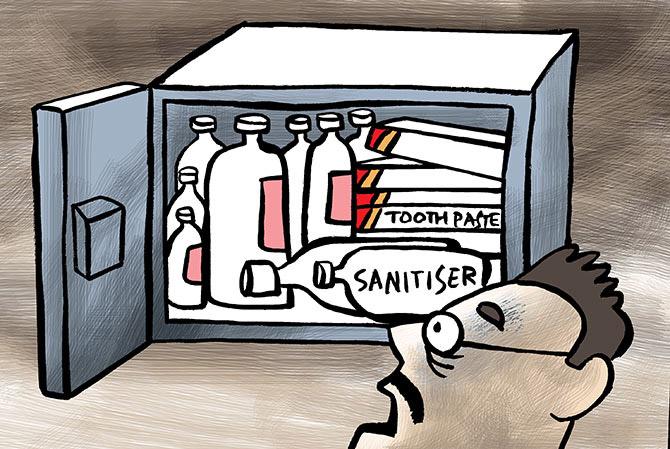 Dear Diary,
The city is in a lockdown. All sign of life in neighbouring houses is eerily absent.
Cars, driveways and homes appear abandoned, dusty, as though residents have fled in a hurry.
The front door doorknob is shining with frequent disinfectant rubs.
Newspapers, milk packets, deliveries of medicines are sanitised before being touched.
The only sounds emanate from hushed TV news channels and the frequent ping of WhatsApp forwards.
Paranoia and suspicion are growing by the hour. What will become of us?
Day One
10 am: The apple tastes of soap. It's getting impossible to serve anything given the frequent disinfection of electric switches, toaster knobs, frying pan, plate, knife, glass, spoon, jam jar lid, ketchup bottle.
Did anyone wash the eggs before peeling their shells?
Do you sanitise your hands before washing up or after?
11 am: No one volunteers to touch the washing machine controls.
11:38 am: I spot my wife handling my mobile phone -- is she deliberately passing on a contagion? Words ensue.
5 pm: What was she doing with a knife in the bedroom?
5:08 pm: I take an inventory of all knives.
11 pm: I hide all the knives.
Day Two
6:30 am: My wife makes her own cup of tea.
6:40 am: My mother makes her own cup of tea.
7 am: I give in, make my own cup of tea.
7:30 am: My son and daughter-in-law look through us, make themselves cold coffee, disappear into their bedroom. I can hear them opening packets of food inside that they do not want to share with us.
8 am: I serve my daughter a glass of milk.
9:30-10:30 am: Everyone organises their own breakfast. The family is dissolving as a unit. We are all alone.
8 pm: My son tells us that the pandemic is endemic and suggests that everyone share their account passwords because "Who knows?", etc.
We are to prepare lists of all our savings and investments and post them on the family group for easy, mutual access.
8:30 pm: My son informs us that his sister's password for her account number is wrong; he tells his mother she is withholding critical information about her investments.
10:30 pm: I discover my son's password is fake.
10:45 pm: I log in and change my passwords.
10:55 pm: I nominate my son as payee for all outstanding loans.
Day Three
Conversations have been crisp and lacking in civility.
Someone has posted an hourly calendar till liberation on May 3, at the hour of midnight.
12 noon: I need a haircut, but who can I trust with a pair of scissors?
12:30 pm: I offer to make sandwiches; everyone looks at me distrustingly.
1 pm: I want a beer, but my son and daughter have divided up the bottles between themselves. My daughter-in-law has put stickers with her name on all cans of Coke.
2:15 pm: I open the safe to find my wife has stocked it with refills of liquid soap, packets of toothpaste, bottles of hand sanitiser and shampoo sachets. "Where's my money?" I ask. "Your cash is useless," she tells me.
4 pm: I discover the cash in my bedside drawer where I keep my debit cards.
4:01 pm: The debit cards are missing. PS: I have forgotten to change their pin.