'No germ, virus or bacteria worth its nasty trait was allowed across the threshold,' observes Kishore Singh.
Illustration: Uttam Ghosh/Rediff.com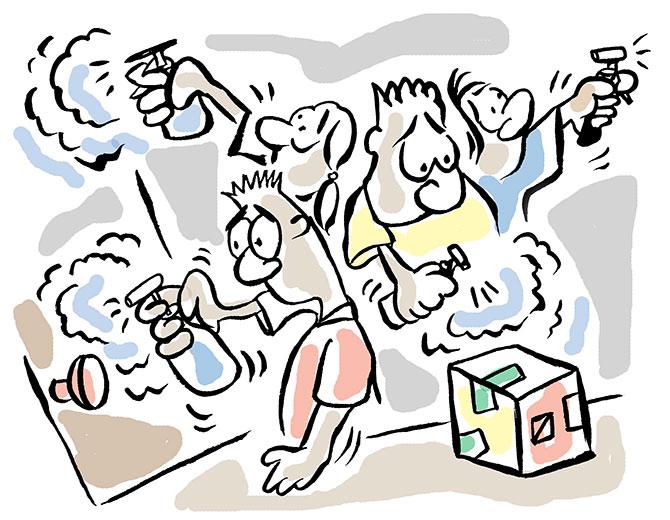 The orderly group of Americans trooped into the meeting area like soldiers, gamely accepting the benediction of sanitiser wash before turning to greet us -- their hosts.
"Are we touching,?" the leader of the group asked. Wisely, it was decided we weren't, so namastes were exchanged instead of handshakes and hugs.
Maintaining a distance of a metre apart from each other was more difficult, but keeping one's fingers crossed had to count for something.
At any rate, we saw the team off with a sigh of relief, atithi devo bhava being held in abeyance till the nasty virus had spent itself out.
If offices across Delhi NCR were hostage to the pandemic, the fear of illness turned our house into a war zone.
Our children spent hours and days tracking every last spray of disinfectant or bottle of sanitiser from every possible site online, and then used a portion of it on the lads delivering it at our doorstep.
No germ, virus or bacteria worth its nasty trait was allowed across the threshold.
Rations were hoarded. Doorbells, knobs and electric switches routinely sprayed with disinfectants.
In a spirit of remarkable eclecticism, the dhobi, car cleaner, gardener, driver and sundry other service providers were at the receiving end of the same stinging squirts of alcohol-based disinfectants as those of our friends brave enough to venture over for lunch, or a sundowner.
At first, it was the weekends that proved wearying exercises in cohabitation. No one in the family any more suggested visits to the mall or club; then the cinemas shut down. Bars and restaurants turned off-limits. Parties were a strict no-no.
Online shopping served as the only entertainment, and mysterious-sized packages began to arrive with unexpected regularity. Their deliveries were preceded by shouted instructions about protection of door handles; the packages were sprayed, and opened only after donning gloves.
With nowhere to wear their purchases to, they were tucked away in cupboards.
Television viewing for a socially maladjusted family with short attention spans became a tedium; books too serious to waste a weekend over, and social media with its news of cancellations of events only served to heighten the sense of paranoia.
With little to do, one's thoughts gravitated to food. "Strictly no ordering meals from outside," my wife warned the family, and for once there were no protests over the scuttling of takeouts.
My daughter-in-law's love of all things fowl suffered a setback when the cook served chilli chicken with noodles for dinner.
"No Chinese khana," she objected, also banishing home favourites lasagna and pizza from the table. My wife was asked to eliminate any use of Thai pastes from her cooking. The cache of dressings and condiments from Singapore was dropped from the diet.
Meals became sparse and joyless, adding to the listlessness of weekends.
Then offices, exercising abundant caution, announced indefinite work-from-home schedules, confining our already bored millennials to the home, increasing stress levels.
No longer could my wife heave a sigh of relief watching the family's departing backs as they left for work.
Cramped in close proximity, pitched battles have begun over the speed of the Internet, first rights for the study table -- and who used the printer without sterilising its controls?
Things, I can predict, will only get worse before they get better.