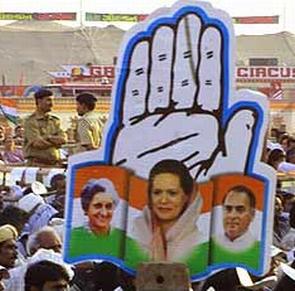 As the elections appear closer, the nervousness in the Congress party has become more visible. Each one is frantically concerned about his own position rather than wanting the Congress party to get ready for a spirited fight.
Amethi was a fortress of the Congress party. It is Rahul Gandhi's constituency. It has been nourished by the family for four decades. The very idea that the Raja of Amethi Sanjay Singh may contest against Rahul Gandhi was enough to scare the Congress party's de facto prime ministerial candidate. The Raja of Amethi had to be accommodated in the Rajya Sabha from Assam. A firewall of sorts has to be created around Amethi to secure the constituency.
Additionally, deals are being worked out with the Samajwadi Party and the Bahujan Samaj Party not to put up candidate from the minority community against the sitting MP. In the process not only has the leader of the Congress party displayed his personal nervousness but the party's prospects in Assam have been considerably damaged. States in the north-east and Jammu & Kashmir are particularly sensitive and want their own candidates to be elected to Parliament.
Senior leaders from Haryana, Himachal Pradesh and Chhattisgarh who should have been leading the party's campaign in this election have sought nominations for the Upper House.
The position of the allies is no different. The Trinamool Congress, the Dravida Munnetra Kazhagam and the Telangana Rashtra Samiti amongst the major allies have already drifted away from the United Progressive Alliance. Amongst the current allies the principal ones are the Nationalist Congress Party and the National Conference.
The NCP has been giving conflicting signals on a daily basis. The statements of its leaders on the 2002 Gujarat riots go contrary to the Congress party's line. The National Conference has realised that an alliance with the ruling party of New Delhi will be counter-productive to it in the Kashmir valley. It is preparing itself for a break.
No state unit of the Congress in recent history had the courage to defy the central leadership. Most Congressmen from Andhra Pradesh led by the chief minister have decided to defy the party line on Telangana. The next in store will be cross voting in the Rajya Sabha elections in Andhra Pradesh. All this could lead to split in a state which provided the largest number of seats to the Congress both in 2004 and 2009.
And finally my friend P Chidambaram, the Union finance minister, appears to be planning life after the North Block. He is an extremely competent lawyer. Parliament's loss will be Supreme Court's gain. From the kind of statements he is making and the academic questions he is posing to his opponents, I suspect that he is practising to get back to column writing. I am sure his columns will make excellent reading.