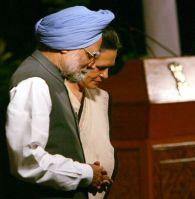 Amidst reports of unease between Congress and its allies, Bharatiya Janata Party on Friday said the party was a "sinking ship" which was being deserted by its passengers.
"Congress is a sinking ship and its passengers are deserting it. Sonia cannot deliver. Manmohan Singh is past. Rahul Gandhi is a failure. They know how Congress and UPA have made a mess of India. Allies are seeking greener pastures elsewhere," BJP spokesperson Ravishankar Prasad said.
Prasad was reacting to media reports regarding unease in Congress' ties with National Conference and that Nationalist Congress Party President Sharad Pawar had met BJP's prime ministerial candidate Narendra Modi in Delhi earlier this month.
Pawar has denied the reported meeting with Modi but NCP leader Praful Patel sought more "clarity" from Congress on their alliance in Maharashtra.
Prasad said Congress' allies were making "discordant" noises because they know it cannot deliver.
"What is wrong about it... It is only indicative of the mood of the country," he said.
"Who else is with Congress and UPA? Chidambaram asks about BJP, I want to ask him what about Congress. Mayawati and Mulayam, although supporting from outside, are making open discordant notes. Dravida Munnetra Kazhagam is already away from them. No allies are left for them," he said.