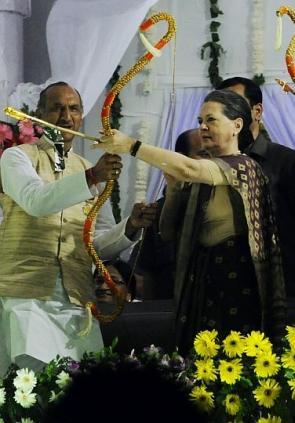 Congress President Sonia Gandhi on Thursday attacked Bharatiya Janata Party's prime ministerial candidate Narendra Modi at a rally in Bihar's Kishanganj district.
Without naming the Gujarat chief minister directly, she claimed that some people were trying to harm the ideals of Mahatma Gandhi by dividing the nation.
"Some people are trying to harm his ideals (vichar). It is dangerous," Gandhi said in her speech during a public rally after laying down the foundation stone of a branch of the Aligarh Muslim University.
"We have to fulfill the dream of Mahatma Gandhi, who stood for a united and plural India," said Gandhi.
"Those against the ideals of Mahatma Gandhi are trying to divide the people and society but that will not help the country. Such people only want to grab power and the chair at any cost," she said
"The Congress stands for secularism and a composite culture," said the United Progressive Alliance chairperson.
"We work for all sections of society -- Dalits, minorities, women and weaker sections. Our goal is inclusive development," she said.
She reminded people that the Congress-led UPA government had introduced the Right To Information Act to encourage the fight against corruption, as well as other flagship welfare measures such as the Food Security Bill Act, the Mahatma Gandhi National Rural Employment Guarantee Act and the Sarva Siksha Abhiyan.
Bihar Chief Minister Nitish Kumar also attended the foundation stone-laying ceremony in Kishanganj, nearly 400 km from Patna.
Image used for representational purpose only