Whether he succeeds in becoming chief minister again or not, Akhilesh is finally out of the shadow cast by his family, but without losing a sense of balance, notes Aditi Phadnis.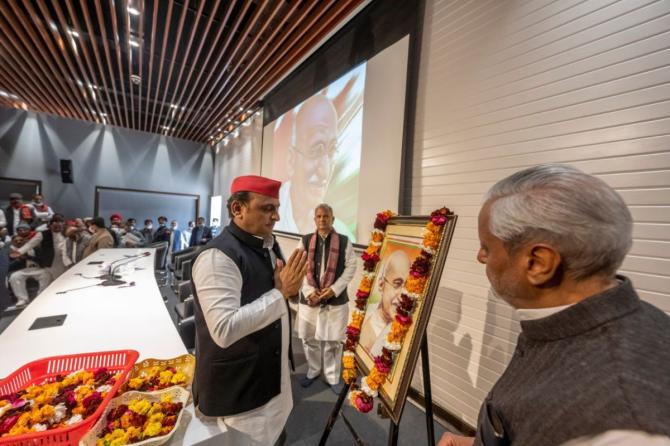 Everyone talks about dynasties. No one speaks about the actual relationship between a politician father and his politician son.
The son of a senior politician in Uttar Pradesh once recalled poignantly that he hardly saw his father when he was growing up.
During a rare visit to the village, "Babuji" spotted him, patted him on the head, marvelled at how much he'd grown, and asked awkwardly when he would go to class 7.
"I'm already in class 7," the son replied timidly, realising for the first time that his father had no idea how old he was.
Rashtriya Lok Dal leader Ajit Singh once told this reporter that his father Charan Singh might have appeared dour but he was a wonderful, warm father, especially when a child in the family was ill -- adding wryly that you needed to fall sick to get his attention.
One thing seems common to all politician fathers: They try to shield their sons and hold them back from entering politics as long as they can.
This was true of Ajit Singh, who was furious that his son Jayant quit a lucrative job to join politics but complained about it via Jayant's wife; and it was definitely true of Mulayam Singh Yadav, whose son Akhilesh has been through an emotional roller-coaster with his father and extended family -- and emerged from it, still sane.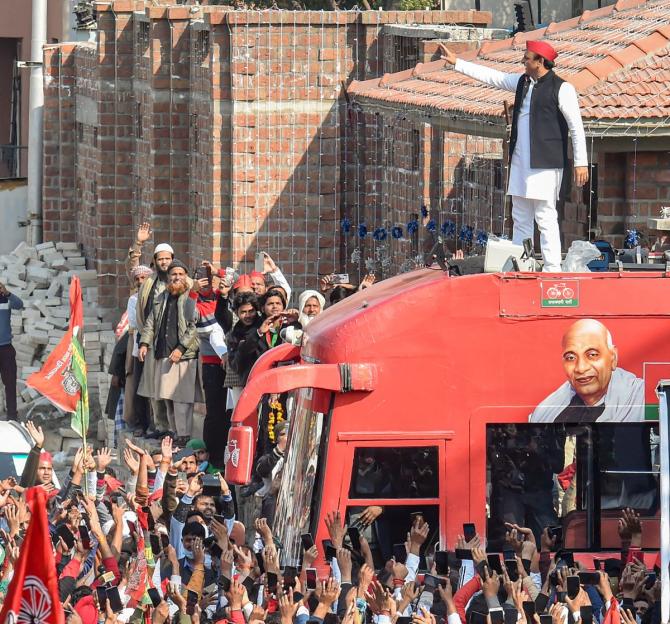 It was almost exactly 10 years ago. The 2012 assembly election saw the tajposhi (anointment) of Akhilesh Yadav as heir to Mulayam Singh Yadav's political empire, though his father (and uncles) fought him every inch of the way.
The greatest supporters of Akhilesh's plunge into politics came from outside his family.
It was at 'uncle' Amar Singh's Lodhi Road residence some years earlier that the question of his joining active politics had been first proposed.
Everyone agreed it was time -- except Mulayam, who said he would put the matter to ideologue and veteran socialist Janeshwar Mishra.
If he said 'yes', it would be 'yes'.
Amar Singh, in the manner of a chief executive officer in a family-run business, was seeking a succession plan.
Mulayam, in the manner of an owner, was trying to put it off.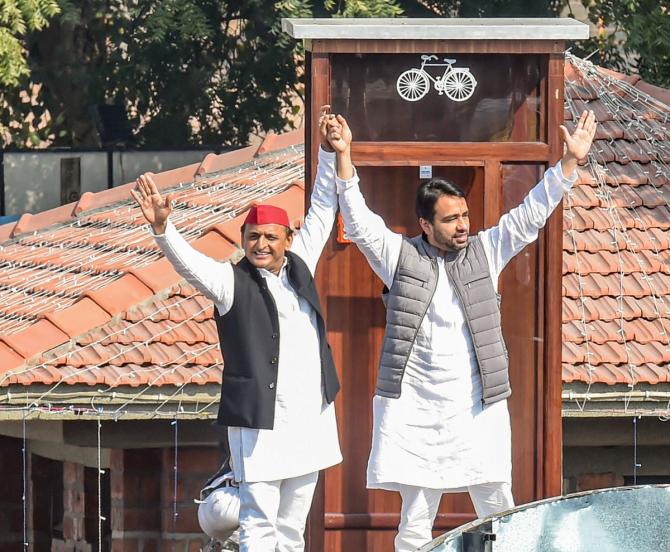 Eventually, it was Janeshwar Mishra who became Akhilesh's mentor and the father figure.
Akhilesh has publicly acknowledged this many times.
'When I became president, he (Mishra) told me you are not a leader right now. But work hard for two years then I will come to your rally and raise a slogan of 'Akhilesh zindabad' in your support. That is when the others will accept you as a leader,' he is quoted as telling Priya Sehgal in her brilliant book Contenders, adding almost wistfully 'kitna bada dil tha unka'.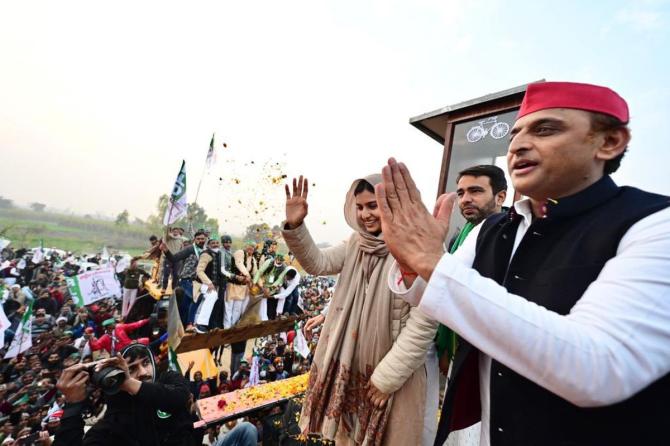 But while other politician sons had it a bit easier, Akhilesh had to navigate both fire and ice.
He first took a stand against his father when D P Yadav (whose family was involved in the Nitish Katara murder) was offered an SP seat and Akhilesh fought to see D P Yadav didn't get it.
During the SP's stint in the Opposition, Akhilesh led cycle yatras across the state in his Kranti Rath, offering himself and his party to the new generation of voters who wanted both potato chips and computer chips.
It was Mulayam who flagged off his yatra and uncle Shivpal who donated Rs 5 lakh, not really expecting much.
He covered 9,000 km and 215 of the state's 403 constituencies. The 2012 Assembly election saw the SP get 224 seats.
The question was: Who should be chief minister? Old-timers in the party were in a bind -- they recognised Akhilesh's contribution, but did not want to offend Mulayam.
Shivpal had already made a claim.
There was also Ramgopal who was backing Akhilesh at the time.
When Akhilesh did become chief minister, it was a poisoned chalice.
His father, with whom he never had a conventional relationship, became an even more remote figure.
Everything is known about how he crafted the state's infrastructure -- and he was totally hands on.
Till today, if you are on the campaign trail with him, Akhilesh can guide you to a spot where the road his government built ended and the point where the Yogi government took up the next phase.
Lucknow Metro was Akhilesh's idea. The Agra-Lucknow highway was his plan.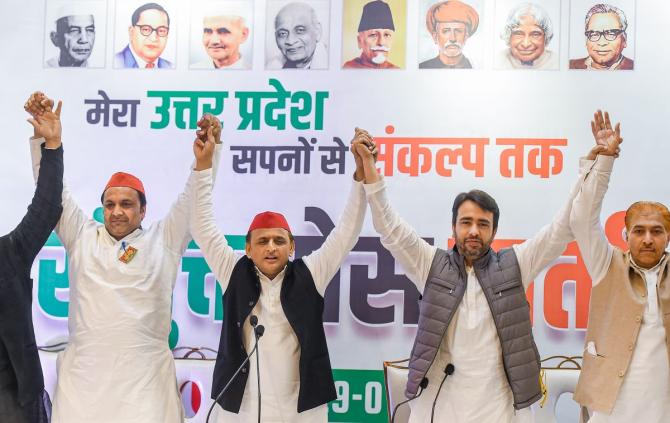 But another phase of family bloodletting followed. Mulayam asserted publicly that the SP was his party -- it was, but now it was also Akhilesh's, something the patriarch was unwilling to accept.
Family members and supporters, who, by now had deep interests in the SP empire, egged Mulayam on.
Akhilesh moved out of his father's house and publicly appealed to Mulayam to let his 'vivek' decide what the best course for the SP was.
Mulayam publicly chided his son. Father and son then issued separate lists of candidates for the upcoming assembly election.
The matter moved to the Election Commission and funds were frozen.
Horrified SP supporters shook their heads. They'd never seen anything like this.
In 2017, weeks before the assembly election, the EC decided in Akhilesh's favour. By then it was too late.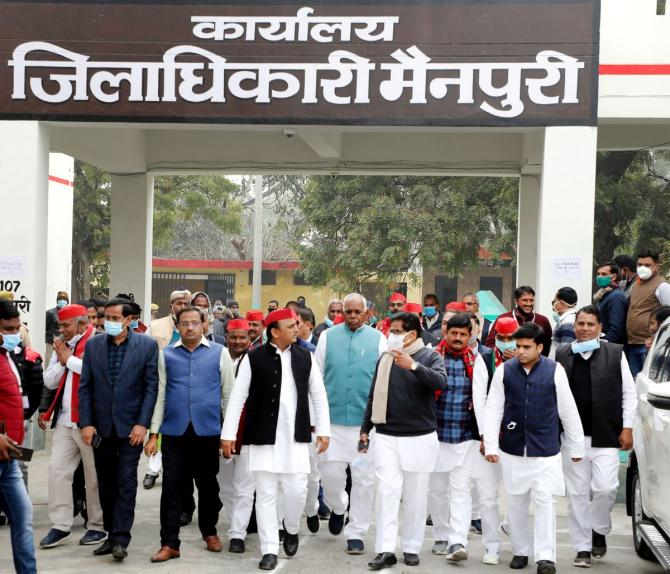 To have emerged from this unscathed is not a small achievement.
Akhilesh has a robust sense of humour, has developed a thick skin, and, now, a streak of ruthlessness that he keeps carefully sheathed.
He showed this when he refused to tie up with the Congress or the Bahujan Samaj Party in this election, choosing smaller, more loyal allies like the RLD.
But his enemy is clear: It is the Bharatiya Janata Party.
Whether he succeeds in becoming chief minister again or not, Akhilesh is finally out of the shadow cast by his family, but without losing a sense of balance. He's become, at last, his own man.
Feature Presentation: Aslam Hunani/Rediff.com