'The bhadralok would have earlier baulked at the very idea of wearing a coloured dhoti; now, with Dr Banerjee wearing, it is quite likely to be the hot fashion item during Durga Puja next year,' says Uttaran Das Gupta.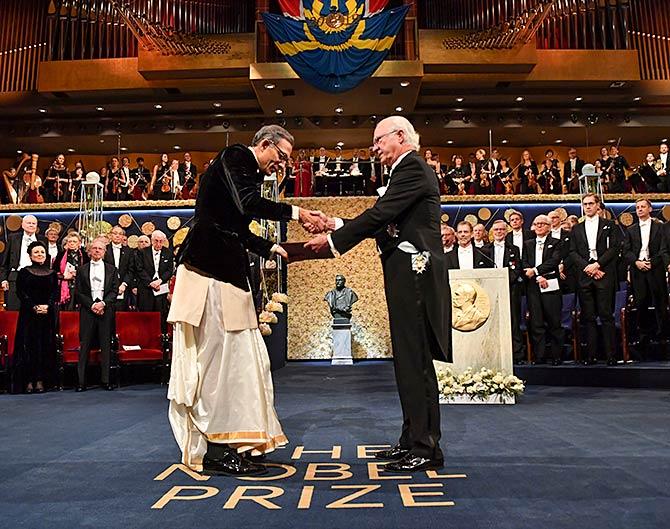 The official Web site of the Nobel Prize has a page dedicated to the dress code: 'The Nobel Prize Award Ceremony in Stockholm and the Nobel Banquet that follows is a strictly formal affair. Gentlemen are required to wear white tie and tails, while ladies should be dressed in an evening gown.'
Then, it adds: 'Wearing your national costume is an alternative to white tie and tails or evening gown.'
Indian-American economist Abhijit Banerjee decided to utilise this caveat to wear a dhoti and kurta with a black bandhgala when he received the Nobel Prize in Economic Sciences.
This earned him widespread applause for reclaiming his bhadralok heritage, albeit with a modern twist.
Several newspaper pieces claimed 'three Bengalis had won the Nobel Prize', but only one had turned up in a dhoti.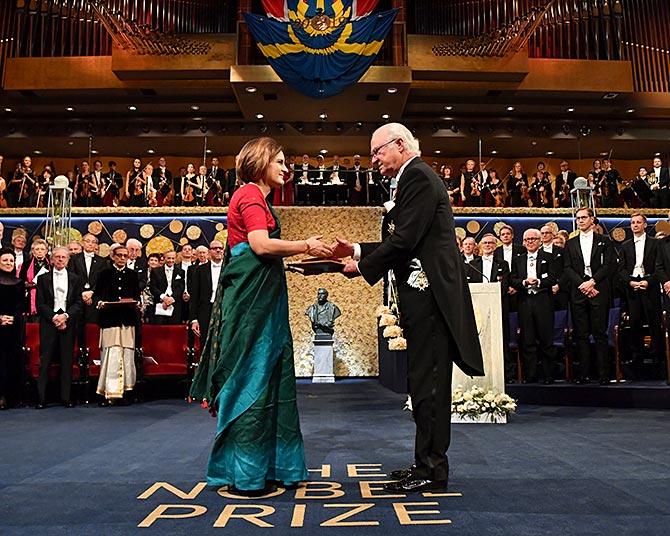 The second part of the statement is correct; the first part incorrect.
In fact, four Bengalis have won the Nobel Prize -- Rabindranath Tagore in 1913 for literature, Amartya Sen and Dr Banerjee in 1998 and 2019 for economics, and Muhammad Yunus in 2006 for peace; the first three are Indian or of Indian origin, and the fourth is Bangladeshi.
Esther Duflo, with whom Dr Banerjee shared his prize, chose to wear a sari.
Of course, people should wear whatever they want to -- or not -- but Ms Duflo, the youngest to get the Prize in economics, is French American.
So one wonders what caveat applied to her, despite being married to Dr Banerjee.
When Dr Banerjee returned home to Kolkata in October for a short visit, soon after the Nobel Prize was announced, he was greeted with euphoria.
The Telegraph reported: 'The Nobel winner entered the housing complex (in south Kolkata) at 7.55 pm... The sound of conch shells and ululation went on even after Banerjee went into his apartment.'/p>
Crowds had turned up at the airport, brandishing flowers and cellphones, eager to get a picture of him.
Kolkata Mayor Firad Hakim was also present.
The euphoria was perhaps not unexpected.
And by now, Kolkata might as well have a blueprint ready for greeting its citizens who bag the Prize.
But holding up Dr Banerjee as a trophy to Bengali and bhadralok pride only because he wore a dhoti to the Nobel ceremony is a tad onerous.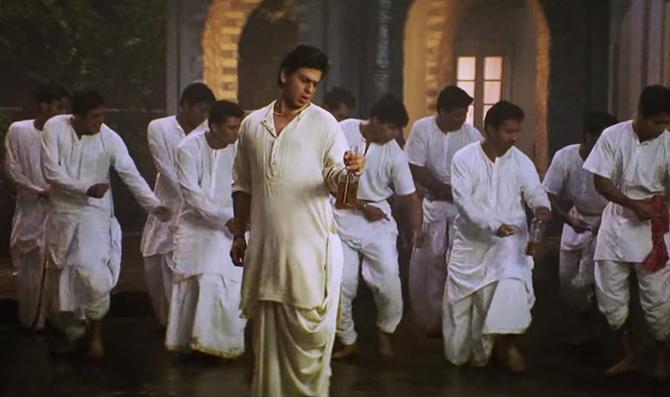 'The bhadralok as a sociological category is notoriously flexible and defies definition,' writes historian Ishaan Mukherjee in a long piece, 'Battle for the Bhadralok', for The Caravan earlier this year.
He could be a professional, or a landlord, corresponding vaguely to Victorian professional gentleman.
To put it rather simply, Mr Mukherjee claims that the current power struggle between the Trinamool Congress and the Bharatiya Janata Party in West Bengal is a struggle for the legacy of the bhadralok.
'The current electoral success of the BJP has to be understood in terms of the political choices that the bhadralok seem to be making to preserve and perpetuate their dominance,' writes Mr Mukherjee.
In popular culture, the bhadralok usually wears a dhoti.
It is as much as a symbol of his cultural finesse as the top hat and frock coat are for the Victorian gentlemen.
The male protagonists of the novels of Tagore or his contemporaries would not be caught dead in anything else unless there was an urgent reason.
Later, depictions of these characters, first in theatre and then in cinema, had actors donning the traditional attire.
Superstar Uttam Kumar seemed to monopolise this role, playing it in several films, but perhaps most memorably in Nishi Padma (1970) -- a role Rajesh Khanna reprised a couple of years later in Amar Prem.
Imagine Shah Rukh Khan wearing anything other than a dhoti-panjabi (the Bengali word for kurta) as Devdas!
But there is a significant difference between what the traditional bhadralok used to wear and what Dr Banerjee wore at the Nobel ceremony.
Earlier, it would usually be starched, of cloth or silk, and white.
In recent times, however, fashion designers and the bhadralok have been less and less reluctant to experiment with colour or material.
Designer Sarbari Datta has got Member of Parliament Derek O'Brien and model Milind Soman, former minister Praful Patel and the rather shy Rahul Dravid to don a new-fangled coloured dhoti.
The bhadralok, as we mentioned earlier, is impossible to define -- he would have earlier baulked at the very idea of wearing a coloured dhoti; now, with Dr Banerjee wearing, it is quite likely to be the hot fashion item during Durga Puja next year.