Wearing a dhoti isn't something you can learn with some sleight of hand, says Kishore Singh.
Illustration: Uttam Ghosh/Rediff.com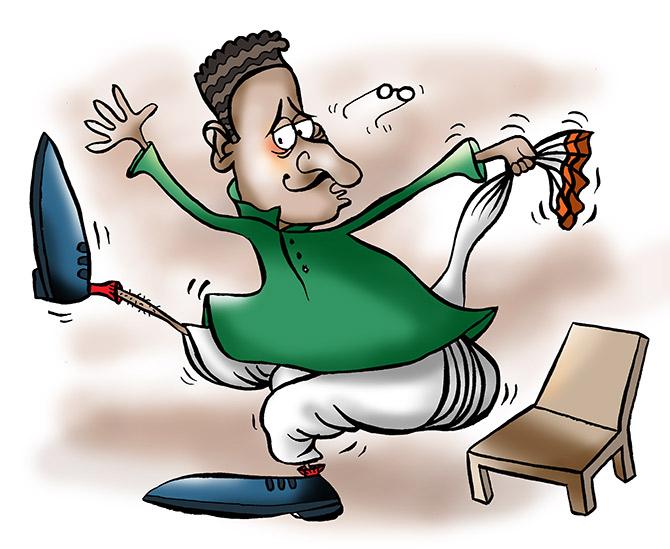 Women say that draping a saree is easy, so wearing a dhoti should be a breeze, right?
A few years ago, having received some trendy lungis from an artist in Colombo, I had thought to wear them to parties in the unisex fashion that young fashionistas carry off so effortlessly. Unfortunately, it didn't go down well.
First, of course, was the trouble with the tying of the lungi itself.
How do you secure it sans pins, zips or buttons?
Google proved of little help because every time I breathed in, it would collapse around the ankles.
But a lot of lessons and some practice later, I was able to get it to stay as intended, though it required one to mince instead of walk.
"Hello," said a neighbour who spotted me outside the front door as I was leaving, "just out of your bath?"
"Er, no," I tried to explain, but he wouldn't stop smirking. Well, what did he know of fashion?
At the venue, the attendant who opened the door said I should deliver any supplies at the back gate.
My hostess, unmindful of any proprieties, asked if I'd mind going home to change, or she'd be happy to give me something from her husband's wardrobe -- surely I didn't mean to attend their party wearing a bedsheet?
I remember feeling hurt, but my wife simply whisked me out and away, putting an end to further sartorial experiments.
Now, in Bikaner, it was demanded that I wear a dhoti for a ceremony.
I tried to opt out, but there was a clear deterrence for offenders, and compliance was easier, given the circumstances.
A new dhoti was procured, but what was one to do with the thing?
Wrapping it around one's waist brought back memories of the wretched lungi; besides, it was way too long for that.
I knew one end went in between the legs, and another was tucked in somewhere, but how? Where?
The trouble with draping it meant you could no longer tuck it in between the legs; and if you didn't tuck it between the legs, all you had was a length of fabric without the foggiest idea of what to do with it.
A cousin was called to help. There's something humbling about having to drop your trousers in front of someone you'd kicked for being a brat so many years ago.
And here he was now, knotting bits, twirling ends, creating swirls, arranging folds, till it all came beautifully together, a wearable pair of pants without a stitch in it.
The ends were all tucked in, providing a plumage at the back.
"You should wear it more often," he laughed, "Of course you'll have to treat me each time," because -- I agreed -- it wasn't something I could learn with some sleight of hand.
All gussied up in its transparent folds, keeping it intact was another matter altogether.
How is one to walk in a dhoti? Certainly not stride -- where the danger of it loosening and falling apart is high -- it meant, well, not quite gliding, but a sort of rolling walk that required mastering.
Walk too fast and you risked tripping over its edges that curled over the toes.
Sitting on a cushion on the floor meant having the tucked-in end bite viciously into the skin.
Sit on a chair and you inadvertently chanced flashing an uncovered leg -- not the most gentlemanly thing to do.
I think I'll be stick to pants, pyjamas and shorts for now.