The veshti controversy in Tamil Nadu is not about the dress -- but a dress-code, which seems permissible in private homes and offices, but not in private clubs that are open only to well-heeled, and well-paying private members, observes N Sathiya Moorthy.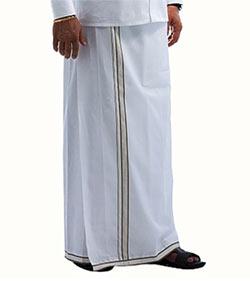 At the height of the post-poll scenario in 1996, then Union Finance Minister P Chidambaram declared in Chennai, thus: "Two veshti (dhoti)-clad Tamils would decide the fate of the nation."
Subsequent developments proved Chidambaram right.

The two veshti-clad men, Tamil Nadu's then Dravida Munnetra Kazhagam Chief Minister M Karunanidhi (returned to power for the fourth time in three decades), and the late G K Moopanar, Chidambaram's political guru at the time, ended up choosing the next prime minister.
However, the fact that the new prime minister, in Karnataka's H D Deve Gowda, too was veshti-clad, did not have anything to do with Chidambaram's prediction.
Veshti, or dhoti, or lungi, as the four-yard-long attire for men to cover their waist-below particularly in the south Indian states, is back in the news in Tamil Nadu once again, though not for similar reasons.
It is another matter that the term lungi in the state does not correspond to the sparkling-white cotton cloth as understood or misunderstood in parts of north India and elsewhere.

Lungi in Tamil Nadu is a coloured, and at times mutli-coloured, multi-design attire of the kind, yet lacking in social respectability as veshti.
The politicos and media in Tamil Nadu could not have asked for more at a time when people were still recovering from the poll-time campaign-blitzkrieg of every kind.

They needed an issue to flag, and they now have one -- though not as effective as they would have liked, for sustaining the longevity of their campaign, if it could be truly any.
By denying entry to sitting judge of the Madras High Court, Justice Hariparanthaman, and a few others for a book-launch, the Tamil Nadu Cricket Association Club got caught at the wrong end of the stick, all over again.
The visitors had come attired in what is otherwise the accepted 'national dress' in the state, for protocol-centred functions and otherwise, and were turned away, as it violated the MCC's 'dress code'.
It became public after the judge concerned came out in public about the incident.

The politicos and the media have gone viral since, asking how a local club could still stick to a colonial norm, which was aimed at keeping the desis away.
There is truth in their claims/charges.

Apart from the TNCA Club, there are others like the Gymkhana Club, the Madras Club and the Madras Boat Club that still stick to a 'dress code' that bans anything but trousers and shoes on their premises, for the male species.
In the past, such clubs in Chennai had turned out not just high court judges but even a former Supreme Court judge in the redoubtable V R Krishna Iyer, applying the same yard-stick.
Taking off from where the politicos had left outside, the state assembly also came to discuss this important issue. The state government also backed the protestors' claims and promised to lay down rules that reflected the floor sentiments inside, and public/political sensitivities outside.
It is ironical that in a state where Mahatma Gandhi shunned his sartorial finesse in favour of the Indian farmer's dress -- getting for him from (late British prime minister) Winston Churchill the sobriquet, 'half-naked fakir' -- that very dress should continue to be at the centre of a political controversy full eight decades later.
It is another matter how they would have acted/reacted if the late Moopanar had been elected prime minister of the country, as was being speculated in the nineties.

Moopanar was always attired in veshti and shirt, that too in white and khadi -- and in a pair of soft, rubber slippers.
Following in the colonial practice, there are also colleges in the Chennai -- as possibly there are counterparts in other metropolises in the country -- that discourage their hostel inmates from being seen around in what has commonly come to be seen as 'bathroom chappals', or 'rubber slippers'.
Even more ironical is the fact that most if not all those leaders and talk-show commentators have no hesitation in dropping their veshti in favour of unbecoming western clothes that they are also uncomfortable carrying, the minute they launch on a foreign trip.
The list includes DMK's Karunanidhi (of the Seventies, though), Marumalarchi Dravida Munnetra Kazhagam's Vaiko and almost every other leader from any or all of the pan-Tamil Dravidian parties.

The younger generation among them, like Viduthalai Chiruthaigal Katchi's Thol Tirumavalavan and Seeman of Naam Tamizhar Katchi are also seen in public the same way, even on political platforms at times.
The earlier generation, which includes the likes of Chidambaram, DMK's Stalin and Vaiko, at times, are also seen in trousers and other 'western clothes' in odd places.
As the wag often says, "These are the leaders who wear what a commoner of his age and social background wears at home, outside, for political reasons. They end up wearing what the common man wears outside to work or elsewhere, for the sake of convenience, inside their homes."
Some of it also owes to their health-regimen, when leaders, like the rest of the people, find a trouser or a track-suit is more suited for work-outs and constitution-walks.

Leaders like Stalin also get seen with younger crowd of party cadres in a dress that they can relate to better.
Less said about the Tamil television talk-show hosts and news readers/casters the better. They are coated and booted to the hilt, or at least to the hip. It's a common and near-compulsory dress code in the TV news and current affairs scene in Tamil since inception.
Pattali Makkal Katchi's Dr S Ramadoss made a difference to the television news scene when he overnight changed the attire of the party's Puthiya Tamizhagam channel's male news casters from western dress to veshti.

But in private life, he continues to wear both, though more often than not is seen only in veshti in public.

Better still are a group of pan-Tamil lawyers of the Madras High Court, who are always in the frontlines of protesting against anything anti-Tamil, in terms of ethnicity (Sri Lanka), language and culture.
Protesting against the TNCA Club's attitude, they appeared in veshti, for a photo-op -- and more so to drive home their point that in free India, such habituated colonial practices and regulations were not on.
In recent years, Justice K Srinivasan of the Madras High Court was among those few and far between, who came in the traditional, panchcha-kachcham form of dhoti-wearing.

He went on to become the chief justice of the Himachal Pradesh High Court, where again he remained similarly attired.
There has also been an odd lawyer, possibly since, who comes attired to the court in his pachcha-kachcham. Yet, in an earlier generation, where Indian lawyers and judges, caste and creed no bar, wore pachcha-kachcham, there had been pan-Tamil protests against what was claimed to be the Brahminical or north Indian style of dhoti-wearing.
In a generation prior to that, many if not most Indian lawyers, both during the colonial past and later, would be attired in the traditional dress. So were doctors, surgeons and engineers.
These days, in contrast, most professional colleges insist on a 'dress code' that makes trousers mandatory for men, and is selective or vague about the girl student's attire.

Employers too have such norms, though not as much as in the West, where male staff-members are expected to have a clean-shaven face or a well-groomed beard and/or moustache!
At the end of the day, it's not about the dress -- but a dress-code, which seems permissible in private homes and offices, but not in private clubs that are open only to well-heeled, and well-paying private members, admitted at times through such weird methods as 'black-balling'.
This is not the first time such protests are happening, nor will it possibly be the last time.

The TNCA Club for now has said that they will discuss the matter and come up with a solution.
Yet, in the past, when another such club in the city barred a senior ruling party member from its premises for precisely the same reason, the party leadership handled it differently.
Even while stopping with a protest officially, the leader egged on the party-run state government to cancel/deny bar license to those clubs. Not that they fell in line. Instead, the politician himself tended to forget it and the bar licenses were restored on a later date, possibly by a different government.
All of it leaves only one -- or, is it, two? -- from Tamil Nadu's famed public life of the 'post-colonial' era as those who had stuck to veshti, not just inside the state and the country, but also overseas.
The late K Kamaraj, as chief minister, was never seen in public or private in anything but a veshti, and what has since been dubbed as the lose-fitting 'Kamaraj shirt', both in white khadi.

As chief minister (1954-63), he visited the cool climes of the erstwhile Soviet Union, dressed the same way.
Likewise, famed mridangam player in the Carnatic music scene, Palghat Mani, had travelled the world over, wearing white veshti and kurta/shirt. Both, it could be surmised, would have worn warm inners underneath their white dress.
Yet, while in the Soviet Union, the bachelor-politician that he was, Kamaraj was said to be concerned on adopting their development model for Tamil Nadu's growth than about the winter in that country.
Palghat Mani, it would seem, was more concerned about the impact of the winter on the hide, sound and minute vibrations of his mridangam than on his own body and mind.
At the end of the day, Kamaraj and Palghat Mani did not make a fetish of their own personal dress and dress-code. Nor did they protest against others following their own dress norms.
N Sathiya Moorthy, veteran journalist and political analyst, is director, Observer Research Foundation, Chennai chapter.