Biswajit, movie heart-throb of the 1960s, remembers The Legend.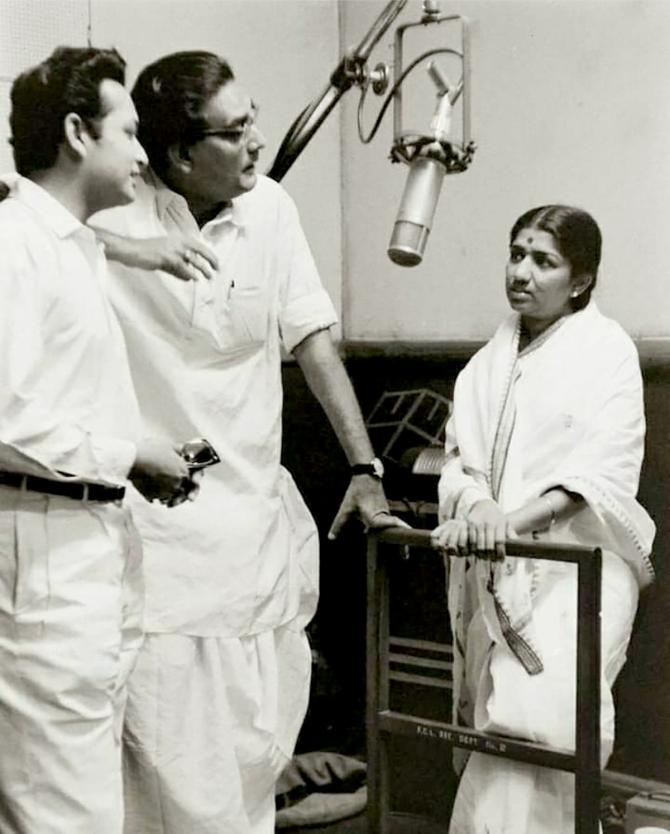 Matinee idol of the 1960s, Biswajit Chatterjee's association with Lata Mangeshkar dates back to his first Hindi film Bees Saal Baad in 1962 for which she sang several evergreen songs, including Kahin Deep Jale Kahin Dil.
Speaking to Rediff.com Senior Contributor Roshmila Bhattacharya, Biswajit says, "She made my day by telling me that I was refreshingly different from the other heroes of the time and she was impressed that despite being a Bengali babu, my Hindi diction was impeccable."
My first Hindi film was the musical thriller Bees Saal Baad, the Hindi remake of Ajoy Kar's 1951 Bengali film Jighansa, loosely adapted from the Sherlock Holmes murder mystery, The Hound of the Baskervilles.
I played Kumar Vijay Singh, who returns to his ancestral haveli to get to the bottom of a family curse which had nipped the life span of his father and grandfather and now haunts him.
The film, produced by my mentor, singer-composer, Hemant Kumar, had some beautiful songs, including Bekeraar Karke Humein Yun Na Jayeye, Sapne Suhane, Yeh Mohabbat Meri Duniya Mein Tera Kaam Na Tha, Zara Nazron Se Kehdo Ji, Kahin Deep Jale Kahin Dil. They were sung by Hemantda and Lata Mangeshkar and remain unforgettable.
At the film's premiere in 1962, to my delight, I found myself seated between Lataj and Asha Bhosle. The other two Mangeshkar sisters, Usha and Meena, were also there, along with Dilip Kumar and Satyajit Ray.
From the corner of my eye, I noticed that Lataji was engrossed in the film.
After the screening, she invited me, along with Hemantda and his family, to her Peddar Road residence, Prabhu Kunj, which was a short drive away from the Lotus cinema in Worli.
She hosted us with great courtesy and made my day by telling me that I was refreshingly different from the other heroes of the time and she was impressed that despite being a Bengali babu, my Hindi diction was impeccable.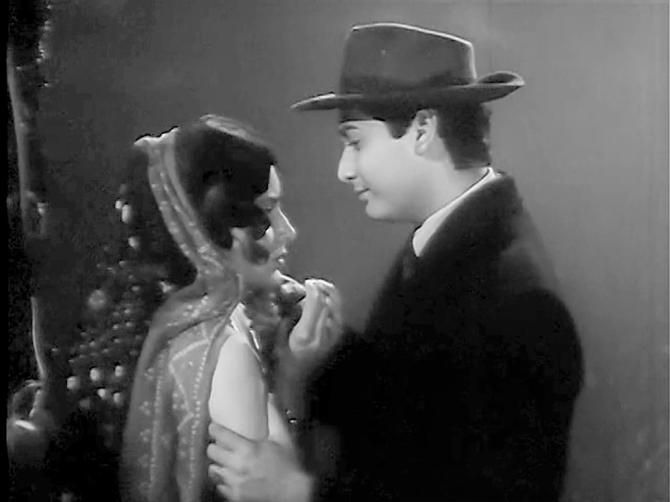 The next morning, she dropped in at Hemantda's home, Gitanjali, and continued to praise the film and my performance, saying that I had a distinctive style and she was confident I would make my mark. For a newcomer, such praise from a legend like her was unbelievable!
Sixty years later, Kahin Deep Jale Kahin Dil, which bagged Lata Mangeshkar Filmfare's coveted Black Lady for Best Female Playback Singer, still resonates. It is one of my all-time favourite songs and I remember it today, as I say goodbye to the Bharat Ratna.
She passed away a day after Basant Panchami which we Bengalis celebrate as Saraswati Puja.
Lataji was our Maa Saraswati, who has left behind so many gems, from the patriotic Vande Mataram and Aye Mere Watan Ke Logon to the romantic Pyaar Hua Ikraar Hua and Tera Mera Pyaar Amar, from the devotional Aye Malik Tere Bande Hum and Jaago Mohan Pyaare to the haunting Aayega Aayega.
Being a singer myself, I enjoyed being a part of song sittings and going for recordings whenever I could get away from my shoots. I loved listening to Lataji at a studio, bringing a song to life with her golden voice. It was like an elevating spiritual experience!
In 1990, I watched (Mohammad) Rafisaab singing Suhani Raat Dhal Chuki Na Jaane Tum Kab Aaogi with her on screen at a Mohammad Rafi Nite organised by his son at London's Wembley Stadium.
She softly whispered, 'Kya the Rafi saab, kya gaana gaate the.'
I heard that because I was standing right next to her, and it came straight from the heart and touched me to the core.
India was playing against England at the time.
Lataji's friend Raj Singh Dungarpur invited us to watch the match at Lord's as his guests.
Lataji was a huge cricket buff, as am I. But on that occasion, neither of us was interested in watching our bowlers being slaughtered by England's skipper Graham Gooch, who scored an unbeaten 333 in that match.
Though India fought well, making 454 in the first innings, with Kapil Dev scoring an unbeaten 77 of 75 balls to avert a follow on, thanks to Gooch's career best knock, England went on to win by 247 runs.
Lataji and I were devastated!
I went with her to Kolkata for another charity concert, this one organised by another cricketer, Sourav Ganguly. It was at the Netaji Indoor Stadium.
When Lataji launched her Hindi album, Shraddhanjali: My Tribute to the Immortals, she invited me personally to the function. She had paid tribute to Hemantda in the album with his composition, Yeh Nayan Dare Dare.
It was from my 1964 film Kohraa, and she wanted me to be there as a guest.
Unfortunately, it coincided with a shoot in Kolkata and I couldn't make it despite my best efforts.
But I did attend another concert in Mumbai.
As I made way to my seat in the front seat, Lataji greeted me with a namaste from the stage, as gracious as always.
Today, Lata Mangeshkar is gone and all we have left are her melodies and some golden memories.
It's a bright sunny Sunday, yet overcast with a pall of gloom and doom, as the world mourns the passing away of the Melody Queen.