As Dilip Kumar passes away in the ages, Sukanya Verma feels a deep gratitude for the enormous legacy he's left behind.
When an actor achieves as much resonance and distinction as Dilip Kumar did in his artistic journey, he becomes more than an icon, he becomes an institution.
An overwhelming combination of restraint and feeling, Dilip Kumar honed his craft in ways that broke shackles and inspired subsequent generations of actors to studiedly or spontaneously or, sometimes even subconsciously, emulate him.
Even though I was amongst his youngest audience, I sensed the value of his meticulous methods and towering aura while watching him on big screen in films like Shakti, Mashaal and Saudagar.
By then he had graduated to playing author-backed sexagenarian roles free from the obligations of romance and horseplay.
But the power he held over a hall full of people was extraordinary.
A rapt audience savoured every bit of Dilip Kumar's grand presence. His dialogues hit like arrows and his silence pierced through the screen.
As a teenager, I sought out movies from his heydays and found myself enamoured by his devastating intensity as well as the thairav in his performances.
When he romanced Madhubala in Tarana, my cheeks turned red at the authenticity of their affection.
When he was dying in Devdas, I felt I am having a near-death experience.
When he slapped Dr Dang in Karma, I heard its goonj all the way to Goregaon (the suburb in northwest Mumbai where I grew up).
Not just actors, his gravitas was inspiring to regular folks in real life too. Don't open your mouth unless you have something of substance to say, was the underlying message of his greatness.
As he passes away in the ages, I feel a deep gratitude for the enormous legacy he's left behind.
So I celebrate the legend's cinematic journey through 20 unforgettable frames that captured my imagination and his versatility.
Devdas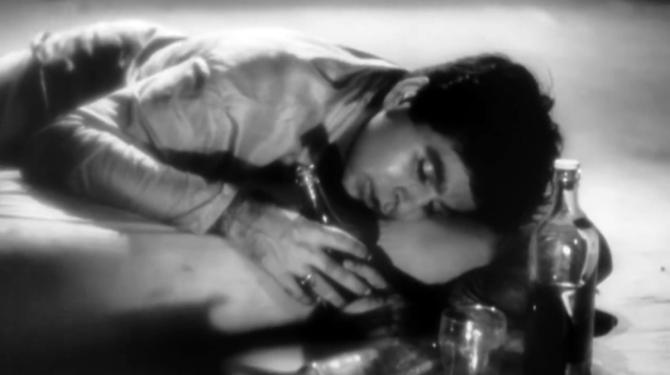 'Kaun kambakth hai jo bardasht karne ke liye peeta hai. Main toh peeta hoon ke bas saans le sakoon.'
Devdas's pathetic decline from doomed lover to rueful drunkard finds its most sympathy-evoking expression in Dilip Kumar's milestone performance. This unforgettable line, the sheer bitterness of it marks the beginning of an end.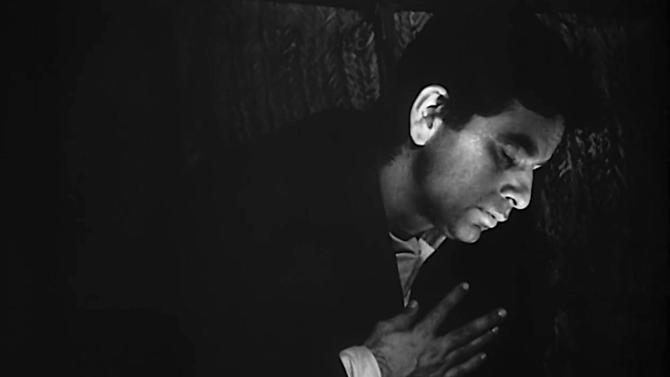 I watched Bimal Roy's Devdas at an age where romanticised ideas of romance and death entice the anxious mind. As foolish I find Sarat Chandra Chattopadhyay's hero now, I can never get over Dilip Kumar's interpretation of him. His final moments in the film are etched in my memory.
Reproducing a para from my Super Filmi Week column: 'A fiercely swaying lamp producing a stunning show of light and shadows, a wistful flute playing in the background, a cascade of memories of love lost and never forgotten, a bumpy bullock cart ride from the railway station to Paro's house and a devastated, dying passenger restless to reach his destination.'
I often revisit this scene from Bimal Roy's Devdas for the sheer craft of its film-maker and Dilip Kumar's tempered intensity as the doomed hero of a tragic romance.
My blood pressure dips every single time I witness his severely exhausted body language and sorrow-filled eyes underlining the exasperation of his inquiries -- 'Arre bhai, kya yeh raasta kabhi khatam nahi hoga?'
So simple yet so profound.
Actors are an insecure lot. They'll devise ingenious ways for the focus to stay on them and take great care to know which camera angle suits them best. But even with his back facing to the camera Dilip Kumar could convey a world of emotion.
Paigham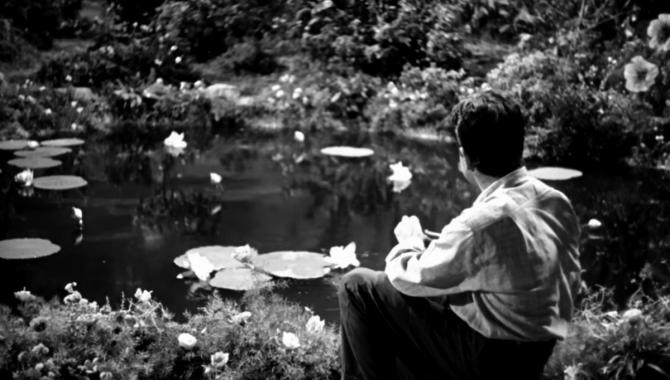 Here's another serene moment from Paigham, where he plays a trade union leader to prove my point.
Musafir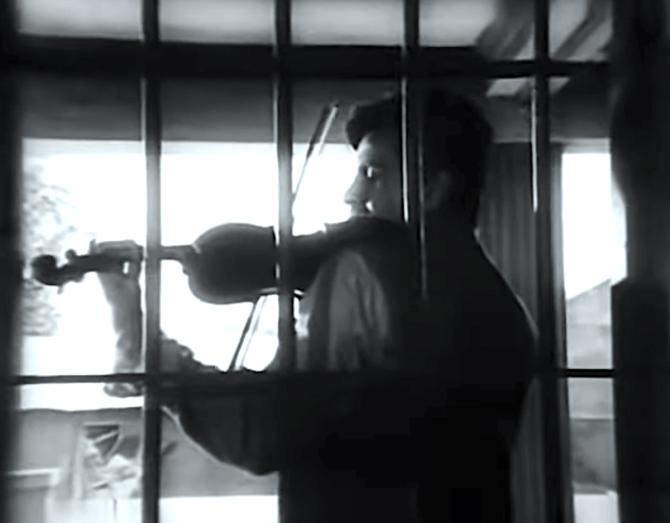 Still another, this one's from Hrishikesh Mukerji's directorial debut Musafir. His character here is an extension of Devdas only this time he makes sure he doesn't die at his beloved's doorstep.
The hope and heart he imbues in the final segment of Mukerji's three-part anthology chronicling the circle of life deserves a lot more attention.
Apart from highlighting his singing skills, Dilipsaab's stickler for perfection is evident in the manner he plays the violin, which is hardly a surprise considering the troubles he took to learn the sitar for a sequence in Kohinoor.
Kohinoor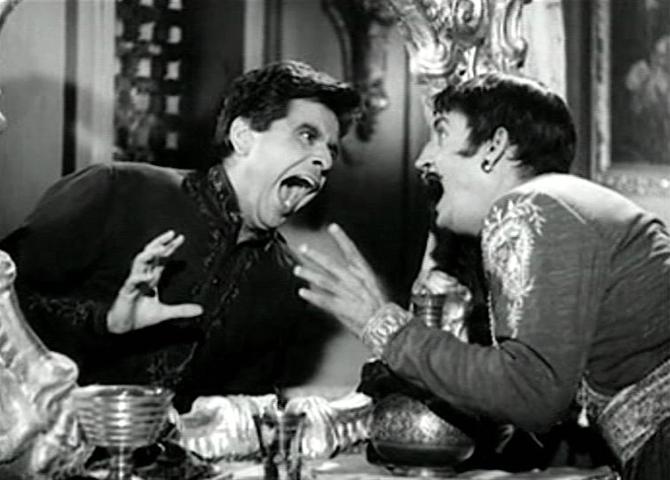 Speaking of Kohinoor, who can forget his hilarious mirror face off with Jeevan? Years later, Amitabh Bachchan and Prem Chopra followed suit in Mard.
Although its origins go all the way back to 1939's Duck Soup featuring the famous mirror scene between The Marx brothers, its priceless to watch Dilipsaab at his humorous best.
Aan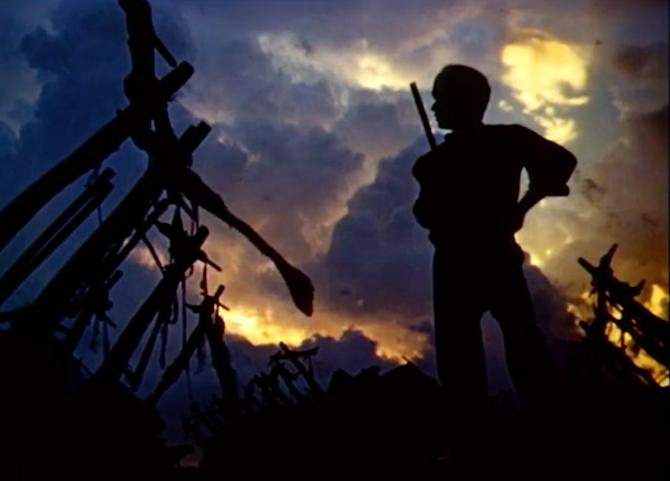 Mehboob Khan's desi Taming of the Shrew is a lavish, technicolour adventure high on Dilip Kumar's rakish charms and Nadira's fierce sensuality. And our leading man stands tall through every minute of cinematographer Faredoon Irani's magnificently envisioned imagery.
Amar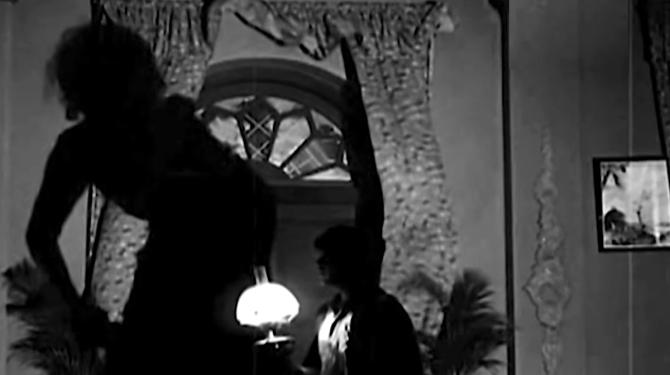 Mehboob Khan's Amar is a messy morality tale that cannot quite decide between denouncing and exonerating Dilip Kumar's sexual offender.
Even when the film tries otherwise, the actor doesn't make any attempts to make his crime look pardonable, which is skillfully shot through a play of lights and shadows in the ace Faredoon Irani's camera.
Andaz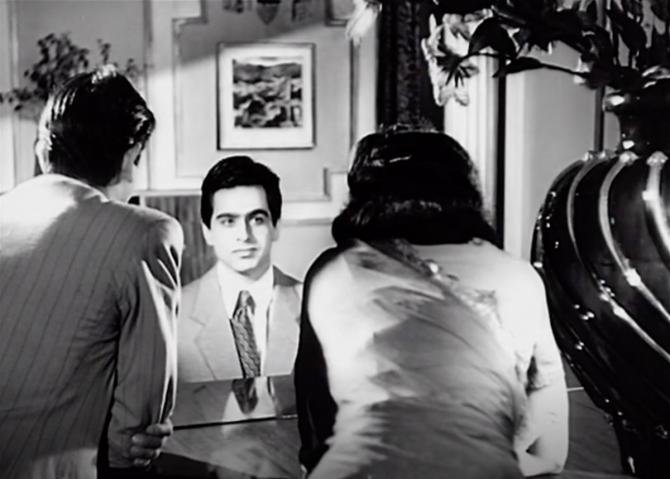 The father of all love triangles -- Andaz stars Dilip Kumar as the young man who comes between Raj Kapoor and Nargis, a development that's perfectly summarised in this telling frame.
Madhumati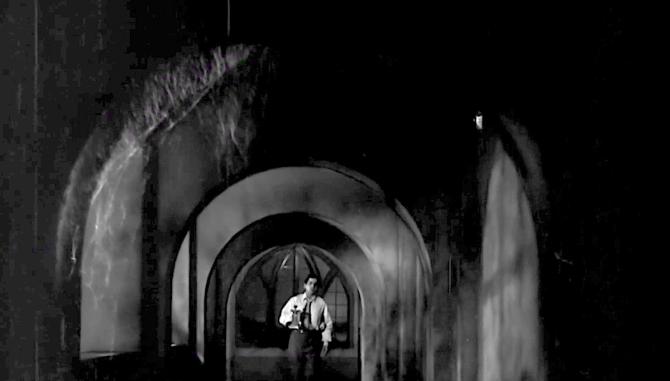 The eerie ambience enveloping Madhumati's reincarnation theme, haunted mansions and perplexing flashbacks comes alive in Dilip Kumar's carefully built curiosity.
Mughal-E-Azam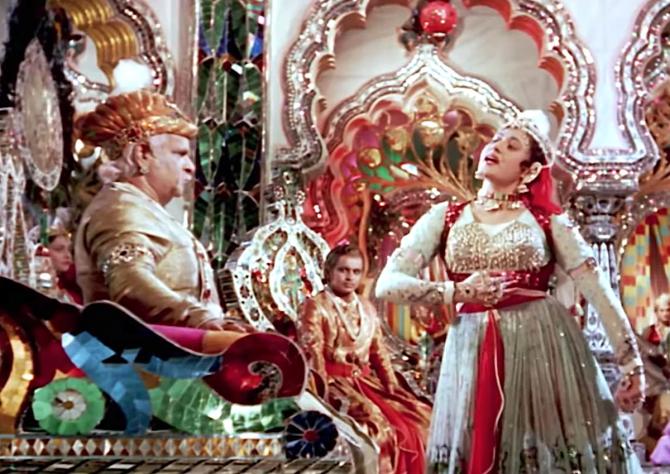 'Taqdeerein badal jaati hain. Zamana badal jaata hai. Mulqon ki tareekh badal jaati hai. Shahenshah badal jaate hain. Par is badalti hui duniya mein mohabbat jis insaan ka daaman thaam leti hai woh insan nahi badalta.'
'Nuff said.
Gunga Jumna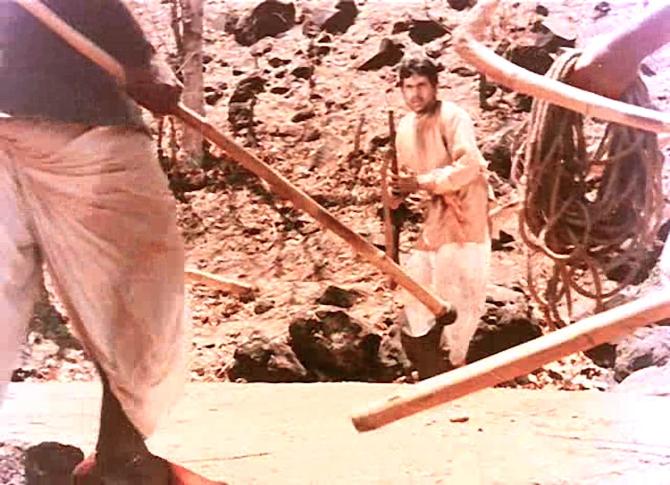 One he acted, penned, produced and, some say, ghost-directed, Dilip Kumar is at the top of his game as the wronged man turned outlaw in Gunga Jumna, which later formed the inspiration for Yash Chopra's sparring brothers in Deewar.
I just love the entire terrain hunt sequence and how this frame dramatically conveys that unfair, cornered feeling.
Ram Aur Shyam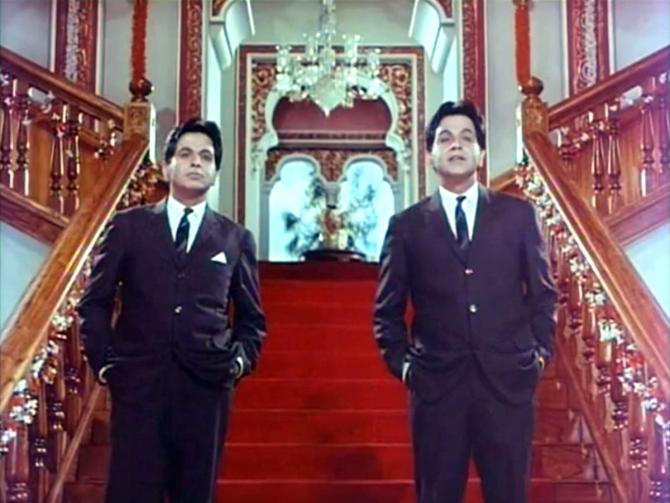 What's better than one Dilip Kumar? Two Dilip Kumars. For more, read my gushing retrospective review.
<p]>
Guddi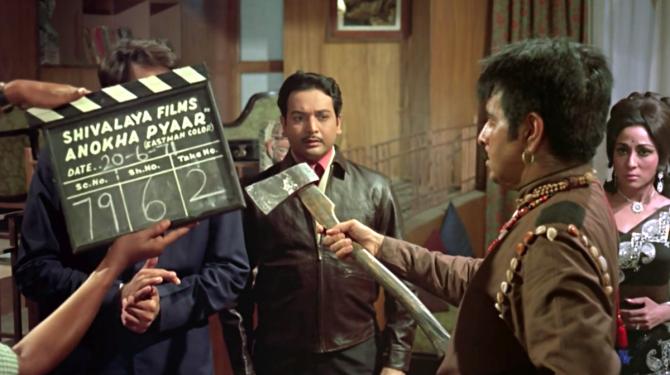 At the beginning of Hrishikesh Mukerji's Guddi, Jaya Bachchan pooh-poohs at the idea of catching a show of Dilip Kumar's Aadmi.
'He's great but his movies are too slow.'
Few reels later, a meta moment follows and she's watching Dilip Kumar at a shoot co-starring Biswajeet and Mala Sinha for a movie called Anokha Pyaar, which happens to be the title of the 1948 love triangle starring the thespian alongside Nargis and Nalini Jaywant.
Kranti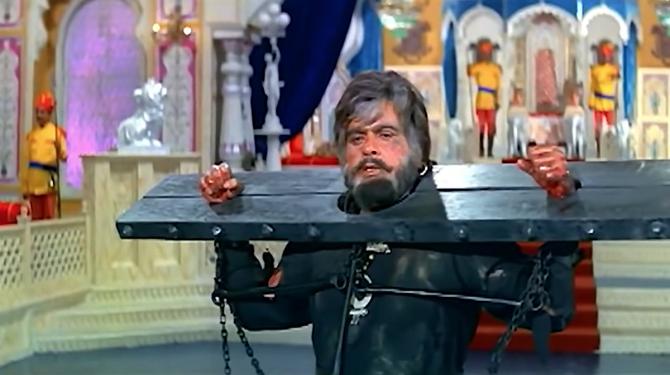 A blockbuster of its time, Kranti is now stuff of so bad, it's good. Most fun is the entirety with which Dilip Kumar submits to ardent admirer Manoj Kumar's kitschy vision while spearheading a revolution against the British in the 1800s.
Be it the costumes, the torture, the dialogues, the actor has a blast around Bharat Kumar's sensibilities.
Shakti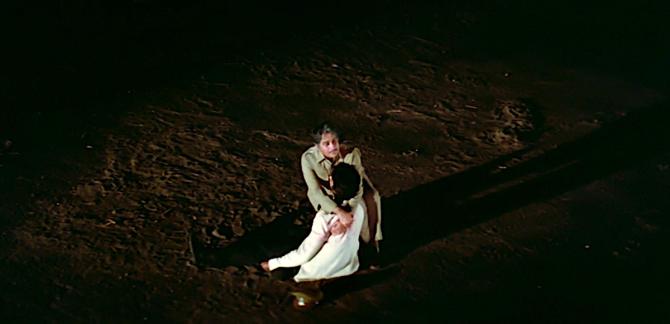 As I mentioned in my piece, my earliest movie memory is 'the sound of Dilip Kumar's warning and the visual of him chasing Amitabh Bachchan at the airport tarmac leading to Shakti's heart-breaking climax.'
All through Ramesh Sippy's classic, a duty-bound father and his resentful son are at constant loggerheads.
But the agony of Dilip Kumar's misunderstood father is finally understood when he shoots his only son in the line of duty.
Holding a dying AB in his arms, Dilipsaab acknowledges his love and takes off his policeman hat to become a father. Only a father.
Mashaal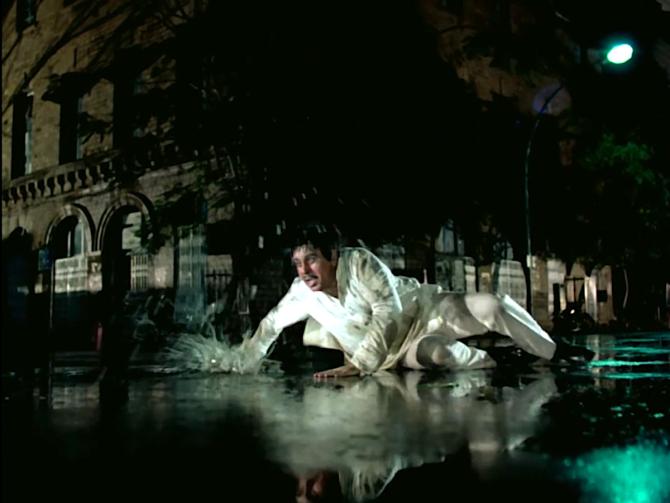 When the second wave of coronavirus hit India and turned the nation into a desperate cry for oxygen and beds, Dilip Kumar's hysterical pleas to find help for his ailing wife lying on the street hard ceased to feel overstated any more.
Karma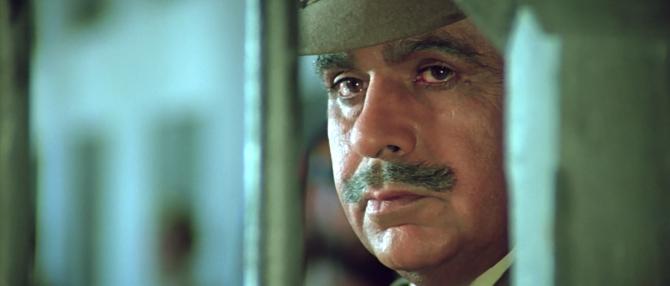 Be it the 'zanetedaar thappad' towards 'zaalim' in Ram Aur Shyam or the goonj-packed whack to tame the violent Dr Dang, Dilip Kumar's brand of action hero was effective even in the absence of guns and ammo.
Saudagar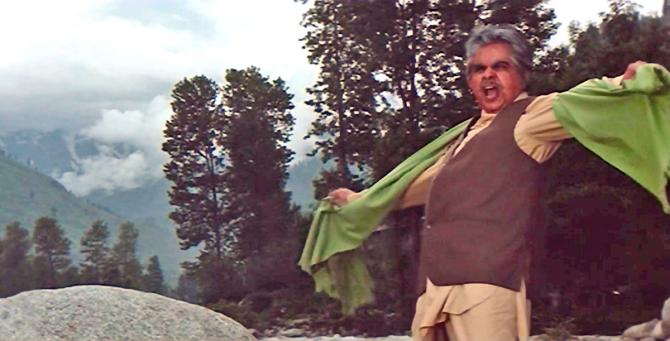 A completely sloshed Dilip Kumar scoffing at friend turned foe Raaj Kumar on the other side of the hills in his thick Harvyani accent is stuff of gold. For all his method actor reputation, it could not feel more extempore.
Duniya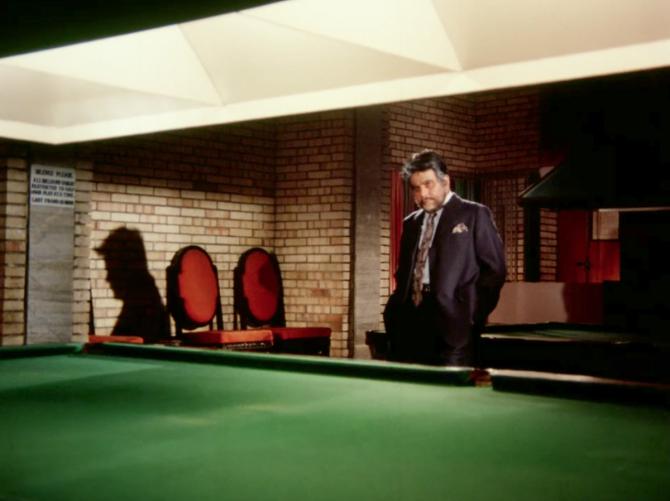 Inspired by The Count of Monte Cristo, it's only recently I watched Ramesh Talwar's Duniya. Though nothing out of the ordinary, it's super entertaining to watch Dilip Kumar's delicious disdain and inimitable composure as he slips into vendetta mode taking on a battery of villains -- Pran, Prem Chopra, Amrish Puri and Kulbhushan Kharbanda.