The way Dilip came to the porch to receive Lata, you would never have guessed something was amiss between the two.
Raju Bharatan's many wonderful insights into Dilip Kumar's life.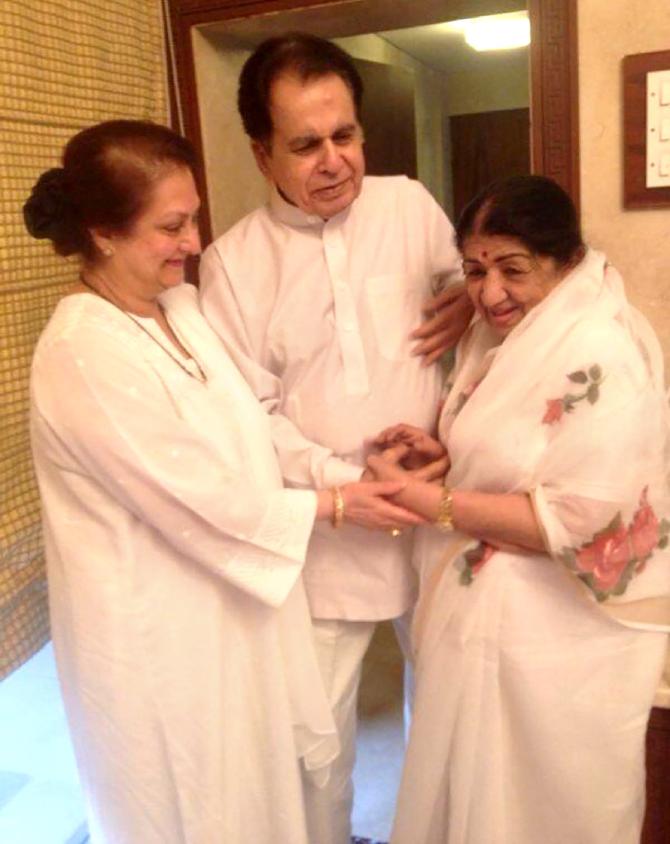 This article was first published on Rediff.com July 2, 2008.
Lifetime Achievement Awards being bestowed by the state upon Dilip Kumar and Lata Mangeshkar together -- on the occasion of India's Independence -- are significant.
Significant, because it was Khushwant Singh's cover story -- in the August 1970 Independence issue of The Illustrated Weekly Of India -- that first brought this celebrity duo together, as a happening pair, on the stage.
Yet, when Lata and Dilip met up afresh in August 1970, it astonishingly emerged that the two had not been on speaking terms through 13 years!
In such a setting, without knowing how the two then vibed, the idea of getting Lata to tie the raakhi on Dilip Kumar was quintessentially Khushwant Singh's.
As the Weekly Editor, Khushwant's August 1970 Hindu-Muslim Bhai-Bhai cover story, featuring Lata Mangeshkar and Dilip Kumar in colour, proved a spot sellout.
The task of getting Lata to Dilip's Pali Hill home was mine.
By then, I was a seasoned journalist 20 years into the profession.
Still, it was no small thrill to be driving down with Lata Mangeshkar, in her white Fiat, sitting uninterrupted by her charismatic side for an hour.
Dilip Kumar's family had been worried about Lata's turning out to be a vegetarian.
When, after ringing her, I assured them that Lata said she was a hearty non-vegetarian, Dilip Kumar's household felt relieved.
The way Dilip came to the porch to receive Lata, you would never have guessed something was amiss between the two. In fact, the lunch-table atmosphere was as tuneful as it could be.
This was when Lata startled all present by remarking: "You know, Yusufsaab, I'd always heard you loathed me for being one up on you while recording the Laagi Naahin Chhute Rama duet with you in (Hrishikesh Mukherjee's) Musafir. But I only sang the way I can't help singing any number."
"It's precisely because you can't help singing the way you do that my family and I adore you! How possibly could I loathe a voice so heavenly!" Dilip Kumar proceeded to lay it on a bit thick.
So thick as to remind me of what exactly Suraiya (who co-starred with Dilip Kumar in K Asif's uncompleted Jaanwar) meant when she observed: "The trouble with Yusuf was that he continued to act even after the director said 'Cut'!"
Having touched upon Dilip's infinite capacity to charm any lady off her feet, it is imperative to take note of the lifetime bond the Weekly cover story forged between Lata and Dilip.
So much so that our centrestage punchline became: 'If Lata comes, could Dilip Kumar be far behind?'
'They labelled me as a tragedian at the age of 26'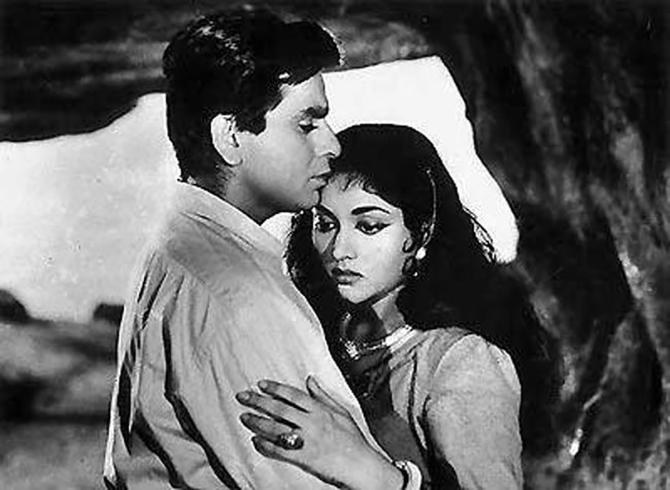 Dilip Kumar left his rivals far behind from the moment he broke through in the euphonious company of Noorjehan, with that Yahaan badlaa duet in Shaukat Hussein Rizvi's Jugnu (1947).
In fact, Dilip Kumar, soon after Jugnu, came to rate as 'the first among three equals,' as represented by the triumvirate of Dilip Kumar, Raj Kapoor and Dev Anand.
Still, it would be fair to state that so single-minded was Peshawar's Yusuf Khan in his devotion to acting that he always had an edge over Raj and Dev.
Filmfare, the prominent fan magazine in colour then, was our awards' guideline through the 1950s and 1960s. Filmfare's award record underscores Dilip Kumar's pre-eminence in the field.
He bagged the very first Filmfare Best Actor award for his memorable essaying of the drunk in Amiya Chakrabarty's Daag.
Following that, starting 1955, Dilip registered a Filmfare Best Actor hat-trick for his portrayals in themes so varying as S M S Naidu's Azaad (opposite Meena Kumari), Bimal Roy's Devdas (opposite Suchitra Sen) and B R Chopra's Naya Daur(opposite Vyjayanthimala).
Face-to-face with Vyjayanthimala in Naya Daur, Dilip Kumar took our breath away with his enaction of Udey jab jab zulfen teree.
What struck you here, was the fact that the only thing undisciplined about Dilip Kumar was his mop of hair -- a tuft, Yusuf Khan maintained, was at all times natural.
Naya Daur (after Azaad) was a studied attempt by Dilip to break his final-scene heroine-losing mould.
"Following my tearful success in Jugnu, Mela, Shaheed and Andaz, they labelled me as a tragedian at the age of 26," Dilip told me. "You had to go through such a traumatising experience to get to know how exactly it felt to be so branded when I was still in my youthful prime."
Bimal Roy's Devdas put the imprimatur upon Dilip Kumar as the complete actor.
It was a performance strikingly removed from K L Saigal's as the legendary Devdas.
Dilip's silences were as eloquent as his speech -- much as the young of today might find that hard to believe.
Yet Yusuf himself had not seen a film till he turned 14!
Dilip always opted to watch his own performances seated in the extreme-left seat of the third or fourth row. Such an angle, he felt, gave him the most honest feedback on his work.
Dilip Kumar, the star cricketer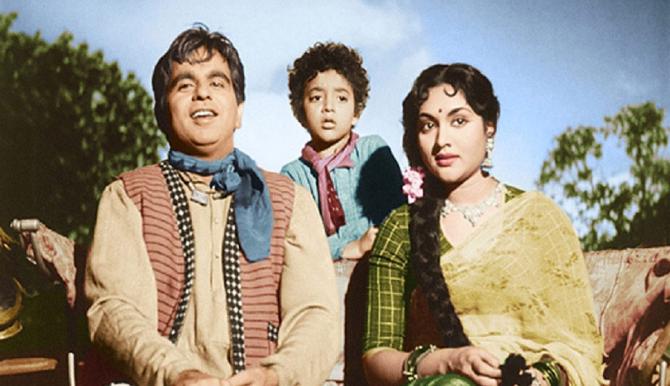 Away from the arc-lights, Dilip excelled at games like football, hockey, cricket and chess. Any move he made on the sets was as well thought out as the next step by Gary Kasparov. If Dilip participated in a film stars' cricket match, it was no byplay but a deadly serious business for the man.
At Mumbai's Brabourne Stadium in such a film stars' match, as Charitra hero Salim Durrani came in to bat, the ovation was deafening.
As Salim took his stance at the wicket, even as Amitabh Bachchan began bowling left-arm spin from an impressive height, Dilip Kumar moved to his carefully calculated position in the field -- on the long-on boundary!
As Salim Durrani answered the crowd's clamour for a six with a skyscraper hit, Dilip Kumar fell back in style on the ropes.
Being ultra-careful to keep both his feet planted inside the boundary-line even while falling back, then, judging the ball coming at him, Dilip stuck out his left hand to bring off a sensational one-handed catch.
During the lunch break, Raj Kapoor made it a point to seek out Dilip and tell him: "Remember, they had come to watch Salim Durrani bat, not to view Dilip Kumar catch!"
The same Raj Kapoor, in its first six years, could not break Dilip Kumar's near stranglehold on the Filmfare Best Actor award -- not even with Shree 420.
The irony here lay in the fact that, after Devdas, it was Dev Anand who claimed the Best Actor statuette for Kala Pani (1958).
Raj Kapoor had to wait another year to win the Filmfare for his showing in Hrishikesh Mukherjee's Anari (1959), opposite Nutan.
Nutan was the top heroine opposite whom we somehow never got to see Dilip Kumar.
But Nutan's aunt, Nalini Jayawant, whom Dilip once identified as the sharpest of his leading ladies -- excelled opposite him in Ramesh Saigal's Shikast (1953).
Dilip Kumar, and his women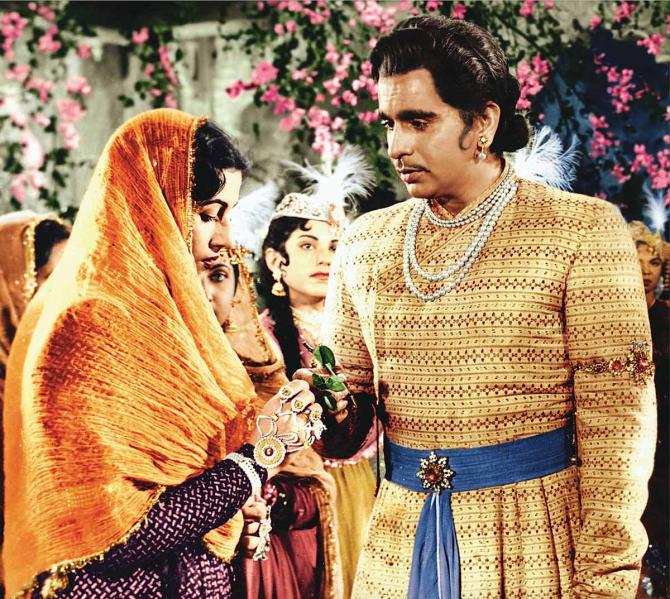 Various leading ladies figured prominently in Dilip Kumar's life and times. Yet such was the magnetism Dilip Kumar brought to screen acting that Kamini Kaushal, Nimmi, Madhubala, Meena Kumari and Vyjayanthimala looked like mere 'conquests' in a career studded with achievement.
Reflect upon how Madhubala starred with Dilip Kumar in Mehboob's Amar (1954), and K Asif's Mughal-e-Azam (1960).
In both these films, Dilip held on to his mantle without a single song's going on his lips.
In Gunga Jumna, so fondly made by him, Dilip even handpicked the shade of sari that Vyjayanthimala would wear in every scene, only to lose her to Raj in Sangam.
In Sangam itself, Raj offered Dilip the choice of either his or Rajendra Kumar's role.
Just as Guru Dutt had waited in vain for Dilip Kumar to play Pyaasa, Raj had to wait as well because Dilip just wouldn't bite in Sangam.
Shrewdly, Dilip reasoned that, even if he got to essay the younger hero's role (ultimately done by Rajendra Kumar), the man in control, behind the camera, would be Raj Kapoor himself, as director, to determine the placement of Radhu Karmakar's camera!
Rajendra Kumar himself, alongside Sangam, rose to his box office zenith, in 1964, with Aayee Milan Ki Bela opposite Saira Banu. This led to a sizzling affair between Saira and the 'Jubilee' Kumar.
That was when Saira's mother Naseem Banu took matters in hand to call a firm halt to her daughter's dalliance with a married man.
Swiftly, Naseem arranged Saira's nikaah with the older Dilip Kumar -- who startled us by noting that Saira had the makings of a very good actress on the evidence of their 1970 Gopi teaming.
Did Dilip Kumar then ever meet his acting match?
He did, briefly, in Raaj Kumar, if you remember Gemini's Paigham.
In the same Gemini's Insaniyat four years earlier, Bharat Bhushan (after accepting) had cried away from playing opposite Dilip Kumar -- to be replaced by Dev Anand. Only for Dilip to just outclass Dev in Insaniyat.
Dev privately argued that Dilip had got the Insaniyat script slanted in his favour. Yet, it is well known that Dilip took on his roles only after a thorough study of the script.
Indeed, Dilip had even developed the calibre to go beyond the script, as we saw in H S Rawail's Sunghursh. But gone, by 1968, was the mesmeric presence that had made Dilip Kumar such a captive draw, opposite Vyjayanthimala, in Bimal Roy's Madhumati (1958).
In S Mukerji's 1964 Leader itself, opposite a by-then-recalcitrant Vyjayanthimala, Dilip Kumar no longer looked the matinee idol part. Yet he remained the mood player nonpareil, opposite Waheeda Rehman, in Dil Diya Dard Liya. But Saira did not look too pleased when Waheeda praised Dilipsaab skyhigh, in her presence, during a television programme featuring the three.
Yet it was as Dilip Kumar rose to his full acting stature -- in the late 1960s -- that his one-time audience deserted him. Dilip Kumar did show his pace, as a very special character actor, opposite Waheeda Rehman in Yash Chopra's Mashaal.
Even before that, opposite Rakhee, he had excelled in Ramesh Sippy's Shakti (1982), thereby proving he had conserved his performing skills into the era of Amitabh Bachchan and Anil Kapoor. Dilip Kumar even proceeded to settle the Raaj Kumar Paigham score with his cute showing in Subhash Ghai's Saudagar.
Dilip's ambition to direct a film remained unfulfilled..
There was even a spell when it was suggested that his acting style had dated.
An audience growing progressively younger failed to tune with his maturely measured approach to high histrionics.
Dilip Kumar, the all-rounder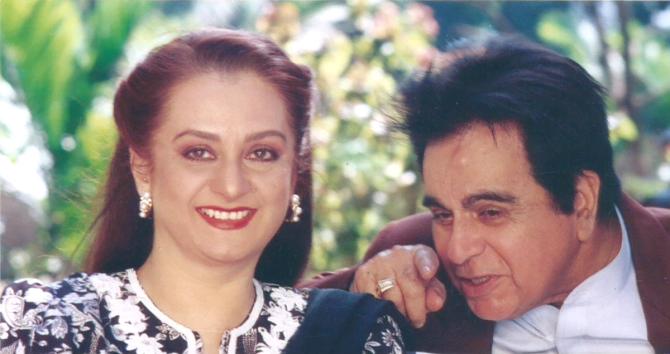 But today, as you view it in perspective a near 65 years after Devika Rani introduced him to cinema with Jwar Bhata, you divine the dimension of icon Dilip Kumar has been to clinch this Lifetime Achievement award alongside Lata Mangeshkar.
Both performers share the distinction of putting their craft before all else. Maybe, by so often appearing on the podium together, each merely served to burnish the other's image. Yet you have to agree that the image has been scrupulously guarded in the case of each.
The quest for sustained excellence has been the cornerstone of Dilip Kumar's approach to the motion picture arts and sciences.
As a science student from Wilson College, Dilip Kumar (who initially wanted his screen name to be Jehangir) was so good at football that he could have taken up the game full time. But his fruit-trading family insisted upon his playing 'at-home' chess!
This is what perhaps instilled in Dilip Kumar the urge to study every move he made, in cinema, with a mind all his own.
To think Yusuf Khan was but an average student at the Anjuman-e-Islam High School in South Mumbai. Dilip had Dhyan Chand for his ideal in hockey, C K Nayudu for his model in cricket, Bade Ghulam Ali Khan for his favourite in music. Ghalib and Faiz are his preferences in poetry.
Yusuf Khan might have started out as a canteen manager on Rs 35 a month. But even here, Yusuf strove for a certain perfection in executing his job.
The zeal with which -- as the third in line -- he nursed his brothers and sisters reveals Yusuf to be the total family man.
For all the leading ladies he had for the asking in films, Yusuf hadn't a single girlfriend in college! Somewhat like his making do without a proper heroine in Kidar Sharma's Jogan, a film in which Dilip Kumar revealed, early, all the subtleties of acting opposite Nargis.
In between two intense shots, Dilip would amuse himself by going in for a round of tennis-ball cricket. He had enough cricket in him not to look a raw hand even while playing in the super-stylist company of Mushtaq Ali, a batsman whom Dilip admired.
Dilip's pet cricket commentator, in the circumstances, had to be one considered to this day, by many, the best -- A F S Talyarkhan. Indeed, Dilip could mimic AFST's commentary to a T.
With books, Dilip had a special rapport from the time Bombay Talkies' chief Himansu Rai asked him to spend all his spare studio time in the BT library. My first Weekly Editor, Britisher C R Mandy, once shared a train journey with Dilip Kumar and told me he felt amazed by the range and depth of the man's reading.
His breeding came through in everything Dilip did.
In high meridian, you had to speak to Dilip Kumar for just five minutes on the phone and you had a 1,500-word interview in which you were hard put to pick and choose.
Gardening is but one of the many pastimes in which Dilip delighted.
This Lifetime Achievement award, therefore, is fit recognition for one truly ranking among the most well-rounded personalities in Indian Cinema.
The late Raju Bharatan was perhaps one of the finest chroniclers of Hindi cinema and its music.