'... their love was jinxed.'
'His celluloid path to his partner's heart was seldom smooth; it had to contend with greedy relatives and indecisive sweethearts, who were more ready to sacrifice than woo and wed.'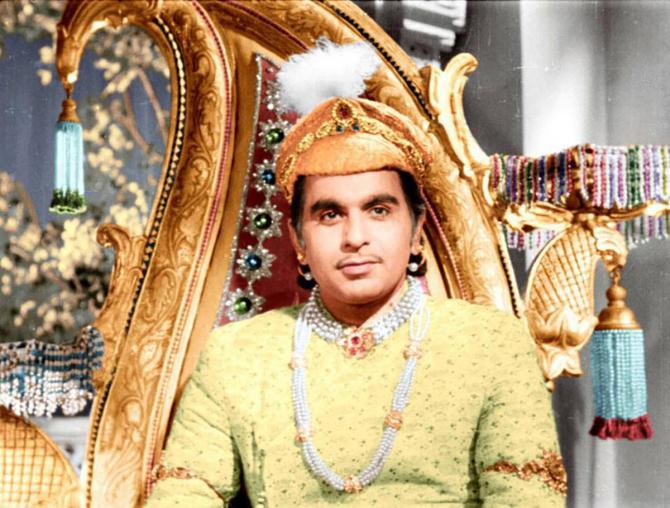 We were lucky enough to live in a rented flat in Mumbai for nearly 40 years.
Those were the best years of our lives and they were spent in Bandra, the queen of suburban Mumbai. We saw the best of the city's style, watched it grow imbibing the latest fashion trends and opening its arms to the cultural elite -- film and theatre folk, playwrights, intellectuals of all sorts and cultural edifices.
Somewhere in the mid-1980s, the huge, multi-storeyed Lilavati Hospital threw its doors open to the people and began to attract the elite.
The road to the hospital was full of cars belonging to VVIPs.
Bandobast and traffic control were tight. Shiv Sena stalwart Bal Thackeray was often seen at the hospital; so were political heavyweights and the cream of the entertainment world, led by the inimitable Dilip Kumar.
We were one of the humble neighbours.
The initial curiosity we felt at the flashing red lights and screaming sirens slowly abated when the Shiv Sena supremo fell ill and was treated at Lilavati. We prayed that he would get well and be discharged soon. Then, we could sigh quietly in relief.
Bandra, home to thousands of Mumbai's cultural elite, was well represented at Lilavati.
The celebrities being treated included music directors, lyricists, producers/directors; their entrances and exits were quiet and well guarded.
As a film fan, I prayed for all of them.
Dilip Kumar, as he entered his 80s, was seen often at the hospital, usually for routine check-ups. But as he aged further, he required more periods of hospitalisation.& The media was always present to 'cover' the star while doctors distributed carefully drafted medical bulletins.
Though I was an occasional patient at the hospital, I never 'covered' Dilipsaab. However, I always prayed for his speedy recovery.
Waiting at Lilavati, I thought of the many occasions I had met him.
He was the superstar and I was a humble fan in my teens studying at the Government Victoria College at Palaklad in Kerala.
A keen football follower even then, Dilipsaab was once the honoured guest at a local tournament and distributed the prizes. The eyes of the thousands of spectators did not concentrate on the 22 players, they 'oohed' and 'aahed' at the chief guest who wore spotless white trousers and a full-sleeved shirt.
They found it hard to believe that an Indian film actor could be so fair.
Though I had limited knowledge of Hindi films, I knew Dilip Kumar (very few of us knew his real name, Yusuf Khan) was on the verge of a bright film career.
Bombay (now Mumbai) was a nice place to live in the late 1940s: Cooler, greener and less crowded.
The influx for jobs was there, of course, but there was enough space to walk along the footpaths and the beaches.
The main entertainment for the masses was the movies and we enjoyed them for even less than one rupee. With peanuts for four to six annas, it was a royal feast.
The film studios worked two or three shifts, churning out dozens of movies every week. Call them masala fare but at least they had wonderful music.
The 'Melody Era' had just dawned and the vast audiences were humming delectable songs set to tune by Naushad, Chitalkar Ramchandra, Anil Biswas...
Three stars -- Raj Kapoor, Dilip Kumar and Dev Anand -- dominated the scene, with the more mature roles going to Ashok Kumar.
Yusuf Khan, born on December 11, 1922, was very fair and had soulful eyes. He was not handsome in the conventional manner, but women found him irresistible.
He seldom used a comb and alternated between dhoti-kurta and Western clothes.
Heroines flocked to him, but their love was always jinxed. He had to fight every social barrier.
The Indian cinema audiences then, it appeared, loved tragedy. His celluloid path to his partner's heart was seldom smooth; it had to contend with greedy relatives and indecisive sweethearts, who were more ready to sacrifice than woo and wed. in all shapes and forms.
Lovers had to be separated, elders had to be ruthless, rich-poor barriers conveniently came between lovers and, if these were not enough, there were the barriers of orthodoxy and caste as well.
The zamindars spawned enough rakes to come between genuine love.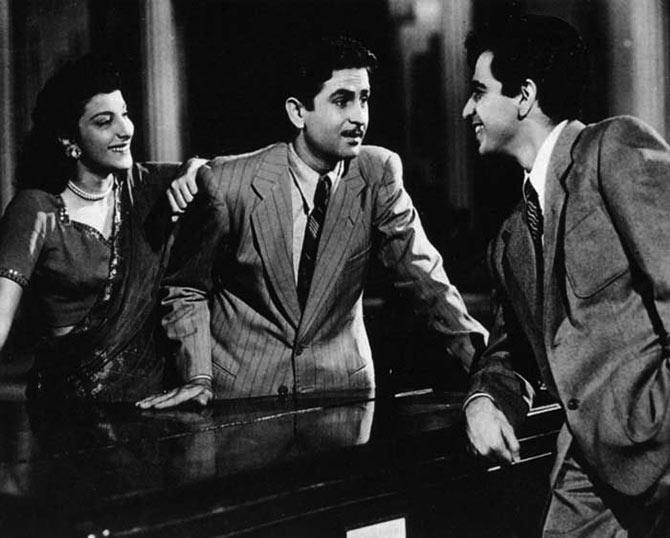 Dilip Kumar, the eternal lover, had to contend with these and more.
Though only in his early 20s, the course of love never ran smooth for him. I missed his early films including Jwar Bhata, but caught up with dozens of later-day tearjerkers like Andaz, Jogan, Arzoo, Footpath, Daag, Tarana, Deedar, Shikast and the rest.
He was the hero plagued by inner turmoil.
The stories were simple enough -- the characters suffered from 'genteel' poverty and society did not encourage romantic love.
In film after film, even when handled by expert directors like Mehboob Khan, the hero was deprived of true love and suffered.
Andaz was a typical love triangle; the characters involved (Raj Kapoor, Dilip and Nargis) would not speak out and clear their misunderstandings and illusions.
Drink ruined our hero in other romantic films but it enabled Dilip Kumar to ascend great histrionic heights. One such memorable film, Daag, fetched him his first Filmfare award.
I lived through that era which was a mixture of the tragic and the non-tragic, just like any other era. The middle class lives portrayed family misunderstandings and prejudices.
Dilip Kumar's illustrious colleague founded R K Films and successfully focused on the socialistic themes, starting with Awara.
Dilipsaab branched out into different themes like fantasy (Uran Khatola), royal melodrama (Aan), romance and devotion (Jogan). He worked in Indian literary adaptations (Devdas) and foreign fiction (Sangdil, adapted from Jane Eyre), explored the evils of black marketing and social corruption (Footpath), widowhood and rehabilitation (Shikast), patriotism (Shahid and Shabnam) and so on.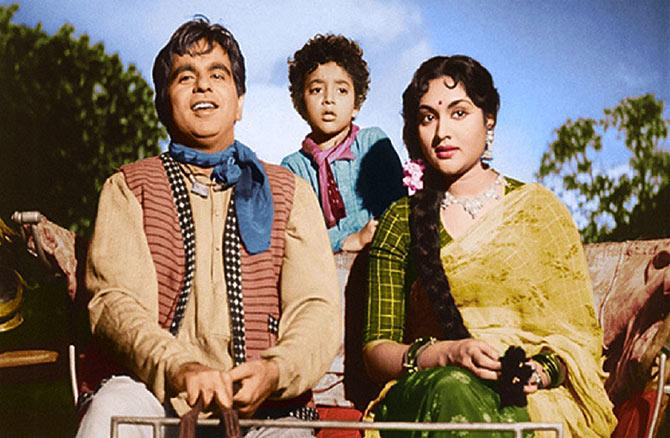 Dilip Kumar was a busy actor and featured in two-three releases a year.
These achieved moderate success and nearly half them were hits.
The soft ghazals and lyrics sung by Talat Mehmood for the legend remain popular to this day.
From 1950 to 1960, Dilip Kumar was the king of Bollywood.
There was enough variety... the adventure story, Azad, adapted from the Tamil hit Malaikallan; the challenging trade union politics story,Paigham where he had to be at his best to beat off Raaj Kumar's challenge.
Not so successful was Gemini Vasan's raja-rani romance, Insaniyat with Dilip Kumar, Bina Rai and Dev Anand in an ill-written, ill-costumed commander's role! The uneasiest portrayal was by poor Devsaab, who was clad in a dhoti and armour. The crowds that had flocked to watch the unusual Dilip-Dev pairing were disappointed.
Some of these films were forgettable, but Dilipsaab was not and emerged with greater glory in K Asif Sahib's Mughal-e-Azam. In glorious Technicolor (partly) and unforgettable music, it set new records and raked even more money. Though the real life romance between Dilip and Madhubala had soured, and her health had begun to deteriorate, it did not show in the film.
Mughal-e-Azam is an exquisite celluloid beauty even today. It has not lost its beauty and sheer magic.
Madhubala was never the same again, but Dilip had more cards to play.
B R Chopra's Naya Daur proved that human strength and unity were superior to machine-made monsters. Dilipsaab made the perfect pair with Vyjayantimala, who also starred in his home production, Gunga Jumna.
Even though Gunga Jumna stressed national unity and patriotism, Dilip Kumar faced many problems because of Morarji Desai's anti-Muslim prejudices. The superstar vowed he would never make a film on his own again.
As sweet compensation came Madhumati, a Bimal Roy production, about reincarnation. It was a visual, musical and histrionic delight.
Dilip Kumar's popularity in the south remained unabated.
Ram Aur Shyam, a story about identical twins, sent the box office soaring in 1967.
As age caught up with him, Dilipsaab had to rethink about playing the hero.
He played a triple role (father, son and grandson) in the melodrama, Bairaag.
He was Amitabh Bachchan's stern police commissioner father in Ramesh Sippy's Shakti, where both stars vied for the top acting honours.
Dilip Kumar's patriotism can never be questioned. He ended his career on a strong note with the patriotic, anti-British Kranti (1981).
Ten years later, in a casting coup, director Subhash Ghai brought Dilip Kumar and Raaj Kumar together for one last hurrah in the 1991 revenge drama-cum-love story, Saudagar.
In a career spanning nearly 40 years, the 'King of Tragedy' made around 62 films.
Mehboob Khan's Aan, shot in colour in London, was the first Indian colour film.
In Musafir, he sang the song, Lagi nahi chute, with the legendary Lata Mangeshkar, whom he considered his younger sister.
He was among India's top actors, but he refused to star in Hollywood films like David Lean's Lawrence Of Arabia (that role then went to Omar Sharif). It was much later that Dilipsaab explained he was not comfortable mouthing dialogues in a non-Indian language.
Dilip Kumar did not believe in any 'school of acting' and debunked the theory that acting could be taught. Yes, he agreed that he mumbled during emotional scenes, admired Marlon Brando and pointed out that voice and good dialogue helped an actor a lot.
He referred to the success of Amitabh Bachchan.
Once he stopped acting, he became active on the political front and often lent a clear and strong voice in support of Hindu-Muslim unity. He was not scared of the Shiv Sena and its bullying tactics. Even Bal Thackeray realised it would be futile to take on the tremendous popularity and goodwill enjoyed by the actor.
During communal riots, his house was open to everyone who needed a meal.
He readily accepted Pakistan's highest civilian honour, the Nishan-e-Imtiaz.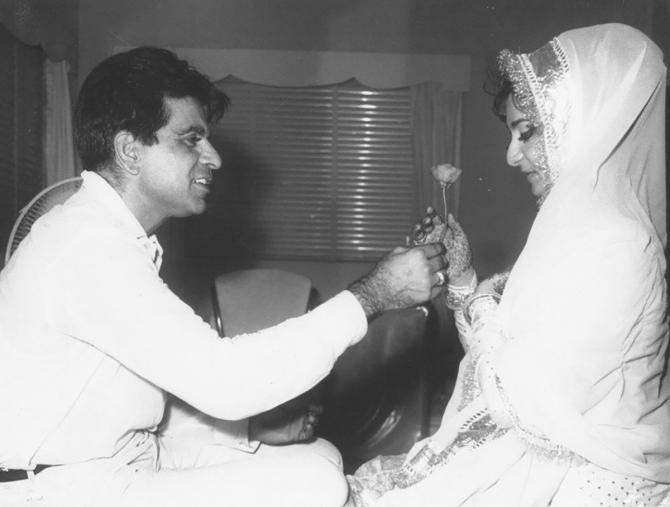 Dozens of beautiful and talented women were his co-stars, starting with Kamini Kaushal (they did four films together). There was talk of a romance between them, but Kamini went on to marry her widowed brother-in-law.
Nargis made some memorable films with him (Babul, Jogan, Deedar) but she moved closer to Raj Kapoor.
Madhubala was deeply in love with Dilipsaab. What really happened between them, we do not know. Was it interference from a cantankerous father who would not let go the hen that laid golden eggs for the family?
Dilipsaab's name was linked with Vyjayantimala, who starred with him in seven movies. A faraway look came into her eyes when I asked her about it some years ago.
Waheeda Rehman and Dilipsaab made a terrific jodi, but only on screen.
The Saira Banu-Dilip wedding took everyone by surprise in Bollywood.
She was full of youthful vitality. Her mother Naseem Banu was Dilipsaab's close friend. The young Saira hero worshipped the thespian, even though rumour mills constantly linked her with Rajendra Kumar, the jubilee star of those days.
The wedding was Bollywood's event of the year.
She was the wife, sweetheart, friend and, lately, the spokesperson. She remains grace personified.
When I was a reporter with The Sunday Observer, we met often during the riots. There was a lingering sadness in Dilipsaab's eyes.
Forcing salad and biryani on my plate, he talked about the glory and grandeur of India. To preserve all that, he said, we had to be strong and united.
I found talking to him was like reading the more interesting chapters from Jawaharlal Nehru's The Discovery Of India.