'Basuda welcomed viewers into a world that was instantly familiar and comfortable,' observes Sukanya Verma.
Basu Chatterjee didn't just make movies for us. He made movies about us.
I saw life in his cinema.
His stories could be about you, me or the person next door.
But the upshot would always be relatability. There can never be an expiry date on such personal connect.
In mirroring the various facets of middle-class and its bittersweet monotony, his living, breathing characters lend the everydayness an air of intimacy. An attribute most refreshing and life-affirming in an era dominated by larger-than-life anger and masala.
It's the authentic expression of empathy, grace and wit in their experiences that made us one with them.
Where Hrishikesh Mukerji's storytelling evoked an unmistakable 'nirmal anand,' Basuda interspersed it with 'khatta meetha.'
A visionary par excellence, Basuda welcomed viewers into a world that was instantly familiar and comfortable.
By seeing value in humanising conflict and a genuine desire for overcoming real, ordinary crisis, he became a flagbearer for genuine sentiment and lasting simplicity.
Under his unassuming vision, the romance of Mumbai's crazy pace, crowded company, diligent public transport and famous monsoon came alive even as the throbbing city and its sea-facing landmarks provided silent support to young love and its teething troubles.
His eye for bucolic life, its gullible occupants and old-fashioned sensibilities left an equally charming impression.
In his permissive worldview, women were equipped with financial independence and agency while men didn't have to disguise their insecurity or failure, worrying they would be perceived as un-masculine.
Not so much gender politics but compatibility (or the lack of) between disparate temperaments is what fascinated him.
What Confucius said about life being simple, we complicate it, is something that largely fuelled his straightforward storytelling.
Except the prolific film-maker's genius wasn't restricted to adapting compelling novels or dishing out feel-good family fare bolstered by curious voiceovers.
Across a career spanning five decades, the prolific director also broached on subjects like safe environment for working women, the dilemmas of a divided judiciary and the conversation around a sexually repressed society. Not to mention his stellar work for the small screen.
He leaves behind a huge legacy of films whose stature grows more iconic with time.
Glimpses from his extensive body of work:
Rajnigandha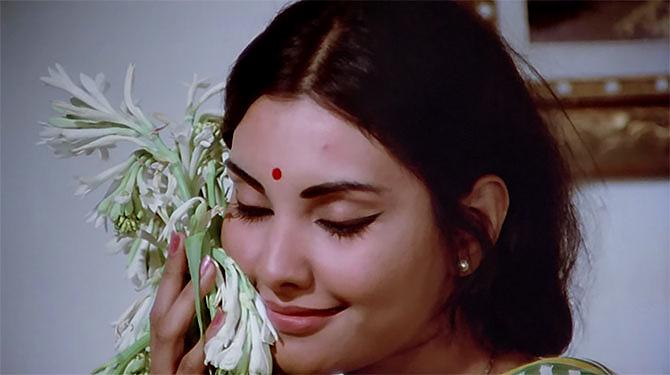 Based on Mannu Bhandari's short story Yahi Sach Hai, Rajnigandha delicately examines a young lady's romantic confusion and excitement over past and present loyalty while raising unwitting comparisons between Mumbai and Delhi's nature.
Besides gifting the industry talents like Amol Palekar and Vidya Sinha, Chatterjee displays an exquisite understanding of a woman's heart.
Chhoti Si Baat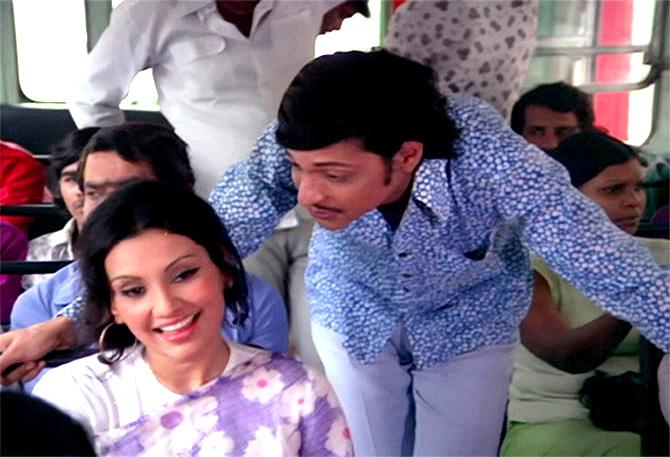 Inspired by THE British comedy, School for Scoundrels, Chhoti Si Baat is a winsome coming-of-age tale about an awkward officegoer's inability to woo the woman he regularly runs into at the bus stop.
Timely tips and guidance from a retired army man help him get rid of his shyness and shrewd competitors until all's well that ends well in this adorable gem from 1976.
Shaukeen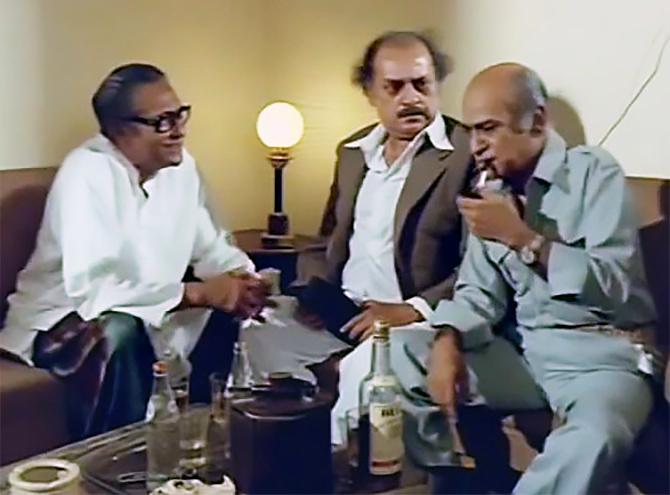 Three old men, who are best friends, decide to get laid during a holiday in Goa.
It's a tricky premise, but Basuda accomplishes no less than a feat in how tastefully he conveys Ashok Kumar, Utpal Dutt and A K Hangal's lascivious aspirations in this surprisingly enjoyable comedy.
Priyatama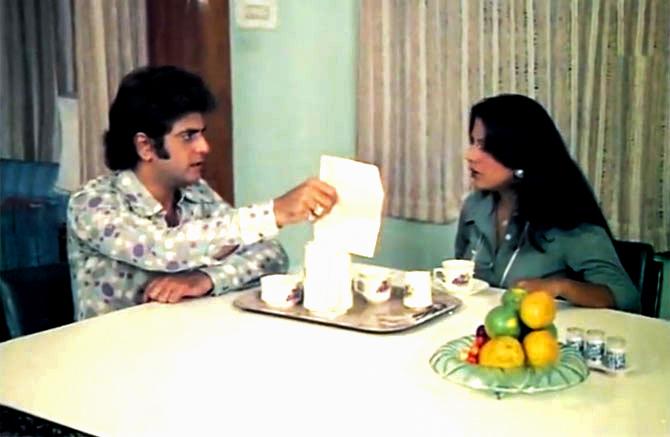 Basuda's accurate depiction of urban life and newlyweds colours the breezy Priyatama's reality check after a perfectly paired Jeetendra and Neetu Singh realise it's not all bed of roses after all.
Piya Ka Ghar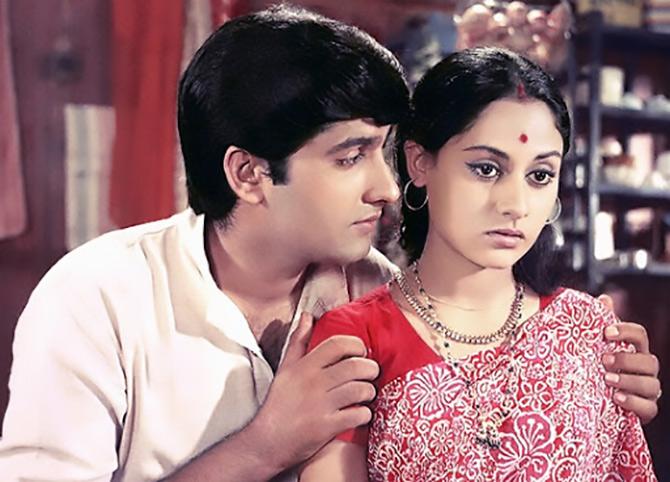 Piya Ka Ghar's real estate woes in Mumbai remain unchanged.
Anil Dhawan and Jaya Bachchan play a newly married couple struggling for space and privacy in the crammed, crowded 'kholi' as Basuda draws an believable picture of marital misery.
Baaton Baaton Mein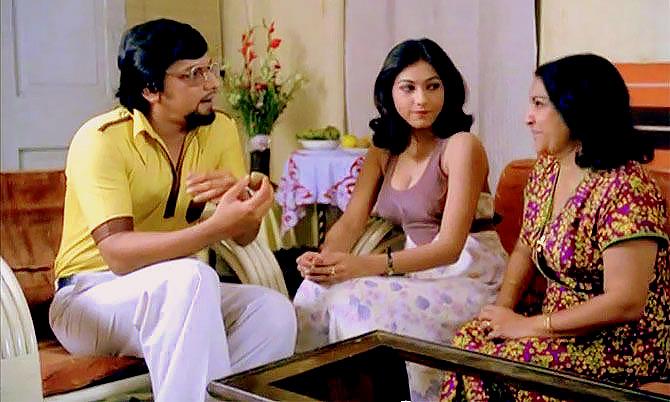 If Jane Austen ever wrote a film for Bollywood, this would be it.
Basuda's vibrant rom-com about cupid playing relatives, excitable moms and blow-hot-blow-cold couples is the ultimate ode to local train romance, Bandra and its warm Catholic community.
Chameli Ki Shaadi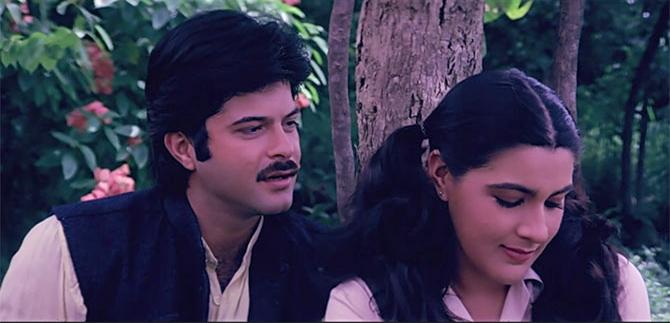 Laughs and loveliness envelop this timeless treat recounting the adventures leading to Chameli's shaadi to Charandas.
A classic that introduced us to Amrita Singh's brilliant comic skills, Anil Kapoor's singing prowess while reiterating Amjad Khan and Pankaj Kapur's reputation as the finest in the business.
Ek Ruka Hua Faisla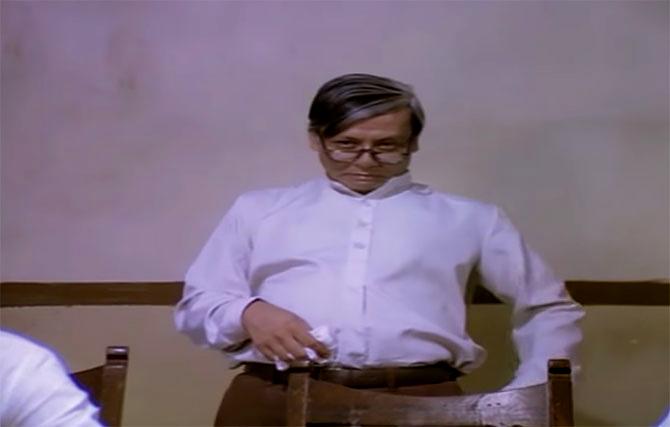 Though its content, inspired by Sidney Lumet's 12 Angry Men, is hardly original, the writing and calibre of Ek Ruka Hua Faisla's performances in this taut courtroom drama for television is much too powerful to overlook.
Swami
In this engaging adaptation of Sarat Chandra Chattopadhyay's book, Shabana Azmi plays a spirited young girl in love with one but forced to marry another in the tradition that would influence films like Woh Saat Din and Hum Dil De Chuke Sanam.
Apne Paraye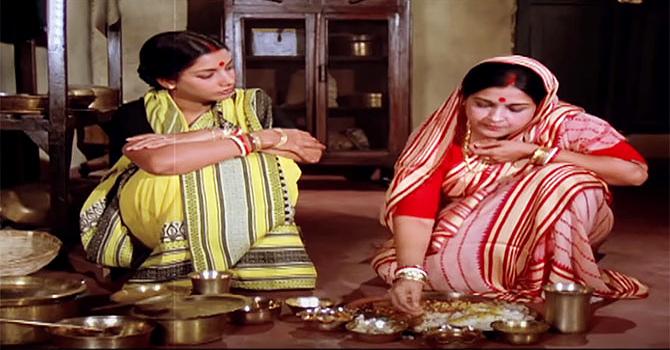 Basuda turned another Sarat Chandra novel Nishkriti into a wholesome drama about family ties of blood and love in the sentimental quarrels and poignant reconciliations of this well-acted ensemble starring Amol Palekar, Shabana Azmi, Utpal Dutt, Girish Karnad, Bharti Achrekar and Ashalata in an acclaimed turn.
Dillagi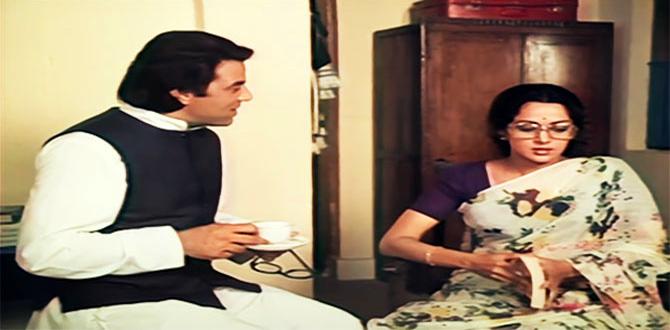 This under-rated romance stars the hit jodi of Dharmendra and Hema Malini as college professors of chalk and cheese temperament.
One's pursuit and another's resistance drive much of its droll narrative.
Chitchor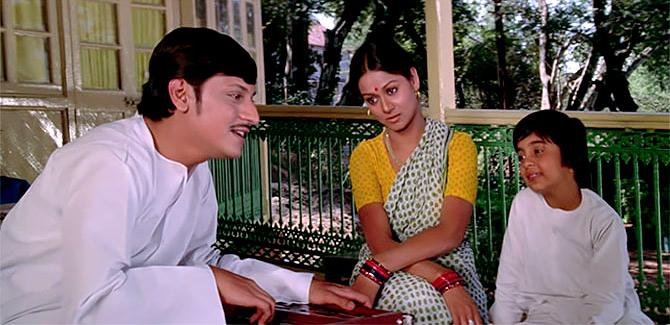 Mistaken identity causes much heartache for a fresh-faced Zarina Wahab and her suitors -- Amol Palekar and Vijayendra Ghatge -- as music, materialism and matters of the heart collide in the sweet-natured confection he made for Rajshri.
Kamla Ki Maut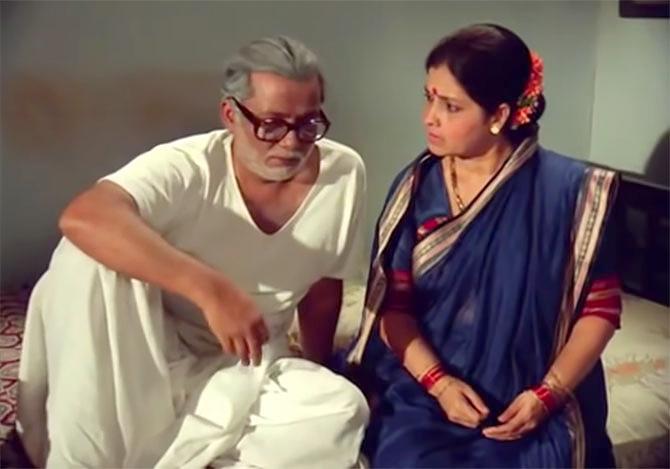 Basuda addresses the taboos associated with premarital sex, the gossip mongering and blame game it triggers as well as a man's deep-rooted guilt in the face of hypocrisy in the layered, conversation-starting Kamla Ki Maut.
Sara Akash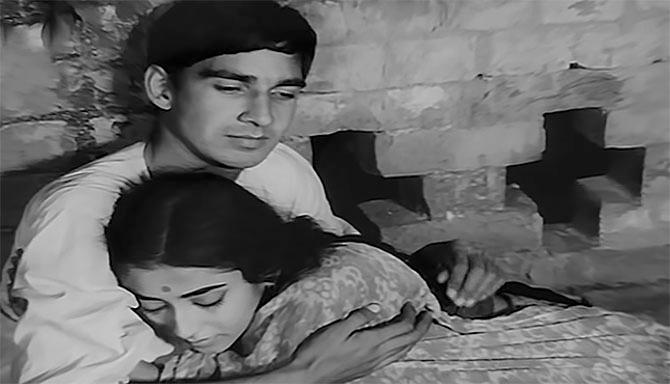 Based on Rajendra Yadav's debut novel, Basuda's stylised black and white first film as director led to the New Wave alongside Mrinal Sen (Bhuvan Shome) and Mani Kaul (Uski Roti).
You'll see the seeds of his natural, organic approach in the unfussy depiction of a newly married couple hardly ecstatic about the development while dealing with the ensuing domestic drama of a typical joint family setup.
Manzil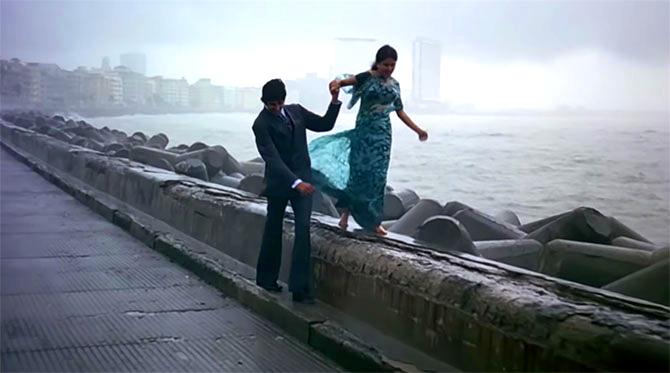 Its immortal rain song Rimjhim Gire Saawan picturised imaginatively on a drenched Amitabh Bachchan and Moushumi Chaterjee against Mumbai's majestic landmarks is reason enough to celebrate Manzil. It also offers a cautionary tale on folks who do business with faulty galvanometers.
Khatta Meetha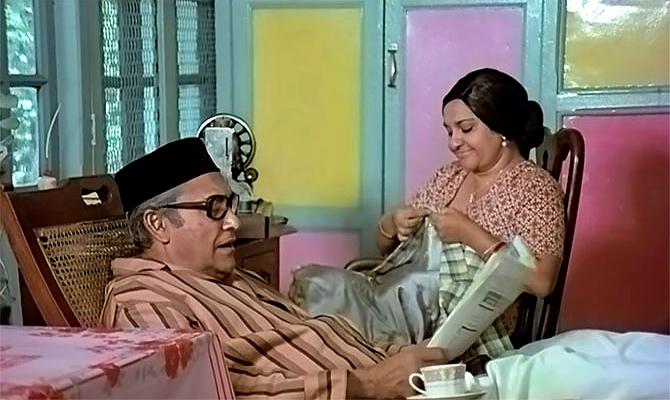 The need for companionship is pleasantly underscored in Ashok Kumar and Pearl Padamsee's pitch perfect camaraderie.
As the middle-aged, single Parsi mother who gets married to a retired widower, the duo has a crazy time keeping peace between their warring respective broods.
And yet no other film practised what they preached better than this: Thoda Hai Thode Ki Zaroorat Hai.
Sheesha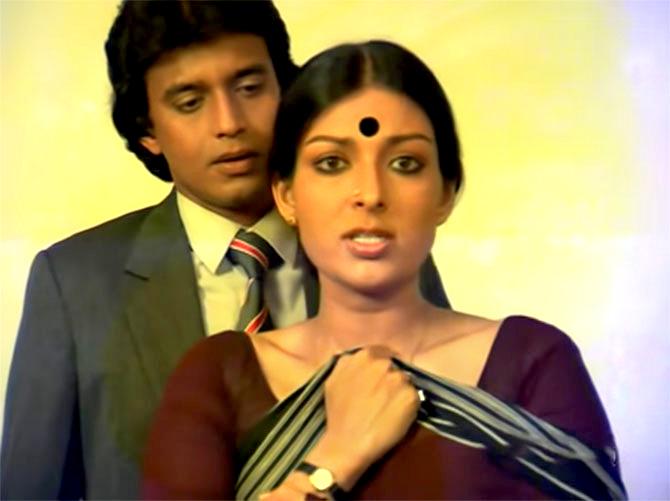 Despite its flaws, Sheesha is an important film that talks about issues that have plagued the society years long before the #MeToo movement kicked off.
Props to Basuda for convincing leading man Mithun Chakraborty -- at the peak of his career -- to play a sexual offender dragged to court by his victim, essayed by Indian classical dancer Mallika Sarabhai.
Rajni, Darpan, Kakaji Kahin, Byomkesh Bakshi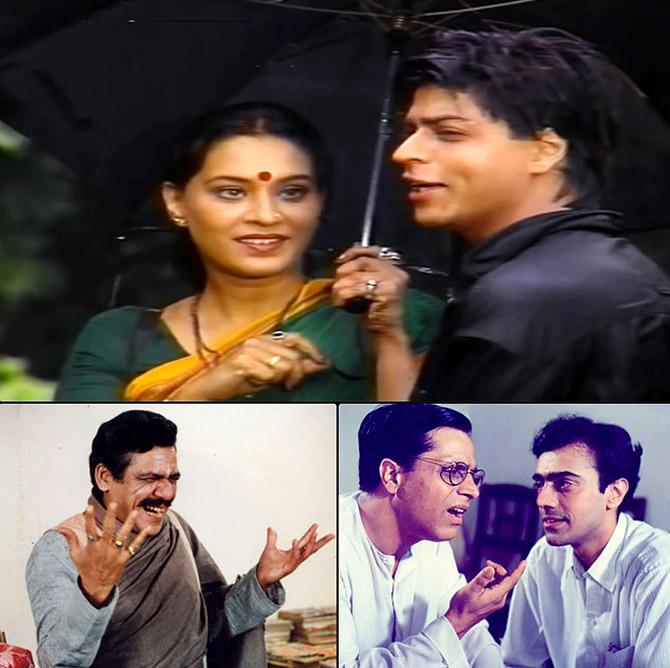 One cannot talk about Basu Chatterjee's accomplishments and not mention his meaningful contribution to television.
Doordarshan viewers still swear by the day-to-day activism of Priya Tendulkar's clever housewife Rajni, the mesmerising anthology of Darpan, a cackling recreation of Manohar Shyam Joshi's political satire in Kakaji Kahin headlined by an ace Om Puri and the masterful adaptation of Sharadindu Bandyopadhyay's literary sleuth Byomkesh Bakshi that turned Rajit Kapur into a household name.