In our special series re-visiting Hindi film classics, we look back at the Jeetendra and Neetu Singh starrer, Priyatama (1977).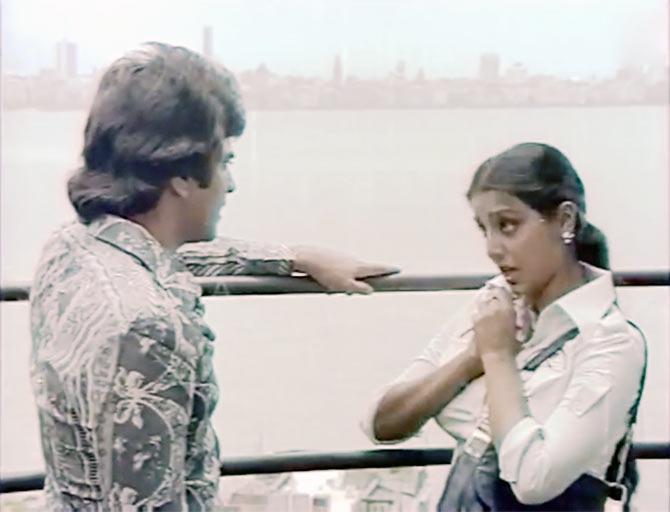 IMAGE: Jeetendra and Neetu Singh play winsome young lovers in Priyatama.
Wise men say only fools rush in but Neetu Singh cannot help falling in love with Jeetendra in Basu Chatterjee's breezy Priyatama.
She's the kind of impulsive romantic Bollywood looks at dotingly, indulgently. Only, unlike Nargis (Chori Chori), Pooja Bhatt (Dil Hai Ke Manta Nahin) or Kareena Kapoor (Jab We Met), she isn't running away.
Actually she sort of is -- right in the beginning of the film -- from her South Bombay abode to her boyfriend's snug pad in suburban Bandra.
It's a spur-of-the-moment, monsoon-triggered decision. Perhaps she's been listening to too much of Raindrops on roses as The Sound of Music record lying about her seems to suggest. Or maybe it's an after-effect of the fresh, wet breeze gliding across her face.
Rains do crazy things to the romantic class and, in Neetu's case, it's reinforced her desire to tie the knot immediately.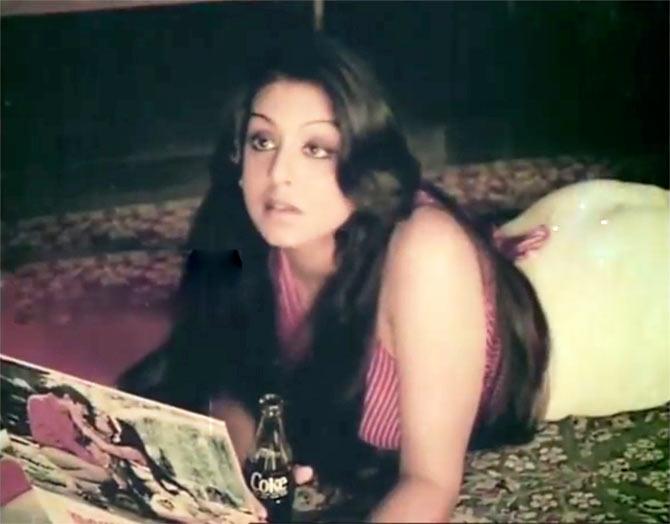 IMAGE: Neetu Singh is rich, spoilt yet eminently loveable.
Meet Dolly -- wealthy, spoilt, starry-eyed, effervescent, clingy, champagne-glugging, loveable albeit ever ready to jump the gun.
She's new-fashioned yet comfortably dependent on her men for money.
Being the only daughter of an affluent judge, she's never had to worry about economics. It's a familiar narrative but when essayed by a vivacious Neetu, who's barely 20, it develops a spirit of its own.
Marriage is akin to a game of 'ghar-ghar' in her naïve head. And so, when she badgers her beau Ravi (Jeetendra) to ask her father for her hand, he plays along.
It helps that Utpal Dutt (ever a delight) isn't a fire-breathing dragon daddy but a pleasant paternal figure to whom Ravi can sheepishly confess about his pre-meeting rehearsal with Dolly or argue love conquers all in defence of his 1,200 bucks salary as a Doordarshan TV producer.
That's decent remuneration for 1977 but not nearly enough for a spendthrift like Dolly who, post-marriage, immediately blows up all their earnings in redecorating the flat, on canned food to whip up exotic delights like 'Hungarian goulash' and, consequently, multiple STD calls to her family cook to improve her culinary skills.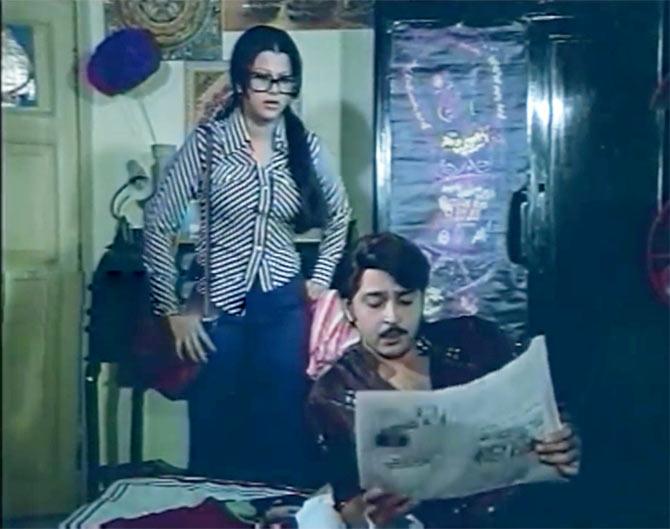 IMAGE: Asha Sachdev and Rakesh Roshan are the Indianised version of Big Ethel and Jughead.
Even if Priyatama doesn't dwell on it specifically, Dolly's excess energy needs a greater challenge than being a domestic goddess or playing an Emma-esque cupid between her best friends (Asha Sachdev and Rakesh Roshan).
If Sachdev -- who won a Best Supporting Actress Filmfare trophy for her Big Ethel in Ali MacGraw glasses chasing Roshan's perennially disgruntled Jughead -- is refreshingly droll in contrast, Roshan raises laughs with his 'not amused' interjections. He's happiest strumming the guitar to younger brother Rajesh Roshan's lilting tunes, including the winsome Koi roko na deewane ko.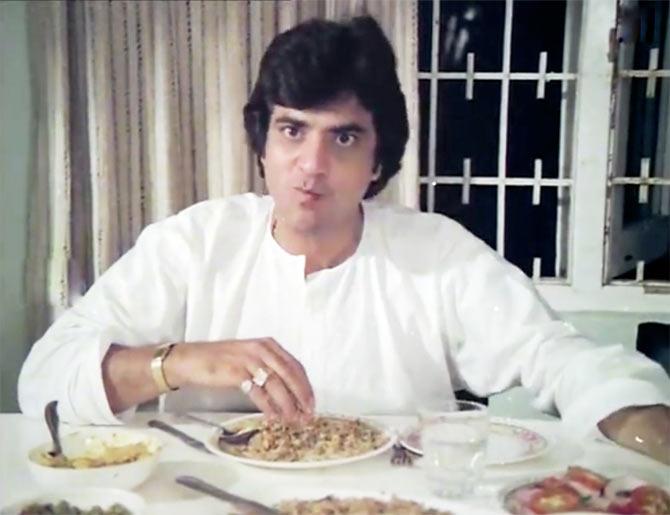 IMAGE: Jeetendra gamely tucks into his wife's disastrous attempts at whipping up a meal.
Jeetendra, always a revelation in middle-of-the-road cinema, has no trouble getting under the skin of Dolly's affectionate husband. His chemistry with Neetu is effortless and incredibly warm.
Before he hits the point of exasperation and starts fantasizing about a obedient wife (Main jo bolun haan to haan), his Ravi makes genuine attempts to please Dolly, be it complimenting her horrid cooking or the sequence where he's endlessly delayed in traffic for her birthday dinner.
True to his style, Chatterjee examines the teething troubles of newlyweds -- their exhilarating ups and discouraging downs -- with characteristic humour of the everyday milieu variety.
Yeh dher se kapde main kaise dhoun, a supremely catchy jingle I grew up listening to on radio, pops in the background of a dinner scene as an analogical reference to Ravi's plight in finishing the mound of offensive food sitting on his plate. During the aforementioned traffic scene, a poster of Sanjeev Kumar's Yeh Hai Zindagi looks down knowingly at our distraught hero.
It's these witty touches and deft writing of believable characters and relatable scenarios -- Bambai mein jab do doston ka ek flat hota hai, jiski shaadi pehle ho jaati hai flat uska hota hai -- that lend Priyatama its enduring freshness and repeat value even after more than three decades.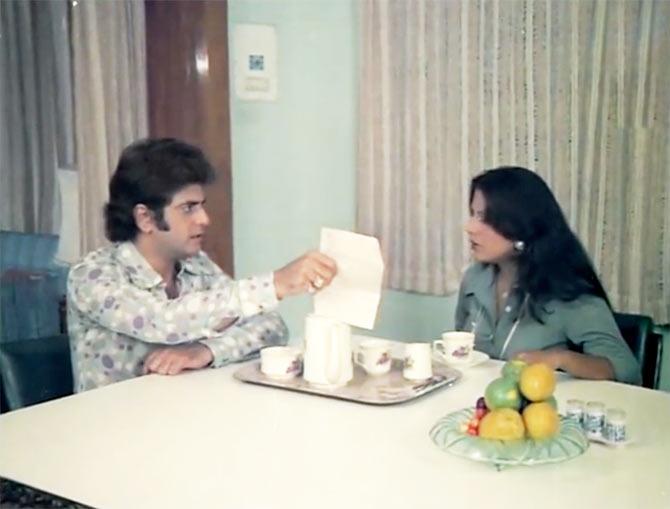 IMAGE: Many fights erupt between Jeetendra and Neetu Singh when she spends his entire salary unthinkingly.
Although the disagreement between the husband and wife reaches a point of legal intervention (I S Johar and Asrani's squabbling Parsi lawyers targets the funny bone), Chatterjee doesn't position their quarrel around a standard battle of the sexes or social expectations or role play. They're victims of their own immaturity and impatience triggered by the usual suspects -- ego and misunderstandings.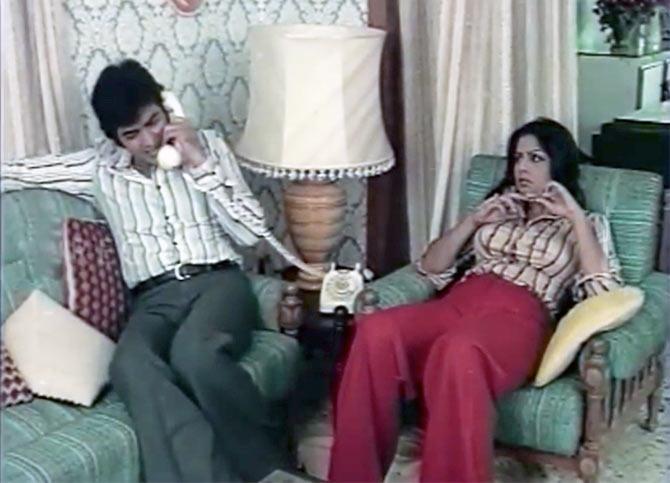 IMAGE: Jeetendra and Neetu Singh are very believable as Ravi and Dolly.
Priyatama has none of the chauvinism of Shashi Kapoor and Hema Malini's Abhinetri but, like them, Ravi and Dolly put on a similar facade of a hunky-dory marital life to prevent distress to the parent.
The charade never feels contrived under Chatterjee's simple but nuanced storytelling as he shares the cosiness, the disappointment, the uneasy silence and the inexperience of a young marriage without once judging his characters.
It's what makes them so flesh and blood and Priyatama worth a revisit.