Shah Rukh and his family flew home to Mumbai last weekend. Roscoe Mendonza, who was on the same flight, captures his impressions of an unlikely encounter.
Illustration: Uttam Ghosh/Rediff.com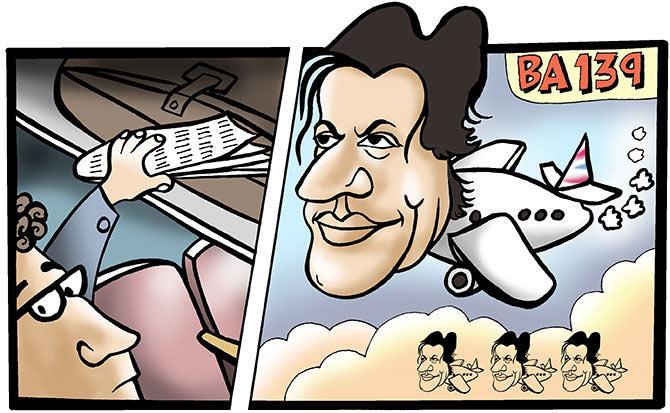 Nine odd hours with a Superstar.

Four sightings.

First sighting: I look up from cramming newspapers into a bag in the overhead bin on BA 139 from London June 27 to see a familiar figure in the opposite aisle.

SHAH RUKH KHAN!

SRK is checking on his daughter Suhana.

Most of the passengers in that section of the aircraft are Mumbaikars, snobbishly blase about acknowledging the SuperNova in their midst.

"Is that Shah Rukh?" my neighbour inquires.

Said SuperNova vanishes into first class for take-off.

A few minutes later, Gauri Khan walks by, to check on her youngest child, who is flanked by his ayahs.

"Husband and wife in first class, but children in business class. Amazing!" my neighbour notes in disapproval.

The SRK children are not the only ones seated in business class. Unusually, the ayahs -- who other Mumbai worthies would have seated in economy -- are also in BA's Club World cabin.

As are, I discover, SRK's bodyguard(s). One swarthy fella, built on the dimensions of the Incredible Hulk, carefully watches every passenger passing AbRam and Suhana on the way to the loo. I seem to draw his special attention, looking a most unlikely Club World passenger with my grunge tee-to-knees appearance :))

Seated at the end of the Club World cabin is Venky Mysore, CEO, KKR, SRK's IPL franchise, and his Red Chillies company.

Venky, we first spot near the gate at Heathrow's Terminal 5, greeting Mumbai building tycoon Vikas Oberoi. Vikas is, of course, married to his fellow first class passenger SRK's Swades co-star Gayatri Joshi.

Venky is on buddy-buddy terms with AbRam who he carries around a bit on the long flight from London to Mumbai, even once taking him from his mother near the galley.

Gauri, dainty and slim, dressed in cut-away jeans, is a tender mom, making countless journeys from first class to check on her children, especially her cute two year old (who has his pop's distinctive nose). Once taking him to first class to meet his dad who, I read later, has just finished shooting in Bulgaria for Rohit Shetty's movie. This, after a bout of knee surgery.

Also coming to check on AbRam is Katrina Kaif, gorgeous as ever, but she retreats to first class after encountering cabin crew serving meals in the aisle. Later, at Mumbai's Sahar airport, after she clears immigration, Katrina kneels down for a cute baby pow-wow with AbRam.

Second sighting: As we deplane, I see a lady with her head covered, asking the young man walking alongside me where he was. I recognise her as SRK's sister Shehnaz and the lad as Aryan, SRK's eldest, carrying Abram. "There's Baba," I think I hear him tell his kid bro, and when I look, there's unsmiling SRK at the entrance of the arrival gate.

Used as I am to that dimpled light-a-million-households incandescent SRK grin, a grim SRK is scary, as if he has walked off the sets of Darr or Baazigar.

The grimness dissolve into tenderness as he spots Suhana, clearly his adored child, and a most unstarry one.

Third sighting: SRK heralding his clan onto two waiting go carts, so that they don't have to trudge, like the rest of us, the couple of miles to Sahar's immigration counters.
Also on board one of the carts is Katrina, who, despite her recent integration with the boisterous Kapoor Khandaan, still seems the unsure waif we first spotted a dozen odd years ago.

"Saab, kahan hai?" Gauri asks the Hulk who is seated behind her on the first cart. Hulk points to the other cart where, four months and four days to hitting a half century, sits the biggest romantic star since Rajesh Khanna.

Final sighting: Despite the head start, SRK & Family & Friends & Staff arrive at immigration the same time as me. Katrina clears immigration as a lady in the queue next to mine is seized by unspeakable excitement as she spots SRK.

"Is that Shah Rukh?!!"

"Oh my god, it is Shah Rukh!!!!"

My neighbour on the flight helpfully points out to her that Katrina is at the immigration counter.

She couldn't care.

"Mama, Mama, SHAH RUKH!!!" she shouts across to her bewildered mother who has cleared immigration and is clueless about the source of her daughter's rhapsody.

The lady immigration official asks her to stand still for the mandatory head shot, but the fan shudders with the thrill that she can get a selfie with SRK.

Suhana, quietly confident, is the first of SRK's party to clear immigration.

Outside the immigration counters, a motley crew of passengers and airport staff wait, poised with their cell phones, for an image they can boast about later.

I ask the gent who has come to pick me up if he saw Shah Rukh Khan. He didn't. SRK, he says, may have left by another gate to avoid a commotion.