Oscars sans a host is like 'having a trial without witnesses. It moves faster but it's not quite the result you wanted.'
Nine-time host Billy Crystal is no stranger to the gig nor is he entirely off the mark.
A good deal of the 92nd Academy Awards (going host-less second year in a row) was a drag what with a staggeringly dull red carpet, long-winded, lacklustre speeches and uneven live acts following too quickly one after another.
Nothing like an underdog victory then to shake things up.
Parasite's historical feat as the first South Korean and non-English language film to grab Best Picture as well as three other wins ensured it isn't a complete goner either.
Sukanya Verma recaps the Oscars show:
1. More than couture, it was statement wardrobe that won the red carpet.
Natalie Portman wore a cape designed by Christian Dior Haute Couture highlighting the names of all the female directors snubbed by the Oscars.
This is not the first time the Black Swan actress has voiced her protest.
At 2018's Golden Globes, she made her point while presenting for Best Director by emphasising on 'all the male nominees.'
Director Spike Lee paid tribute to the late NBA legend Kobe Bryant, also the subject of his 2009 documentary Kobe Doin' Work, wearing a purple custom Gucci suit displaying his jersey number 24 on the lapels and Nike Kobe 9 Elite Strategy sneakers. Quite a lot like his purple homage to Prince last year.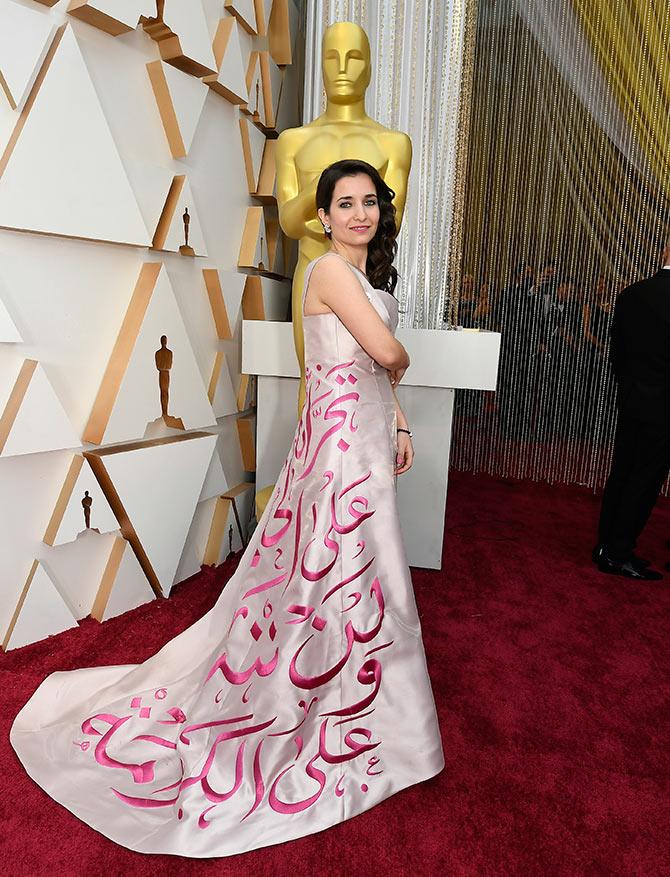 Syrnian film-maker Waad Al-Kateab, nominated for her documentary For Sama, wore a gown flaunting an Arabic inscription on her gown that translates to 'We dared to dream and we will never regret demanding dignity.'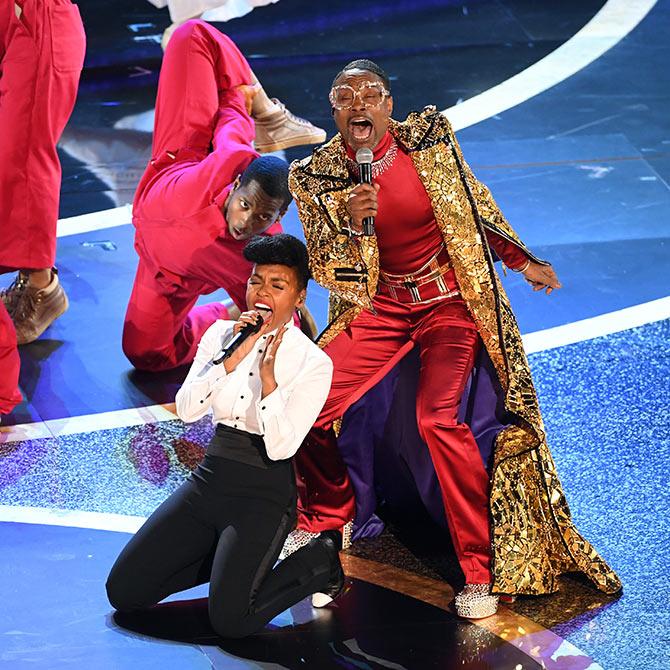 2. Singer and actress Janelle Monáe's (Hidden Figures, Moonlight, Harriet) rousing Mister Rogers medley brought the house down as did her influential message for women in cinema and behind it, the LGBTQ community and Black history month resulting in a worthy standing ovation.
'Tonight we celebrate the art of storytelling -- the misfits, the outcasts, the misunderstood.'
3. It was fun to watch former Oscar hosts Steve Martin and Chris Rock in their element as they roasted everyone from Amazon chief Jeff Bezos ('Jeff Bezos is so rich, he got divorced and he's still the richest man in the world. He thought Marriage Story was a comedy') to Martin Scorcese ('I loved the first season of The Irishman') for some effortless laughs.
Too bad they weren't there to handle the rest of it.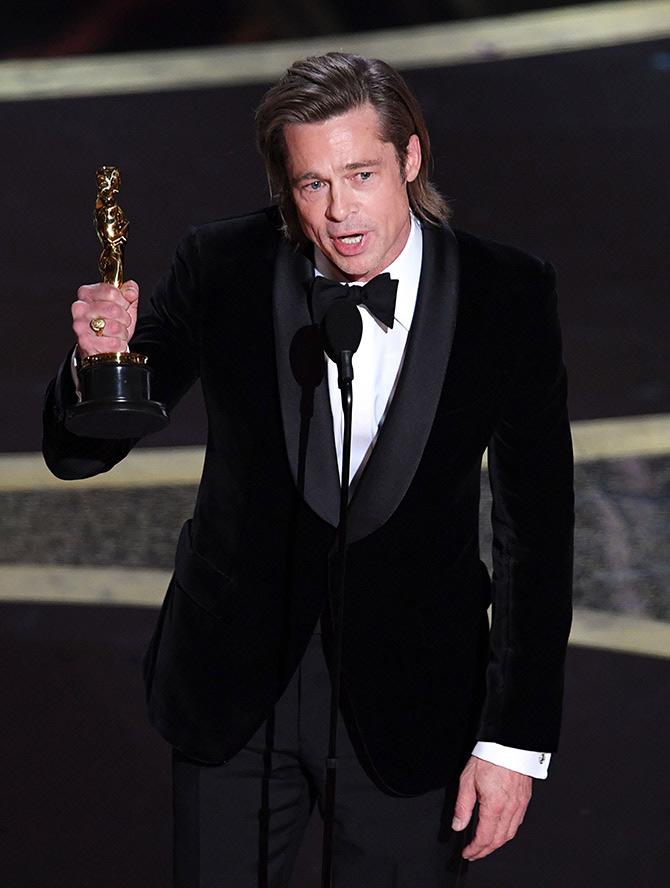 4. Brad Pitt's cucumber cool act in Once Upon A Time... in Hollywood swept the Best Supporting Actor category at nearly every award function this year. Mostly though, it's the witty speeches and ex-wife Jennifer Aniston's documented reactions to them that provided tabloid fodder.
Pitt's humour leaned towards the political after he got on stage to collect his first-ever acting Oscar -- 'They told me I have 45 seconds this year, which is 45 seconds more than the Senate gave John Bolton this week.'
The 56 year old was alluding to Republican senators voting against calling witnesses to US President Donald J Trump's impeachment trial.
Apart from that. it was great to watch a man once dismissed as a thing of beauty proving he is much more without going down the prosthetic route.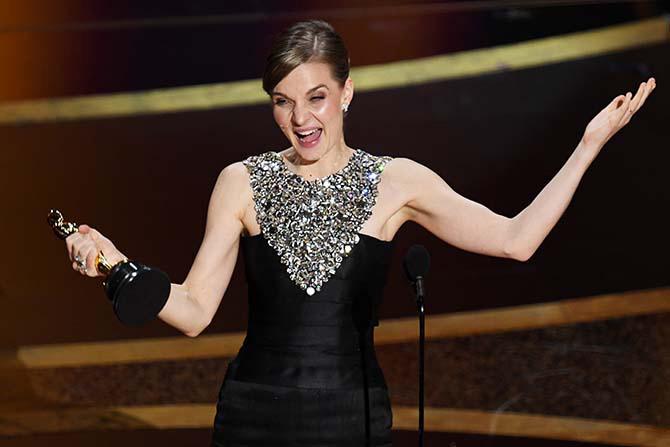 5. While the Academy's unwillingness to recognise women in mainstream categories like direction is baffling, it was heartening to watch them sweep the technical categories like Original Score (Hildur Guðnadóttir, Joker) Costume (Jacqueline Durran, Little Women), Production Design (Barbara Ling, Nancy Haigh, Once Upon A Time... In Hollywood) and Make-up and Hair (Anne Morgan and Vivian Baker, Bombshell).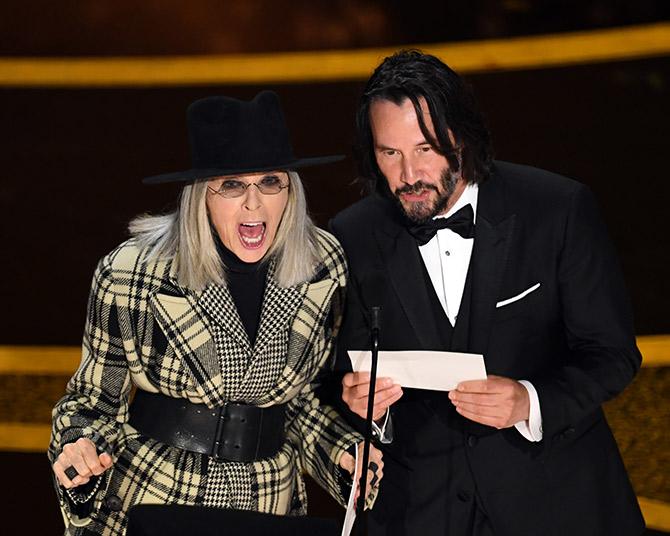 6. Watching Something's Gotta Give couple Diane Keaton and Keanu Reeves getting all flirty before the cameras hit some truly trippy notes.
Always a riot, Keaton had her bit of fun with her presenter duties, laughing and lumbering, until it was finally time to announce the name on the envelope.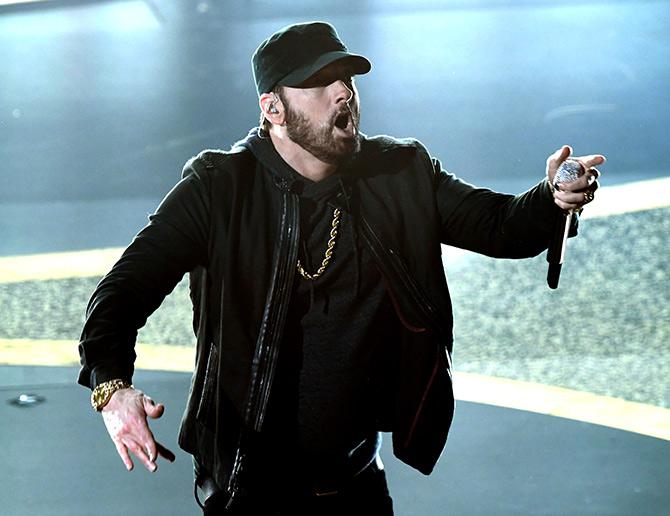 7. Nostalgia took over big time when rapper Eminem emerged out of nowhere to shell out his iconic, Oscar-winning 8 Mile rap, Lose Yourself, evoking awe, astonishment and a spontaneous standing ovation from the crowd.
Quite a few artists, including heavyweights like Elton John performed at the awards this year but none as effective as Eminem.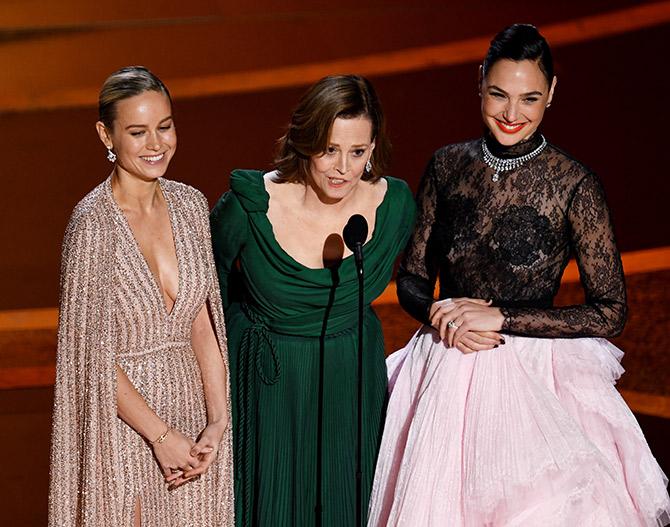 8. Ellen Ripley, Wonder Woman, Captain Marvel sharing the same stage is stuff of feminist dreams and pop culture awe.
Three of Hollywood's most badass movie girls -- Sigourney Weaver, Gal Gadot and Brie Larson -- used the Oscar platform to assert 'All women are superheroes.'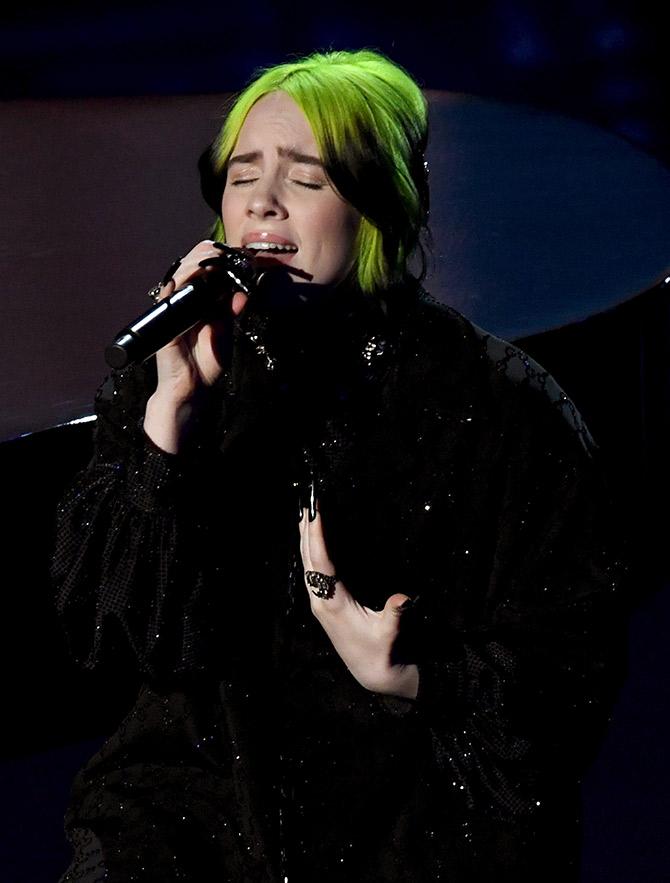 9. Fresh off her multiple Grammy wins, singer Billie Eilish grabbed eyeballs all through the event.
First on the red carpet thanks to her signature neon green hair, wicked big nails and oversized Chanel logo suit and once again during the function making unamused faces as comedians Maya Rudolph and Kristen Wiig mock sang the nominations.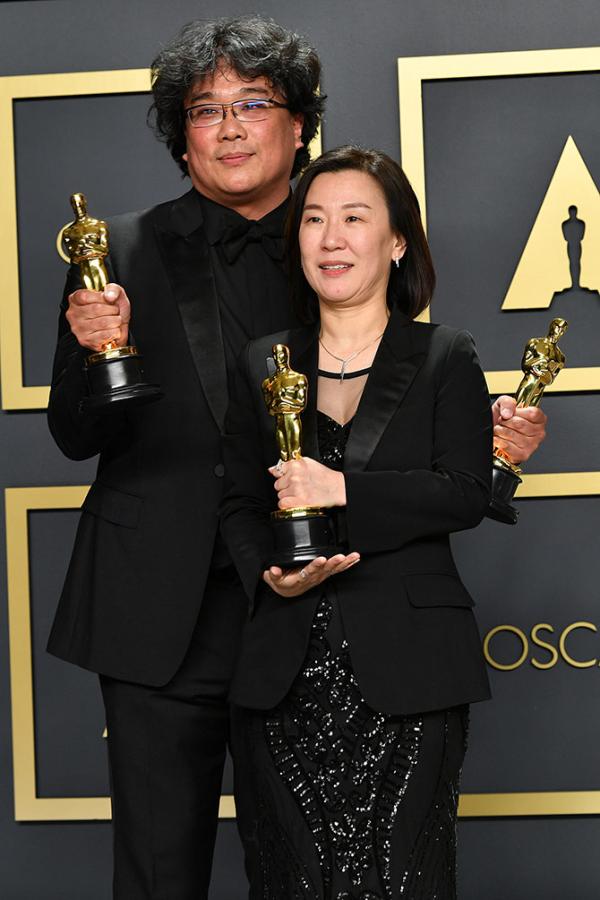 10. The takeaway from this year's Oscars is, hands down, South Korean film-maker and screenwriter Bong Joon-Ho's Parasite making history by nabbing four wins out of six nominations.
It is the first Best International Feature Film to win Best Picture, first South Korean film too.
Acclaimed by critics and recipient of the prestigious Palme d'Or at Cannes last year, Parasite fought heavy competition like 1917, Once Upon a Time in Hollywood and The Irishman to come out tops.
Every single time the elated director came on stage to collect his award and deliver a speech (mostly in his native tongue interpreted by the discerning Sharon Choi), he won the Internet with his disarming wit, adorable enthusiasm and touching tributes to fellow nominees.
Sample these:
'We never write to represent our country, but this is very personal to Korea.'
'I'm ready to drink tonight.'
'When I was young and studying cinema, there was a saying that I carved deep in my heart, which is 'the most personal is the most creative'. That comes to us from our great Martin Scorsese.'