'When it came to S D Burman, a Guide song was completely different from a Tere Mere Sapne song which was completely different from a Sharmilee song. Except for their quality, there is nothing to link them together.'
'Lata was his ultimate voice. He felt there was nobody like Lata. "Give me a harmonium, give me Lata and I will make music," he said.'
Image: Sachin Dev Burman with his son, Rahul Dev Burman.
Image courtesy: Penguin India
Sathya Saran loves S D Burman's music. Often, she finds herself humming a song sung by the maestro. So when someone handed her detailed research material on a platter, she could say no to writing a book on the legendary composer.
As she sifted through the vast information at her disposal, she found herself taking a musical journey that helped her discover, anew, the iconic S D Burman.
The result is Sun Mere Bandhu Re: The Musical World of S D Burman.
She has written three other books -- Ten Years with Guru Dutt: Abrar Alvi's Journey, The Dark Side, Night Train and Other Stories and From Me To You: Writings On Love, Life and Learning.
Even as she works on her next book, a biography of the late Jagjit Singh, the former editor of Femina and DNA newspaper's Me magazine, shares glimpses from her journey with Savera R Someshwar/Rediff.com
Can you explain, to today's audience, what a music director like Sachin Dev Burman was in his time? What did he mean to a film, to a singer, to the industry?
He was a respected man. He didn't play the fool and he didn't go looking for work.

He was very dignified. He never forgot the fact that he was a prince.
S D Burman's USP lay in the fact that he was close to the soil. His songs were very melodious. They were easy to hum. That was something he learnt with great difficulty... how to make music that was easy to hum.

He paid close attention to the scene, the heroine, the hero, what they were doing, why they were doing what they were doing and why they were singing at that moment.

He was also careful about understanding the lyrics.
Most of his songs fit the situation so well that it is easy to remember not only the songs, but the scenes too.

When you recall Dil Ka Bhawar Kare Pukar from Tere Ghar Ke Saamne, you know they (Dev Anand and Nutan) are coming down the Qutub Minar.

When you think of Guide and you say, oh yes, she's (Waheeda Rehman) doing this dance at this time or he (Dev Anand) is sitting on the steps at this time.
That, I think, is what was special about him.

He also used a lot of folk music, not just from the North or Bengal, but from the South as well. Since folk music is easily acceptable, it made him a musician easy to appreciate.
He was also very choosy in what he did. He wouldn't do more than four films in a year.
There was only one period when he did a whole lot of films together.
After that, he pulled back and decided he would not do more than four films a year. We have recorded dialogues of him saying, 'Don't you see I am already doing four films? How can I take one more on? Pagal ho gaya kya (Are you mad)?'
He was a stickler for detail and couldn't just churn out songs. For every song, he would have five or six versions, so there was a huge repertoire he would create for every film.
That made him unique.
In your mind, whose approval did you seek the most as far as this book was concerned?
S D Burman's.
I didn't want him to be upset up there ke what the hell is she doing with my life (laughs)!
I treated the book with respect. I treated it as if I was talking about a man who was simple in his ways, but very fixed in his ideas and music, who would not want to be treated lightly.
I wanted to create the respect I feel for him in the minds of my readers as well. They shouldn't say, 'Arre, kya pagal aadmi hai (Is he a mad man?)'.
Do you believe that S D Burman's loneliness, especially in his initial days in Mumbai, impacted his music?
It must have.
He has composed some really sad songs. My father-in-law would cry each time he heard Ab Ke Baras Bhej Bhaiya Ko Babul from Bandini. It's steeped in sadness.
He was a great person to create mood. He could, with a tune, create a mood in your mind.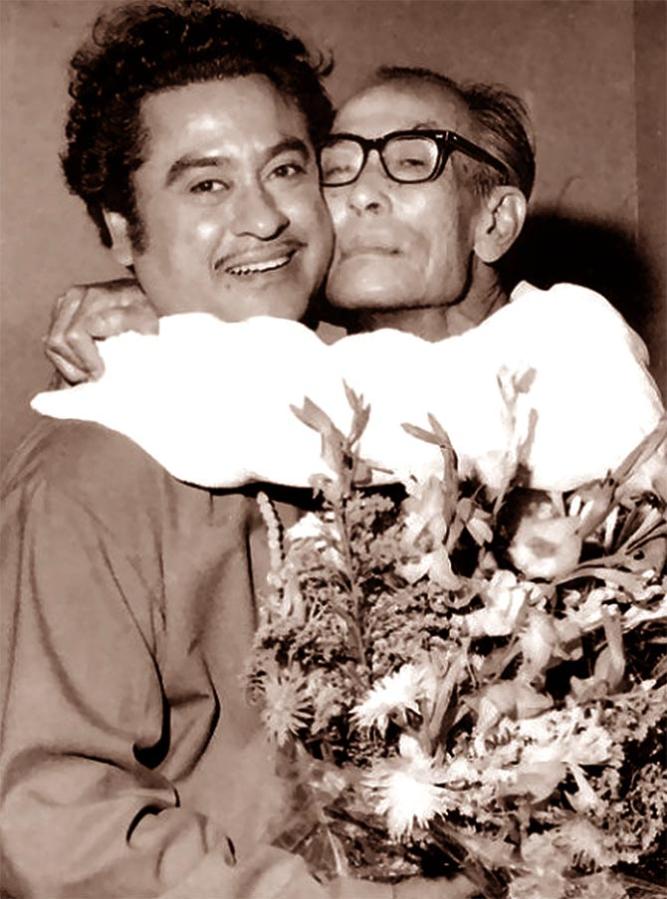 Image: S D Burman with Kishore Kumar.
Image courtesy: Penguin India
Based on your research, do you believe that he would have returned to Calcutta if Ashok Kumar had not insisted he stay back and compose the music for Mashaal?
Yes, he would have because he was like a little lost boy.
He could not understand the system. He couldn't understand this world. He was not a fighter in that sense of the word.
He would have just gone back and said I'm happy. I tried it, it didn't work.
He had gone back earlier, after Taj Mahal, after recording one song. But he was called back.
S D was impatient with what was happening in Calcutta. He was not getting the breaks.
But coming to Bombay was like moving from a slow-flowing river into a tumultuous sea. And he may have felt, nahin baba, I prefer the comfort of the river. Ambition is not for me.
Burman dada relentlessly searched for new voices. How many new singers did he introduce who are legends today?

There was another gentleman in cinema, (filmmaker) Kedar Sharma, who was constantly looking for new faces. Raj Kapoor was looking for new talent. In the same way, S D was looking for new voices that would give each song its uniqueness... he wanted each of his songs to be different from the other.
That's another distinguishing S D factor. You cannot identify his songs easily. You can spot an O P Nayyar song anywhere. Shankar-Jaikishen had a signature. Laxmikant-Pyarelal, after a while, had a signature that became monotonous.
But when it came to S D Burman, a Guide song was completely different from a Tere Mere Sapne song which was completely different from a Sharmilee song. Except for their quality, there is nothing to link them together.
In Devdas, he used five voices for 10 songs.
He made Meena Kapoor sing. He has used Suman Kalyanpur's voice. He nurtured Asha Bhosle and Manna Dey. He even tried Raj Kapoor but, and luckily or unluckily, it didn't work.
He always tried to find the right voice for the right song. That's why Manna Dey had to wait so long. He felt Manna Dey's voice would not work for any of the heroes at that point.
You just talked about how other composers developed a signature while it was difficult to recognise an S D Burman song. Is that why, you think, there was so much controversy about whether a song was composed by R D Burman or whether...
No. They worked together. Pancham was there right from childhood. And Pancham, being Pancham, was not going to sit tight. He was volatile and he would have said, 'Isko aise karenge, vaise karenge (Do it like this or like that)'.
Vice versa, in Amar Prem, which is Pancham's film, S D had given his inputs for the song Bada Natkhat Hai Yeh....
There may have been many suggestions (while S D Burman was creating his music), but the final choice was S D's. The composition will remain his.
There may be inputs by R D, inputs by Manoharidada (S D Burman gave saxophonist and music arranger Manohari Singh his first break), inputs from Kersi Lord (Lord, like Manohari Singh, played for both S D Burman and his son).
He would create the melody and give them full freedom to arrange the music as they wanted. So some people may have felt the music was not his...
Besides, Pancham was much more visible than his father. When you say Burman, most people will think of R D. But they forget that, if there was no S D, there would be no R D.
It was S D who gave R D the strong classical grounding and the sense of rhythm before he let him loose to do his thing.
There seems to be a similarity between S D Burman, in this aspect of choosing the right voice for the song, with what A R Rahman is doing.
Yes. Rahman will use Chitra somewhere, he will use Asha (Bhosle) somewhere and he will use an unknown singer somewhere else.
I found also a similarity between S D singing his own songs, R D singing his own songs and, now, A R Rahman singing his own songs. Each of them has used their voice for specific occasions.
Two iconic filmmakers, Guru Dutt and Vijay Anand. What role did he play in their lives and what role did they play in his?
There was great respect.
Navketan (the production house launched by Chetan and Dev Anand in 1949) was very, very close. Dev Anand was a very close friend. S D admired Vijay Anand and Vijay admired him in return.
Navketan gave him films he could really lean on. They gave him a canvas to work on. They trusted him. That is why I found it very poignant when they actually turned a song down and he said, no, no, it's fine. But it rankled. And I like the fact that it rankled him and he reworked it.
They were patient with him. When Hasrat Jaipuri refused to write the lyrics (for Guide), Shailendra was roped in. It all worked out for the best.
Not that Hasrat was any less than Shailendra, but Shailendra was a notch higher then than Hasrat and he understood the movie.
After all, if you write with a reservation in your mind -- about the character of Rosie, played by Waheeda Rahman, and the plot of the film -- you're not going to get the songs right.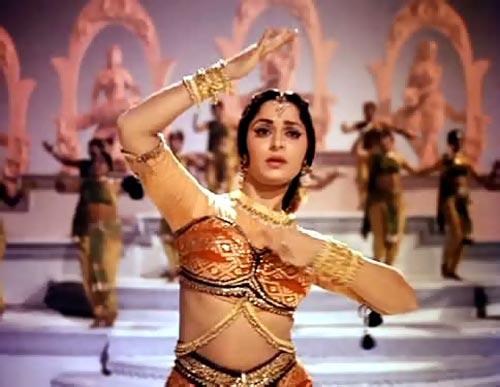 When I told Waheeda (seen here in Guide) this during our interview for the book, she was surprised. 'I didn't know this,' she said.
Waheeda speaks very fondly of S D. She always says two people made me who I am -- Guru Duttji and S D Burman, and Vijay Anand to an extent.
At the same time, S D, despite the love Dev Anand and he shared, was so fiercely protective of his music that he went on record saying Dev had made a mess of one of his best songs. He was very upset when Prem Pujari did not do well. He was unsparing in his criticism.
As for Guru Dutt, he was a very volatile producer. He was also a choreographer and cinematographer in his mind's eye, though he never wielded the camera per se. They must have had lots of discussions.
In my Guru Dutt book, there are stories about how Guru Dutt and Abrar Alvi go to S D's house to work on a song. They were sitting there all day almost.
There's this very sweet episode where he asks them, 'Bhook lagi kya (Are you hungry)?' And he goes and eats and comes back. Guru Dutt and Abrar are dying of hunger, so finally Guru Dutt says they want something to eat. S D calls for bhutta (roasted corn on the cob) from the street.
Did he have favourites among the singers?
Lata (Mangeshkar). She was his ultimate voice. He felt there was nobody like Lata. 'Give me a harmonium, give me Lata and I will make music,' he said.
He was very fond of Manna Dey and Kishore Kumar -- I think the Bangla connection came in there -- though he knew (Mohammed) Rafi was brilliant.
What about his association with Danny Denzongpa and Anuradha Paudwal, which many of today's generation may not be aware of?
Just imagine. Danny! Danny is a trained classical singer, so S D's radar must have been up (actor Danny Denzonpa debuted as a singer in Bollywood under S D Burman's baton, with the song Mera Naam Aao in Yeh Gulistan Hamara).
Anuradha Paudwal too began her career with S D (she sang the Shiv shloka that plays when Amitabh Bachchan takes a walk around the village after meeting his maasi in Abhimaan).
What was the role his wife Meera played in his life? She was a good singer. Why did he not use her voice in films?
He was always on the lookout for new voices and there was such a beautiful voice sitting in his house. I have not understood why he did not use her voice. In one interview, he says Meera is busy looking after my accounts and my income tax.
Meera was also -- I haven't put it in the book, there are lots of things I haven't put in the book -- a little jealous of all his heroines who would come and sit with him. She was jealous of all his singers. They were all beautiful women. And she was a housewife with her head covered.
She was very talented. I think there was a mix of wariness, a little bit of jealousy, a little bit of resentment in her.
Afterwards, she became very professional. Once R D left, she took his place in the studio. She was her husband's technical assistant and arranger and he depended on her.
She used to write all his Bengali songs. He kept everybody else out. All the other writers were told, no, Meera is writing. He gave her that much, probably because she would have not kept quiet if he hadn't and also maybe he felt it was her due. She was a good poetess.
Did Burman dada have a temper?
They all say he was very child-like... ek pal mein roothna, ek pal mein (To sulk one moment)... you know. But there was no malice.
It was all related to his music. Bas. I don't like what you're saying, I'm not going to do it.
Did you try and speak to Lata Mangeshkar for this book?
I tried to approach Lata, I tried to approach Asha. I didn't make much headway, so I gave up.
Is that why you did not speak in detail about the rift between him and Lata Mangeshkar?
No, that rift has been written about in great detail. There's been a lot of conjecture as well.
I've written about what actually happened. There was one song that she did not turn up for, he got angry, there was an ego issue, he wouldn't call her, she wouldn't go back to him because he was upset and didn't take her call...
It was just an ego clash and they reacted like two kids because both are simple people.
Then, one day, he picks up the phone on his son's behalf and she comes back. Khatam. That's it. Why make an issue out of something that was a back chapter?
In fact, you have avoided talking about such clashes in the book.
Yes.
Are the reasons the same?
It takes away from the man. We all have our bad moments, our weak moments and we want to forget them.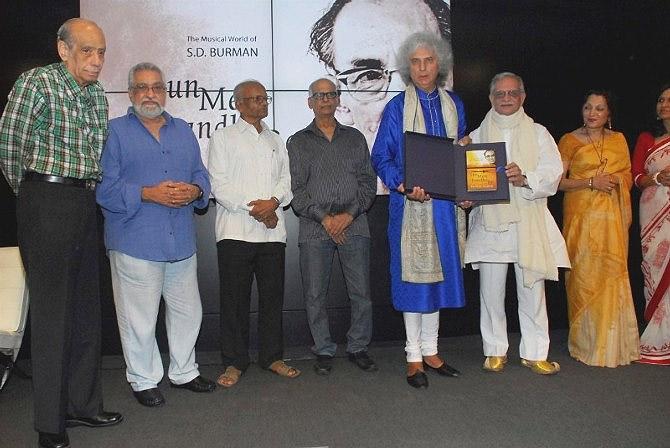 Image: Pandit Shiv Kumar Sharma, Gulzar and Sathya Saran, accompanied by musicians who worked with S D Burman, at the launch of the book in Mumbai.
Image courtesy: Sathya Saran
Can you tell us a few things that we will discover anew about S D Burman in this book?
(after some thought) I think you'll discover his stubbornness, his willfulness, his inability to take criticism and accept that he is wrong about a song except when it is coming from someone he respects and admires.
So if it is O P Ralhan, he will say go to hell, but if it is Vijay Anand, he will say okay let me think.
There was this childishness in him which I find very endearing.
You'll discover he was a sportsman. He used to play tennis, which he gave up.
In fact, in the last chapter that describes his death, the only time he reacts is when somebody tells him Mohun Bagan has won.
He had great tolerance for other people.
Then, there was his lack of worldliness as seen in the incident with Shakti Samanta where he agrees to work for a lesser amount of money.
There is the innocence that comes through when he talks about the different qualities of voices.
In the Guru Dutt book, there is a story about how S D and his wife were supposed to go on a tour of America. World War II was on and there was a lot of anti-Japanese sentiment in the air.
Guru Dutt told him, 'You don't go, you look like a Jap, they'll finish you (laughs).' You know, he was actually going to cancel his tickets.
I didn't use this anecdote because it was in the Guru Dutt book; I didn't want the same author repeating it here.