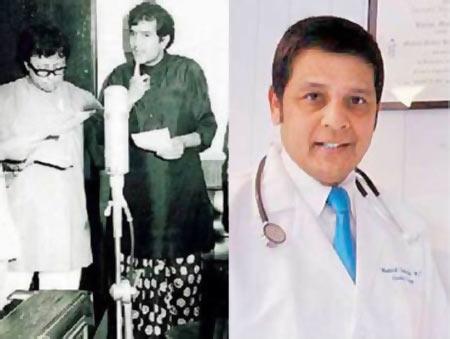 Dr Mukesh Hariawala recounts his experience with the super-talented R D Burman when he performed an Open Heart Bypass Surgery many years ago.

Not many know that after his bypass surgery done at London's top Princess Grace Hospital by the cardiac surgeons team of Dr Mukesh Hariawala and Dr John Wright, R D Burman had confessed to the former that although Amitabh Bachchan was a rising star and talented actor, he personally had a soft corner for Kaka and reserved the best musical tunes for him.

He believed that Amitabh would best be remembered by historians as a 'Bollywood Legend', but Khanna would remain a 'Permanent Superstar' for generations because of his natural charisma on and off screen.

In 1989, very few surgeons at select hospitals in India performed Open Heart Bypass Surgery. The reason RD Burman chose to go to London was because his was a complicated case and he had recently suffered a massive heart attack. The London surgeons were more experienced and provided better long term results in these high risk cases.

Around at time, Dr Hariawala's team had operated on current Prime Minister Dr Manmohan Singh's first bypass surgery -- who was with the World Bank then before joining PM Narasimha Rao as Adviser -- industrialists Ramakrishna Bajaj, Goenka and many other Indian public figures.
During his recovery phase, he was visited by many Bollywood personalities including his close friend Rajesh Khanna along with whom he had given several hits like Kati Patang, Amar Prem and Anand.

Accompanied by Aradhana director Shakti Samanta on a rainy day, Kaka came looking for Pancham on the fifth day after his open heart surgery and on entering the room exclaimed, 'I was looking for you in Mumbai recording studios. When I heard you were admitted in a London hospital, pehli flight lee aur sedha yaha chala aaya,' recounts Dr Hariawala who was in the room. The chemistry and the affection seen was visibly infectious and very touching.

Rajesh Khanna took significant interest in all of RD's surgical details including his full recovery timeline. He was extremely fascinated when told by Dr Hariawala that Pancham's heart was completely stopped during surgery for over an hour and restarted with a low voltage electric shock.

Kaka was delighted with the successful outcome of surgery that he wanted to take Pancham right away to the local Duke of Wellington pub for a drink to celebrate, but Dr Hariawala denied permission as it was against hospital policies. Alternatively, Kaka planned a grand party in Mumbai and extended a personal invitation to Dr Hariawala.

Harvard trained Dr Mukesh Hariawala now settled in Boston, USA, also told ANI during the telephone interview of a nostalgic conversation in the hospital room where RD suggested to Rajesh Khanna "Why don't we offer a cameo role of a surgeon to Dr Hariawala in one of the movies," to which Kaka responded "But he looks too young." Shakti Samata interjected by saying "I have good make up artists who will help Doctor Saab look old."