Sridevi was one of India's finest actresses. Here's the proof.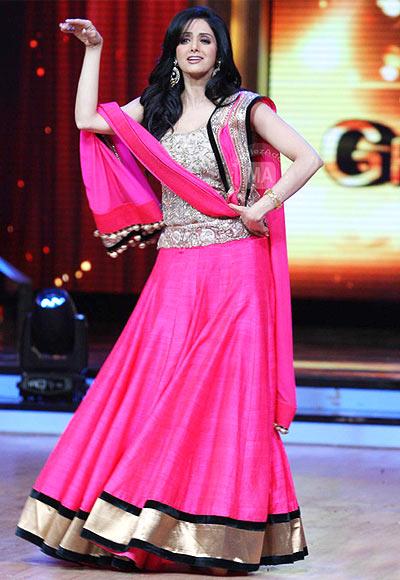 Every time Sridevi appears on screen, the frames light up.
The camera comes alive to the radiance she exudes, it struggles to keep up.
Whimsical, wise, weak, wonderful or warring, Sri, like clay, carefully moulds her personality according to the characters she portrays.
Things weren't always this smooth, as she received flak over weight issues and a shrill dialogue delivery, but the determination to excel kept the actress going.
From an artless child actor to Bollywood's reigning queen to making one of the most elegant comebacks, Sridevi's success is awe-inspiring.
Sukanya Verma lists her 10 favourite Sridevi scenes.
English Vinglish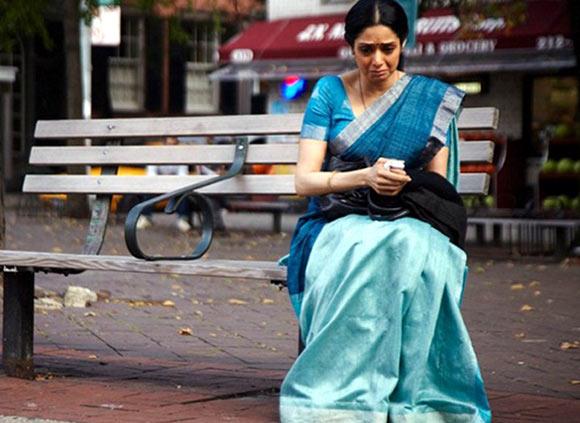 One of the greatest accomplishments of a good artist is to make the viewer experience her/his trauma or elation.
Sridevi achieves it flawlessly in a harrowing encounter at a cafe in her comeback film, English Vinglish.
As a shy Indian housewife with poor English speaking skills in a foreign country struggling to buy a glass of coffee while the rude attendant loses her patience could be just another exercise in manipulating the audience's emotions if not for the believable anguish in Sri's teary outburst.
Chaalbaaz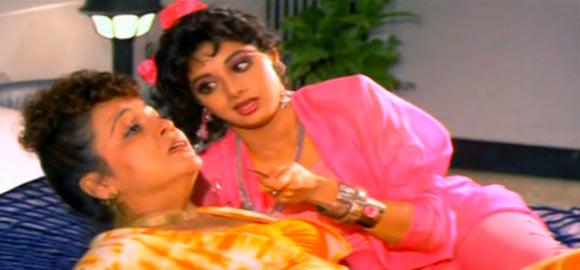 Despite the predictability of a 'chalk-and-cheese twins exchange places' story, the Sridevi vehicle packs in enormous repeat value.
It's side-splitting to watch her roguish side take over as she bullies Rohini Hattangady with a pocket knife and a throaty Raaj Kumar-ism, 'Jaani yeh chaaku hai haath lag jaaye toh khoon nikal data hai' followed by an impromptu make-up session.
The devilish glee and devious concentration on Sri's face as she channels her inner Mickey Contractor dabbing bronzers and blushers, smudging (spitting on) brushes over a colour palette, blobbing glossy lipsticks, rubbing gooey gel on her palms to unveil her grotesque masterpiece is an absolute scream.
Torture was never this fun.
Mr India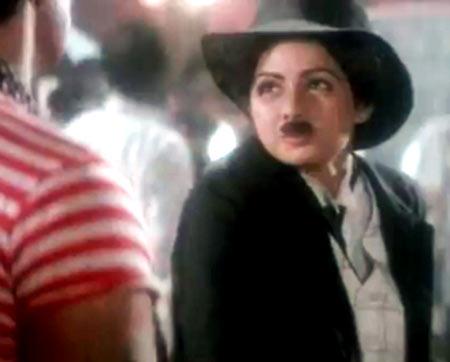 Sridevi's seductive rain dance around an invisible hero or vivacious turn as Ms Hawa Hawaii continue to be the talking points of Mr India.
But there's no getting over her tribute to comic legend Charlie Chaplin in a nearly nine-minute long sequence when she enters a gambling den in THE get-up and wreaks havoc with her bumbling, tripping, tickling, giggling, goofy antics.
Originally intended as a brief scene, Sri's comedy chops tempted director Shekhar Kapur to extend it into a full-fledged sequence.
Lamhe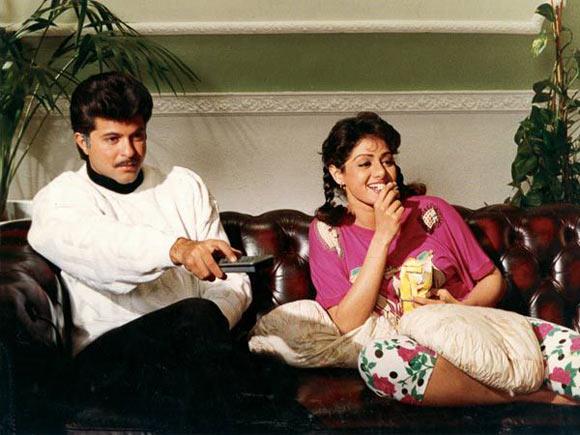 My favourite scene in Lamhe is Anil Kapoor's soaring declaration of love towards the climax. But this feature is about Sridevi, so I am going to pick another one, which is the classic Yash Chopra face-off between her and actress Dippy Sagoo.
As the women vying for AK's affections, there's an undercurrent of friction between Sri's Pooja and Sagoo's Anita.
If one resembles the mother he had feelings for, the latter is a close friend with romantic inclinations.
The coffee shop scene brings out the rivalry in the open after Pooja picks a flamboyant sweater for her sombrely-clad, much-older object of affection much to Anita's disapproval.
What's whistle-worthy is the cool, confident, smile with which Sri retorts on being dubbed as Kapoor's 'zimmedaari' and 'pareshaani', 'Chaliye main unki kuch toh hoon. Magar aap unki kya hain?'
Chandni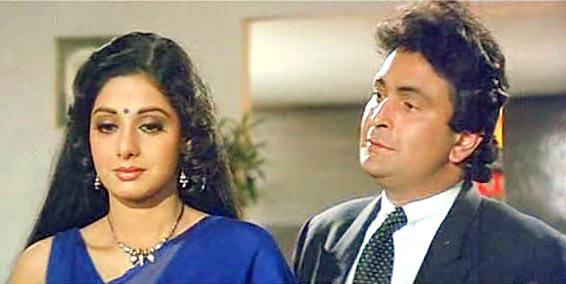 Beyond the flower fields, dreamy strolls and white chiffon, Yash Chopra's understanding of the fragility in relationships is almost poetic in measure.
Chandni is a wholesome romance with its share of grand flirtations and throbbing heartaches brought to life in Sridevi's sparkling presence.
But it's her conspicuous silence that stands out memorably in this scene when she sees her estranged beau (Rishi Kapoor) back on his feet after a long gap and resentful goodbye.
He's charm personified, she's dumbstruck and a complex mix of joy, bitterness and quandary since she's seemingly moved on in all this time he was secretly recovering.
Communicating with her big, expressive eyes, Sridevi is simply superlative here.
Sadma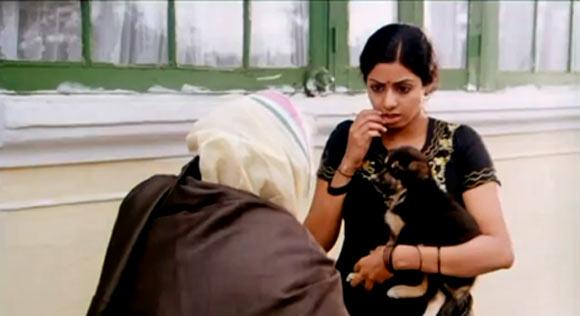 In Balu Mahendra's acclaimed Sadma with one of the most heartbreaking climax scenes, Sridevi plays a young woman who loses her mind and memory in a car accident, which leads her to behave like a six year old.
There are several occasions in the film between her and Kamal Haasan to highlight this change and produce both -- poignant or funny moments.
But the one I like is relatively understated. The first encounter between Sridevi and Leela Mishra is quite amusing what with our curious child woman, intrigued by a huge mole on the elderly lady's chin, pokes it gently and they both break into peals of innocent laughter.
Gumrah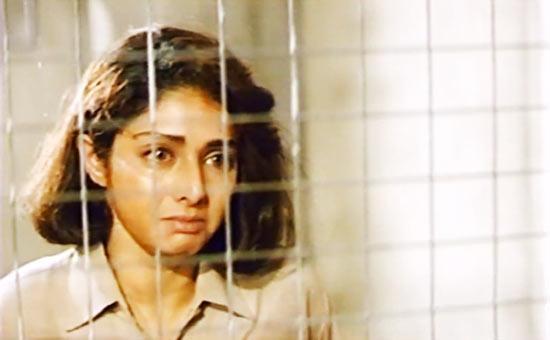 Mahesh Bhatt's remake of the Nicole Kidman starrer Bangkok Hilton relies on Sridevi's vulnerability a great deal to work.
Though most of the jail portions border on gory, there's a tender moment between her and Sanjay Dutt, as her die-hard admirer following her all the way to Hong Kong after she lands behind bars owing to a drug peddling trap.
That incredible blend of hope, distress and fear on her face makes both Dutt and audience evokes overwhelming sympathy for her character.
Laadla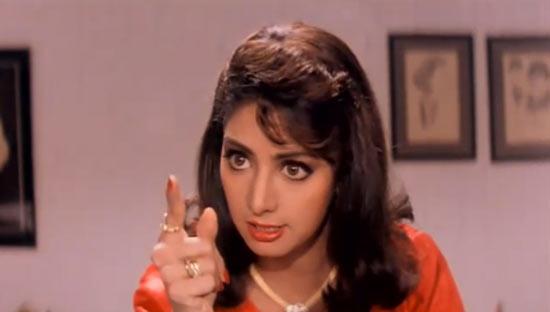 Don't be fooled by her quivering voice, Sridevi can be a pretty authoritative figure when she chooses to.
And her finger-snapping 'Understand, you better understand?' stance in Laadla's introduction scene validates this effectively.
In a role originally meant for the late Divya Bharti, Sri infuses enough iron, meat and grit to make her co-actors Anil Kapoor and Raveena Tandon's noble ways look wimpy in comparison.
Khuda Gawah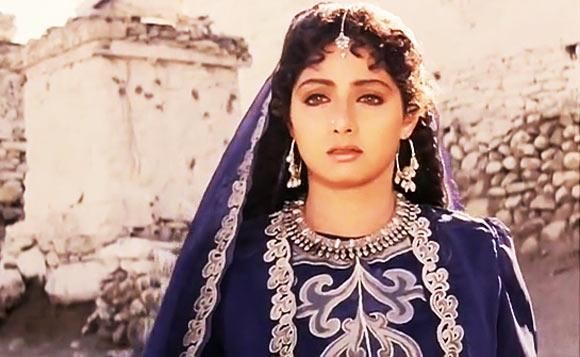 Mukul Anand's ambitious Indo-Afghan drama maintains a epic tone from start to finish.
And the reunion between Badshah Khan and his beloved Benazir is no less theatrical.
The superstars, however, pull it off with élan ambling towards each other amidst explosions and fighting.
She's saddened and startled by the extent of time they've spent in each other's absence but is compelled to weakly smile when AB strikes his statuesque Pathan pose.
Nagina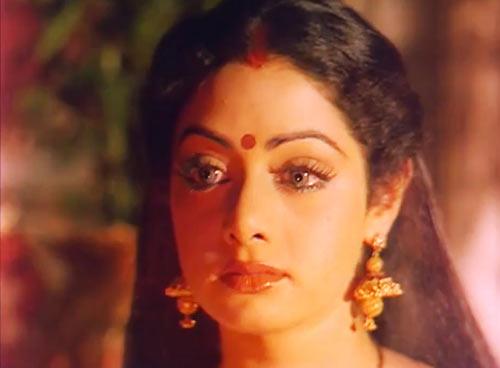 In Harmesh Malhotra's supernatural-meets-horror premise, Sridevi plays an enchanted snake woman with striking intensity.
Besides her electrifying 'nagin' dance, she is a knock-out in a scene where she sneaks out of her bedroom and slips into her serpentine form only to be discovered by her aghast mother-in-law.
Even though Nagina is little more than a cheesy snake fantasy, the actress speaks volumes with her kajal-lined eyes and full red lips that shiver and strut with an energy that keeps the fallacy going.
This feature was first published in August 2013.