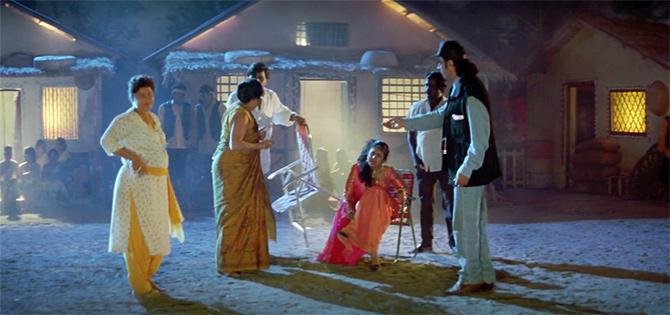 There's a delightful sequence in Ram Gopal Varma's Rangeela when a Bollywood diva sprains her foot during a dance step, prompting her typically fussy star mom to reprimand the makers and choreographer for creating such 'difficult steps.'
Thoroughly amused by her tantrums, the dance director (Saroj Khan) coolly walks away.
And the scene cuts to Urmila Matondkar's background dancer aspiring to emerge out of the shadows.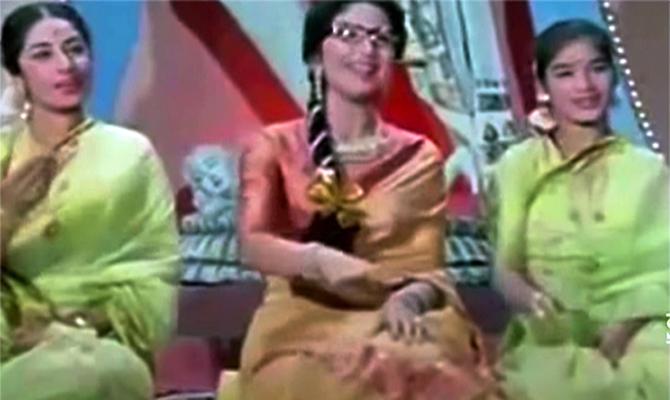 But decades back, a teenage Saroj Khan also attracted little attention as she sat next to Tabassum while Asha Parekh performed to Dekho Bijli Dole Bin Badal Ke in Nasir Hussain's Phir Wohi Dil Laaya Hoon.
It has been quite a journey.
Though her cameo in Rangeela marks a moment of parody, it underscores the legend of Saroj Khan and her fabulous taskmaster imagery.
Her candour matched her creativity. She was a brand.
For years, she remained a behind-the-scenes force to whose tune stars danced on screen while a thrilled audience whistled and wowed.
A doyenne in the world of Bollywood dancing, Saroj Khan reinvented her craft, honed talent and added spring to our steps through her lively rhythm and unbridled passions.
Saroj Khan understood the joy of dance as well as its art.
She recognised the pleasure and embraced its passion just as uncompromisingly.
The upshot is an immense body of work that burned the floor on celluloid and inspired its smitten spectators to believe they can dance along.
Sukanya Verma salutes the power of Saroj Khan and her brilliant choreography.
Nigahen Milane Ko, Dil Hi To Hai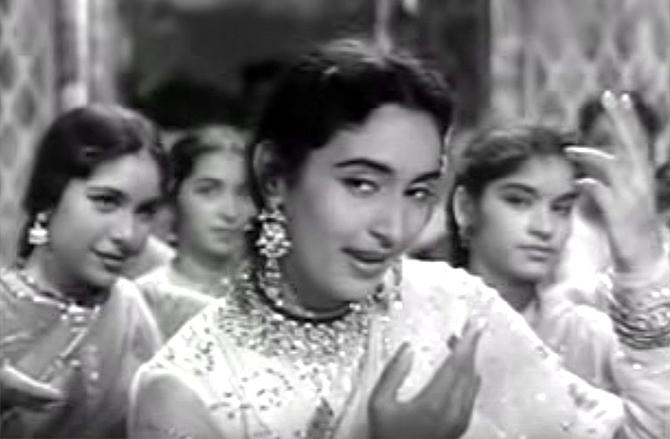 The first one is always special.
Although she was uncredited, Saroj Khan's choreography for the Nutan ditty Nigahen Milane Ko is rich in ada and awesomeness.
Ek Do Teen, Tezaab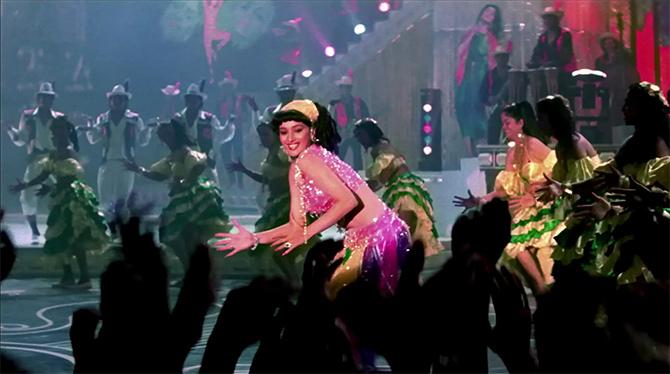 Saroj Khan's iconic moves for Madhuri Dixit in the Tezaab chartbuster changed their lives and gave rise to one of the greatest jodis of Hindi cinema.
Hawa Hawaai, Kaate Nahi, Mr India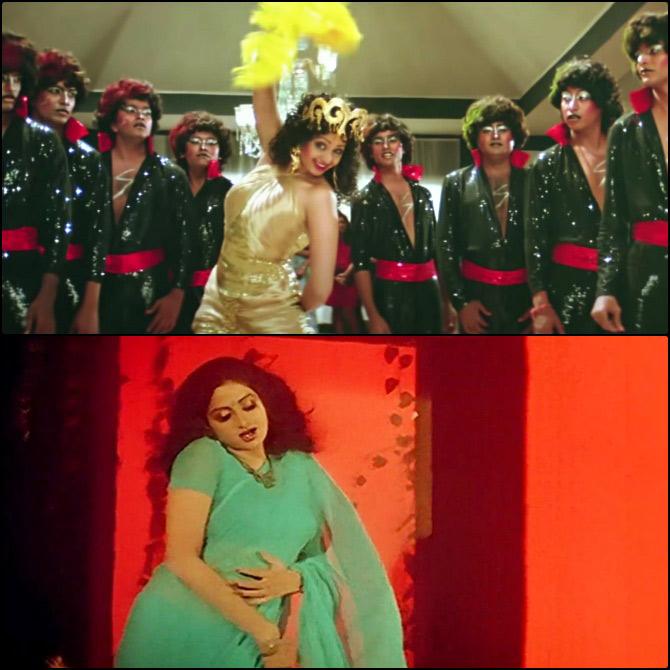 Whether it's the humour in Hawa Hawaai or sensuality of Kaate Nahi, Saroj Khan created independent moods befitting Sridevi's chameleon-like artistry.
O Ramji, My Name is Lakhan, Bekhabar Bewafa, Ram Lakhan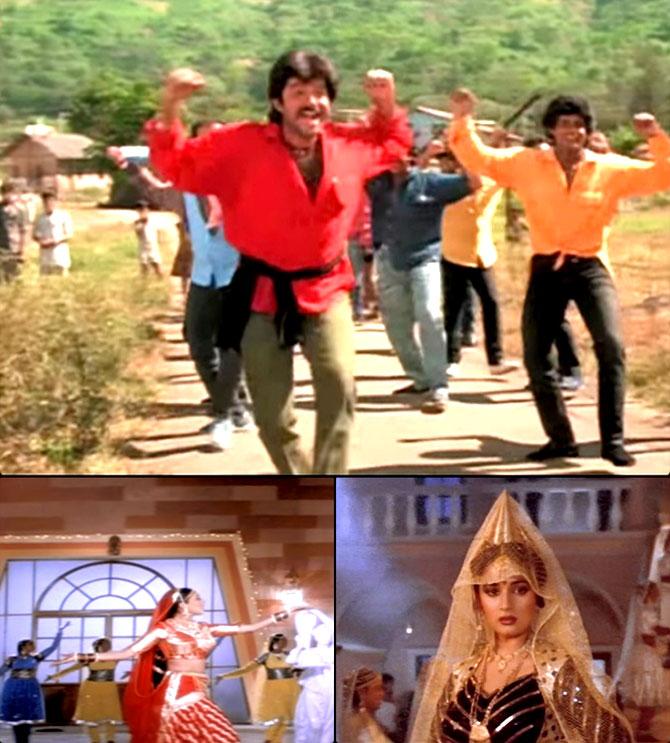 Ram Lakhan's emotional spectacle owes all its energy and pizzazz to the larger-than-life moves -- be it the dhinchak My Name is Lakhan, the super subtle O Ramji or the Western-Classical face off in Bekhabar Bewafa -- Saroj Khan dished out for Anil Kapoor and Madhuri Dixit in its grand song numbers.
Mere Haathon Mein Nau Nau, Chandni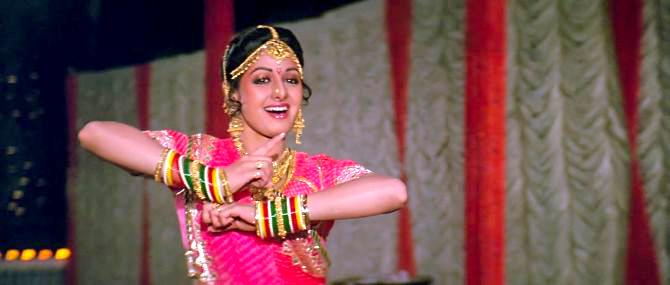 Wedding sangeets acquired a new life following Saroj Khan's widely copied moves and Sridevi's glorious jig in Mere Haathon Mein Nau Nau.
Main Teri Dushman, Nagina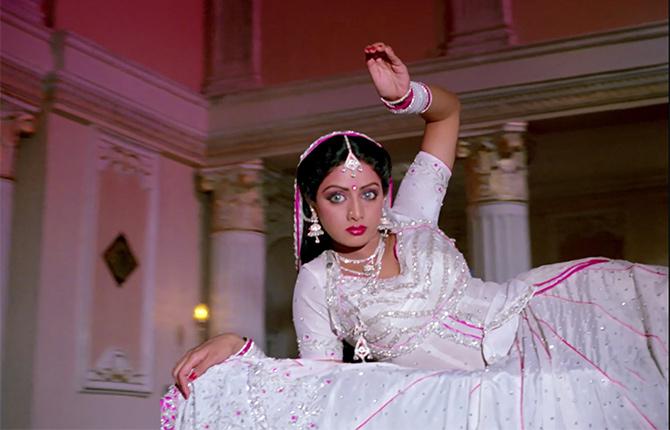 Saroj Khan's ability to marry drama and dynamism is for all to see and savour in Sridevi's magnificent take on the 'naagin' dance.
Najane Kahan Se Aayi Hai, Chaalbaaz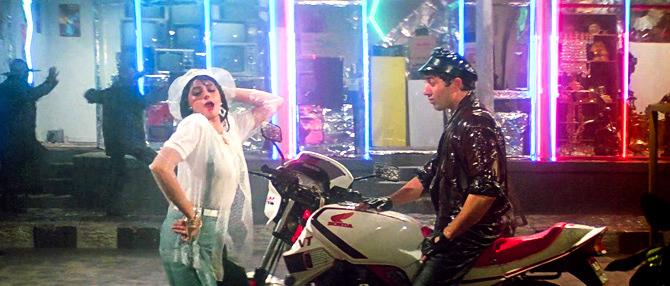 Saroj Khan had such a blast with this fun rain track from Chaalbaaz in the trusted company of Sridevi, you never notice Sunny Deol's two left feet.
Dhak Dhak, Beta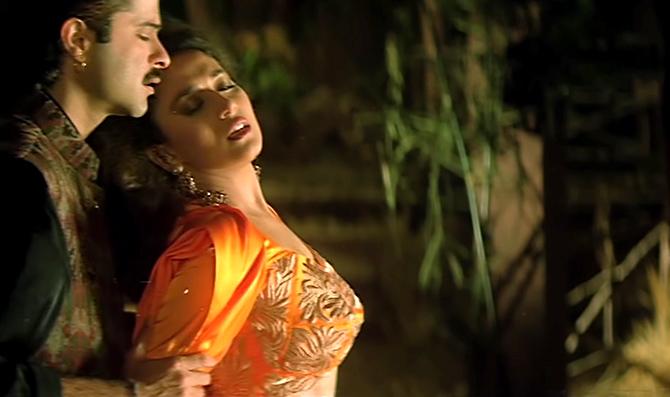 And with one Dhak Dhak, Saroj Khan completely revolutionised the language of seduction.
Dum Dumma Dum, Dil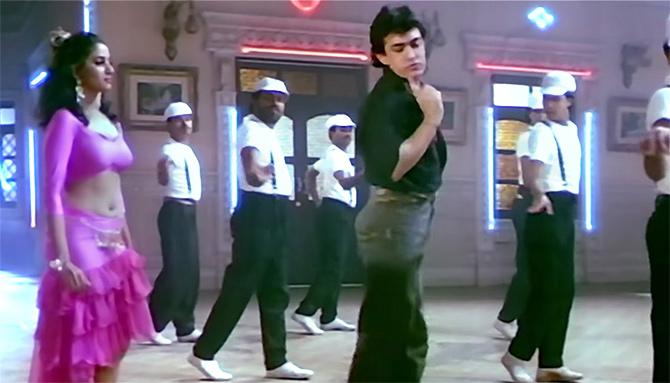 Aamir Khan and Madhuri Dixit's juvenile battle of the sexes takes a masti-filled turn under Saroj Khan's finger-snapping, foot-tapping treatment.
Gajar Ne Kiya Hai Ishaara, Tridev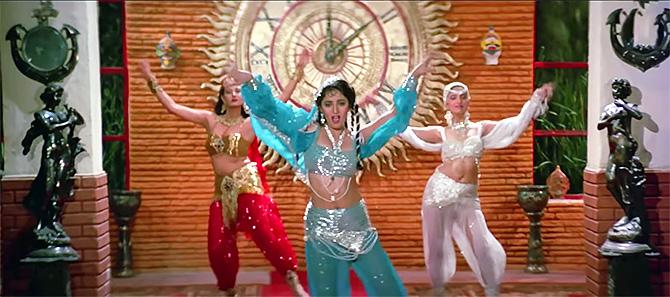 Madhuri Dixit, Sonam and Sangeeta Bijlani in glittery harem pants, swaying their hips sexily in anticipation of their heroes, is just the sort of Saroj Khan treat that enriched many a masala potboiler.
Tamma Tamma, Thanedaar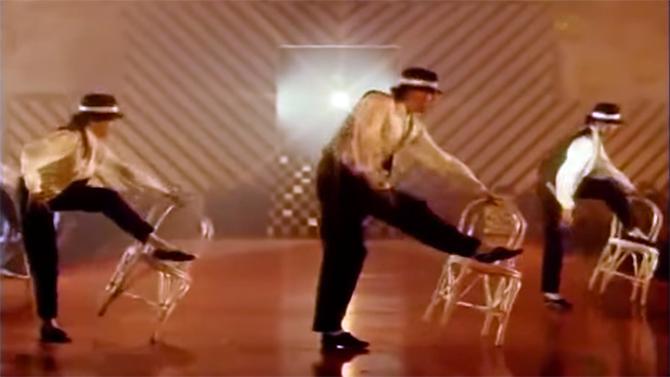 Saroj Khan's challenging creativity refused to make concessions for dancers and non-dancers alike.
For Tamma Tamma, Sanjay Dutt had no alternative but to shed some of his stiffness while the reliably electric Madhuri aced its difficult chair juggle move.
Morni, Meri Bindiya, Lamhe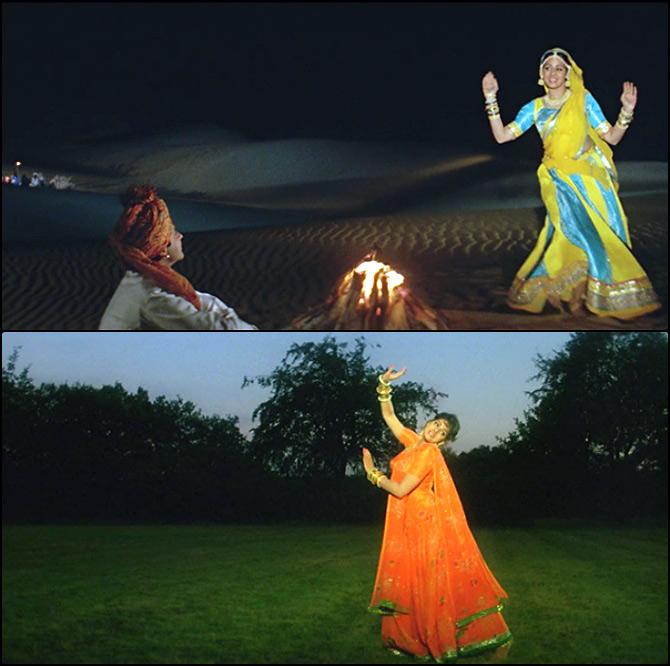 Yash Chopra's love for beauty and vivacity finds a sublime expression in Saroj Khan's graceful blend of folk and Bollywood through striking Sri numbers like Morni and Meri Bindiya.
Humko Aaj Kal Hai, Sailaab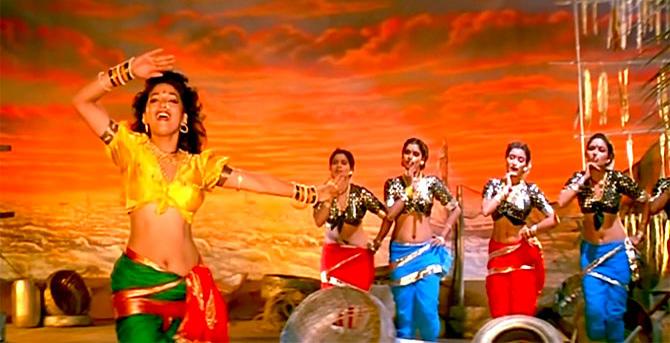 Saroj Khan's choreography wasn't just about steps.
She found beats and sensuality in the essence of femininity.
And Madhuri's nimble swaying emulated it flawlessly.
Choli Ke Peeche, Khal Nayak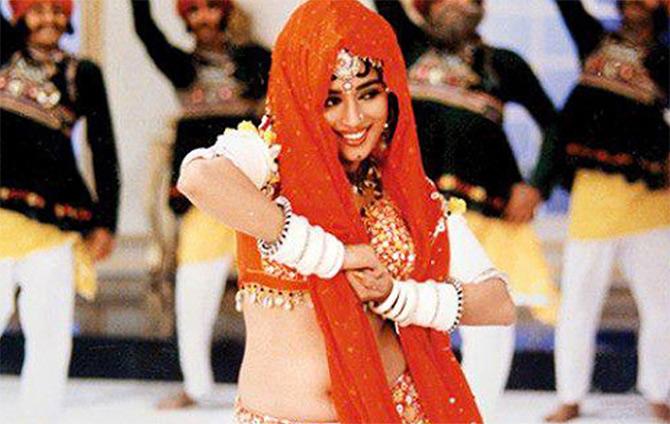 Risque and rhythm go hand in hand as Saroj Khan carefully treads the lusty elements of Khalnayak's controversial song.
Yeh Kaali Kaali Aankhen, Baazigar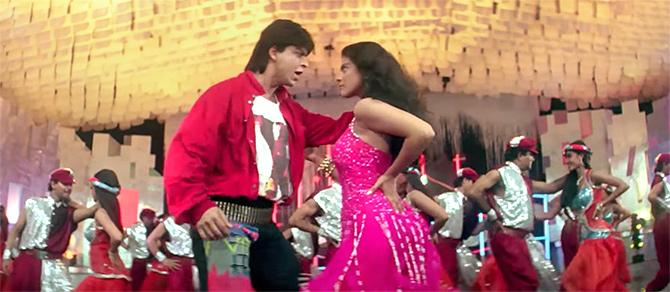 Saroj Khan creates a moment out of Shah Rukh Khan's vigour and Kajol's magnetism in the peppy beats of Yeh Kaali Kaali Aankhen.
Tanha Tanha, Rangeela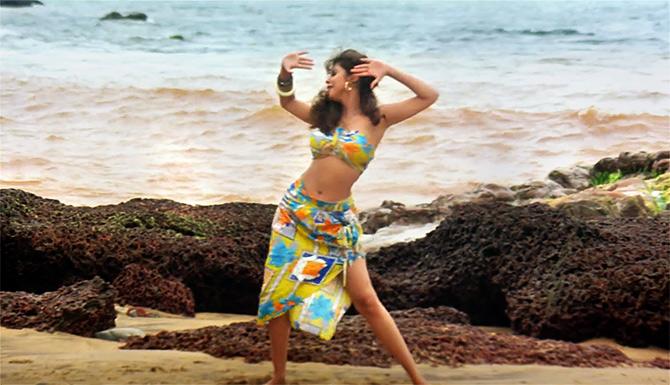 It's the only song she choreographed for RGV's superhit musical.
But, as expected, the Queen of Sassy Moves does wonders in highlighting Urmila Matondkar as a celluloid dream.
Mehendi Laga Ke Rakhna, Dilwale Dulhania Le Jayenge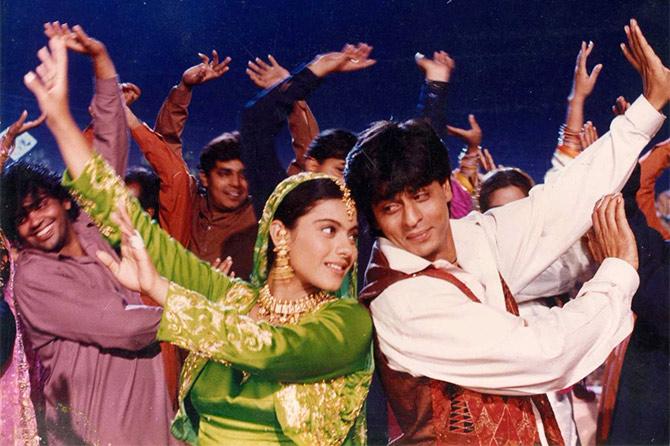 Saroj Khan inherently knew when choreography shouldn't interfere with celebration.
And Mehendi Laga Ke is a fluid example of that.
Nimbooda, Hum Dil De Chuke Sanam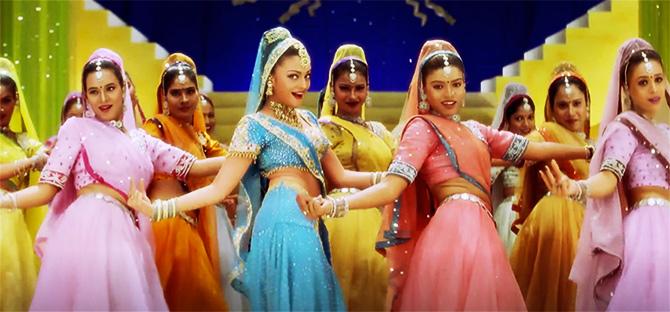 The veteran choreographer goes all to test Aishwarya Rai's fire in the gorgeously picturised Nimbooda.
It must be said Ash doesn't disappoint one bit.
Chane Ke Khet Mein, Anjaam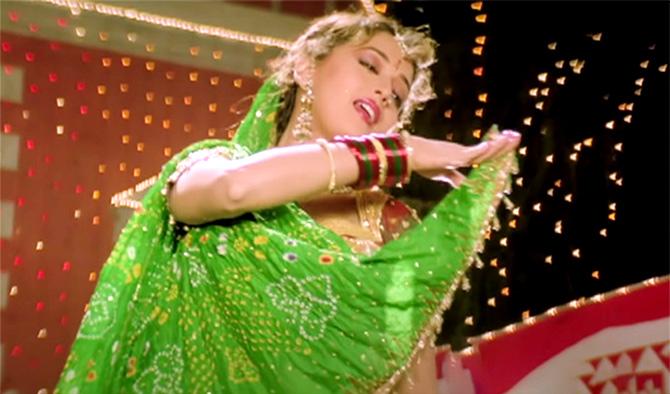 The Saroj Khan-Madhuri Dixit combo is effortless to watch, incredible to enjoy even in forgettable fare like Anjaam.
No surprise the playful jhatkas-matkas of Chane Ke Khet Mein went on to become one of Mads' signature moves.
Bumbro, Mission Kashmir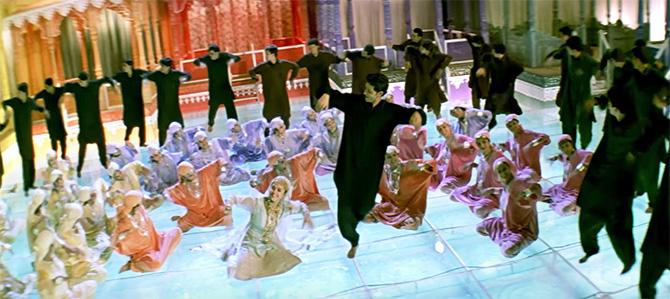 Preity Zinta exudes radiance even as Hrithik Roshan's stupendous dancer takes centre stage for this exuberant Bumbro jig choreographed by Saroj Khan.
Dola Re, Devdas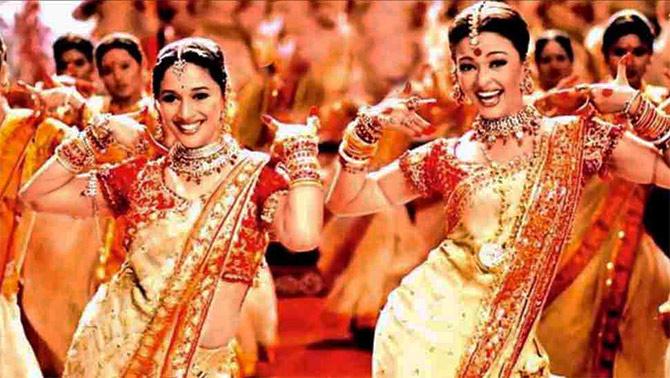 Two of our finest dancers in perfect harmony against Saroj Khan's dazzling vision and Sanjay Leela Bhansali's opulence is big screen magic at its most vivid.
Radha Kaise Na, Lagaan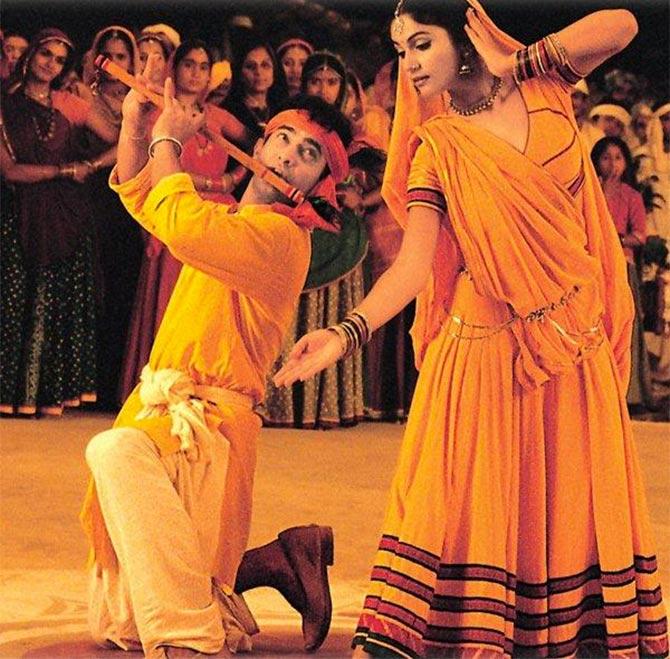 One of those rare, quieter dance movements, Radha Kaise Na in Lagaan showcases the wonderful versatility of Saroj Khan.
Yeh Ishq Haye, Jab We Met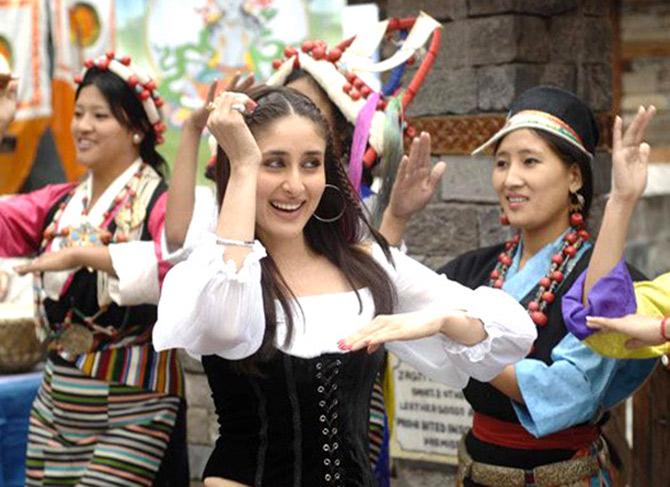 Songs and dancers are not just fillers, but extensions of a character's personality.
And Saroj Khan's ingenuity in Yeh Ishq Haye portrays Geet's joie di vivre in just the right dose of colours and cheer.
Dil Mera Muft Ka, Agent Vinod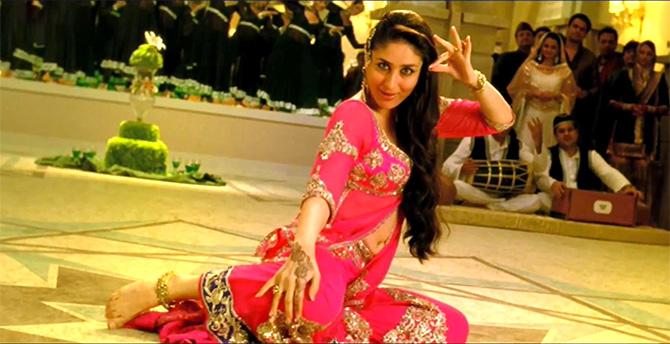 The sheer oomph of Saroj Khan's modern-day mujra and Kareena Kapoor and Maryam Zakaria's rendition of it is a treat to watch.
Main Jat Yamla Pagla Deewana, Pratigya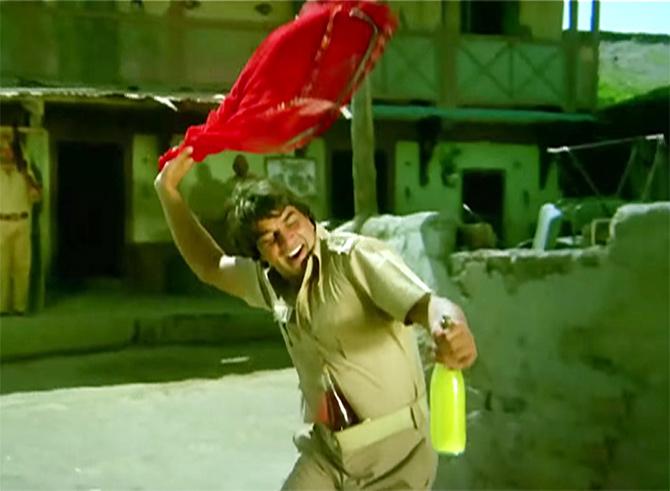 Dharmendra's not much of a dancer but his endless energy and lack of inhibitions find an ideal outlet in Saroj Khan's free flowing choreography.
One that would find its own life and lead to the title of a post-millennium franchise, Yamla Pagla Deewana.
Ramta Jogi, Taal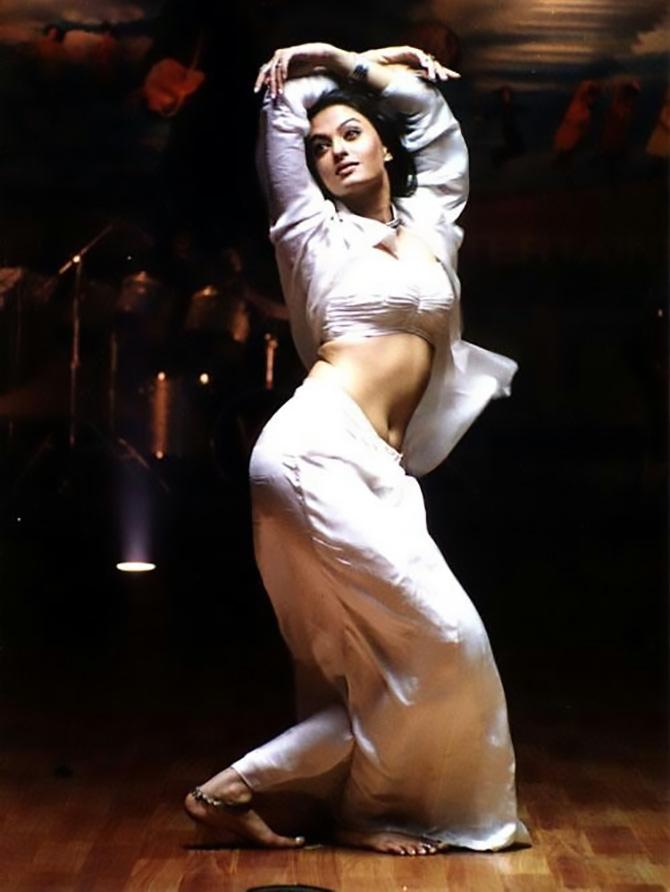 Saroj Khan's intricate choreography is seamlessly executed by an ethereal Ash in Ramta Jogi.
Tabaah, Kalank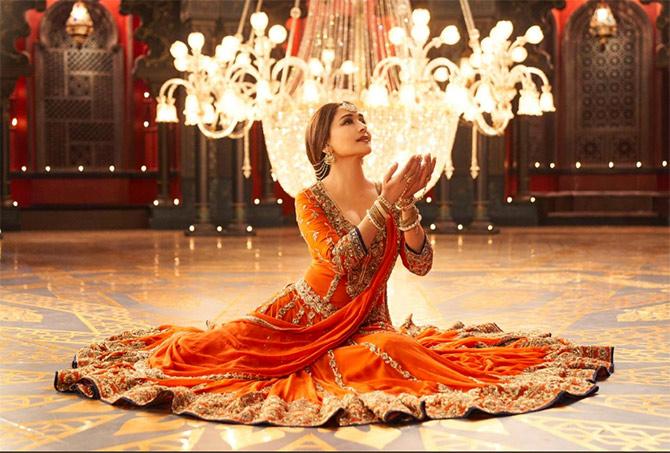 Though Kalank didn't do well, watching Madhuri Dixit dance to a Saroj Khan dance in the ambitiously scaled Tabaah will remain a fond memory for fans of the duo.
Feature Production: Aslam Hunani/Rediff.com