'A whole universe of feelings and moods went into them.'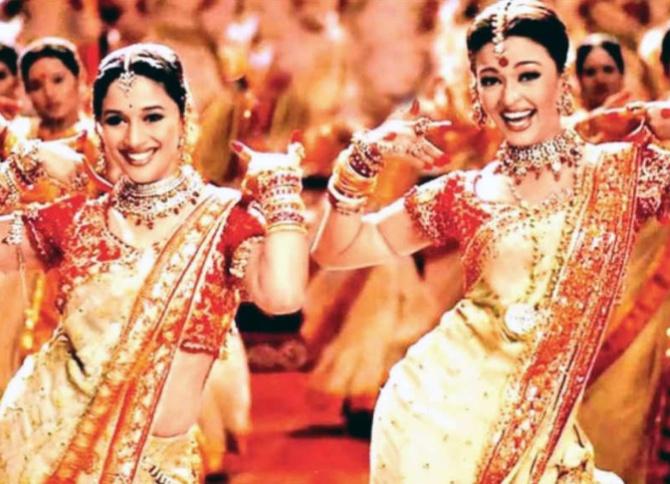 In her long career, Saroj Khan worked with many movie stars from different generations.
Many have shared their memories of 'Masterji' on social media.
Others remember the tough lady who gave Bollywood choreography its current status with Subhash K Jha:
Bipasha Basu
I did my first song with her in my first film, Ajnabee.
Being a non-dancer and getting to work with her was super-exciting and nerve-wracking for me.
She made me perform!
Post that, I worked with her many times.
She used to call me Sophia Loren.
Our movies, our songs and all of us will miss her tremendously.
Shekhar Kapur
Saroj was a genius, a genius in the art of movement.
A genius in the art of expression.
She would give herself with such enthusiasm and energy.
There would be this lady sitting laughing and chatting on the set.
The music would come on, and all eyes would turn to her.
Suddenly she would get up and dance.
She would become another being, almost out of her body and into her spirit.
It was mesmerising to watch her.
Shabana Azmi
Her repertoire -- Kaate Nahi Katte, Dhak Dhak Karne Laga, Ek Do Teen, Dola Re Dola -- is incredible.
Grace, mobile change of expressions were her hallmarks, best exemplified by Sridevi and Madhuri Dixit.
I worked with her early in our careers in Sweekar KiyaMaine and Lorie.
She was infinitely kind and encouraging .
She lives on in her work.
Aditi Rao Hydari
She was one of the first people who told me I should come to Mumbai and become an actor.
I always wanted to, but did not know how it could be possible.
When she said it, I thought maybe I could.
She called me thrice after that. Once, for the Nuit Blanche festival in Paris.
More recently, for a Kathak style piece in a Marathi film.
We had only six hours to shoot and she taught me the piece herself.
Once when her daughter was in hospital, she wanted me to be with her, so I went.
If she wanted me to do something, I did it.
She was too senior and I was too new, but I really respected her.
When she showed me a dance step I'd forget to learn. I would just watch her.
Dia Mirza
I grew up dancing on her iconic songs.
When I finally got to work with her in the song Bahon Mein Nahi Rehna from Koi Mere Dil Mein Hai, I discovered what an extraordinary life she had had.
Her dedication to her work, her magical eyes, her kindness, the fluidity of her craft...
She was so affectionate and patient with me.
I met her last when she came to shoot for Thappad for a night.
She always gave me a lot of love, and I loved her back.
I will remember her for the warmest hugs, the kindest words.
Asha Parekh
A very hard working woman and very gutsy, she was a true choreographer.
Her work with Sridevi and Madhuri Dixit is unsurpassable.
As a trained dancer, I can see the fluidity of the movements, the grace of the steps.
Unfortunately, Saroj Khan redefined choreography at a time when I had almost retired from acting.
Rati Agnihotri
I got to work with Sarojji in Dil ;Tujhko Diya. A huge loss.
She was our best choreographer.
She was not only the best in her field, but an absolute delight to be choreographed by.
An amazing lady of grit.
Prabhudeva
Her dance numbers were not just about dancing. A whole universe of feelings and moods went into them.
I don't know if any choreographer in India was as popular as Sarojji.
She was equally popular in the North and South (of India).
When Ek Do Teen came out, kids in Chennai were copying Madhuriji's steps.
It was just magic when Sarojji worked with Srideviji and Madhuriji. There is no explanation to what happened on screen when Sarojji combined with these two superstars.
And who but Sarojji could bring together Aishwaryaji and Madhuriji inDola Re?
Sarojji first choreographed my dance moves in Sapnay.
I got to work with her many years later when I directed Rowdy Rathore.
She was a perfectionist; never compromised on the steps.