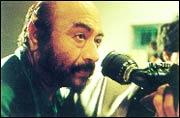 Govind Nihalani is working hard.
His effort these days is to strike a balance between parallel cinema and popular cinema: "The trick is in getting your investment and not surrendering to market forces such that you compromise your sensibilities. If I can retain my sensibility, yet interest the audience in seeing my film once or even two times, I would have succeeded."
Dev, his latest film, he hopes, will be that balance. Starring Amitabh Bachchan (without whom, he says, he would never have made Dev); Om Puri (Nihalani has been trying for a while to bring Bachchan and Puri together in a film); Fardeen Khan and Kareena Kapoor (they were not filmi, had no attitude, and often gave more than he expected, says Nihalani) -- the film releases June 11.

Dev is also the next step after the serious socio-police drama Ardh Satya, he says in conversation with Syed Firdaus Ashraf:

What is Dev all about?
Dev is the main character of the film. It is the story of police officer Dev Pratap Singh, played by Amitabh Bachchan. Om Puri plays his best friend. There are Fardeen Khan and Kareena Kapoor, who are important in this film.
It is about these four people and how they are inter-related to each other in the film. It is a very contemporary story.

What is the genesis of this story?
It was written by Meenakshi Sharma, one of my assistants. Her father is a retired Inspector General of Police, who had served in Kashmir and in Operation Bluestar.
This story has been taken from his life. The plot, though, is a product of imagination. It is not related to any particular incident.

So do issues like militancy and terrorism figure in Dev?
No, but metropolitan pressure does. There is no militancy or underworld in this film.

There has been a spate of cop films recently, most prominently Khakee. How different is Dev?
Khakee was about confrontation, adventure, action and drama. Most cop films are about confrontation between antisocial elements and the cops. So there is a huge dose of action [in those films].
Dev is a more reflective film. It is more internal. It is about family, friends and the system versus the individual. Yes, it does have some action because the police has to maintain law and order. But it is about the life of a policeman and his relationships.
It is not a fight with the baddies. It is about how a police officer affects the system. How his decision affects the lives of people in the society. How it affects his personal life, too.

How important is the music in Dev?
Very important. It has lyrics by Nida Fazli, and is composed by Aadesh Shrivastava. There are five songs in the film, but no lip syncing, so that it looks authentic.
Unlike the normal practice of lip syncing in Hindi films, the music in Dev expresses the characters' emotions well. That is why the music heightens the emotions in the film.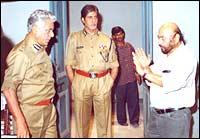 Why the decision to make Kareena sing?
There is a scene in which Fardeen gives a copy of poems to Kareena. She thinks of him while reading them, and that is when the song plays in the background. She then goes to sleep and the song continues. This song is meant to be a song you hum, you know, gungunana?

We wondered who would sing this song -- I was not really interested in a regular playback singer. Meanwhile, I was talking to Kareena about this scene, and I realised she was the singer I wanted. I liked her voice instantly. I told her she could sing this song. And she accepted it, though she was a bit reluctant.
Fardeen and Kareena look very serious, deglamourised in Dev. Was it a conscious decision to experiment with their looks?
It is not a question of experimenting. I thought these characters would suit my film.
For example, if Amitabh Bachchan had not agreed to this role, this film would have not been made. I have been trying [for a long time] to bring Amitji and Omji together in a film.
I was not sure whether Kareena and Fardeen would do this film. But when I met them, I found them both eager and willing. I never felt Fardeen or Kareena were from a big, filmi background or have star attitude. Many times while shooting, they gave more than what I expected from them.

How would you slot Dev? Parallel cinema or commercial cinema?
Dev has the strengths of both. Popular cinema has stars, music, a strong narrative. There is a happy ending too. Dev has all that. Only thing is, Dev is not melodramatic. The truth has not been sacrificed at the altar of glamour in Dev. The costumes, dialogues, settings are all authentic.

Have you ever thought of making a masala film?
I think I should. But if I ever make a masala film, it should be the best masala film ever made.
It is like asking a dentist, why don't you operate a knee? (laughs). You see, everyone has his own sensibilities. As a filmmaker, I would love to do different kinds of films. I would love to do a musical or a Charlie Chaplin-like comedy. I would like to attempt different genres, but you need the right script for that.

Do you believe that audiences are not receptive to serious Hindi films?
I don't think so. Audiences don't accept labels. A film should have an inherent strength. I did Ardh Satya. It had no music. It was a serious film. It was very realistic. Yet, the audience accepted it.
I think Dev is the next step [after Ardh Satya]. The characters are good, the artistes superb, and I think audiences will accept this film, too.

Would you say that you have switched from serious films to commercial films?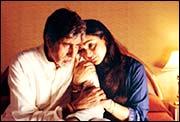 That is because commercial success is very important to any film. Making a film is not cheap. It is an expensive exercise.
You need to get a return on your investment. To make another film, I have to recover my investment from my earlier film. Otherwise, I will not survive [in this industry]. The trick is getting your investment and not surrendering to market forces such that you compromise your sensibilities. If I can retain my sensibility, yet interest the audience in seeing my film once or even two times, I would have succeeded.

Corporates are coming to film industry, and your film is one of the first ventures of the Birla Group. How you see this move?
They bring finance and a certain kind of discipline to the industry. They make cheque payments. All accounts are edited. Everything is above board. In fact, I don't get money until I submit my earlier accounts.
I have worked with NFDC [National Films Development Corporation] earlier, and it was the same there, too.
The best part is that they [the corporates] do not impinge on the creativity of the director. I am happy to say that the Birla Group or even other co-producer, [Manmohan Shetty's] Entertainment One, never interfered with the creativity of the film in any way.