28 amazing years as the Badshah of Bollywood!
While the superstar has delivered several hits over the years, there have been only two years in his illustrious career when he hasn't seen success.
Joginder Tuteja presents more movie milestones in Shah Rukh Khan's career. The second of a multi-part special:
2000
Mohabbatein: Rs 42 crore
Josh: Rs 18 crore
Shah Rukh Khan started the millennium with a blockbuster from Yash Raj Films.
Mohabbatein was a multi-starrer that launched several actors, including Director Aditya Chopra's younger brother Uday.
In Josh, his Mohabbatein leading lady Aishwarya Rai became his twin sister. Mansoor Khan's film was a decent earner too.
2001
Kabhi Khushi Kabhie Gham:: Rs 54 crore
After Kuch Kuch Hota Hai, Karan Johar decided to go all out with his second directorial, Kabhi Khushi Kabhie Gham.
It starred Amitabh Bachchan, Hrithik Roshan, Kajol, Kareena Kapoor and Jaya Bachchan alongside Shah Rukh.
2002
Devdas: Rs 42 crore
Hum Tumhare Hain Sanam: Rs 13 crore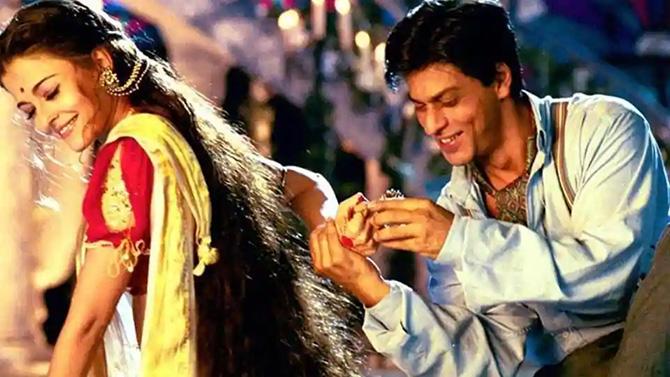 In 2002, Madhuri Dixit starred as Shah Rukh's leading lady in two films, and both turned out to be successes of varied degrees.
Devdas was a blockbuster as Sanjay Leela Bhansali's dream came true on screen.
Hum Tumhare Hain Sanam turned out to be a surprise success at the box office.
2003
Kal Ho Naa Ho: Rs 35 crore
Chalte Chalte: Rs 19 crore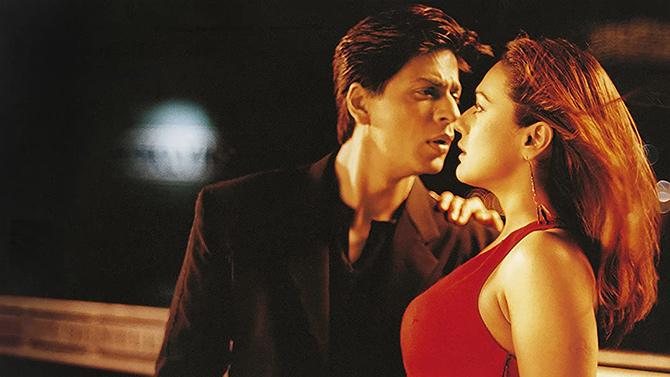 It was time for a double bill of feel good cinema in 2003 as Shah Rukh featured in Kal Ho Naa Ho as well as Chalte Chalte.
In the first, Shah Rukh ensured audiences remembered his heartfelt act.
Chalte Chalte was a marital drama and Shah Rukh's first hit as a producer.
2004
Veer-Zaara: Rs 42 crore
Main Hoon Naa: Rs 34 crore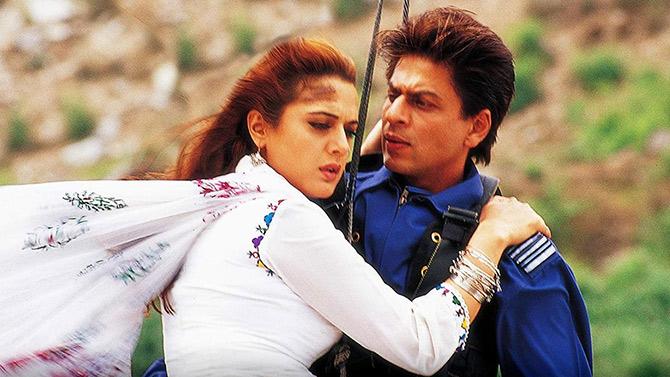 Yash Raj continued to invest in Shah Rukh with guaranteed hits coming their way. Veer Zaara was a major Diwali hit.
SRK also gave his choreographer pal Farah Khan a break by not just consenting to act, but also producing Main Hoon Naa, which continues to be an audience favourite.
2005
Paheli: Rs 15 crore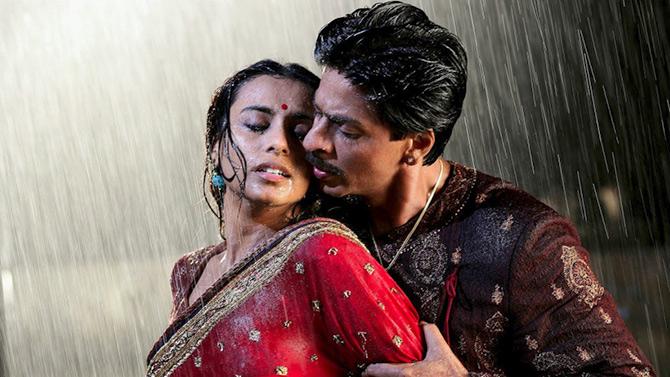 If not for Shah Rukh's presence, Paheli would have flopped.
In a double role, the actor decided to do something different in the set up created by Director Amol Palekar.
He also produced the folklore, but the results were ordinary.
Thankfully, the film's budget was low due to which it managed to recover its investment.
2006
Don: The Chase Begins Again: Rs 51 crore
Kabhi Alvida Naa Kehna: Rs 45 crore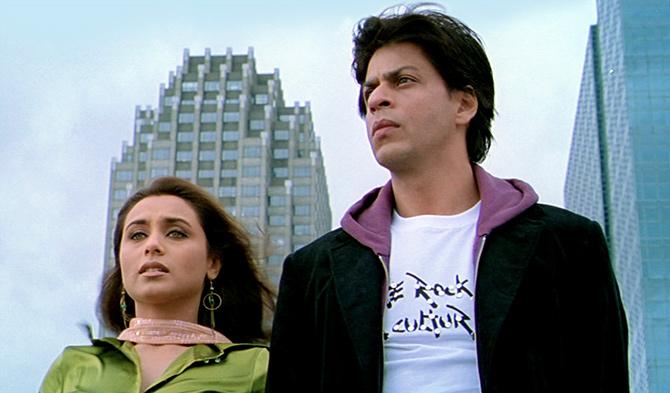 Shah Rukh's double act in Don was lapped up by everyone despite its original featuring Amitabh Bachchan, and being a cult movie.
Kabhi Alvida Naa Kehna was way ahead of its time and worked primarily with urban audiences.
2007
Om Shanti Om: Rs 80 crore
Chak De! India: Rs 68 crore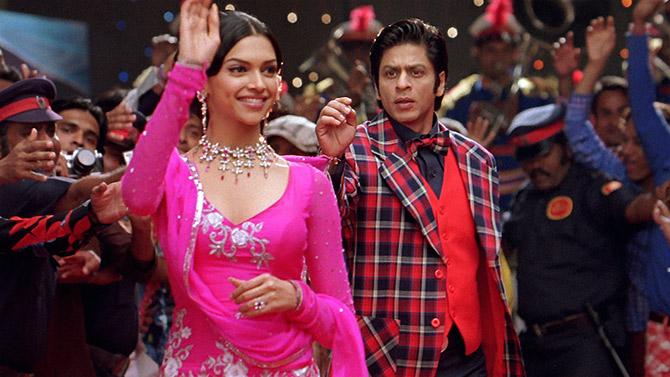 After Main Hoon Naa, Shah Rukh decided to go even bigger with Farah Khan in Om Shanti Om.
A reincarnation affair where the superstar played a double role again, this one has been a hot favourite among audiences.
Chak De! India surprisingly took a low start, but sees one of his best performances.
2008
Rab Ne Bana Di Jodi: Rs 83 crore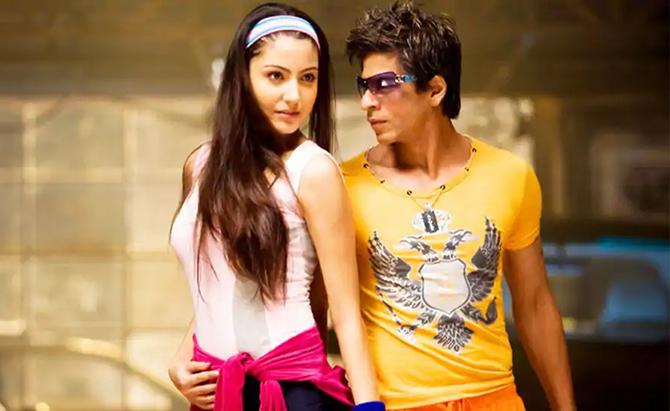 Released in the aftermath of the 26/11 attacks, there were apprehensions about whether Rab Ne Bana Di Jodi would find an audience, especially in Mumbai.
It took a slow start, but word of mouth ensured better results.
2009
Billu: Rs 23 crore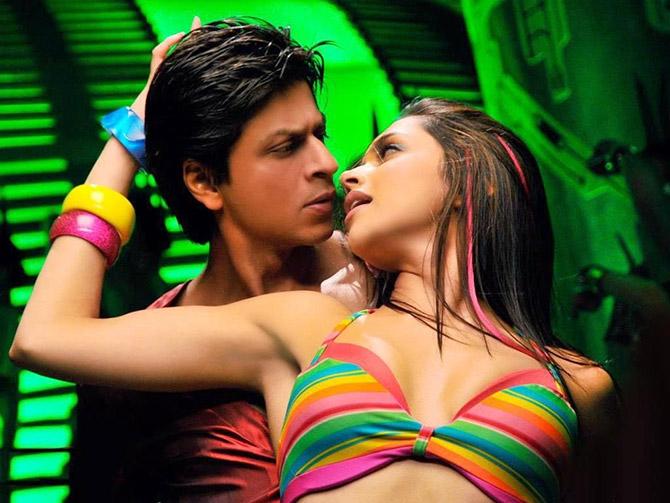 The first year since his debut in 1992 that Shah Rukh Khan didn't have a hit.
It was a disappointing end to the first decade of the millennium, as he could not get audiences for his production Billu, where Irrfan Khan played the title role.
Shah Rukh roped in Kareena Kapoor, Deepika Padukone and Priyanka Chopra for a song each but to no avail.
,