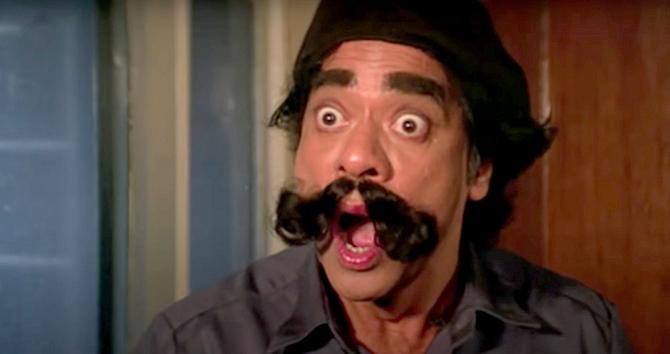 Jagdeep discovered the difference his eyes and voice could make early on in life.At the young age of nine, his two greatest assets caught B R Chopra's eye in his directorial debut Afsana, where for the paltry sum of six rupees, he played a bit role as a courtier in a kid's play, below.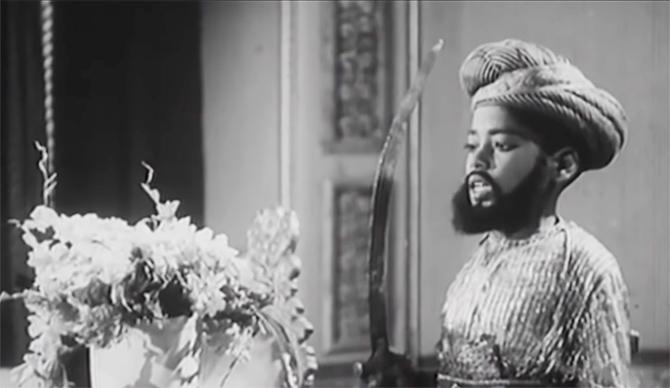 Born Syed Ishtiaq Ahmed Jaffrey, Jagdeep's stint as a child actor in Hindi films was out of necessity after his father's demise.
He came to Bombay with his mother and resolved to lend her a helping hand.
He sold soaps and combs. Even kites, he told Rediff.com 22 years ago.
Once his career before the camera took off, there was no turning back.
The roles increased as did their length.
His wholehearted smile and roguish charms made him a perfect fit for song and dance as well. And though a grown up Jagdeep dabbled in romance and drama in equal measure, it was comedy that grabbed him for keeps.
The bulging eyes, exaggerated physicality and jittery dialogue delivery -- characteristics that rendered his Soorma Bhopali immortal -- refused to let him become anyone else.
So much that even Jagdeep's only time as director would be a spin-off on the iconic character from Ramesh Sippy's Sholay.
His 'Bhopali' identity continued as recently as Rajkumar Santoshi's laugh riot, Andaz Apna Apna where he plays Salman Khan's exasperated father.
The funny man of Hindi cinema has passed into the ages, but the laughter he generated will echo for years to come.
Sukanya Verma lists Jagdeep's most memorable roles.
Do Bigha Zameen (1953)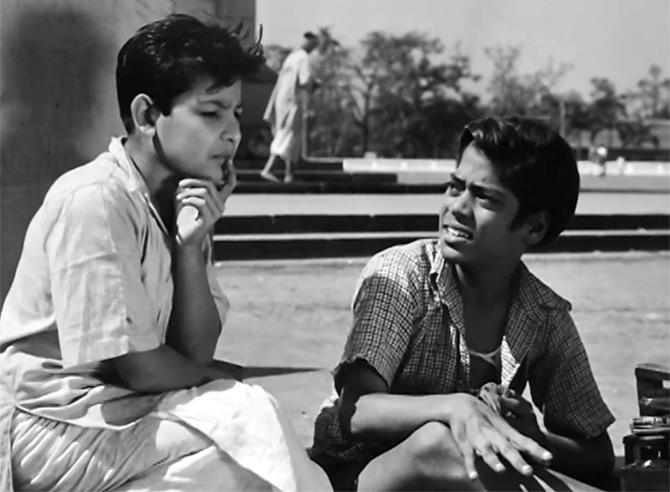 Jagdeep's precocious, plucky turn as shoe-shiner Lalu Ustad in Bimal Roy's classic showcases his street-smart swagger and self-confidence in short but significant ways.
Aar Paar (1954)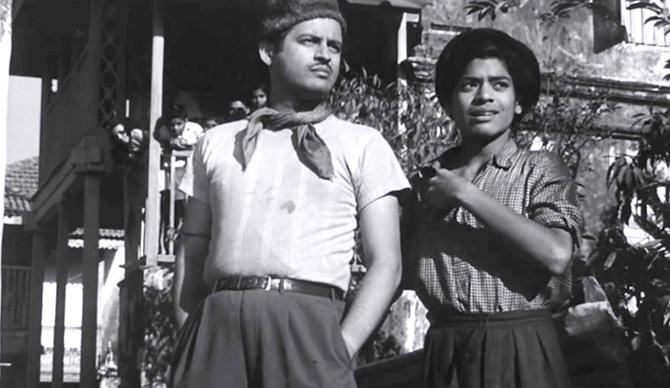 Like Jagdeep's Lalu Ustad in Do Bigha Zameen, many iterations of the smart-talking adolescent can be found in latter-day characterisations.
Jagdeep's candour and charisma is unmistakable as Guru Dutt's adorable sidekick and car cleaner Elaichi Sandow in Aar Paar.
Hum Panchhi Ek Daal Ke (1957)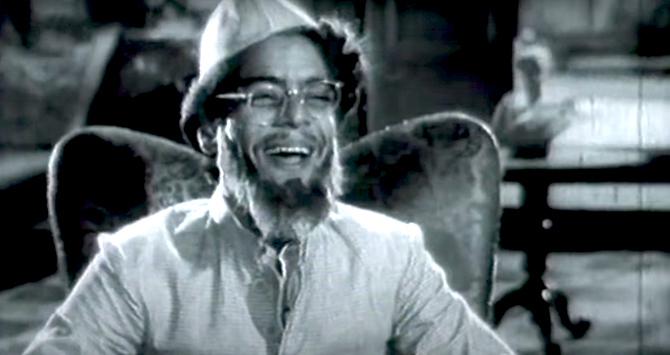 Jagdeep's association with Madras-based AVM benefited him tremendously. In this National Award winner for Best Children's Film, the teenager actor brings the house down masquerading as his young pal's tutor, Mirza Sulaiman.
Bhabhi (1957)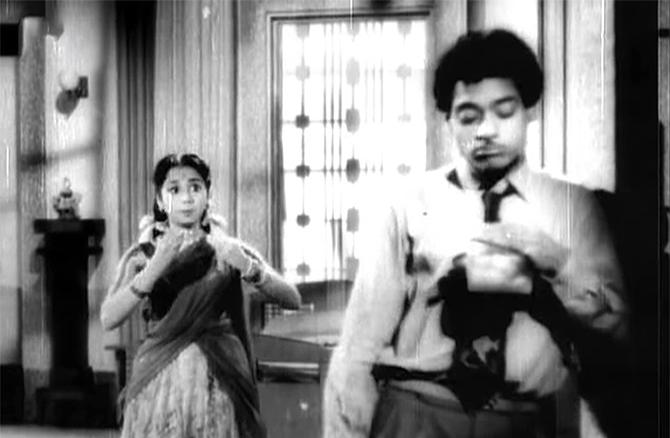 'Tie Lagake Maana Ban Gaye Janab Hero,' teases Nanda.
'Chali Chali Ri Patang Meri Chali Re,' chants Jagdeep.
The delightful duo's banter lends lightness to the melodramatic proceedings of Bhabhi.
Barkha (1960)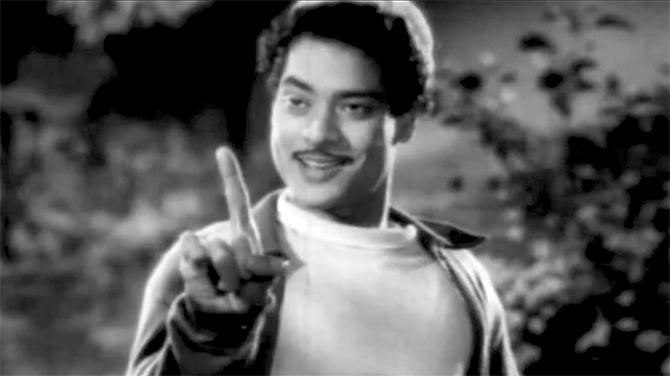 Long before Anil Kapoor professed Pyar Kiya Nahi Jaata Ho Jaata Hai to Padmini Kolhapure, Jagdeep sang the same to his leading lady Shubha Khote most merrily in the black and white musical, Barkha.
Brahmachari (1968)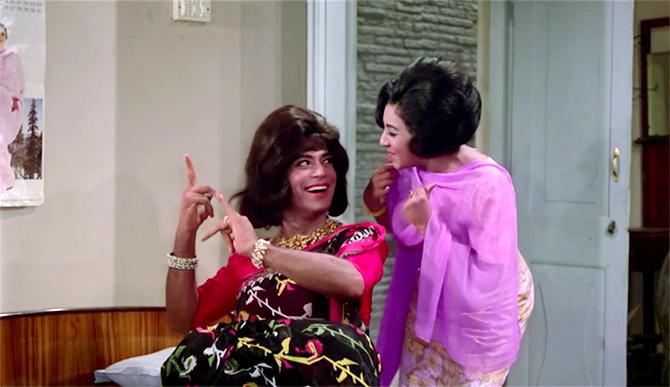 Jagdeep's comfort in slapstick is obvious when he dons the sari, almost like a rite of passage in every comedian's career, as part of a comedy sketch in the Shammi Kapoor starrer.
Khilona (1970)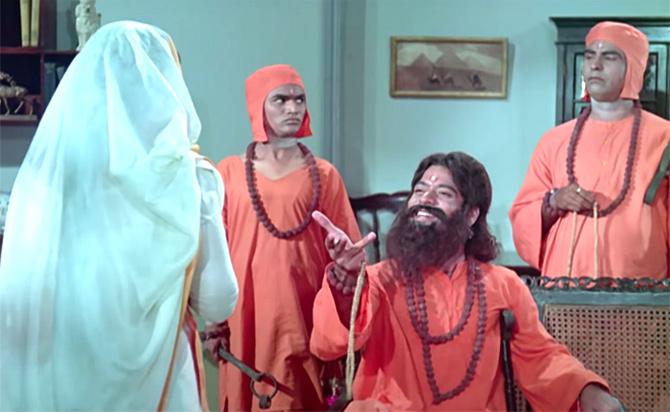 Nominated for Best Actor in Comic Role by Filmfare, Jagdeep is quite a hoot as the caught in the Pati, Patni Aur Woh syndrome.
As was the norm those days, his farcical track runs parallel in an otherwise dramatic movie focusing on Sanjeev Kumar and Mumtaz's histrionics.
Apna Desh (1972)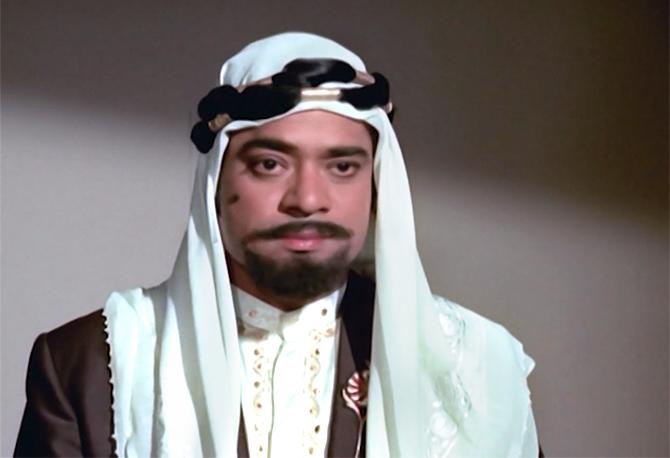 Jagdeep's good-humoured support in an Arab Man-Friday's garb to Rajesh Khanna's retribution seeking figure puts the entertain Apna Desh's no-holds barred entertainment.
Sholay (1975)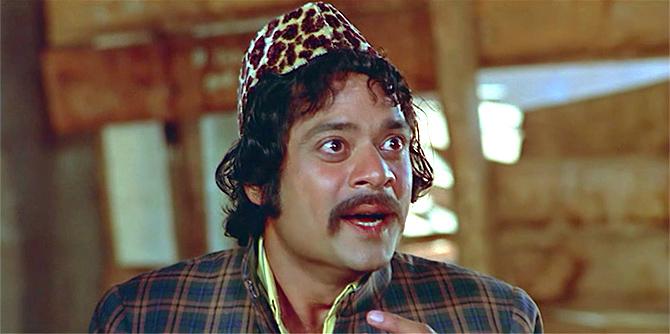 Jagdeep's acclaimed Soorma Bhopali needs no introduction.
In Anupama Chopra's book, Sholay, the Making of a Classic, she writes how Jagdeep's camaraderie with writer Javed Akhtar, their combined love for mimicry where Bhopali accent became a running joke between the two made casting Soorma Bhopali a no-brainer.
Surakksha (1979)
As the Hanuman bhakt and comic sidekick to Mithun Chakraborty's special agent Gunmaster G-9, Jagdeep scored through his famous 'Khamba Ukhadke' phrase.
Qurbani (1980)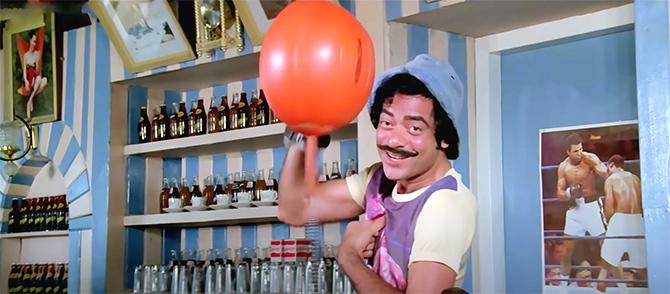 Although the comedy feels superfluous narrative in the course of Feroz Khan's slick action in Qurbani, Jagdeep goes all out to flaunt his boxing enthusiasm as Mohammad Ali.
Released close on the heels of Surakksha, the actor throwing in a 'Ghusa Lagake' before every line tells you the extent of its success.
Ghazab (1982)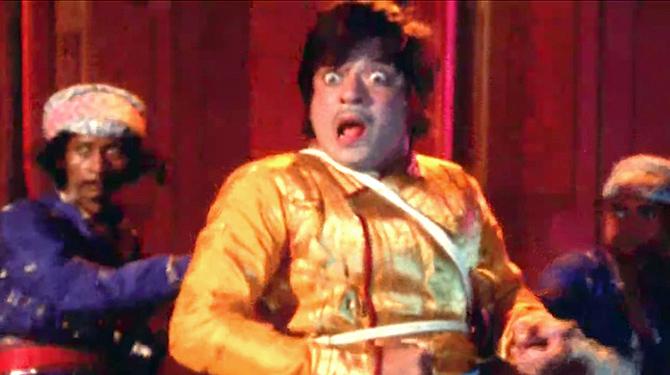 Apart from Dharmendra's comic skills in this funny tale of a ghost seeking revenge through his lookalike, Jagdeep keeps the laughs coming as well.
He is particularly rib-tickling as Prince Salim in the Mughal-E-Azam parody co-starring Keshto and Aruna Irani.
Purana Mandir (1984)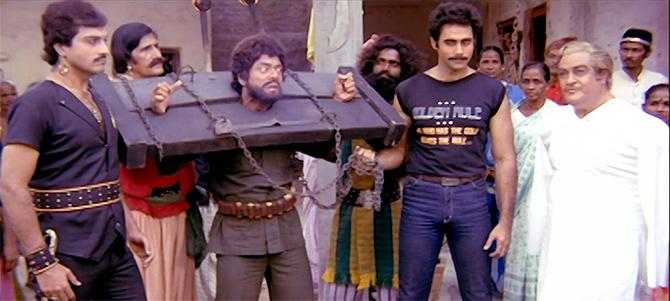 Speaking of spoofs, Jagdeep's droll take on Sholay and Gabbar's Daku Macchar Singh in the Ramsay Brothers' creepy classic Purana Mandir comes to mind.
The comic veteran brings relief to terror-stricken viewers through his wacky antics and excellent timing.
Shahenshah (1988)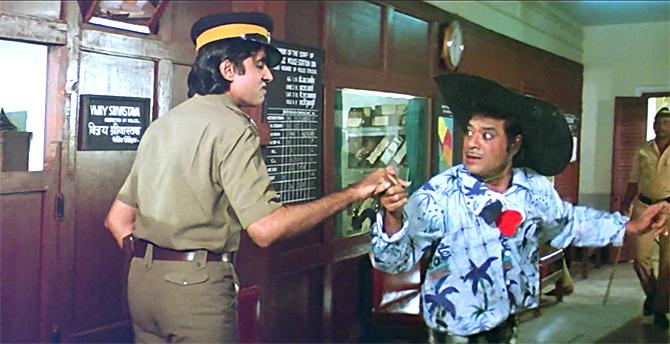 As the Hong Kong returned hotelier Tarachand Baadlani hoodwinked by Meenakshi Seshadri, Jagdeep goes berserk spewing Sindhi stereotypes to Amitabh Bachchan's dodgy cop in trademark Jagdeep style.
Andaz Apna Apna (1994)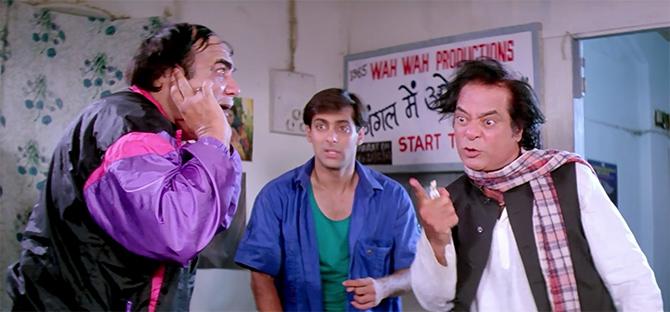 Jagdeep's tailor Bankelal Bhopali is tailor-made for Rajkumar Santoshi's cult classic.
His comic sarcasm and barrage of insults, rich in sui-dhaaga analogy, towards Mehmood's fraud producer and good-for-nothing son Salman Khan is all kinds of rollicking.