'Great talent sadly underused.'
Yet another movie legend passes into the ages.
Jagdeep, who passed away on July 8, lived a full life.
At 81, he was surrounded by his loved ones.
His innings as a comic actor was impressively long.
His role as Soorma Bhopali in Ramesh Sippy's Sholay became both the milestone and the mill stone of his career.
Soorma Bhopali almost became Jagdeep's alias.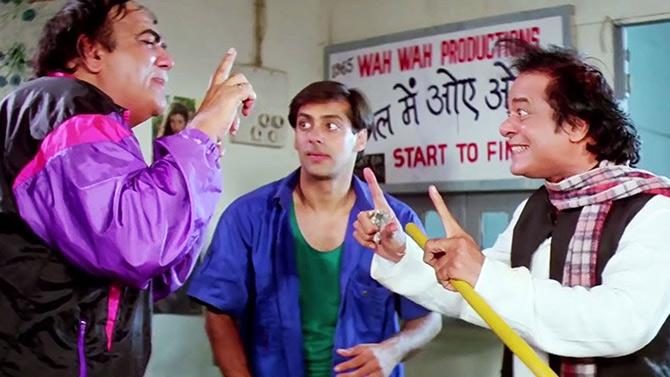 Years after Sholay, his character in Raj Kumar Santoshi's Andaz Apna Apna, was named Bankelal Bhopali.
Jagdeep, who came from Indore to Bombay when he was nine years old and slept on the streets with his mother, also directed a film called Soorma Bhopali in 1988.
Though Jagdeep's well wishers in the industry -- Amitabh Bachchan, Rekha, Dharmendra -- had guest appearances in it, the movie flopped.
Javed Akhtar, who co-wrote the unforgettable character Soorma Bhopali in Sholay, recalls Jadgeep as being a serious actor initially.
"Jagdeepsaab first appeared on screen as a winsome child artist in films like Do Bigha Zameen and Aar Paar. As a young man, he played highly emotionally charged and dramatic roles in films like Bhabhi, Patang, Puran Milan... Comedy was his second successful innings."
Speaking on the role that defines Jagdeep's career, Akhtar says, Soorma Bhopali could not have been played by anybody other than him. He worked hard on the Bhopali accent and got it word perfect."
"His comic timing was very good, but I rue the fact that he wasn't given an opportunity to do more emotional and dramatic roles."
"Great talent sadly underused."