'We are very protective of him.'
'People can't go close to him and take pictures like before.'
Ranjita Ganesan reports.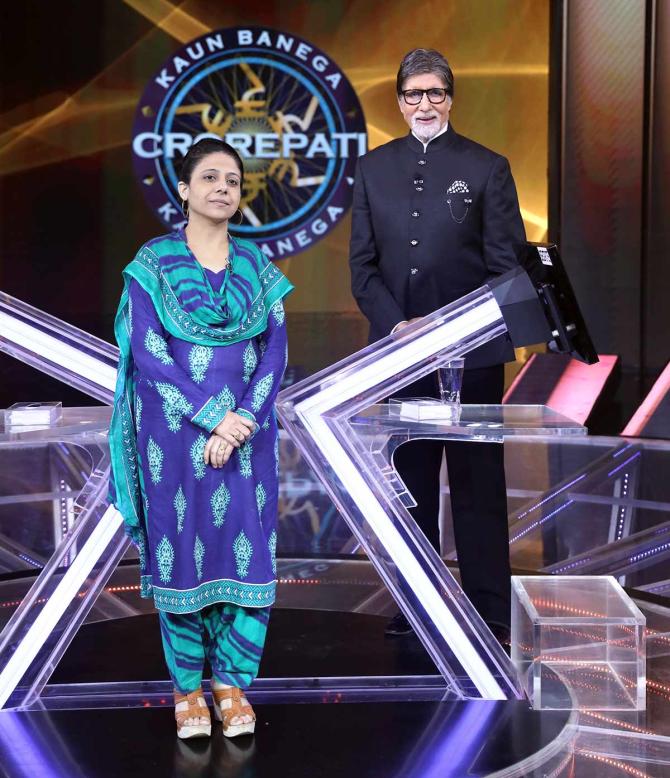 Youthful elbow bumps have replaced the old hugs and handshakes as the chosen form of greeting between Amitabh Bachchan and the contestants on Kaun Banega Crorepati.
The 'hot seat' -- where a participant faces 16 questions to contend for the top prize of Rs 7 crore -- is placed further away from the superstar host's chair than in previous seasons.
Only eight competitors appear every week in the popular quiz show's pandemic-hit edition, down from the usual 10, and the semi-circular arrangement of screens behind which they sit acts as a barrier so no one can rush into the main playing area in forgetful excitement.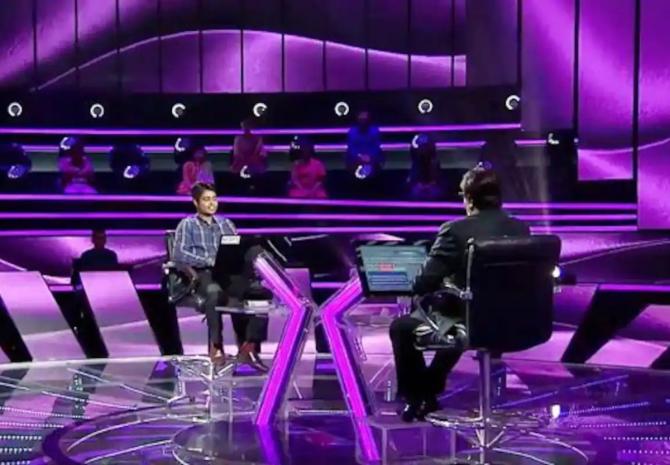 Even in its 20th year, the game show remains aspirational, especially for the country's middle and lower middle classes.
While access to the set remains restricted amid COVID-19, access to participation actually opened up wider this time around.
The number of people who auditioned increased ten-fold after the process was moved entirely online, says Director Arun Sheshkumar.
Earlier, KBC hopefuls would be invited to their closest city for three rounds of general knowledge tests after an initial phone contest.
But a "large section of South India was subconsciously left out because they were not comfortable with the language, so we would technically not go there. This was corrected," he notes.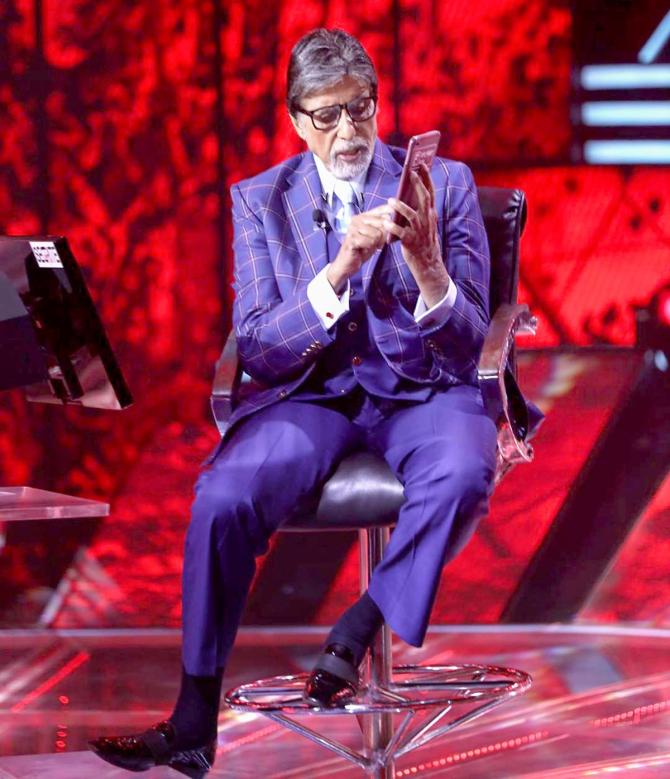 Remote auditions drew people from even more remote locations.
Show Runner Sujata Sanghamitra remembers a young girl from Assam, who appeared for the tests from inside a car because that was the only place where the network was stable.
"She was from such a small village; it is not even on the map."
Auditioners were instructed on how to use video meeting apps and those selected for the final competition were trained to film their own backstories.
"Our reality team usually goes to their hometowns and shoots with the family or at their workplace. We had to direct remotely now," says Sanghamitra.
"So you have a contestant's nine-year-old daughter capturing her mother cooking and speaking. There is a freshness about that footage."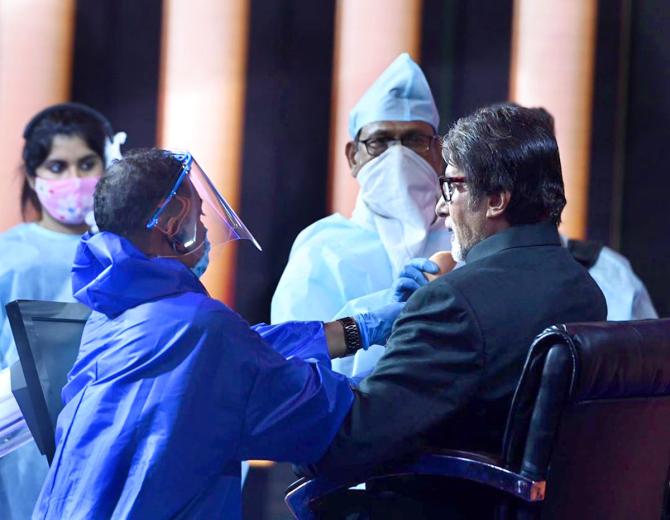 Planning for the latest season began as early as March. Throughout the uncertainty of the following months, there was rarely any doubt that the show would return this year because it is a distraction people would look forward to while holed up indoors.
Various potential eventualities were discussed, including a fully digital concept where everyone could perform from home and the scenes would be stitched together. But as cities began to unlock, shooting took off in September.
Bachchan's own tryst with Covid -- he tested positive for the disease in July and recovered in August -- was a major scare for the team.
"We are very protective of him; there are do's and don'ts. People can't go close to him and take pictures like before," says Sheshkumar.
Based on Britain's Who Wants to be a Millionaire?, <>em>KBC began in 2000 on Star TV and moved to Sony Entertainment Television in 2010.
The Film City studio, where the show is filmed, is typically abuzz with fans of the veteran actor who travel from far and wide to be in the audience and possibly ask him for a selfie.
The 100-odd seats in the dazzling spaceship-like set are populated only by the participants' companions this year.
With no studio audience, the 'audience poll', which is one of four lifelines offered to quiz-takers, was discontinued for the first time and replaced with an option to video-call a friend.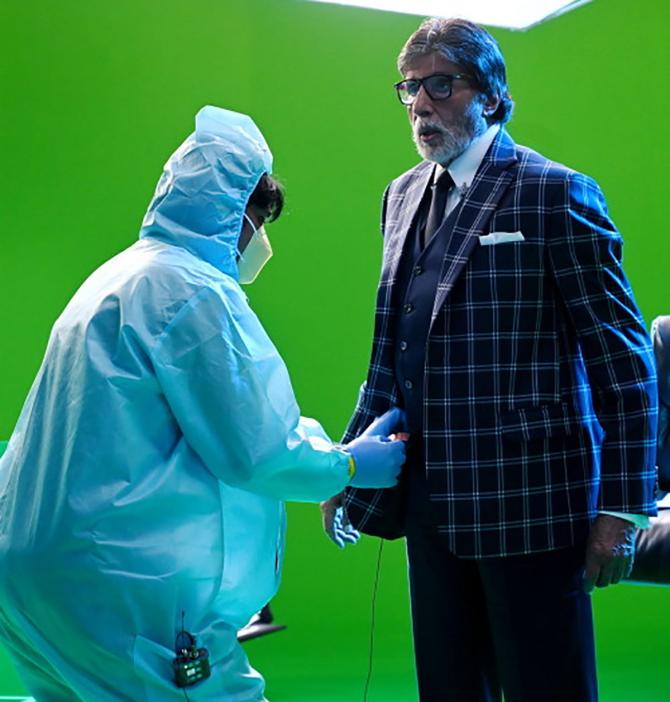 Given the lack of audience, Sheshkumar changed the shot-making to include more close-ups.
"It is more like an intimate conversation between two people," he observes. "I had doubts whether the audience would accept the show but they have reacted positively."
The new season debuted on September 28.
The crew on the set has reduced to 100 from some 225 earlier. Whereas the crew passes through temperature and oxygen checks and sanitisation tunnels, contestants are tested on three different occasions before being allowed on location.
Sanghamitra laments the absence of carefree hugs and shared lunches.
The room where she discusses each episode's script with Bachchan features glass separations now. So does the production room.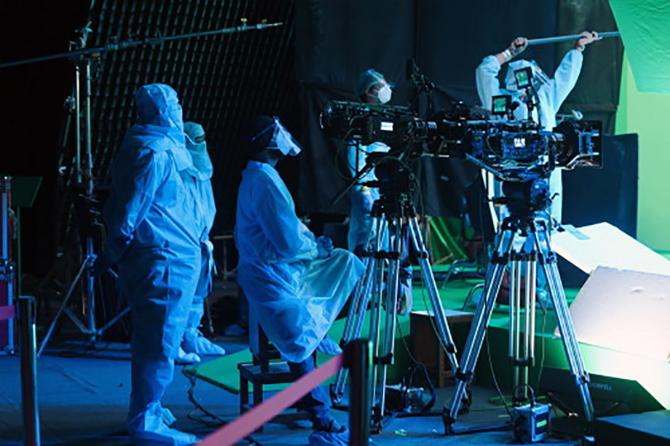 An additional room has been created just for Big B's suits to rest.
Priya Patil, whose job is to select the host's wardrobe, herself dons the rather unflattering PPE suit and face shield on set.
Last year, she had him sport various types of tie knots such as the Eldridge and Trinity.
Since knots have a tendency to come undone and require a stylist to work in close proximity with the wearer, Patil swapped them with collar pins, lapel pins and small brooches this time that need relatively less maintenance.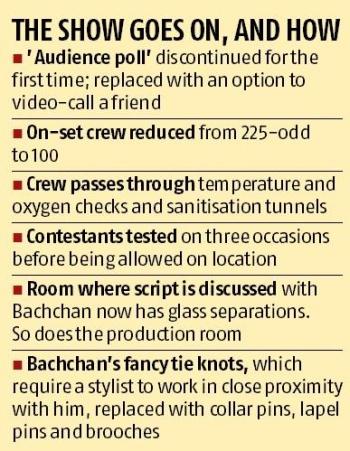 It is no surprise that Covid is often referenced.
The host asks contestants about the difficulties they faced during the lockdown.
The first episode opened with dramatic Hindi poetry Phir wapas aana padta hai' (We have to come back), an allusion to the show's return and humanity's struggles to pick things back up after the outbreak.
Hopeful that the studio audience could similarly return in the future, the set designers retained the old seating capacity.
"The energy that they transmit is missing, but we are coping," the director observes.
"If we can have them back, we want to be ready for that too."
Feature Presentation: Rajesh Alva/Rediff.com