It's refreshing to see Amitabh Bachchan doing what he does best -- entertaining the audience, observes Namrata Thakker.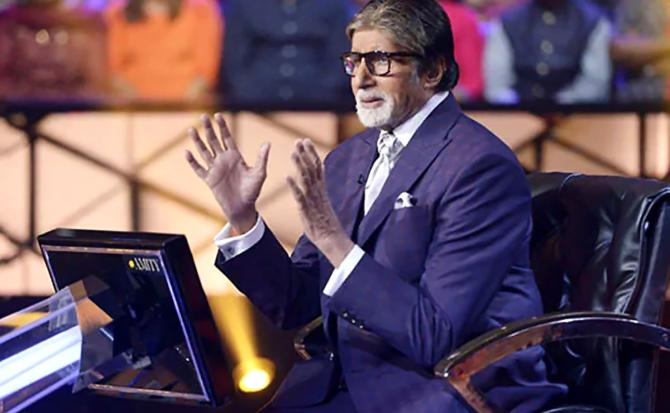 Amitabh Bachchan's much-loved quiz gameshow is back with its 12th season and we definitely can't keep calm!
Kaun Banega Crorepati started 20 years ago and even in its 12th season, the show is still exciting and entertaining, bringing a whole lot of nostalgia.
The first episode of KBC 12 premiered on September 28 on Sony Entertainment Television and Bachchan made a powerful entry by reciting an inspiring poem, keeping in mind the ongoing pandemic.
I have to admit, just watching the Big B's close-up shot on the small screen felt like a breath of fresh air.
His magnetic presence on the screen was enough to reassure me that we are indeed heading towards normalcy and that's a relief.
Bachchan, in his signature style looking all dapper in a three-piece suit, opened the episode with much enthusiasm and then introduced us to the contestants who were ready to play the Fastest Finger First round.
Aarti Jagtap, an engineering student from Madhya Pradesh, was the only the contestant to get the answer right to the question: 'Starting with the first, arrange these events of 2020 in the order in which they occurred in India.'
Usually, Big B greets every contestant before they take the hot seat.
This time, the actor follows social distancing norms and greets them from his own hot seat.
Since the pandemic situation is far from over, the audience was minimal in the studio.
Each contestant had a family member sitting in the audience area cheering for them.
Another change in the show]s format is that there is no Audience Poll lifeline this season.
Instead, Video-a-Friend lifeline has been introduced wherein contestants can video call a friend to seek their help.
In the episode, Bachchan spoke about the late actor Sushant Singh Rajput, as one of the questions asked during the game was regarding his last film, Dil Bechara.
Aarti Jagpat quit the show after winning Rs 640,000.
The next contestant to win the Fastest Finger First round was Sonu Kumar Gupta from Uttar Pradesh.
The show ends with Sonu answering the first five questions correctly. He will continue the playing the game in the next episode.
All in all, it's undoubtedly refreshing to see Amitabh Bachchan back on screen, doing what he does best: Entertaining the audience!
Did you like KBC 12's first episode? VOTE!
Rediff Rating: