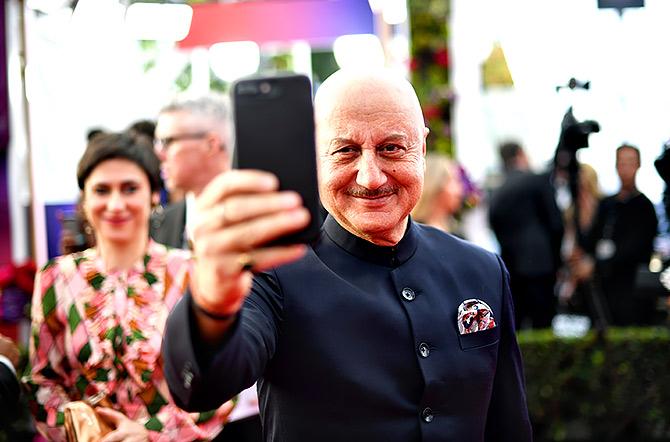 Among Bollywood's most popular actors, Anupam Kher has fans all over the world.
But he's one of the few celebs who reaches out to them, and posts interesting videos of his interactions.
His 'Encounters in NY' offers a lovely window to the world outside, who love Hindi movies even though they may not be Indians.
Kher's fans, many of them cab drivers in New York, get so thrilled to have him as their customer that they don't even charge him for the ride!
Here's looking at some of Anupam's lovely 'Encounters in NY':
Ghana's Mohammed Ali, a New York cabbie, can't believe his luck when he sees his customer.
He has seen more than 4,000 Hindi films and tells his friend on the phone that a 'big Bollywood actor' is sitting in the cab.
When Kher asks him to sing a song, he chooses his version of Sholay called 'Sholinge'!
Cab driver M D Hussain from Bangladesh has no clue who Anupam Kher is, but is too polite to admit that.
Kher posts a hilarious conversation with Hussain, in which he asks him to see his face and identify him.
Italian-American cab driver Edward can't stop gushing about India and its beautiful people and values. Jai Ho!
Kher bumps into Ayesha from Senegal while shooting in the Belle Vue hospital in New York for his series New Amsterdam.
She's totally awestruck when she spots Kher, not believing her luck. Ayesha speaks in Hindi throughout, having learnt the language watching Bollywood films.
Saeed from Bangladesh offers Kher a free ride and a lovely conversation when the actor gets into his cab.
It was an important moment in Kher's life when he met a real life Bhagat Singh!
A cab driver from Punjab, Singh has been living in New York for 30 years and has been watching Kher's films since his childhood!
The conversation was even more pleasurable to Kher, as they spoke in Punjabi.
Kher bumps into fans from Tajikistan while walking the streets of New York.
The actor even recorded videos for their family members back in their country!
Kher meets tourists Zahra and Hatim, who hail from Dubai. They are ardent fans of the actor and have been trying very hard to grab a meeting.
Dreams come true after all!
Videos: Kind courtesy Anupam Kher/Instagram