Dalip Tahil has worked on stage, in films, television and now on the digital platform, and he's not slowing down anytime soon.
Continuing our series: Actors We Love.
Interview: Patcy N/Rediff.com
Videos and Production: Rajesh Karkera/Rediff.com, Hitesh Harisinghani/Rediff.com
Did you know that Dalip Tahil almost became a pilot?
One of Bollywood's leading character actors, Dalip, 67, has completed 45 years in show business.
He's as busy as ever, picking up parts in films like Mission Mangal as well as Web series like the well received The Family Man and Hostages.
"Destiny has put me in the profession that has kept me happy, and where I was supposed to be," he says.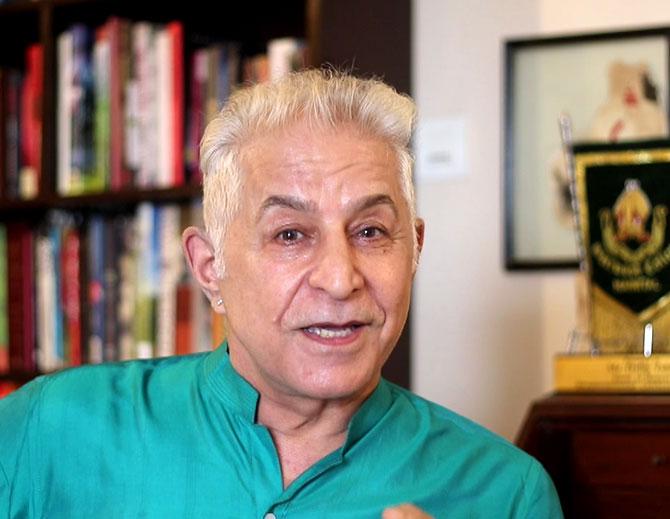 Since Tahil's father Ghanshyam Jethanand Tahilramani served the Indian Air Force, he would be posted in various parts of India, from far-flung Alampur in Punjab to cities like Calcutta, and the family would travel with him.
The young Dalip grew up among fighter planes and he learnt flying early in life.
He almost became a pilot, but something made him change his mind.
He tells us what changed in this video:
Dalip's father was a classical singer, and that's how he got interested in singing as well. He sang in his boarding school -- the Sherwood College -- choir the entire time that he studied there.
Want to hear him sing? Watch this video!
Did you know Tahil's last name was actually Tahilramani?
He tells us how he got his present name.
When Tahil decided to act, he sought out theatre gurus Alyque and his then wife Pearl Padamsee.
The actor recounts his first meeting with Pearl, where she gave him an acting masterclass, and left him amazed.
"If you get a haircut, I have a very good role for you in my next film," Dalip quotes Shyam Benegal's first words to him.
So he had a haircut, and became a part of his first Hindi film, Ankur.
His role was quite substantial, but most of it got edited out. Dalip has an interesting story about the film's premiere, where he took a date along, and how he saved himself from embarrassment.
Dalip fared better in his second film, Ramesh Sippy's Shaan, where his first scene was with Amitabh Bachhchan.
How did he bag the role? And just *what* was his role?
"It was one of the greatest experiences of my life although later, when I look back at it, I didn't want to begin my career as a henchman," Dalip says.
Dalip Tahil had a successful career as he balanced big films like Shaan with long-running television shows like Buniyaad and theatre with blockbuster plays like Evita.
He even starred in India's first 3D film, Chota Chetan in 1984, which became a huge hit and gave him a lot of popularity.
Yet, he did face some disappointments as well, and Ramesh Sippy's Shakti was one of them. He tells us why here.
One of Tahil's most popular roles was as Aamir Khan's father in Qayamat Se Qayamat Tak.
Did you know the original cast for the film was Sanjeev Kumar and Shammi Kapoor in the roles eventually played by Dalip and Goga Kapoor?
And the film was supposed to be directed by Nasir Hussain.
Dalip gives us interesting behind-the-scenes trivia:
Tahil spent his early years doing negative characters. Buniyaad finally changed his image.
And that's how he did a comedy role in Mahesh Bhatt's Hum Hain Pyaar Ke.
One of Tahil's recurring roles has been playing Jawaharlal Nehru. He has played India's first prime minister thrice so far, in Rakyesh Omprakash Mehra's Bhaag Milkha Bhaag, in Shyam Benegal's television series Samvidhaan and the Marathi film, Bhaai Vyakti Kee.
How did he prep for such a stellar role? Dalip tells us here.
Tahil almost missed doing Andrew Lloyd Webber's ambitious musical Bombay Dreams . A month after 9/11, he boarded a flight to the US to audition for the role, and bagged it.
"Destiny has put me in the profession that has kept me happy, and where I was supposed to be," Tahil says with a smile.
"In all these years, I never felt I was in the wrong profession, like I did when I was flying."
Tahil talks about his biggest challenge in this video.