A Salim-Javed script called Mr India fell into his lap, which became the first film they worked in together.
Somehow the reticent, soft-spoken and rather guarded Sridevi's words reached out to him.
An excerpt from Amborish Roychoudhury's fascinating new book, Sridevi: The South Years.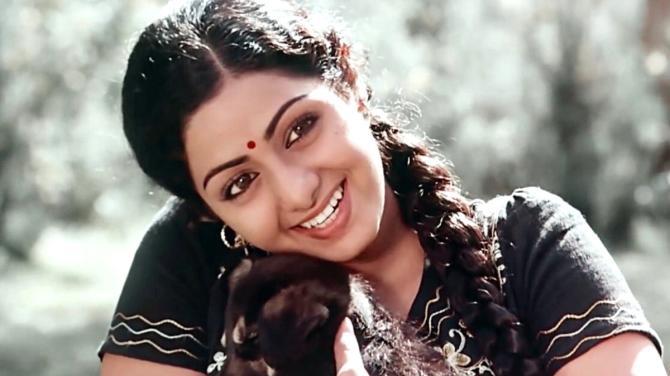 Boney Kapoor noticed her for the first time in a Tamil movie, back in the 1970s.
He was instantly enamoured with her and wanted to cast her in a Hindi film, one of his own productions.
He even had a male lead in mind. He was thinking of making a film with Rishi Kapoor.
Boney bought the rights to the film, with the intent of showing it to Rishi but that did not happen.
He travelled all the way to Madras, with the hopes of meeting her and offering the film. But she was not in town... She was blissfully shooting her next film in Singapore.
The film she was shooting for was probably Priya. Foreign shoots weren't an everyday event in Tamil cinema, and Singapore featured prominently in this film.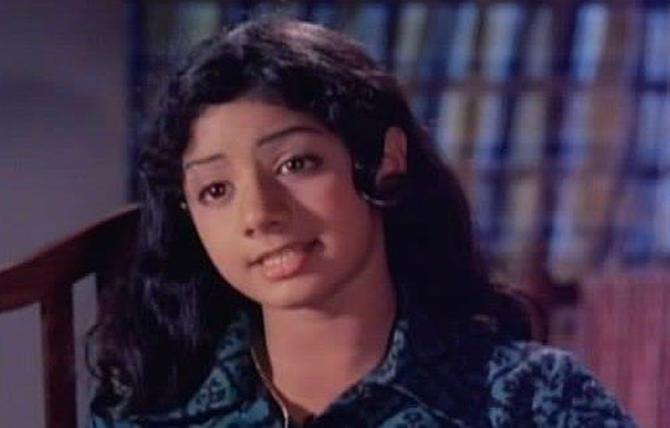 The next time he saw her was in Solva Sawan, Bharathiraja's remake of his own Tamil hit Pathinaru Vayathinile.
The film sank at the box-office, but it did leave a trace in Boney Kapoor's mind and heart.
He had been unable to take her off his mind. It became an obsession to sign her for a film.
The stars aligned and an opportunity presented itself in 1984.
Telugu film-maker Bapu (or Sattiraju Lakshminarayana) was a regular fixture in the films produced by Boney in those days.
Bapu had made the first two films for Boney's production house: Hum Paanch and Woh 7 Din.
Bapu had also recently made a film in Telugu with Sridevi and Krishna which was a roaring success, called Krishnavataram.
Around 1984, Boney signed Bapu to direct a film with Anil Kapoor and Sridevi called Govinda. This was also the first time that Boney met Sridevi.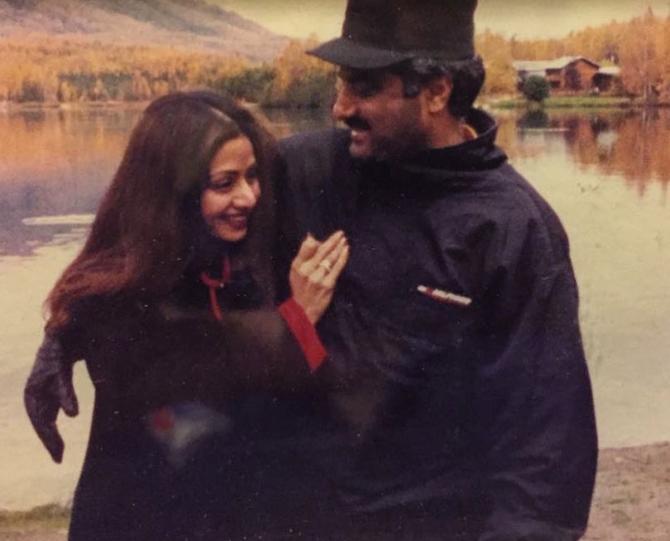 But this was the time a Salim-Javed script called Mr India fell into his lap.
While Govinda was stuck in development hell, Boney put all his energies into mounting Mr India which became the first film they worked in together.
They interacted on the sets. Somehow the reticent, soft-spoken and rather guarded Sridevi's words reached out to him.
Boney and Rajeswari also hit it off from the get-go. It was Rajeswari who used to manage Sridevi's dealings back then.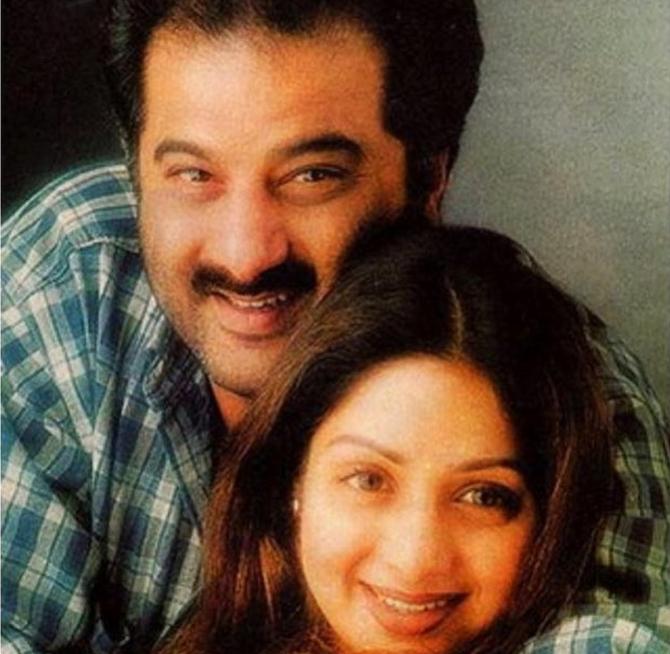 At the India Today Women's Summit 2013, Boney Kapoor related an anecdote while Sridevi looked on with a mix of embarrassment and affection wrought on her cherubic face:
'I travelled to Chennai and met her mother. Now, at that point of time she was the highest paid actor among the females.
'I knew she had signed films for about eight or eight and a half lakh rupees those days.
'Her mother quoted me ten lakhs. Probably that was her way of negotiating, so I heard her figure and I said... no, I will pay eleven lakhs! She thought I was one bad producer come from Bombay and she probably took a while to react to the reality that somebody out here is offering more than what she asked for. And that's how I got close to her mother.'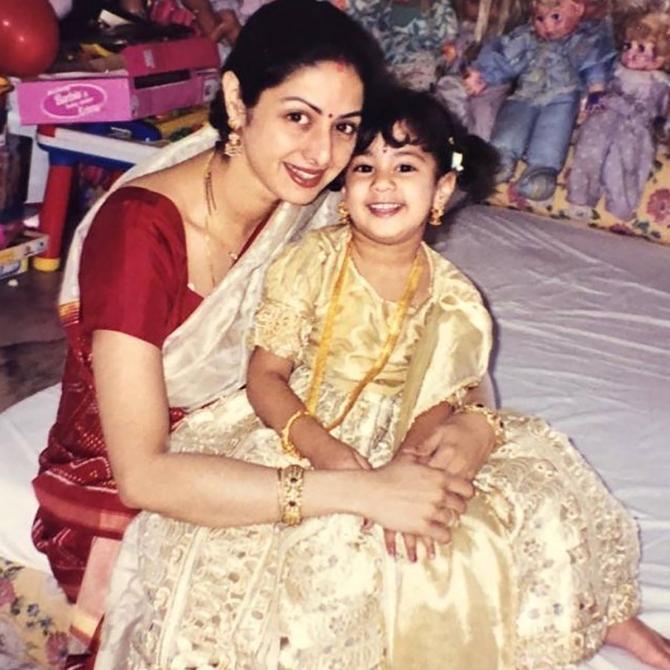 Throughout his telling of this tale, he was beaming and she tried to stop him from spilling out too many details.
During the making of Mr India, Boney saw to it that her every comfort was attended to even before she uttered a word.
As the shoot progressed, he found himself drawn to her more and more. When she was heading to Switzerland, he followed her there.
When her father passed away in 1991, she was shooting for Lamhe near Manchester.
She rushed back to India, and Boney was there at the airport to receive her. He took care of everything.
He was there for the family, and that was something that struck a chord with her. They eventually tied the knot in June 1996.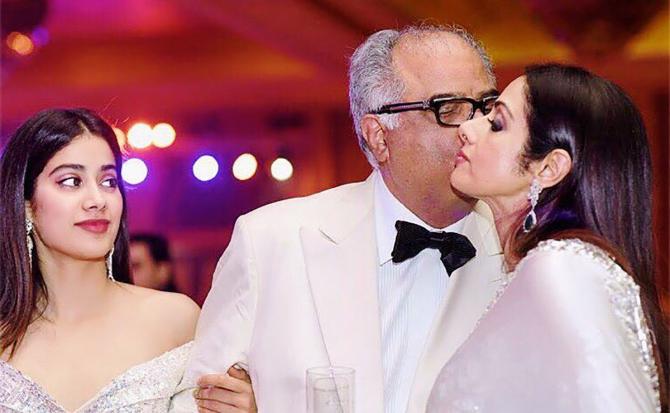 Judaai was the last major film she featured in, and then she decided to step out of the studio and into the shadows to make more time for her family.
Since her beginnings in 1969 till that day in 1997, for almost three decades she had been continuously working. There was no break, not even for a single year.
She started working at six and took her first break at 34.
This edited excerpt from Sridevi: The South Years by Amborish Roychoudhury has been used with the kind permission of the publishers, Rupa Publications India.
Feature Presentation: Rajesh Alva/Rediff.com