Sridevi went through so many expressions in her career, and we love all of them!
Every time Sridevi appeared on screen, it was hard to look at anything else.
A spellbinding combination of ada (style) and adakari (skill), her marvelous zing and free impulses captured myriad feelings and the minutest nuances.
If making a face was an art form, Sridevi had mastered it to perfection.
With a mere biting of lips, twitching of nose, glistening of eyes or flashing that rapturous smile, she could transform an ordinary shot into an outstanding one.
An everlasting symbol for movie magic, Sukanya Verma remembers the Queen of Expressions in her various moods and moments.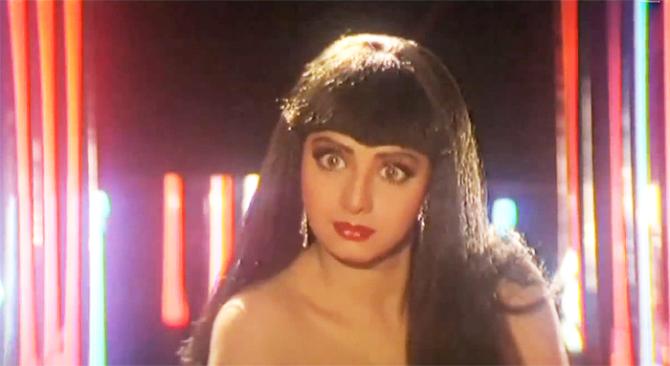 Sri had an intrinsic humour about her that enriches the Chaalbaaz experience even in the absence of a real gag.
An adorable goof while demanding her beau to 'tu mera naam leke mar ja.'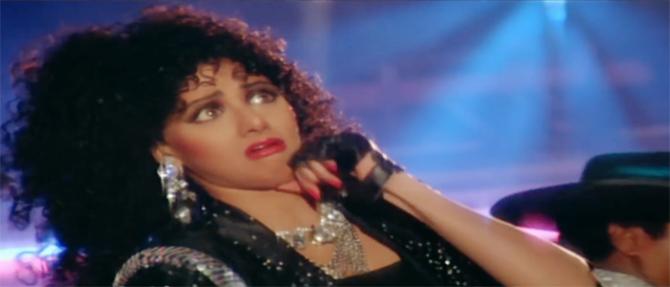 An adorable goof while taking off on Michael Jackson in a Billy Jeanesque costume.
Wearing green lips and a wreath of leaves and cherry tomatoes on her head!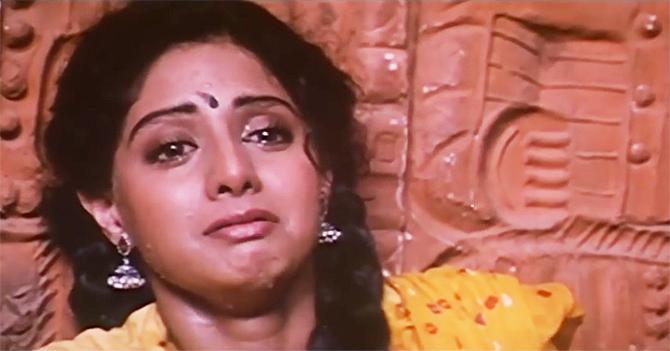 Part of the pleasure is watching her turn into the melodramatically timid twin sister at a moment's notice.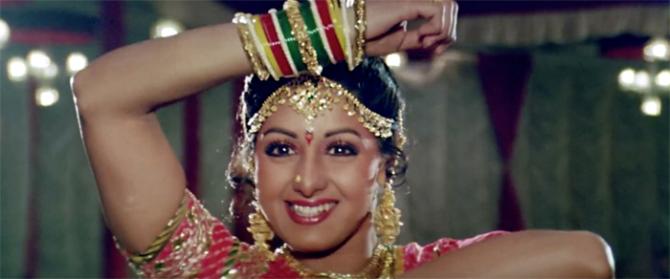 The whole world danced to Chandni's tune, nau nau churiyan or none.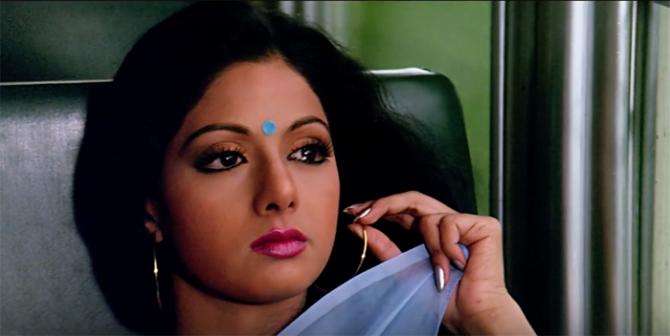 And then felt the pinch of her heartache after she leaves town to start afresh.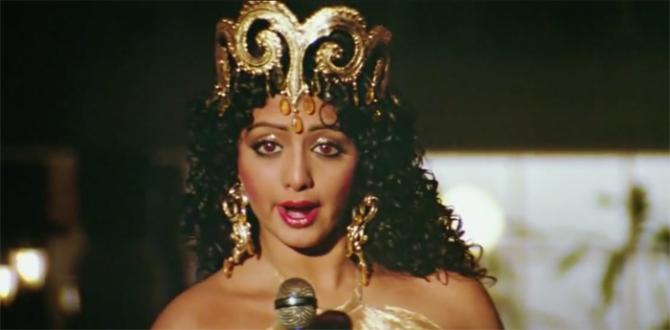 The Mr India star can't keep a straight face as she babbles gibberish I-see-Lucy-You-see-Lucy. Nor can we.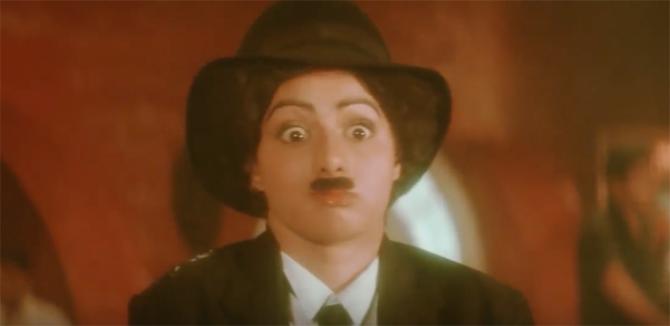 Chaplin would have surely doffed his hat at this performance.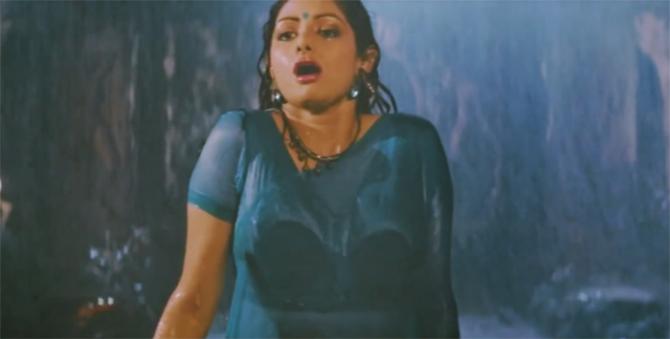 The part where Mr India took a break from being a children's film to accommodate Sri's sizzling, scorching, seduction draped in one iconic blue sari.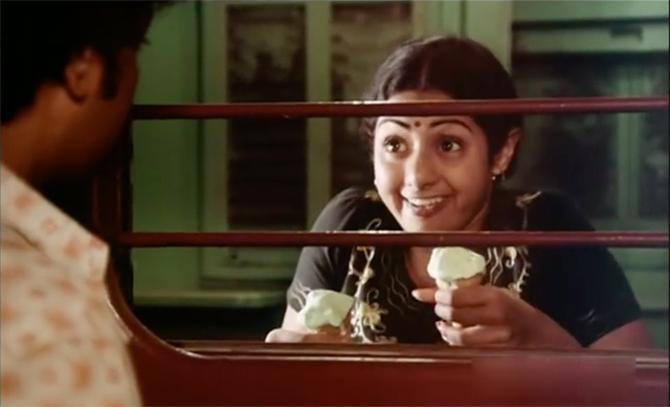 The Sadma school of acting may not be everyone's cup of tea, but Sridevi's artless appeal still holds.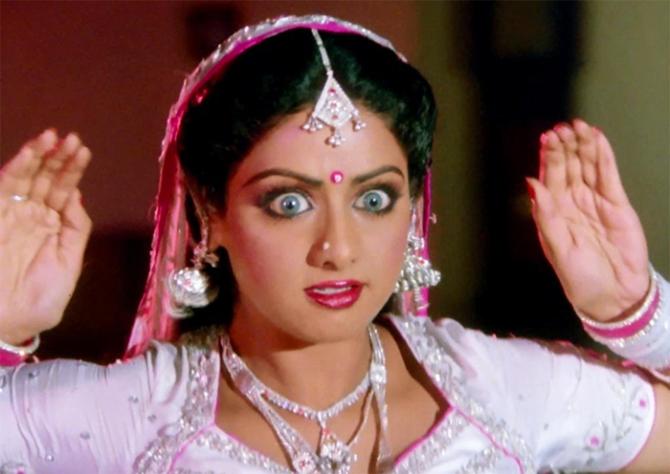 Even Amrish Puri had to a formidable foe like Sri's raging snake woman in Nagina.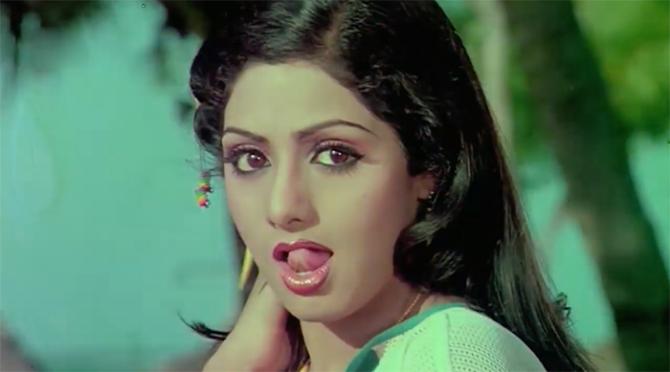 An early glimpse of Sridevi's trademark tongue rolling in Mawaali.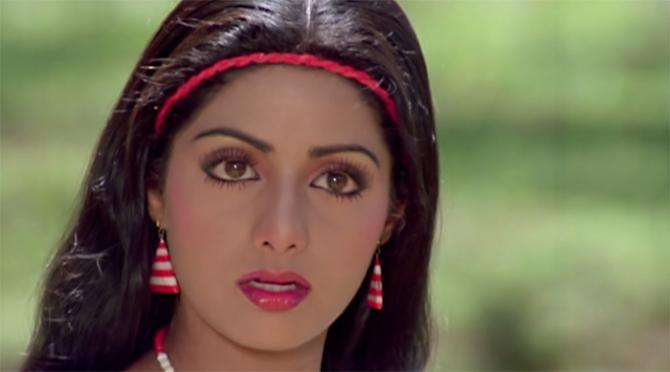 Before she found her calling in meaty, central roles; Sridevi played her share of the vacuous eye candy opposite Hindi film stars like Amitabh Bachchan, Jeetendra and Rajesh Khanna.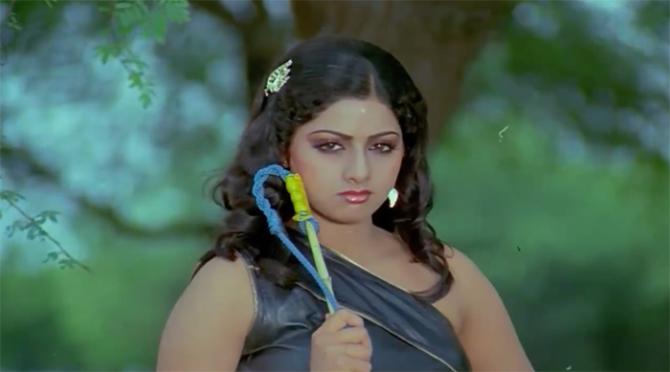 Easy to tell she's none too pleased about it. Luckily for her, Himmatwala proved to a major success.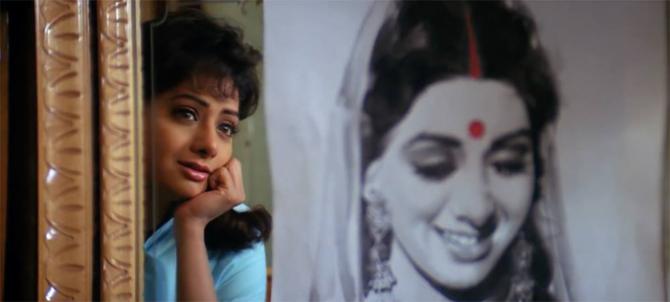 And that's the child woman everyone keeps talking about.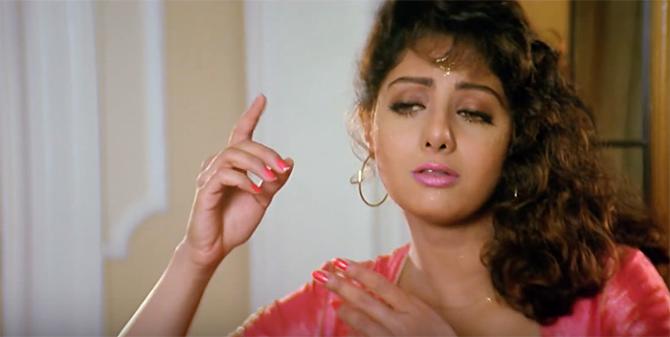 Though Lamhe didn't work, Sridevi's performance was hailed by one and all.
How droll is her version of Nargis rejoicing to Ghar Aaya Mera Pardesi?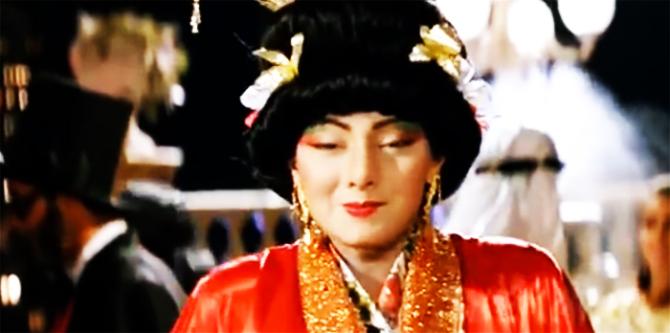 Roop Ki Rani Choron Ka Raja's disaster status couldn't delete Sridevi's hysterical Chinese caricature from public memory.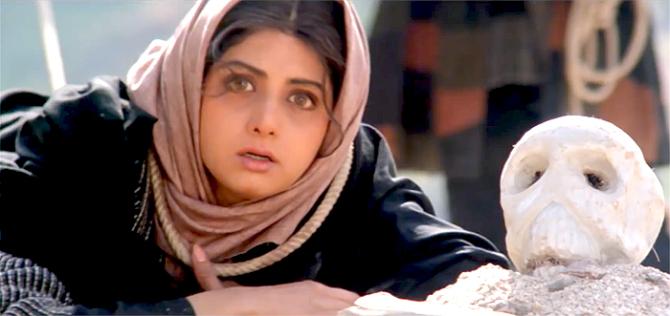 Khuda Gawah wouldn't be Khuda Gawah without Badshah Khan.
Khuda Gawah wouldn't be Khuda Gawah without Badshah Khan's beloved Benazir either.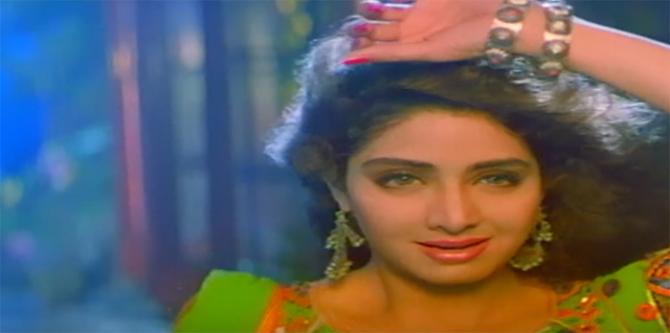 And the crowd broke into a collective gasp every time Sridevi turned on the heat.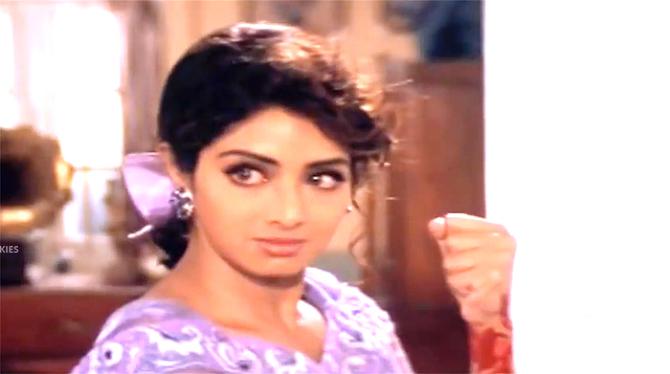 You do not mess with Sridevi. "You understand, you better understand!"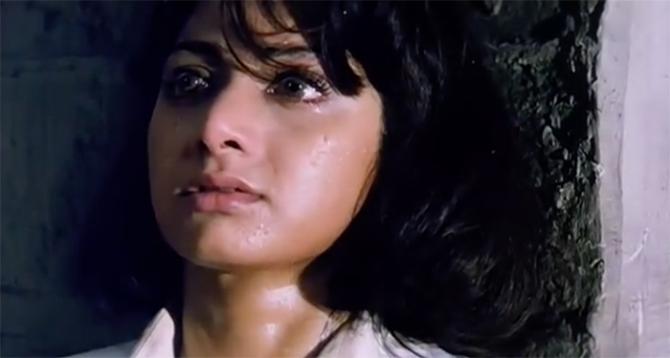 Trust Sri to make the viewer feel her nightmare and claustrophobia behind bars for a crime she did not commit in the intense ambiance of Gumrah.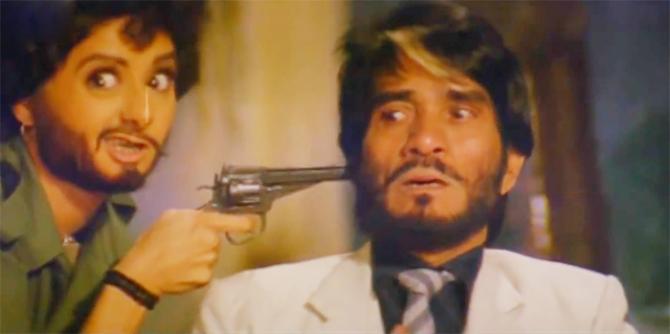 Comedy Queen is at it again in the little-seen Naakabandi.
Samba and Kaalia would surely approve.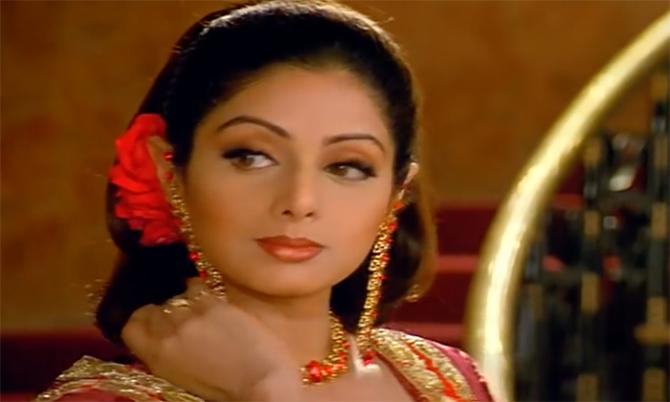 Judaai's audacious premise owes all its fun to Sridevi's OTT rendering of nouveau riche traits.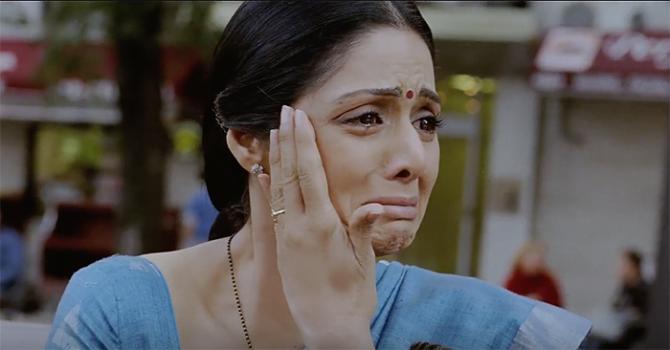 Her glorious return after more than a decade in English Vinglish reiterated how few can bare themselves before the camera like Sri does.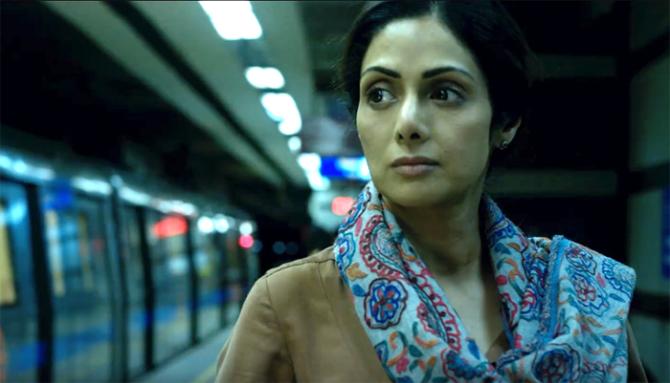 There's more to her than ebullience. Her cold-blooded determination in and as Mom served as a reminder of her versatility.