Love pours in for Sridevi from all around the world.
Sridevi's sudden death shocked millions of her fans in India and around the world.
We asked you Dear Readers to share your fondest Sridevi memories.
This is what the huge and irreplaceable loss means to you: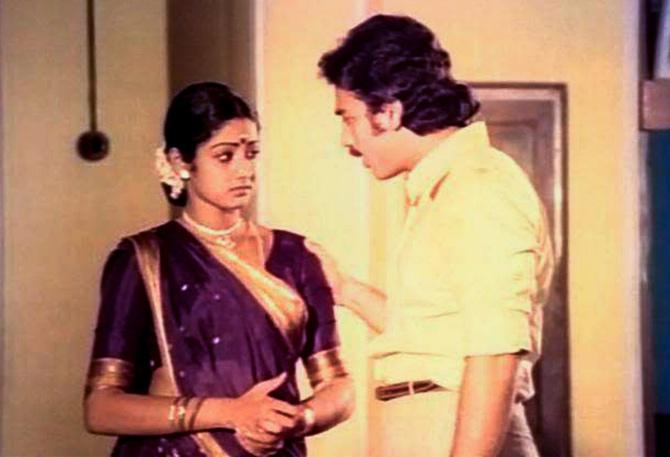 IMAGE: Sridevi and Kamal Haasan in Meendum Kokila.
Name: Antony Selvaraj
Age: 47
Hometown: Chennai
What does Sridevi mean to me? Beautiful. Gorgeous. Good dancer. Good actor. I can go on.
Of course, there are many people we come across in the film industries worldwide who have these qualities, but what stands out for me and it goes without saying for many of her contemporaries and millions of her fans around the world, is her professionalism. That is what catapulted her to success.
Many of her colleagues have mentioned this about her. And she herself has said so many times in her interviews. "I just give my best."
This is an inspiration for me and many millions of her fans and followers.
Just do your best, the rest will follow. Thank you Sridevi.
My Favourite Sridevi moment? There are many, too many, to mention here, but one which comes to mind just now is in Meendum Kokila.
In the climax scene Kokila tells actress Kamini to visit her and her husband whenever she can -- even if she cannot, to at least not forget her husband Subramaniam.
Wow!
***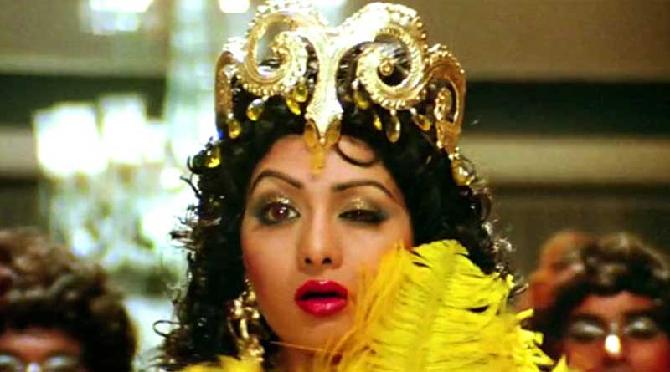 IMAGE: Sridevi in the song Hawa Hawai from Mr India.
Name: Sona
Age: 42
Hometown: Gurgaon
Sridevi to me is the epitome of beauty and elegance.
Her death is an absolute shocker. I still cannot believe she is no more.
Her movies will always remind me of her versatility and energy.
My favourite Sridevi Moment: Hawa Hawai.
I just loved the way she chuckled, her facial expressions and the brightness of her eyes. Everything was superb...
She will remain in my heart as a favourite, and no one can take her place...RIP.
***

IMAGE: Sridevi in Nagina.
Name: Raj Dhiman
Her essence:

1. Her furious expressions and blue glittering eyes from Nagina.
2. Her lively voice and laugh.
3. Her unpredictable naughty acts in Mr India.
All are iconic... a huge loss.
***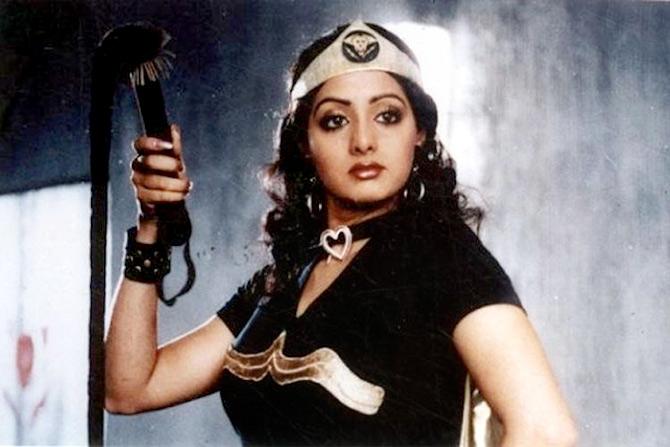 IMAGE: Sridevi in Mr India.
Name: Sandeep Kulkarni
Age: 42
Hometown: Hubli
A perfect actress for fans.
Sridevi was the only perfect film actress where fans would watch the film only because of her screen presence.
Her acting, costumes delighted every film lover. You would never see any spectator going out for a break even when there were songs playing.
I watched each and every film of hers.
The only actress who may have had male fans more than females. That was her strength being an actress.
RIP Sridevi.
***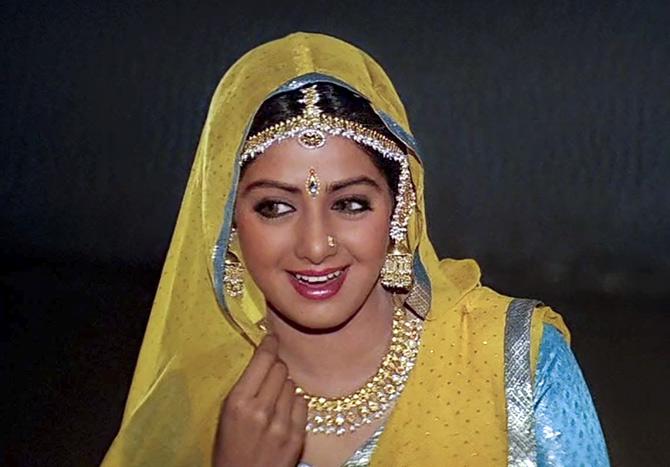 IMAGE: Sridevi in Lamhe.
Name: Raja Mohanty
Instead of sharing my favourite moments I would just like to share this:
An ode for the dead..
An eternal loneliness
And a subdued melancholy
Always reflected on the face
Which was always in auto laugh mode
Your enduring vulnerability
Remained abiding
And it stood
As your strength
I mourn your departure
As, we share
A very close unfamiliarity
For all the time to come
You made us laugh
And cry
And forget
Our moments for sometime
You nourished
Our fantasies
With all you have
As they soared new highs
And today
I see a part of my past
Also gets flamed
As flames make you immortal.
---
What does Sridevi mean to you, dear reader?
Write in to us at moviesdesk@rediff.co.in (Subject line: Favourite Sridevi moment) with your NAME, AGE and HOMETOWN.
We'll publish them right here on Rediff.com