Pre wedding SHEnanigans, emotional posts and posing with the bride squad!
For most people, the weekend was all about the Harry-and Meghan wedding.
The Indian guest who stole the show at the royal wedding was undoubtedly Priyanka Chopra, whose presence was noted in media outlets around the world, in newspapers as diverse as Britain's starchy The Telegraph and the racy Big Apple tabloid, the New York Post.
Her rivals and catty critics in Bollytown (you know who we are talking about!) must be eating their hearts out.
Folks, you better know how big a star our girl is!
After attending the #HarryAndMeghan wedding, Priyanka (does she even know what jet lag is?!) flew to Bangladesh for an UNICEF field visit.
'2days, 2 cities, 2 very different reasons... but both which mean a lot to me. Now onwards... London to Bangladesh...and @unicef,' she posted on Instagram.
Let's go back a couple of days in time and see what PeeCee was up to at the Shaadi of the year: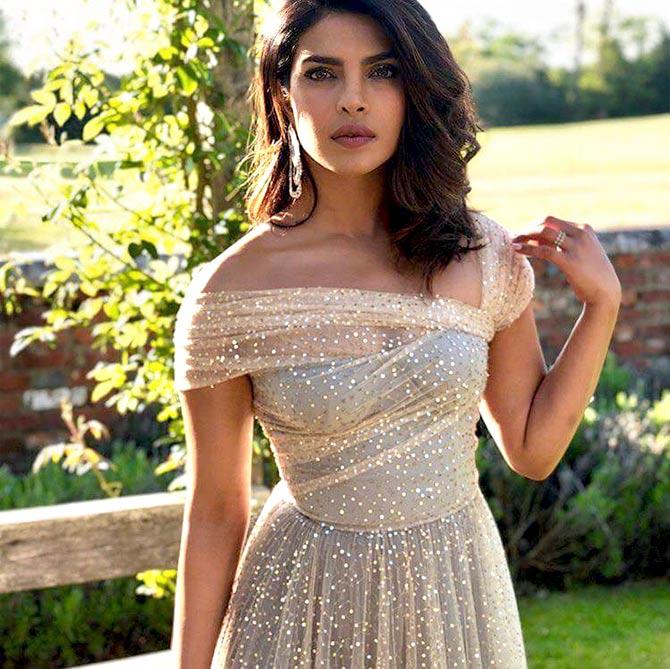 For the wedding reception, she wore a Dior gown.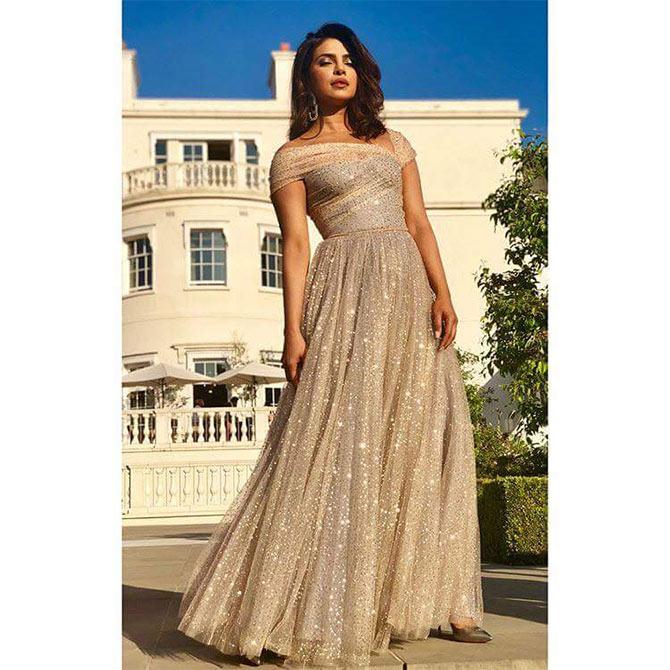 'And then she danced the night away....' she wrote, posing at Coworth Park.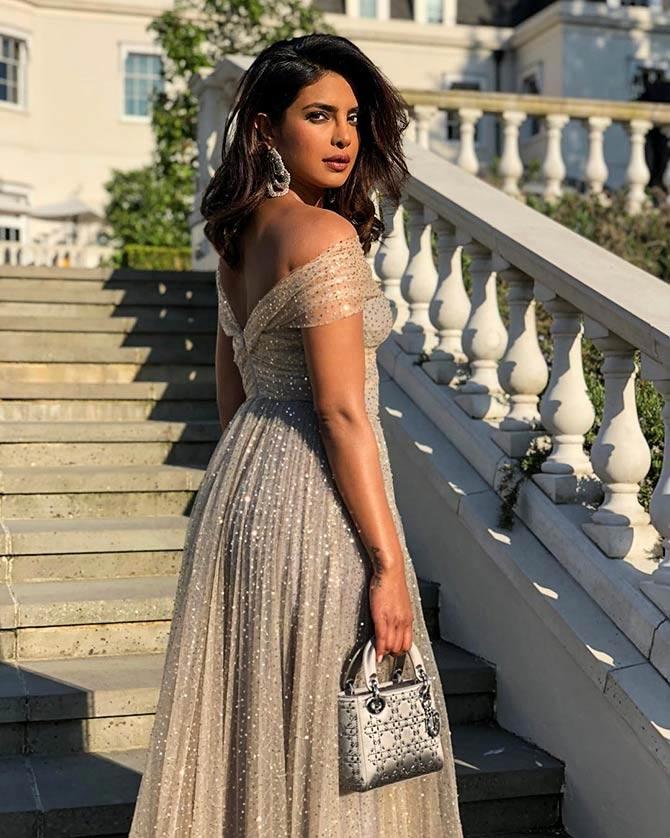 She thanked her team writing, 'A very special thank you to @dior for making me sparkle. Also thank you to my incredible team for your brilliance and dedicated hustle...no one just "wakes up like this," and I feel so happy to work with you and be the canvas for your creativity... @mimicuttrell @patidubroff @kenorourke1 you are genius!! @natashapal @danasupnick you made it so much easier! Love u loads!'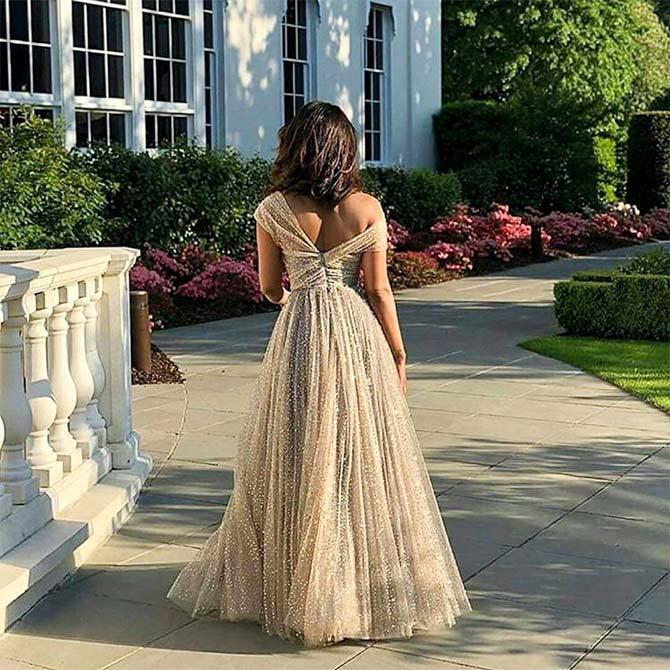 Look at that gorgeous gown!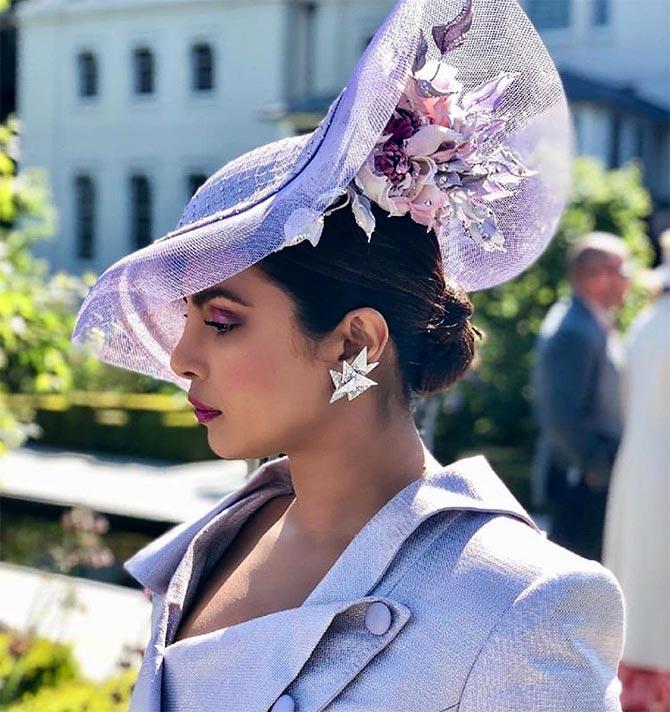 For the wedding, she wore a lavender suit by Vivienne Westwood.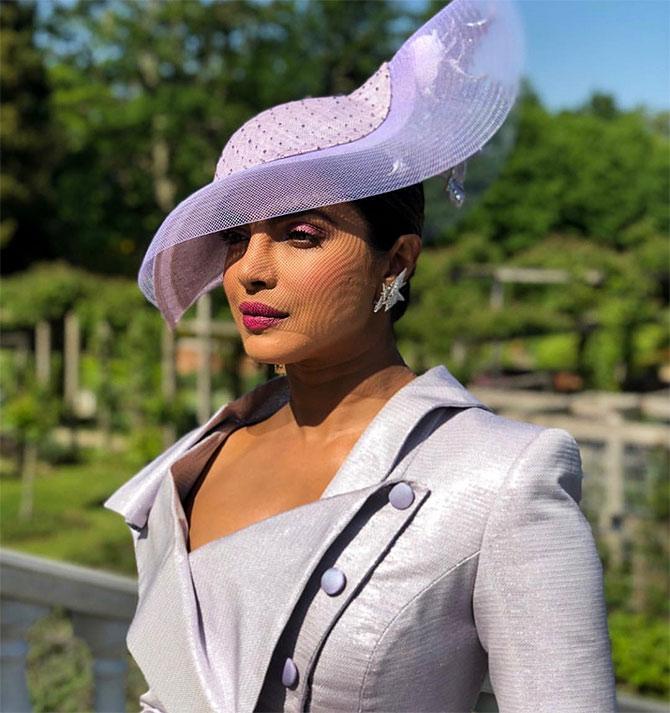 The matching hat was designed by Philip Treacy.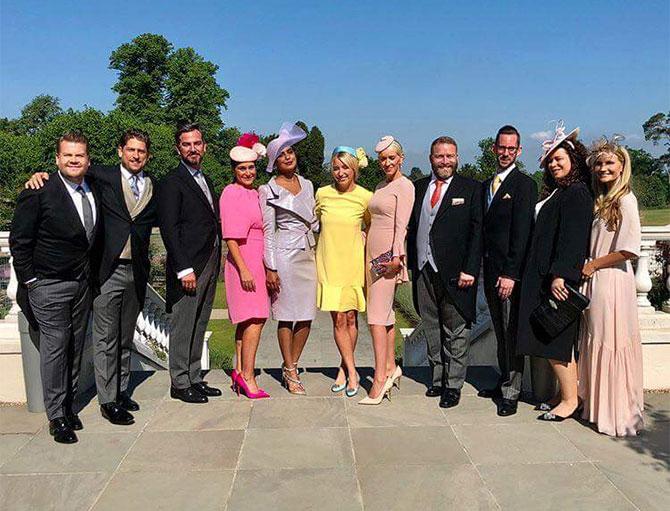 'Bridal crew #squad', Priyanka notes.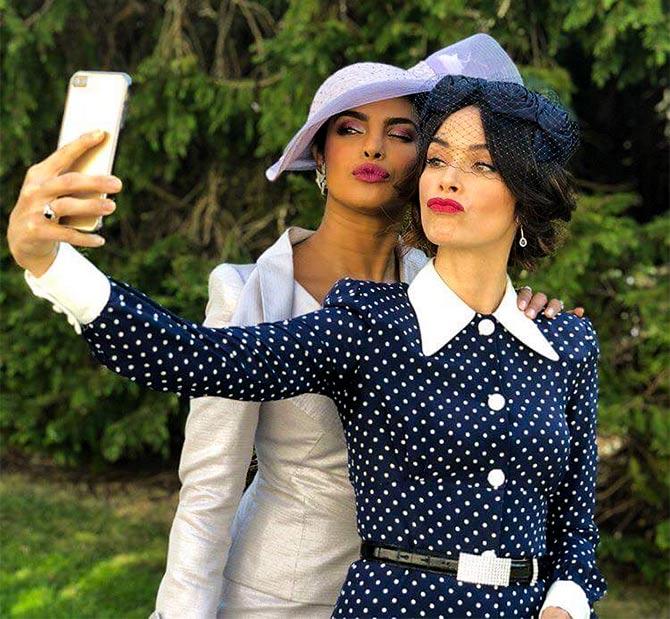 A selfie with Abigail Spencer.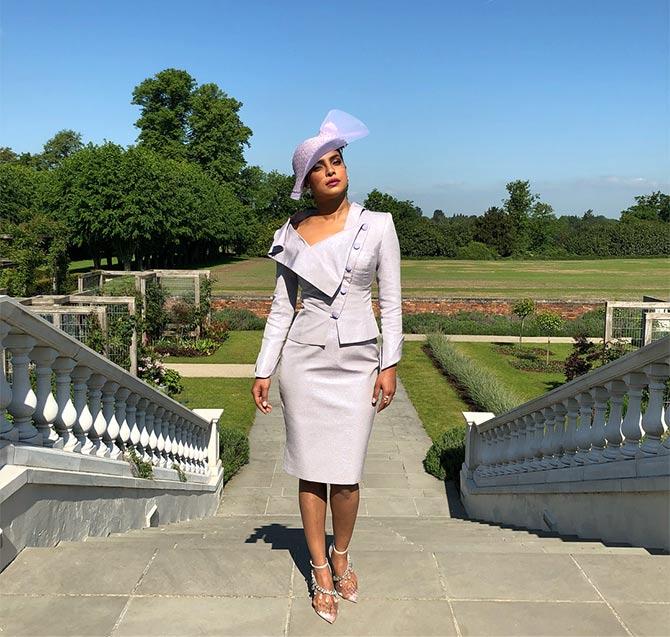 Don't miss her Jimmy Choo shoes.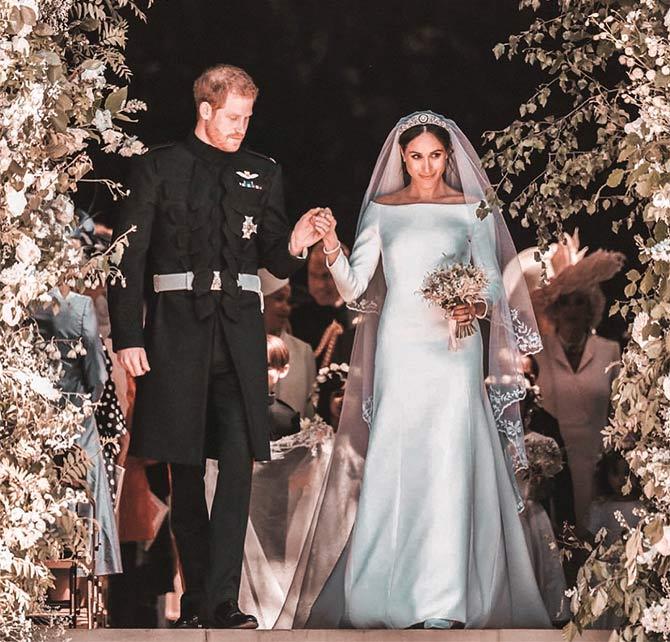 Priyanka took to Instagram and wrote an emotional post for her friend Meghan:
'Every once in a while there is a moment when time stands still.. that happened today.. You my friend.. were the epitome of grace, love and beauty. Every choice made at this wedding by you both will go down in history, not just because it was your wedding but because this incredible wedding stood for change and hope. Both things that the world needs desperately,' she wrote.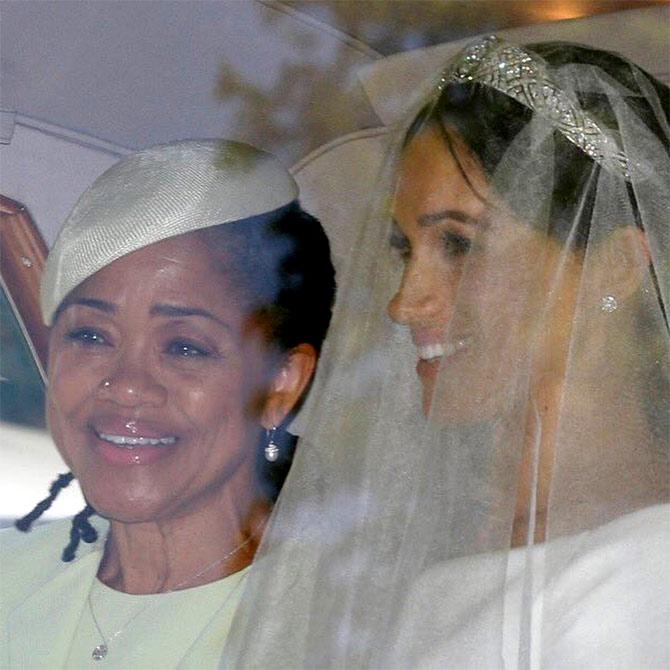 'Thank you for being the perfect picture of all things good.. seeing your union and love blessed in front of my eyes Made me so happy.. and tear up! I wish you both love happiness and togetherness always,' she concluded.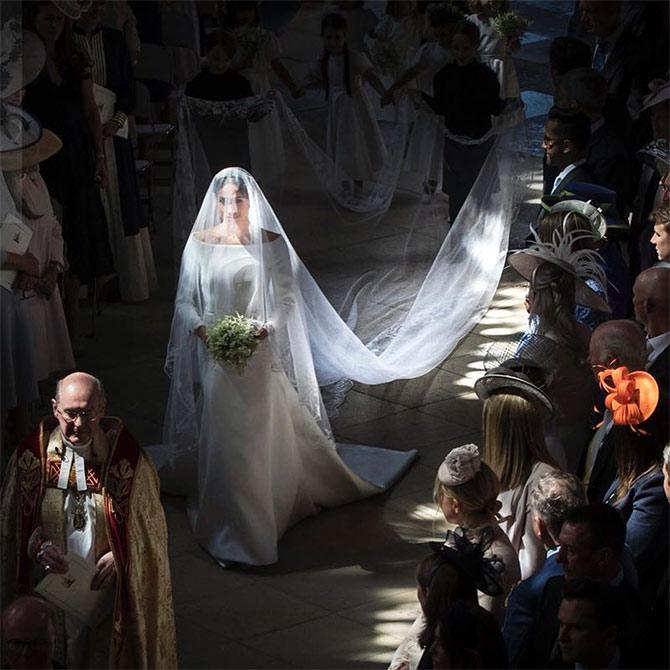 Priyanka (Quantico) and Meghan (Suits) first met at a Women in Television dinner.
'We bonded as actors. We just became friends, like two girls would,' Priyanka told People magazine last year.
Meghan must really like Priyanka to invite her to the wedding (it was a very select list of guests; British Prime Minister Teresa May was not invited nor were some of Harry's royal cousins!) and reception (where his aunt Sarah Ferguson was kept out).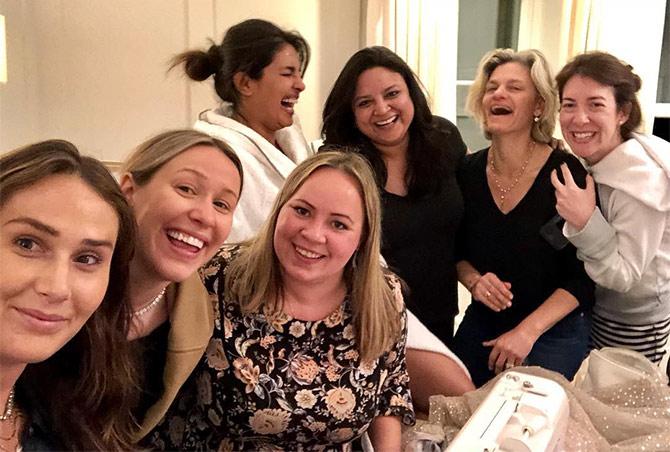 Posing with her team, Priyanka provides some cute details:
'Pre Wedding SHEnanigans! 12:10AM the morning of...and still waiting for the dress! #funtimes #memories @mimicuttrell @maxeroberts @alice_7915 @natashapal @patidubroff @danasupnick #teamPC'.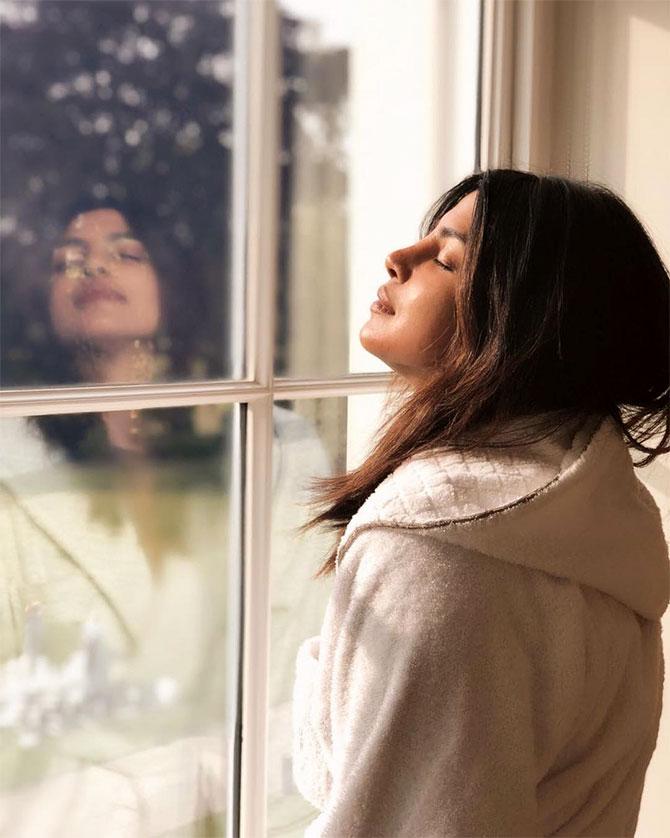 'Welcomed by the UK sun... #nomakeupnofilter'.
Photographs: Kind courtesy Priyanka Chopra/Instagram